nice_bud_enthusiast
Critical Firstindo
Spring/Summer 2020
2 Royal Queen Critical grown in 4x4 tent. Growing medium is Atlantic SuperStore Super Soil mixed with 1/3 part sheep manure. Plants started in 500 ml sour cream containers. Re-potted to 8" nursery pots and then to final 7 gal fabric pots. Lights are Mars TS1000 and SunSystem 150. Just new to this app July 2, 2020, so posts will start with plants already finishing 4th week of veg.
A couple of days away from the end of week 7 of flowering. Been on water only for the last 6 days. Watching tricomes for clouding as indicator to harvest. Close ups taken with iPhone looking through 40x loupe.
3 years ago
Plumping up nicely.
3 years ago
Water and Sensi Bloom feeding continues every second day, but 2 litres now (started 2 days ago) per plant. Flowers are coming in nicely with good start to crystal development.
3 years ago
Today we did some fairly significant pruning and foliage removal. Another feeding of 1.5L dehumidifier water with Sensi Bloom nutrient and pH balance solution. Both girls are looking very healthy. Day 9 of flower stage so I will probably only trim once more.
3 years ago
Thelma is beginning to catch up to Louise in height. Both plants have bulked up. I will soon have to do some trimming...as soon as I learn how 🤦🏼‍♂️. This is my first grow. 1.5L each of water with Sensi Bloom given today.
3 years ago
Girls are starting to stretch. Giving 1.5 litres of water with Sensi Bloom to each plant every other day.
3 years ago
Thelma and Louise are doing very well. Showing nice colour in the leaves. Bud sites are beginning to develop.
3 years ago
Light cycle switched to 12/12 and first feeding of Sensi Bloom given. Added a new fan to the tent and lowered the outside air intake so that it wasn't so close to the charcoal filter.
3 years ago
Updated the tent today with the installation of an in-line fan and charcoal filter with ventilation to the outdoors. Up to this point I was leaving the flap open on my tent to control humidity and temperature. Tent is now closed up with single intake and the new air filtration system. Plants are already responding to LST started yesterday.
3 years ago
Water consumption starting to increase, especially with Louise. Thelma's growth still seems delayed, but the growth after topping is gradually growing. Started LST for some of the larger lower branches. Temp steady at 24 C with RH of 65%
3 years ago
Continuing with a 24 hour on light cycle is showing its benefits. Thelma is still recovering from topping but the new growth is slowly making progress, which has been the pattern for this plant...healthy but slow. Trimmed 4 fan leaves from Thelma in the hopes that more light will expedite growth. Louise continues to stretch, and top growth post topping is taking off, gaining about 1/2 an inch every 24 hours.
3 years ago
Thelma has now been topped. Louise is showing excellent signs of recovery from topping and good new growth. Changed light cycle to 24 to take advantage of final weeks of vegetation.
3 years ago
Thelma (left), 9 1/2 inches and Louise (right), 12 inches. Louise topped 2 days ago. Waiting for Thelma's top node to space out a bit in order to top. 18/6 light cycle continues as 4 week of vegetation comes to a close.
3 years ago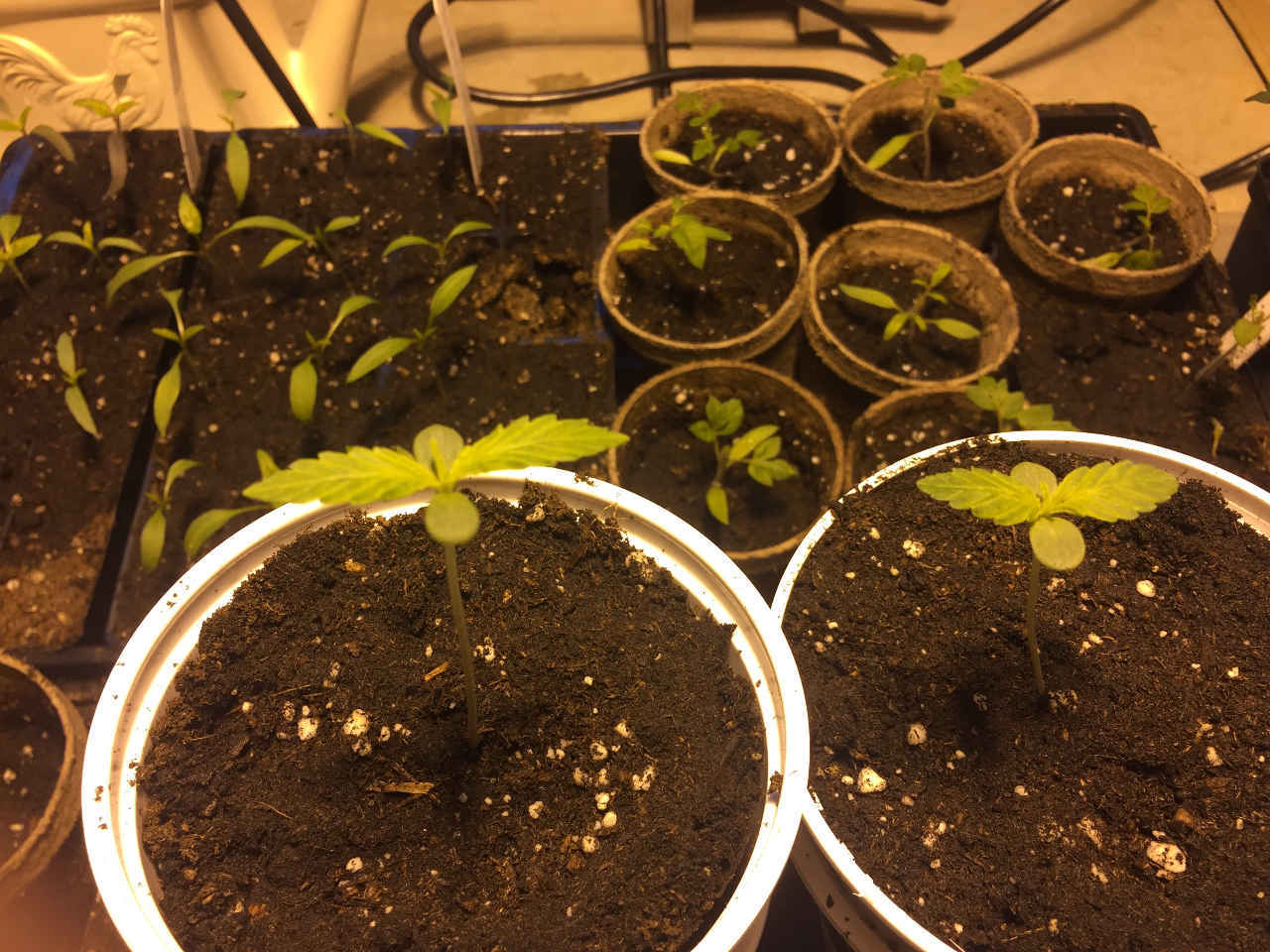 Meet Thelma and Louise.
3 years ago