amarallz
Ssh x dream queen glue
Fall 2019
4 plants in a 2"x2" indoor growntent, under a 150w hps light, running on 18/6 period.
Noticed some bud growth, specially in the smaller one, the top buds gained some weight. The bigger plant took in the new organic fertilizer really well, the leaves are with a darker tone of green. No water for the last 3 days, today I watered them with the regular new mix of organic ferts.
3 years ago
Recovered well after I let them almost dry. 3 days without water. Oops. Seem to be ok now.
3 years ago
So many tricomes in just 2 days. Switched the ferts to a vegan organic that doesn't require flushing
3 years ago
Buds started fattening up. Actually impressed with the size of them, they almost doubled their size, about 2/3.
3 years ago
Finally controlled the thrip infestation. The colas started to show a little bit of snowy tricomes.
3 years ago
Some light burn and lots of pistils. 13th day of flower. 6 weeks more
4 years ago
Two female had to do some monster cropping and all good for the road. I'm sad that I ended up with only two females but I guess that's the price you pay when you buy regular seats. Hopefully I'll get half an ounce from this one plant.
4 years ago
Think that 2 may be male... What a pain in the ass
4 years ago
First day of flowering. Did a big prune on the fan leaves. Had some thripe infestation as well, I'm using citric acid to repel the colony. Flipped to 12/12 and put a 250watt hps.
4 years ago
Put an extra 50 watt LED to compensate the flowering stage that starts in 5 days
4 years ago
Another ten days until flowering. 2 plants with toppings and LST and 2 just topped. At day 60 I'll switch the light cycle and the lamp to 12/12, then I'll just bend the tops of the topped plants.
4 years ago
Transplanted then to their final Pots, 7L, plastic. Did some defoliation and retouched the LST , 2 are going to be LST and 2 just topped and lightly handled.
4 years ago
Did some defoliation in the big one, hoping to take this one just With a topping, while the others are going through LST. All good in here
4 years ago
Started complementing the nutes with Green explosion from top crop. I'm going to keep this nute/light system for another 3 weeks, then I'll change the setup for the flowering stage.
4 years ago
So, the plants that received the LST and toppings are doing great. New colas appeared, vegetation is healthy, all going good. One of the smaller ones seems to be stuck, and the other one completely exploded, is huge. Greengold is also stuck and the feminized seed that is inside the jiffy is a no show.
4 years ago
LST is doing just fine, adjusted the knots one more time today. Maybe the 4 of them are going to fill the whole space inside the tent, if that happens I'll just LST 2 of them, so they don't fight for space
4 years ago
Did a heavier LST on them, FIMMED the bigger one. All good in here
4 years ago
All of them responded well to the light lst. Nutes seem to be kicking in very well, the smaller plant who was jammed, now gained some color and looks like it's finally growing properly. Greengold finally sprouted.
4 years ago
Did some light LST on them. If they respond well I'll begin Fimming them in order to get new colas and keeping them short.
4 years ago
Transplanted to bigger pots, they're now in the beginning of the vegetative state. This week I'll start watering them with the top veg nutes from top crop.
4 years ago
Nothing new under the "sun". Noticed that the 2 biggest plants are now rapidly developing. Thinking about having the first FIM crop at the end of this week.
4 years ago
Removed a couple of leaves that suffered nute burns. Using just water for at least tomorrow to balance the nutrients. Greengold still hasn't sprouted.
4 years ago
The plants responded pretty well to the LST. A very little nute burn was spotted on the bigger one, I shall increase the interval between nutes and water in order to correct it. Couldn't resist and sent another seed to the soil, greengold feminized photoperiod.
4 years ago
Started with the rooting solution for the older plants. Growth is fast, but the second oldest plant looks a little light green and looks like it's jammed.
4 years ago
The plants are growing in a fast pace. I have 3 kinds of pots here. The one who seems to work the best is the McDonald's cup, followed by the one on the left, which is also deeper than the other ones, and the seedling in this one, was planted 3 days after the first ones, and is already the same size of it's younger sister. Today they're going to have natural sunlight for a period, Than come back to the grow.
4 years ago
Fourth seedling just sprouted overnight. Now running on a 24h light system, untill rooting is complete. Next week i will begin using fertilizers, Starting small with 1/2 portion of deeper underground by top crop. Then moving on to top veg when plants are ready.
4 years ago
The third plant popped up today, one still in the ground.
4 years ago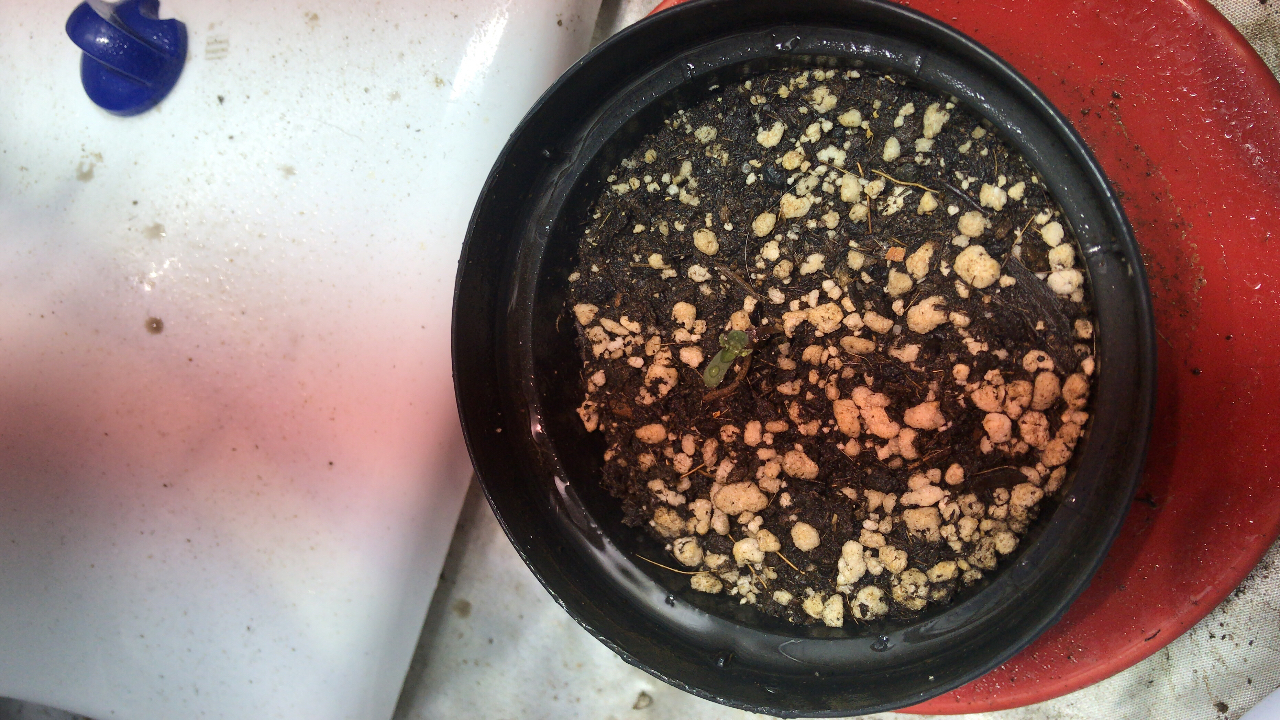 First day of seedling stage 21/9 From the 3 pots. 2 came up.
4 years ago