2nd Grow
Orange Sherbert and Amnesia Hayes
Soaked in water over and placed in napkins on 8/17
Orange 🍊 sherbet harvest
2 years ago
11/13 Orange sherbet looking great in her 3 day of flush.
2 years ago
Amnesia Haze Auto harvest!!!!
2 years ago
11/8 Trichomes are cloudy and I'm waiting to see some amber on my Orange sherbet. My Amnesia Haze Auto has cloudy trichomes with a few amber ones. I'm currently flushing the amnesia plant and cut her down 5 days.
2 years ago
11/6 I have been flushing the Amnesia Hayes Auto for 3days with 7 more to go before she is ready
2 years ago
11/2 plants are close to harvest and looking good and frosty 🥶. I plan on flushing the plants in 5 days.
2 years ago
10/25 and the plants have about 21 to 30 days of life left.
2 years ago
10/19 the plants are growing well and I believed that the plants are flowering at week or 2 apart. The Amnesia is showing early week 5 of flowering while the Orange sherbet is show week 4 of flowering.
2 years ago
10/11 the plants are the beginning of the 3rd week of flowering.
2 years ago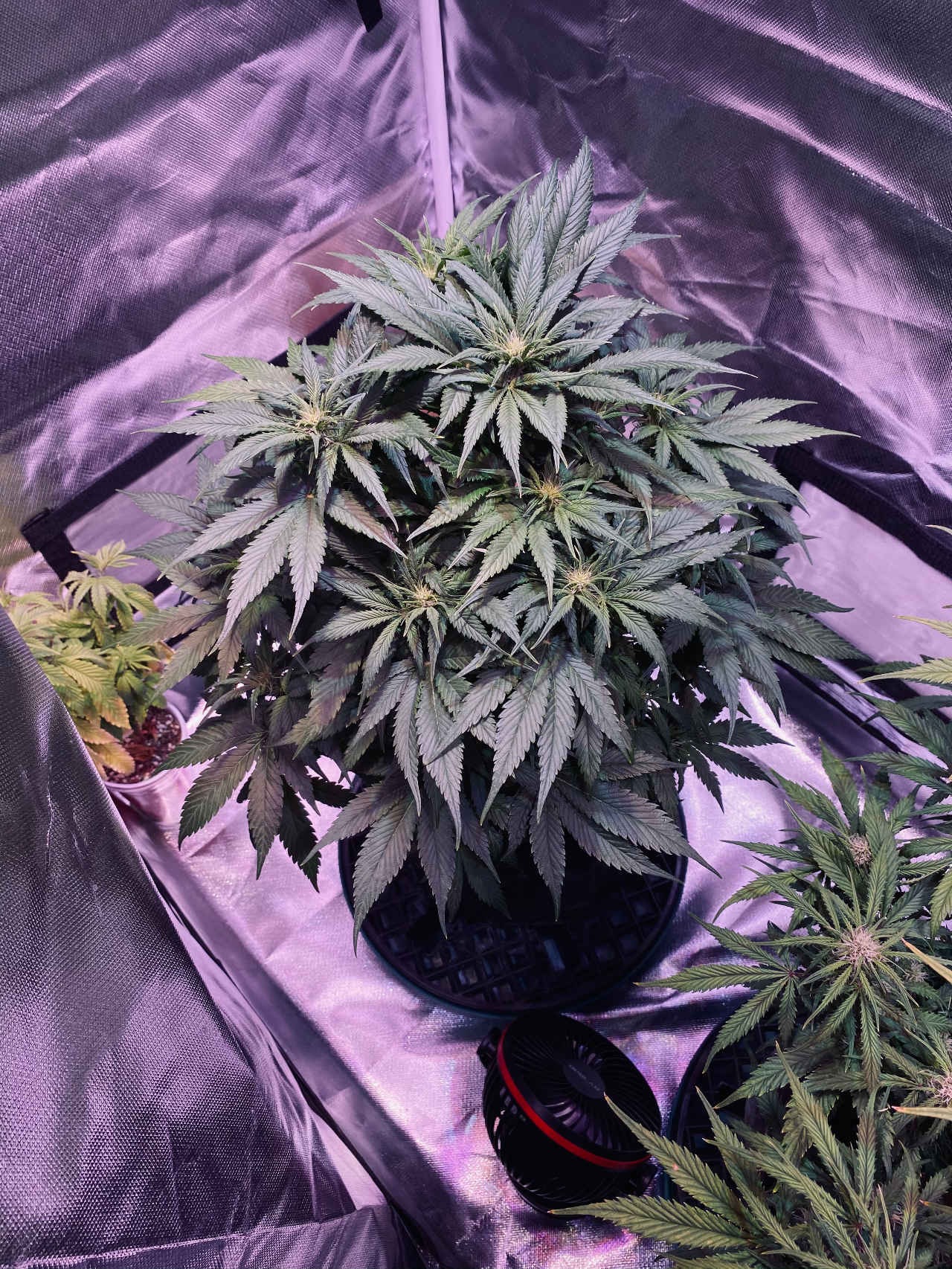 10/7 plants looking healthy with the Amnesia flowering sooner than the Orange sherbet.
2 years ago
9/25 2nd watering of 25ml of bloom A&B nutes and sugar rush with veg and fruit yield enhancer. The water was 722 and the Amnesia 564 and the Orange Sherbet was 534. I added some before and after photos of the low stress training.
2 years ago
9/22 plants growing good after first bloom watering.
2 years ago
9/20 after first LST the plants are looking healthy. I believe this is the last week of veg and going into pre flowering. The Amnesia is bigger and taking more nutes. The orange sherbet is nots as big but growing great but takes a little less nutrients.
2 years ago
9/15 LST on both plants and my outcome was mixed. Both plants trained well but an accident with the orange sherbet plant cause me to loose a good stem with growth nodes. I will keep an eye on the plant to make sure it recovers well.
2 years ago
9/13 plants are looking well from the light boost. I plan on giving them there First LSD this even.
2 years ago
9/7 Orange sherbet and Amnesia grow well. The Os is 6inch high and the Amnesia 4inches. They are now under there own light.
2 years ago
9/5 Amnesia plant growing health
2 years ago
Breez 9/5 🍊 sherbet growing tall also
9/2 Second orange sherbet plant 🌱 is growing tall and beautiful
2 years ago
8/30 Plants growing well in fabric pots. New leaves are starting to form and they are raised towards the 💡
2 years ago
8/27 transferred both plants from there grow pods into 3 gallon fabric pots filled with coco. I feed them 5 ml each of grow a&b plus 10 drops of root excellurator and lastly sprinkled some great white on the coco before watering
2 years ago
Orange sherbet and amnesia haze auto are showing new leaves form.
2 years ago
Breez The orange sherbet plant has reached the top of the grow pod some so I plan on putting the plants in 5 gallon fabric pots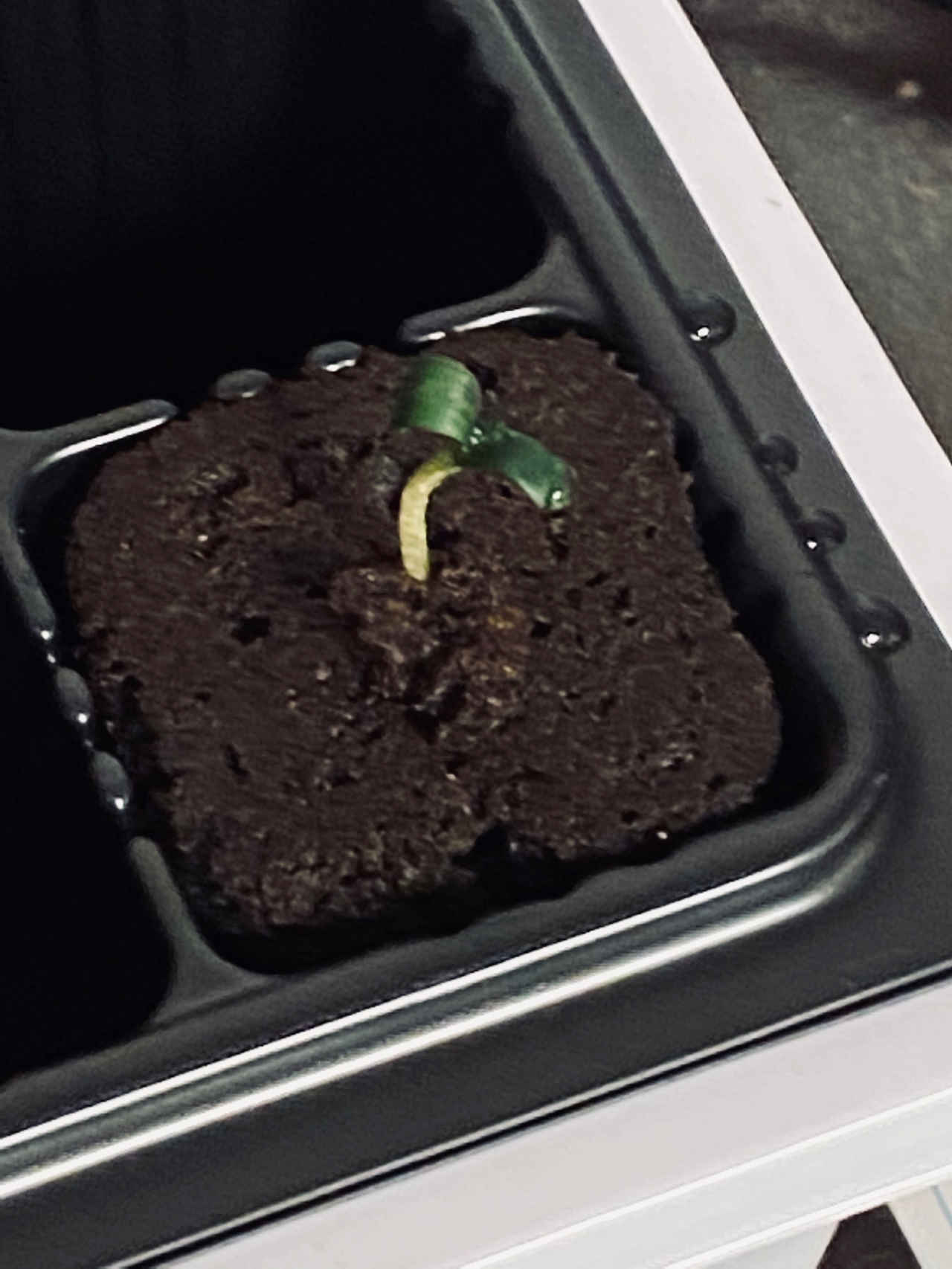 8/21 The seeds are starting to sprout out of the grow pods Amnesia Orange sherbet
2 years ago
8/19 I placed the Orange Sherbet and Amnesia Hayes seeds in pods and feed them 2.5 ml each of grow a&b and 5 drops of root excellurator. I used 2ml of ph down to get water @ ph6. I put a little Great White bacteria on the seed before placing them in the pods.....orange sherbet seed in top pic and Amnesia seed in 2nd pic🌱
2 years ago
In napkins 8/17
2 years ago