Girl Scout Cookies X OG Kush
Start August 2021
I'm growing Cookies Kush which is a Girl Scout Cookies X OG Kush cross from Barney's. I'm doing a top drip, aeroponic sprinkler, air stones and Root Spa hydroponic set up. I have a CO2 generator tank using citric acid and baking soda. Using an led light bulb for the first couple of weeks of growth then I'll bring in my led blurple light. I'm using General hydroponic flora series nutrients micro, grow and bloom. UC Roots to keep the roots healthy during the heat.
Threw in a diy grow light last night. I regret two things: having the lights on schedule be from 9pm to 9am because my times to check on the plant are very inconvenient, and vegging the plant too long. I should have done 1 month and done but for some reason I thought I had enough room vertically for the stretch but I'm 4th week of nutes as of yesterday and it's still growing. Roots are super healthy.
a year ago
Switched to flower
a year ago
Going to wait till Friday and defoliate and flower.
2 years ago
I low stress trained two of the branches to the left, I thought they could fill in the canopy a little more. Added some water this morning, will change out nutrients after work today. She's coming along nicely. I think a few more days and I'll flower her. I've heard a couple ppl say that this plant will grow easily because after all it's a weed. I looked this up and cannabis is considered a flowering plant rather than a weed. I thought I'd stick up for her since she can't talk.
2 years ago
Well it's only been a day but I can't believe how bushy she's getting. I measured from clay balls to the longest top and it's only 8 inches tall! LST for the win. With my height restrictions I can let it grow another 4-6 inches more before I go into flower. They tend to double in length during flower so you have to anticipate the stretch. My last grow was a super lemon haze a Sativa dominant strain which can triple in length and did for me. I was not prepared and had to high stress train to lower the tops under the light as much I could. This strain is mostly Indica so I hope it'll stay stubby.
2 years ago
Using week 4 nutrients to keep on keeping on the veg stage. Two more weeks and I'll have a good size to flip to 12/12. I had like four leaves develop spots that I figured was either too much UC roots or nutrient splash burn or lights were too close. I cut the affected leaves, raised the lights and lowered the UC roots which wasn't a high dose to begin with but everything looking good now, no more spots or burnt tips.
2 years ago
j.nug @Troy.Farms thanks growmie!
LST for more tops!
2 years ago
Still looking healthy. Roots looking good 👍.
2 years ago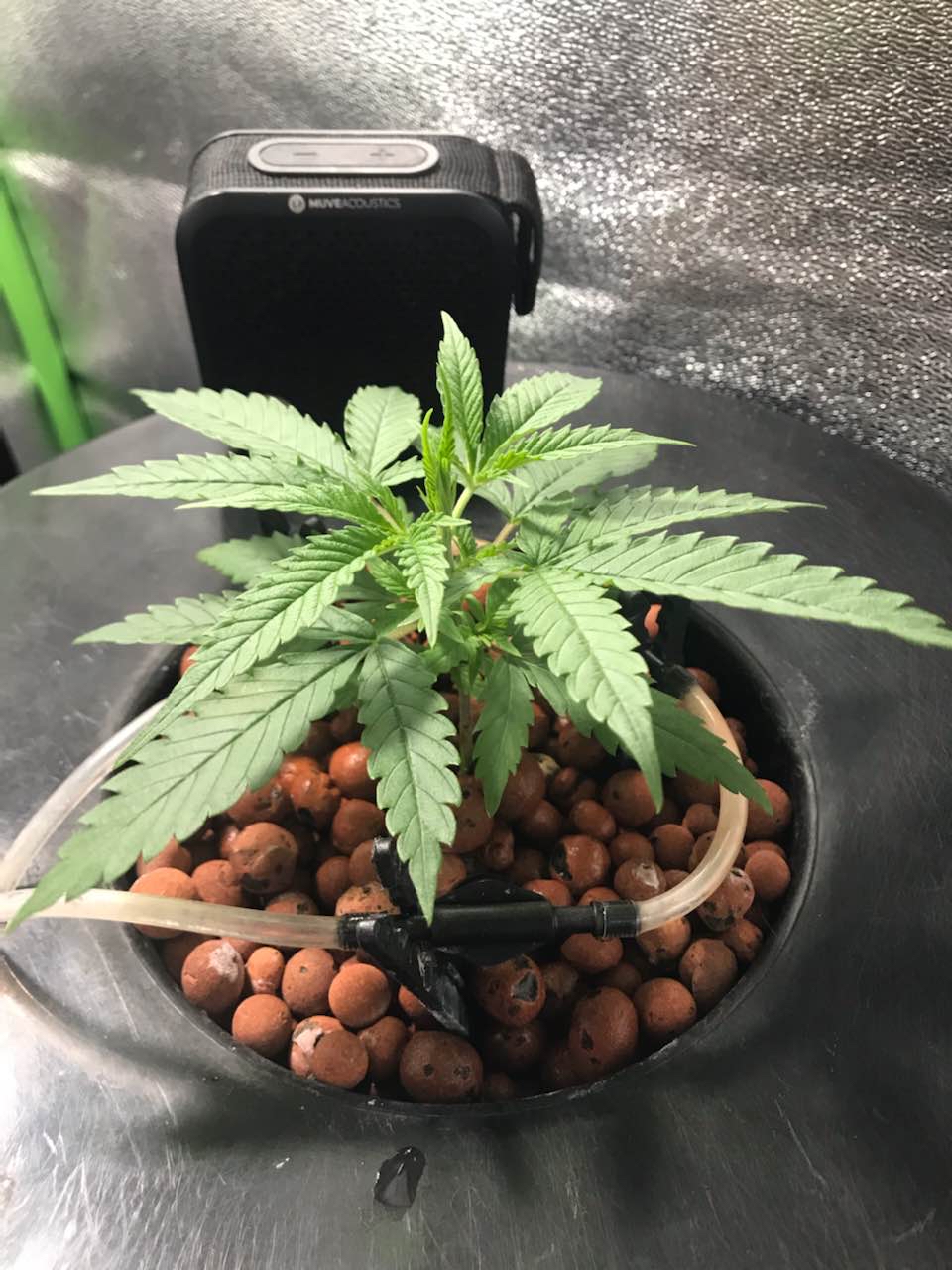 Looking healthy, playing a little Mob Deep for some MOTAvational growth. Changed up my bubbler, so many small bubbles it looks like soap. Small bubbles means more surface area for the roots to touch air. Lowered the sprinkler head to hit the bucket walls more, to break up the water and hit the roots. I have two holes on the pvc pipe that lead to the top drips. How High is now on prime. That is all.
2 years ago
combatmedic81 Nice w/ the mobb deep. I went with biggie smalls this morning
j.nug Biggie!!!! Rip. My wife's got the 2001 going as I cut my own hair.
Nothing much to report. She's looking heathy, five blade leaves 🍁 coming in.
2 years ago
My net lid was leaking from my sprinkler throwing up water and going through the lip so I used a rubber weather seal from Home Depot around the bottom of the lids lip. The lid no longer clips on to the bucket but the new rubber just sitting on the bucket creates a good enough seal to not leak anymore.
2 years ago
Pictures numbered: 1. I use a harbor freight pump to suck out the old nutes. 2. The general hydroponics website has detailed nutrient feeding schedules. 3. Filtered water, I'll soon post ppm tap vs filter. 4 keep your nutrient measurements organized. 5. Mixing nutrients 6. Serving new nutrients. 7. My sprinkler head that mists hanging roots 15 seconds every 5 minutes. 8. The Root Spa bubbler. 9. CO2 tank. 10. 200grams of each plus 11. 300ml of water to create CO2. 12. Funnel to pour. 13. Pouring, DO NOT SHAKE. 14. Pour water at a tilt. And screw top back on quickly. 15. Clean everything, and if you share your bud keep everything as clean as possible. 16. The tank has a switch that turns on when the lights turn on since plants only intake CO2 when the lights are on, I have a one way valve and a diffuser at the end to make the CO2 easily digestible for the plant. 17. I have a fan cooling the air pump, if the pump is warm the water gets warm air.
2 years ago
She's looking good, I think on Saturday I'm going to cover the bucket top underneath the leaves but over the drippers with panda film to help with evaporation. Last nutrient change I was down a half gallon and I know this little baby didn't do that. Humidity has been a little high, I have a dehumidifier but it's a small Peltier "do nothing" poc, and the tent isn't enclosed so new air just got keeps coming in that needs dehumidifying so it's pointless. I'm at the whim of the weather, but it's not too bad.
2 years ago
XXXSNACKS What's the stuff on top of the soil bed?
j.nug There is hydroton balls as the medium for the roots and on top of that is dripper/sprinklers that keep the balls and rock wool cube wet while the plant grows long enough roots to get the nutrient water below the net hanging in air by a sprinkler, and then grow longer to get submerged into aerated nutrient water.
View 1 additional comment
Looking healthy
2 years ago