Gold Leaf monstercrop SCROG
First clone grow, second grow ever
Clones taken after third week of flower. Transplanted six today into 3 gal air pots with Sunshine Advanced Mix #4. Using Emerald Harvest nutes for the first time. Will transplant 3 more clones into cloth pots tomorrow. Main pots under fluorescent lights until stable and ready for aggressive veg. Tent not available for 3-4 more weeks. 2ml Cali Grow A & B per gal, adjusted to pH just under 6.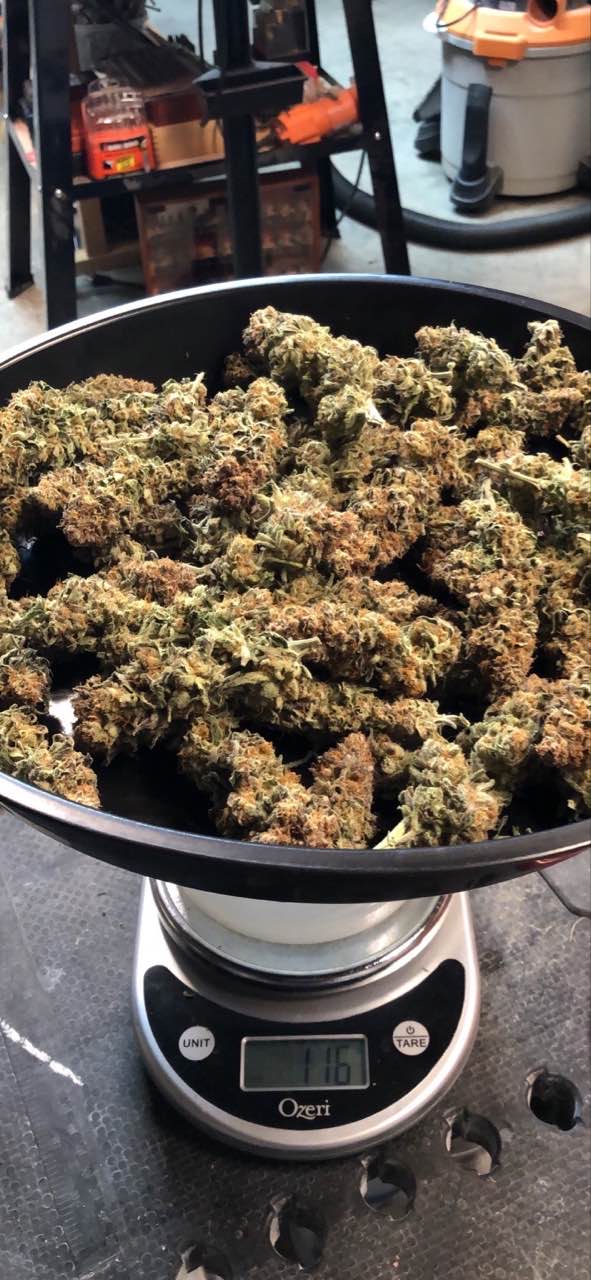 Ended up with just under 16oz dry, heading into cure.
2 years ago
Today was chop day! I ended up with 2435g wet weight for the six plants. Next grow I need to focus on lower branch trimming earlier, as I got a lot of larf and popcorn buds that probably detracted from the mains. Still, the colas are all extremely dense and super thick.
2 years ago
combatmedic81 I always do the same thing. I try to keep the lower branches hoping they will get up to the light and it seems like they never do
Starting last week of ripening and these are the biggest, densest buds I've seen in real life. Very low nutes this week: 1ml/gal Bloom A and B; 6ml/gal Honey Chome. I'm running those at HALF STRENGTH still.
2 years ago
steele420 Awesome how many PPM's are you going up to?
brownjos The nutes are mixed according to the Emerald Grow guidelines but at 50% strength. It's drain to waste. I have not been measuring the runoff but watching closely for signs of burn. I like to run until just the very tips start showing evidence. That tells me I've just reached the plants' limits.
Picked up a WiFi microscope to get better look at the girls. Lots of cloudy, but no amber yet. 1.5 weeks to chop, give or take.
2 years ago
bossnig440 Hey question where do you get seeds from looking to order but want a good site to use I was going to try attitude seed bank
brownjos Great question! These are Gold Leaf from I Love Growing Marijuana. Neptune Seed Bank is good, as is DC Seed Exchange. I recommend Night Owl and Mephisto seeds, particularly if you want auto flowers.
Entering the home stretch! Last two weeks. Nutes tapering down now. 3ml/gal of Bloom A and B; 2.5ml/gal Emerald Goddess; 4ml/gal King Kola (I did this full strength this week by accident); 3ml/gal Honey Chome. pH adjusted lower to 5.6
2 years ago
Last week of late flower feeding schedule, followed by two weeks of ripening. This will put harvest at end of Jan. Did some light trimming of fan leaves last night and adjusted lights up slightly due to cola height. Looks like the right side pump ran out of batteries so those three plants missed a day or two of feeding. Nutes are the same as last week: 3ml/gal Bloom A and B; 5ml/gal Emerald Goddess; 4ml/gal King Kola and Honey Chome. The buds are much stickier this grow, and fattening up nicely!
2 years ago
First week of late flower. Half strength nutes working well. No evidence of leaf burn. Moved watering to 2min every 12 hours. 3ml/gal Cali pro bloom A and B; 5ml/gal Emerald Goddess; 4ml/gal King Kola and Honey Chome. This starts the 4 week wind down period to harvest (targeting end of Jan).
2 years ago
Mid flower period still. Same nutes as last week. Found the back right plant to be getting too little nourishment. Removed a TON of high level fan leaves to open up lower canopy on all of the girls. Super sticky already—more than at the finish line for my previous grow!
2 years ago
Mid flower phase. Nutes still at 50%. 3ml/gal Cali Pro Bloom A and B; 5ml/gal Emerald Goddess; 6ml/gal King Kola; 4ml/gal Honey Chome.
2 years ago
brownjos Thx! The rear right area is a little bit ahead but I'm out of places to tuck!
Early flowering stage. Same nutes as last week at same strength, minus the Root Wizard. Full tent coverage now and canopy very even. Have removed lower foliage and will look to trim more this week as they stretch.
2 years ago
First week out of transition into early flower. Nutes this week still at 50% strength. 2.5ml/gal of Cali Bloom A and B; 4ml/gal of Emerald Goddess, King Cola, and Honey Chome; and 7.5ml/gal of Root Wizard. Canopy is thick and has filled most of the tent space. Will wait for a bit more height before doing some thinning of the underbrush.
3 years ago
Switching to 12:12 flowering tonight. They are on week 1 of transition nutes at 1/2 strength. That equates to 2.5ml/gal of Cali Grow A and B; 3ml/gal Emerald Goddess; and 2ml/gal of King Cola and Honey Chrome. pH at 6.5
3 years ago
Still vegging. Growth rate is huge so I'm going to let them keep filling in while I SCROG. Once the current nutes run out I'll switch to flower. Should be another 3-5 days. Getting anxious.
3 years ago
One more week of veg. Doing some LST. This week nutes will drop a tad as seeing some clawing on leaves.
3 years ago
Moved the clones into the tent tonight. Nutes this week are Cali Pro A and B, 5ml/gal; Emerald Goddess 6ml/gal; and Honey Chrome 4ml/gal. Ph just under 6. Will give them a day or two to acclimate to light and conditions then start the LST. Only want them in veg maybe a week or two more.
3 years ago
Explosive recovery and growth from the clones, and that's under fluorescent lights only! Loving the nute blend so far.
3 years ago
Some shock from transplanting but mostly ok except the lady on the front right. This week the nute blend is Cali Pro Grow A and B (4ml/gal), Emerald Goddess (6ml/gal), Honey Chome (4ml/gal) and Root Wizard (15ml/gal). This is week 2, "early veg". I am hand feeding my extra clones in case I lose a couple of these.
3 years ago
Using FloraFlex pads and matrices. These will connect to auto water system once they are in the tent. For now I'm just top feeding.
3 years ago