Purple queen - hydro
First grow - any advice appreciated💚
purple queen in rockwool with ebb and flow setup
Got 2 weeks left then a week of flush till crop , I think the buds are a bit small any advice?
2 years ago
kianjack21 I think the nutes are fine but the bud only came out on day 25 of flower so think it's a slow 1 , I'm gonna give it an extra week or 2 at least
View 2 additional comments
F36 - is this okay for day 78?
2 years ago
kianjack21 Ye it's day 37 since I flipped light schedule but I think the bud has only come out in the last 2 maybe 3 weeks
F27 - buds came through 2 days ago
2 years ago
Think I might struggle with height in this tent , am I doing anything wrong?
2 years ago
kianjack21 Ye day 21 of flower , should it be further on for this time?
mystrain420 _@eaegifts Depending on your feed but usually by day 21 of 12/12 buds are showing already, perhaps I can't see them in the pic tho. Have you started bloom nutrients? Also is the droop from training or was she already drooping?
View 1 additional comment
Day 16 of flower💚 growing too fast atm🤣
2 years ago
F8 - anything im doing wrong let me know
2 years ago
Put into flower today , only added calmag through topfeed so far , should I add it into the res when I change it through the week? Any advice appreciated💚
2 years ago
Oklagrowmie Foliar spray it. Top feed will take forever to get to the plant. Reservoir would be about 3-7 days. Foliar for fastest. But usually if you're tossing cal mag at it and it's not responding, you have a salt or ph lock out.
kianjack21 Iv not give it much cal mag at all tbf only got it the other day , mixed a liter bottle with recomended cal mag ml/l and topfeed the blocks if they start to get dry in between feeds
kianjack21 It's fine for now isn't and I can just keep up the topfeed for now till I change res can't I? I only did foliar spray at the start but think it caused some holes because I did it in the light il try it a bit next time lights are out
View 6 additional comments
Trimmed a few fan leaves few days ago , feel like it's bushing out a bit more now the other leaves are getting better light and air flow
2 years ago
kianjack21 Thanks mate , iv recently found quite a lot of holes in the leaves. Iv looked for pests with magnifying glass can't see anything. I think it was caused by water spraying onto them. I have stopped the water spraying now. Can't see any new holes but some have got bigger. Is this just because its growing?
vet19vet75 Yeah, standing water on the surface of the leaves can cause burns on the leaves. I always pat them dry if they get wet. Especially with the burple LED.
I plan on flipping to flower this weekend. However I feel like the bigger fan leaves are stopping light getting to the new smaller shoots and slowing their growth. Should these be trimmed? If so which ones and how many can be trimmed?
2 years ago
RawVibez IMO trim all the leaves blocking bud sites prior to flipping. Give the girl a week to recover then flip that bitch!! 😂
kianjack21 Do I trim the just the leaf or the full stem? my first 3 set of leaves are huge now and are covering most of the plant will that be okay to do all 3?
View 2 additional comments
I have concerns about some of the leaves. can anyone give any advice? Iv recently put the food up from 2ml/liter to 3ml but before that I made it miss a feed to flush it by topfeeding with water and left it. I don't see how the nute burn can come that quick and have no clue about the holes in the leaves?
2 years ago
budman0211 Can't say for sure, but I'm having the same rust issues with mine! Almost like your fourth photo. The only thing is mine is literally on the outer edge of the leaves. I'm thinking mine may be potassium def, so would think yours may be a mag def. Not 💯 sure, hopefully a deficiency guru can help! Haha
kianjack21 I'm only running a 3 part base nutrient I think , it's the advanced nutrients ph perfect. What would u suggest adding?
budman0211 I'm running the advanced nutrients also. You using the grow,micro,bloom?
View 9 additional comments
Topped my plant for the first time the other day , it's quite a tall skinny plant because I left it too late. Have I topped it correctly and will they become the 2 main colas?
2 years ago
vet19vet75 Yes, but i can see that your plant is very light in this photo. If it's a true purple, your leaves should be much darker. This could be an indication that the plants are not getting the right nutrients.
kianjack21 It is darker in person , I'm feeding them enough according to the guide on the bottles , is there anything extra I should put in with it?
vet19vet75 Ph your water, and maybe do a flush and start new with PH water and nutes. You're good man, we can get it right.
View 8 additional comments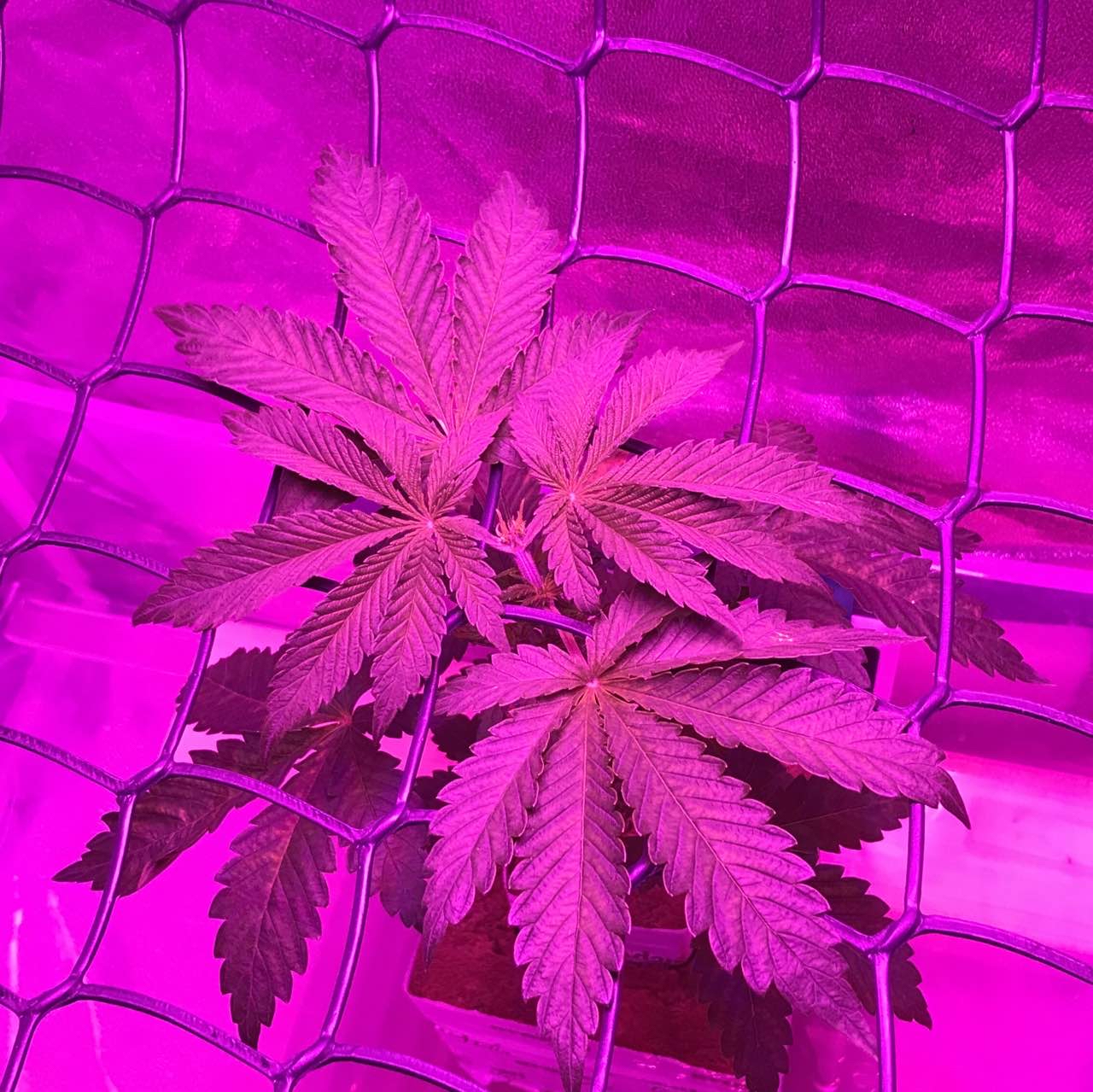 yesterday the scrog was lower , think I did it wrong. Now iv topped it , is the scrog set up in the right place?
2 years ago
vet19vet75 Leaves look better in this shot, but I don't think you need to scrog, there isn't enough to support.
kianjack21 This is how they look most of the time , in that other pic it was me messing with the scrog that made it look shit
vet19vet75 I see where you topped that will help, you should get two colas out of that.
View 8 additional comments
Attempting to use the scrog method - don't have a clue🤦🏻‍♂️, it's my first grow and I'm learning along the way so any advice appreciated. Have I left the lst too late?
2 years ago
kianjack21 It should be going into flower in just over a week so just getting it ready same with the big cube. Am I using the scrog correctly because from other peoples pictures I can't see whats right or wrong??
kargofast How long did you veg, seems very small
View 16 additional comments
Sprouted in 1.5" rw cubes then moved to 3" . Just put it into a 6" cube to see through flower which will start in 2 weeks
2 years ago