splifswiftns
Cannatonic
Thanksgiving grow
High cbd strain. Trying out a new veg setup. 2x2 grow tent with a 600w phlyzon led light.
7 days in the drying box. Buds are a little crispy on the outside, but still pretty wet overall. Stems just barely snap when I bend them. I've jarred and am using 62% boveda packs to finish off curing. Weight is 93.35g or 3.35oz after drying. So far my best grow quantity wise. I expect to lose probably another 2/3rd oz in weight after curing. Smoke report to follow.
3 years ago
Splifswiftns 12 days into cure, and I've taken a taste test. Vapes nicely, with a smooth inhale and good flavour. Tastes a little earthy, almost like light coffee with a very small hint of grapefruit, maybe, in the background. Not an overwhelming high at all, which is great for daytime, but definitely takes the edge off of any aches and pains. I'll enjoy this stuff for sure.
No water for the last two days to finish off flushing. Little lady is where I'd like her to be, time to harvest. I'll trim just the remaining fan leaves, dry for 5-7 days or so, and trim off the sugar leaves before curing.
3 years ago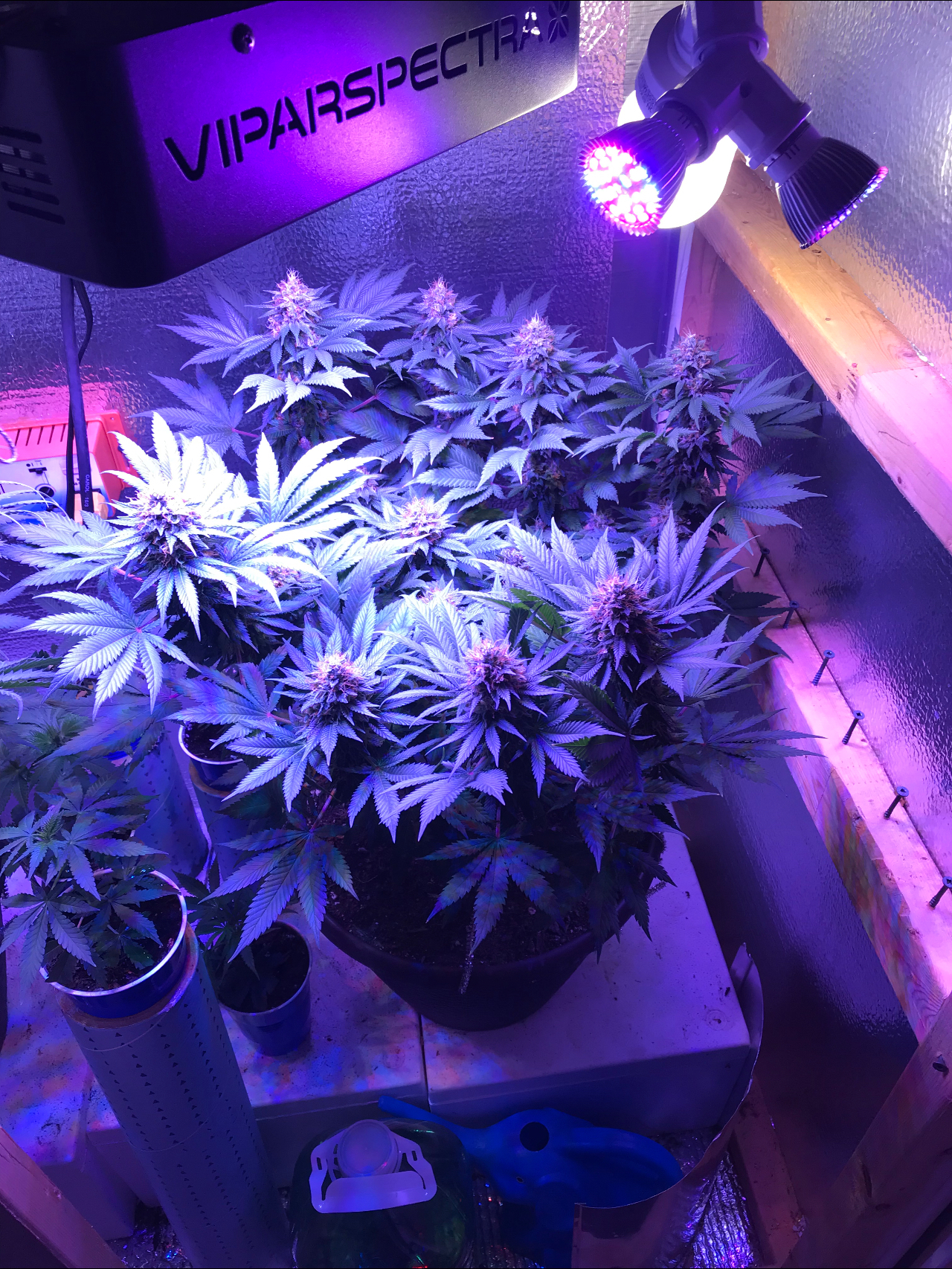 She has a couple of good patches of amber trich's and most of the hairs are now orange. I've flushed for well over a week now, and will stop watering now. I'll let her dry in the pot for the next day or two, and then harvest and dry.
3 years ago
Handful of amber trich's. this lady will likely finish first
3 years ago
Handful of amber trich's I've started to flush out the nutes.
3 years ago
I've started to lower the nutes. I'll flush after the next few waters.
3 years ago
Couple days into week 5of flower. I'll probably start flushing using ph'd water only in about a week and a half. Almost week 7, depending on how far along I think she is by then. Nice big fat nugs. Not a lot of sugar, but that's to be expected with this strain.
3 years ago
She's doing well and growing nicely. Very leafy lady. I don't usually defoliate too much, but may consider it next time I try this strain.
3 years ago
Buds are really thickening up. I'm surprised by this strain. I've heard good things, but didn't have a need for medicinal/higher cbd up until recently. She looks pretty nice though, if I do say so myself.
3 years ago
Doing her thing. Flowers are starting to form nicely. I'll lollipop her, and tie her branches back for better light penetration.
3 years ago
In the flower box now, and starting to show flowers. Little white pistils, no balls. All is good.
3 years ago
Last day of veg. I'll put her into the flower box tonight. Have switched over to flower nutes over the last week or so.
3 years ago
Nearing the end of veg tent time. I'll be harvesting soon, and making room on the flower tent for this one. I'd like to let it grow a bit taller still, but just about there.
3 years ago
I did the thing. Topped the ends after the third node, and trimmed out the 2nd node on each side branch. Leaves me with eight good side branches to train into kolas.
3 years ago
Final trim in a day or two.
3 years ago
Almost time for the next topping and trim. I'll top both ends and trim the 2nd node on each branch. That'll leave me with 4 kolas on each branch for eight kolas total.
3 years ago
Sliced and diced. Little less of her now. I topped her off at the 3rd node, and trimmed everything else below. I can't throw away weed, even if it's only potential weed, so I'm using the trimmings for clones. I'll put them in my flower tent once they show roots, to find out the plants sex and get a sneak preview. In the pic I tied down the shoots, but I've actually left them open to grow a bit more before I tie them back. Pic of my blueberry og shows this better.
3 years ago
Last day before I top and get ready to try my first manifold. Pretty sure I'm good to go, wish me luck.
3 years ago
Transplanted. Room to stretch those roots.
3 years ago
Little bigger now. New tent and light work great. No stretch issues and roots growing strong.
3 years ago
Sprouted and then transplanted.
3 years ago
May be just a seed, but I'm pretty sure it's female. Just sayin.
3 years ago