wiffybead
Blueberry
Spring 2019
Third times the charm. Right? Please. Disappointed in my purchase of Canuk seeds thus far. First seed didn't pop. Second seed popped then the root withered away. So far this one seems to be moving at a better pace. Setup is 2x2 flower area under a 600w blurple light. Using Maxi series nutrients and Cal/Mag in a coco/expanded clay pellets mix.
Flower Day 72 Harvest day! Getting just a hint of amber on the buds, almost all hairs have turned amber, and the seeds (sigh) have all split and poked their pretty brown shells out. She's got a week of drying from here then onto the cure. Next update will be the dry weight. Looks like the breeding was relatively weak thankfully. I'm sure there are more seeds hiding but I only pulled 12 while trimming.
4 years ago
Flower Day 62 She's still being her. She's actually much closer than she looks. Took a peek at her trichomes and they are almost all cloudy! Can't judge a plant based on appearance alone. Should be looking at 1-2 more weeks and there should be a nice smattering of amber in there. Crossing my fingers for 1 week instead of 2 😁
4 years ago
Flower Day 55 More of the same. She flowering super slow. Went ahead and plucked a few of the fans in the middle. Opened up more bud sites to solid light.
4 years ago
Flower Day 50 Pistils slowly changing. Buds thickening up. All good things but definitely doesn't feel like she will finish in the 7-8 weeks the breeder indicates. Hate how they get your hopes up with that shit. According to them she should be done in a week or two but as far as I can tell she's got about a month left.
4 years ago
Flower Day 46 Pistils have begun their color change. Not much but they have started. Hopefully the buds will start to fatten up as well. Still just thick hairy bodies at this point.
4 years ago
Flower Day 43 Seeds! Damned dirty seeds! The last male I yanked out must have stayed in for a little too long and succeeded in impregnating this sweet lady. Don't get me wrong, free seeds are awesome, but this will definitely impact the yield for a plant I was really looking forward to. Oh well. This is the price you pay for playing with regular seeds.
4 years ago
Niktron Oh no!! Can you top them out or do you just let it be?
wiffybead Nah. Nuttin you can do at this point. There's nothing really wrong with seeds, it just means energy that would go to buds gets put into the seeds as well. Smaller yield plus seeds. I'll definitely be able to use them but they are regular seeds so will present the same danger in the future if I'm not careful.
wiffybead Then again I've heard of folx whose pollinated plants started with a few seeds then exploded with them. That's not my idea of a good time. Just have to hope there's only a few and plenty of bud to go with em.
Flower Day 41 Days come and go and this girl slowly does her thing. Her slow thing. Damn I'm. As I have a bunch of other shit growing or she would be frustrating me. Other than some calcium spots (probably from dripping other plants on her inadvertently) she's looking damned healthy. She's tied super low so I've been putting it off, but I'm going to dig into the underbelly of this beast and start doing some pruning. Dark as hell under there and would be a waste to continue growing itty bitty leaves and branches.
4 years ago
Flower Day 39 Trichomes oh beautiful trichomes! Sugar leaves are all starting to look decidedly sugary, and the buds are pretty much the same thickness from top to bottom. In a week or two we should see some real swelling happening and I can't wait.
4 years ago
Flower Day 37 She's hairy. So damned hairy! Not a lot of progress on bud development, but it's tough to tell due to the density of hairs and leaves. I've got a few spots of a strange white/tan substance in some of the leaves and it's crystalline and goo like in appearance. No idea what it is so research shall commence.
4 years ago
Flower Day 35 Buds continue to develop and I keep nipping off little leaves in the undergrowth to try to keep the area clear to allow airflow. The way she is bunched up I have definite concerns regarding mold.
4 years ago
Flower Day 32 Ahhh the paint drying stage. No real progress to report. Very little change since the update and probably for the next few. Such is the way of things
4 years ago
Niktron Those flowers are really coming along! I'm at the beginning stages of a blueberry strain. Any advice would be appreciated.
wiffybead First grow of this strain myself. My suggestion would be to not get too crazy with the tie downs. Tied her down like she was going to stretch like crazy. No stretch. Lol. Now I've got a clusterfuck that's way too low. Spread her out and give her room :)
Niktron Thanks! Good luck with the rest of the grow. Really appreciate your posts.
Flower Day 30 She has reached the approximate halfway point of flower, and she's not just an excessively hairy girl any more. Her buds have started to stack! No longer just pom poms but with real meat underneath. The swell is exciting and I can't wait to see these buds take shape. Getting some moisture in the tent somehow and she's got some burn spots on her leaves. Trying to track down the culprit.
4 years ago
Westtxpilot I have this exact strain at almost the same stage. Curious to how similar they will be.
wiffybead Lol. Not too similar it seems. You have some nice arrowheads goin on while I over tied mine down and created a bit of a clusterfuck. Are yours hairy under the leaves? Mine have got hairs bursting out everywhere. Never seen anything like it.
Westtxpilot Yeah mine has a bunch of little hairs everywhere. Some are starting to turn orange though which is a good sign. I fimmed mine at about 22 days and that's where those Colas have come from.
Flower Day 28 Almost a month into flower and she's one hairy gal! Due to horrendous undergrowth and the potential for long colas I'm going to be letting her little clonelings have a bit more freedom and not tie them down so vigorously. I'm all down for some heavy handed LST but would definitely give her a bit more air underneath and more of a spread if I could change anything with this grow.
4 years ago
Flower Day 26 Her leaves have been standing straight up. Thought she was reaching for more light so moved her closer, but I'm getting conflicting messages. Some are saying she wants more light and others are saying it's an indicator of stress and the leaves will begin yellowing due to light burn. Time will tell I guess. Other than the odd vertical leaves she looks healthy and strong. Went ahead and did some major tucking to see if that might help with the plant looking like it has the answer and the teacher isn't paying attention
4 years ago
Lemiwinks Thanks for your posts! I am growing blueberry as my first grow. Your diary has been very helpful 😎.
wiffybead No problemo Lemi! The posts are both for me and for anybody who might glean a bit of info from them. Really helps with later grows to either not make the same mistakes or to give a solid reminder of where she should be.
Flower Day 24 He is a hairy beast! Like some hipster French girl. Top to bottom dense hairs. Colas are going to be nice if I don't fuck her up. Tried to get a pic of her royal hairiness but it's not a great shot.
4 years ago
Flower Day 22 Whew. Got lazy. Had to raise my light for another plant and didn't move this girl closer and man those fan leaves are almost pointing straight up trying to get more light. Got her moved up so she should be able to chill and just absorb da spectrums. Bud sites look nice and she's loaded with hairs all down the branches. Underbuds are under developed due to the excessively dense foliage but I'm going to let it roll for now. May consider a dual harvest but that will be a game time decision.
4 years ago
Flower Day 20 I really really want to defoliate this lil lady, but had it backfire on me with another of my plants so I'm gonna stand pat. I've got her clones to play with and I think I'll just keep my fingers out of the pie on this one. Bud sites are looking nice. Bright white and getting dense. Plucked a bit of the under foliage that was dragging dirt or just plain getting choked out.
4 years ago
Flower Day 17 She continues to look good. Buds developing nicely and leaves looking very nice. More leaf tucking to expose tops.
4 years ago
Flower Day 15 Button buds! Lots of tiny hairs and a tiny lil nipple in the center. I love it. Did some leaf tucking and tried to space out the branches a bit more. She's looking healthy and is showing good vigor.
4 years ago
Flower Day 13 Defoliation didn't slow her down for a moment. She's definitely less dense but filled in fast in just 2 days. 2 weeks into flower and she is stretching nicely. Clusters of hairs at the bud sites are getting dense and we should be seeing budlike nodes very soon.
4 years ago
Flower Day 11 Gurl is thicc. Opening her up helped for a day but that's it. Decided to go ahead and defoliate the obtrusive leaves and hopefully that will allow for some of the lower nodes to play catch up. Tops are starting to look decidedly budlike.
4 years ago
Flower Day 9 This little lady has growth for days. Dense dense foliage and the undergrowth is unreal. Decided to open her up again in hopes of getting light underneath without defoliating.
4 years ago
Flower Day 6 She's got a nice flat canopy and a straight jungle underneath. Glad I've got good airflow under canopy or I'd be concerned about mold. I'm ready for her to start stretching so I can try to spread her out a bit more. Wait n see I guess.
4 years ago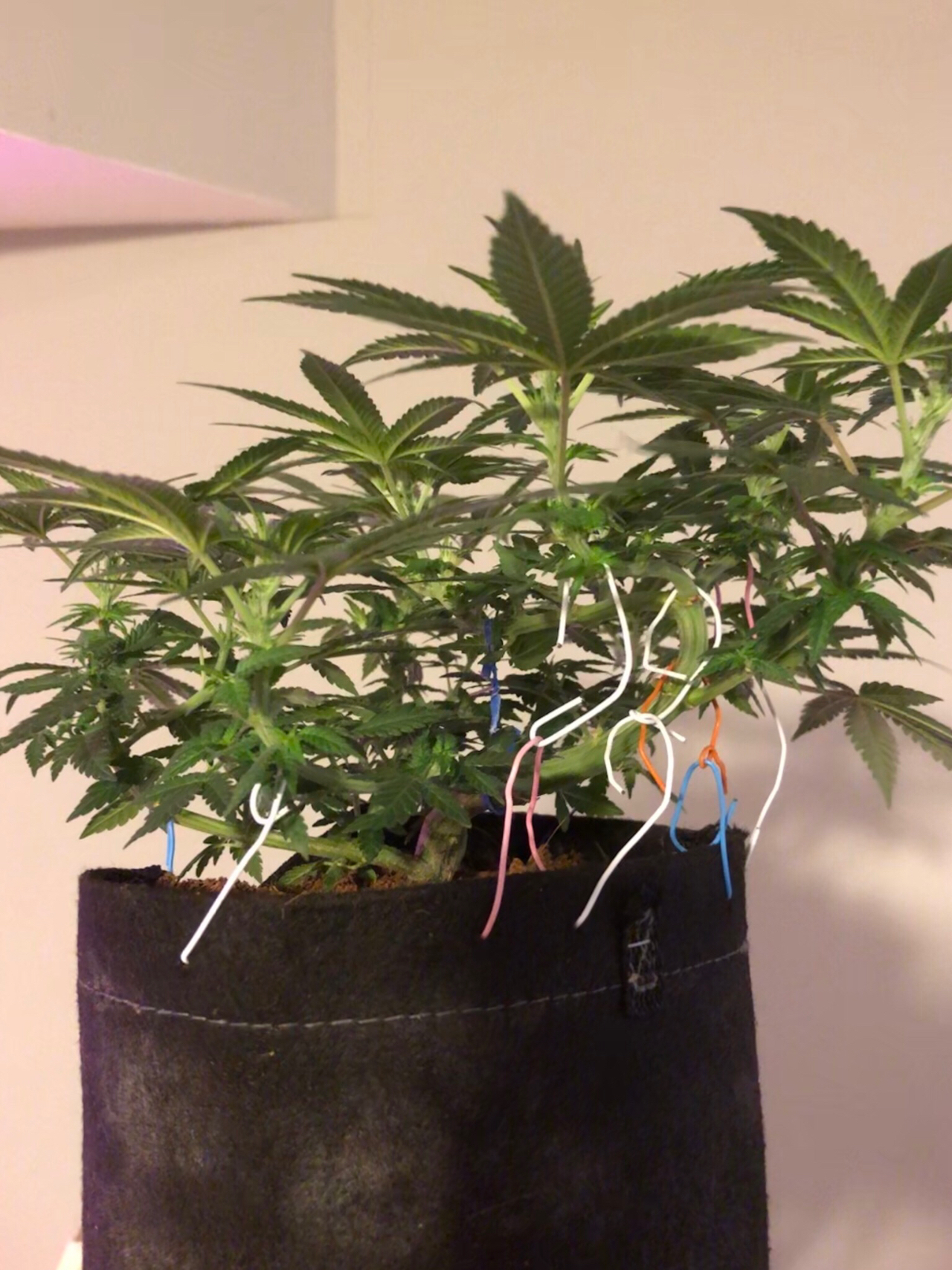 Flower Day 4 Welcome to the jungle. She's a mass of vegetation right now and it will be difficult to wait to defoliate. I want her to stretch a bit before selectively denuding her.
4 years ago
Flower Day 2 Jesus tap dancing Christ that took a long time! Almost three weeks under 12/12 light before she showed sex. She's bushy as hell and growing very nicely, and finally showing sex lol. I'll give her a few weeks to stretch then probably defoliate once it's ended. Taking two clones tonight off the bottom.
4 years ago
Wow! She must have heard me talkin shit because she absolutely exploded with growth. She's got a real nice canopy going now and her leaves have gotten some decent size. No signs of sex still but I think I saw a little preflower node so it won't be long now.
4 years ago
Whew, this girl is aggravating. Still no sign of sex, although she is showing a slight lightening in the color of her new growth, so hopefully that's an indicator that she's starting to develop. This strain has been amazing with its ability to bounce back from whatever mad training I've forced upon her, but she is extremely slow with growth. Blueberry is supposed to be a fast flowering big yielder so hopefully she just puts on the speed in flower.
4 years ago
10 days and still no sign of flowering :(. Hoping my excessive defoliation isn't shocking her back into the stone ages. Bushing up nicely though so that makes me happy. She's on full flowering nutes and got a feeding today.
4 years ago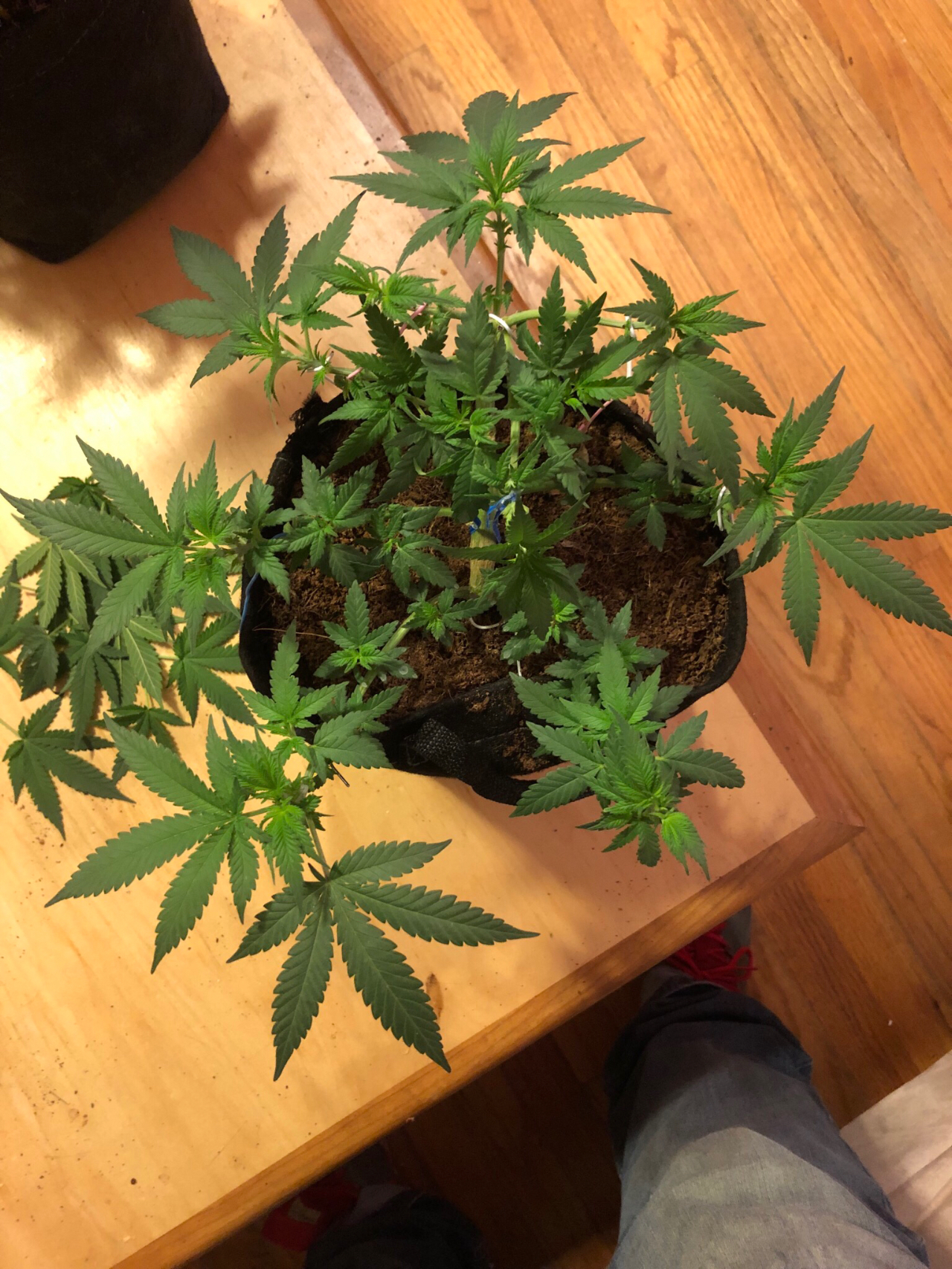 Still no signs of flower. Because of this I went ahead and defoliated again. I focused only on leaves that were blocking undergrowth. Definitely getting some nice growth underneath but will probably not defoliate again before harvest.
4 years ago
What a difference a day makes! Well two days :). All the tops are spread out and heads are up. Praise the sun! The lower under growth is really starting to pop as well. No sign of flowering yet but expecting it soon. It's a feminized seed but it's always nice to see the proof.
4 years ago
Finally got enough growth to tie down the last two branches at the top. All branches are where I'd like them to be and it looks like I've got two lil branches on the bottom that will make decent clones in about a week or so. No sign of flowering yet, but we should see the first signs in a few days.
4 years ago
That's one naked lady. Defoliated the hoohaw out of her yesterday. Trying to promote some of the lower branches, both for yield and clone material. She bounced back very nicely and hopefully will start stretching soon. Blueberry is supposed to have minimal stretch but even a little will make the difference here.
4 years ago
Moved her into the flower side. Still needs to spread out a bit as she's looking decidedly lopsided. I'll keep tying down through her first week of actual flowering and hopefully take a few clones before she starts budding. She's on a 50/50 veg flower nute schedule and will stay on that through her first two weeks under the flowering light schedule
4 years ago
Transplanted, tied down, and spread out. Getting some decent growth on the clusterfuck up top. Was able to tie down some of those branches to open her up. Transplanted into a one gallon cloth pot Her final home. As soon as she points her tops skyward I'm going to plop her into to the flower side. I've got a few branches just starting out that I've earmarked for clones. Hoping they can stretch enough to become viable before she starts forming buds on them. If I have to wait then they will be monster clones. Fear the kraken
4 years ago
Once again she popped her heads right up on the same day she got tied down. That FIM is naaasssty. Shits clumped up and snaggletoothed. Spread things out a bit more and started some gentle tie downs with the clusterfuck up top. Once she goes onto her final 1 gallon pot I'll have a bit more room to move her around.
4 years ago
A little defoliation and LST and this girl is going to be lookin good. Thinking about popping her into the flower box soon and taking flowering clones. Monster clones are fun and make great mothers. Interestingly I got 3 sprouts from the topping. Definitely didn't FIM so that's fun :)
4 years ago
Filling out nicely. Pretty sure she's going into the one gallon pot this weekend. I'll pop all the big leaves then as well. I'm going to keep her in veg until I can get a few clones off her.
4 years ago
Excellent bounce back after the triple play I pulled on her! She was heads up by the same evening that I wang danged her doodle. Based on her growth to date I expected a slow tortuous return to the proper path. You go gurl!
4 years ago
Whew what a day for her. Topped, defoliated, and supercropped oh my. Was planning on being gentle with her but times change as do my intentions towards my girls. She's got another week to bounce back and get spread out a bit, then it's into flower...maybe.
4 years ago
Nice growth! She's looking damn fine under her light, spread out and drinking in those life giving rays. Gonna shock her tomorrow with a bit of super cropping. Her final home is going to be a one gallon cloth pot and I want her spread out enough to fill it.
4 years ago
I'm going out on a limb and saying it was heat stress. Removing the CFL dropped the heat and she's looking much better over the last few days. The new leaves look healthy (and 3 dimensional) and the older leaves have gotten a bit better looking. No topping for this girl. Going to use a bit of LST to get the light in all the right places. In about two weeks I'll transplant her into a one gallon cloth pot and take some clones prior to moving to the flower side.
4 years ago
She continues her growth at a walking speed. Too soon to tell if the lowered temps and misting are fixing the issue. Got up to 83F so I removed another of the 23w CFLs. She's under 3 now. Should get the temp into the right area.
4 years ago
Decent growth. Next set of leaves coming in nicely. Not very pleased with the leaves appearance or feel. No real texture. I suppose it could be related to heat stress. Getting warm here finally so box is heating up a bit more. Opened up the flaps on the side of the tent to get a bit more of the cooler air from the house in there.
4 years ago
Leaves are looking much healthier after reducing the heat in the tent. Transplanted into a 1/2 gallon pot and buried the stem. She's much shorter now and should begin bushing out soon. Bumping her up to 1/2 strength nutes at her next feeding.
4 years ago
Leaves are not looking too great. Pretty sure it's too much heat. Moved to the lower section of the veg side. Removed the 40w CFL to decrease heat.
4 years ago
Expanding nicely. Second set of true leaves caught up to the first set pretty quickly. Waiting for the third set then transplanting and moving to the veg chamber with 4 23w CFLs and 1 40w CFL.
4 years ago
Second set of true leaves started and the first set are expanding nicely.
4 years ago
So nice to see her doing well :). A bit lanky but that's pretty normal with my setup. I just bury the stalk a bit and all is right with the world. Her next watering will be 1/8 strength nutes and CalMag.
4 years ago
Roots out da bottom! She's really movin now :). Went ahead and transplanted into a solo cup. First set of true leaves are taking shape nicely.
4 years ago
Awww look at her pretty lil self! Finally a successfully germinated plant. She's under 3-23w CFL's and will stay there until she gets her second set of true leaves. From there she moves under 5- 23w CFLs for about 2-3 weeks.
4 years ago
Progress! Again! So yesterday I checked on her and she had popped out of the hole with vigor. Except her head got caught on the side if the hole. So she was head down in the hole, and root down in the hole, and she had a loop of root arching over the hole. A whole lotta shit happening around the hole. So I opened the lid to reposition her and she dropped to the ground. Freaked! Carefully got her and her almost inch long tap root back inside the rooter. It took her another day (I assume shock as I replaced her with her head right at the edge of the hole) to poke her head out again. Whew!
4 years ago
Cindy Blueberry is an amazing day strain - right up there with super lemon haze. I have 2 Bb going now - one in flower and one in veg (waiting for room in flower area). She has done really well with training. I'm not sure of the technical terms but I bend her and pinch her and she handles it like a pro. 8 hours after bend she's up and running again. Great strain!
wiffybead Nice! I've had some issues with the seeds I bought and I'm glad one has pulled through. Especially glad it was the blueberry that made it as I've heard nothing but good about the strain. I'm watching your grow for this very reason :)
Started with her in a glass of water for a day and then 4 days in a wet paper towel. Needless to say I am unimpressed with her vigor. Considering the last two seeds were dismal attempts, I'm crossing my fingers that this one will at least make it to the seedling phase. With this seed company, that's as far to the future I'm willing to look
4 years ago