smilecry
4 x Blueberry x Skunk #1 Automatic
First Grow, Spring-Summer Grow
5 Plants starting in Jiff-Pallets and will grow up later in a darkroom with a 250W Lamp There only 4 Plants remaining. I also got my hands on a bigger Growroom (120x120x200). I changed the Lights too. I now have 2 LED's from Growlight. In my Opinion they make some of the best Lights.
Blueberry x Skunk #1 Auto
HighCat Sieht nice aus! 🌱 wann, schätzt du, sind die fertig?
They are pretty close to harvest
4 years ago
18.06.2019 Plants are still growing but also are flowering. They probably will stop growing that much and use the resources to produce flowers.
4 years ago
14.06.2019 Buds are growing
4 years ago
10.06.2019 Starting to look real good. Temperatur is steady.
4 years ago
04.06.2019 Plants look healthy and strong. I only give every few days some water and nutrition.
4 years ago
Aussen Temperatur steigt von Tag zu Tag. Die Lüfter musste ich etwas hochschrauben.
4 years ago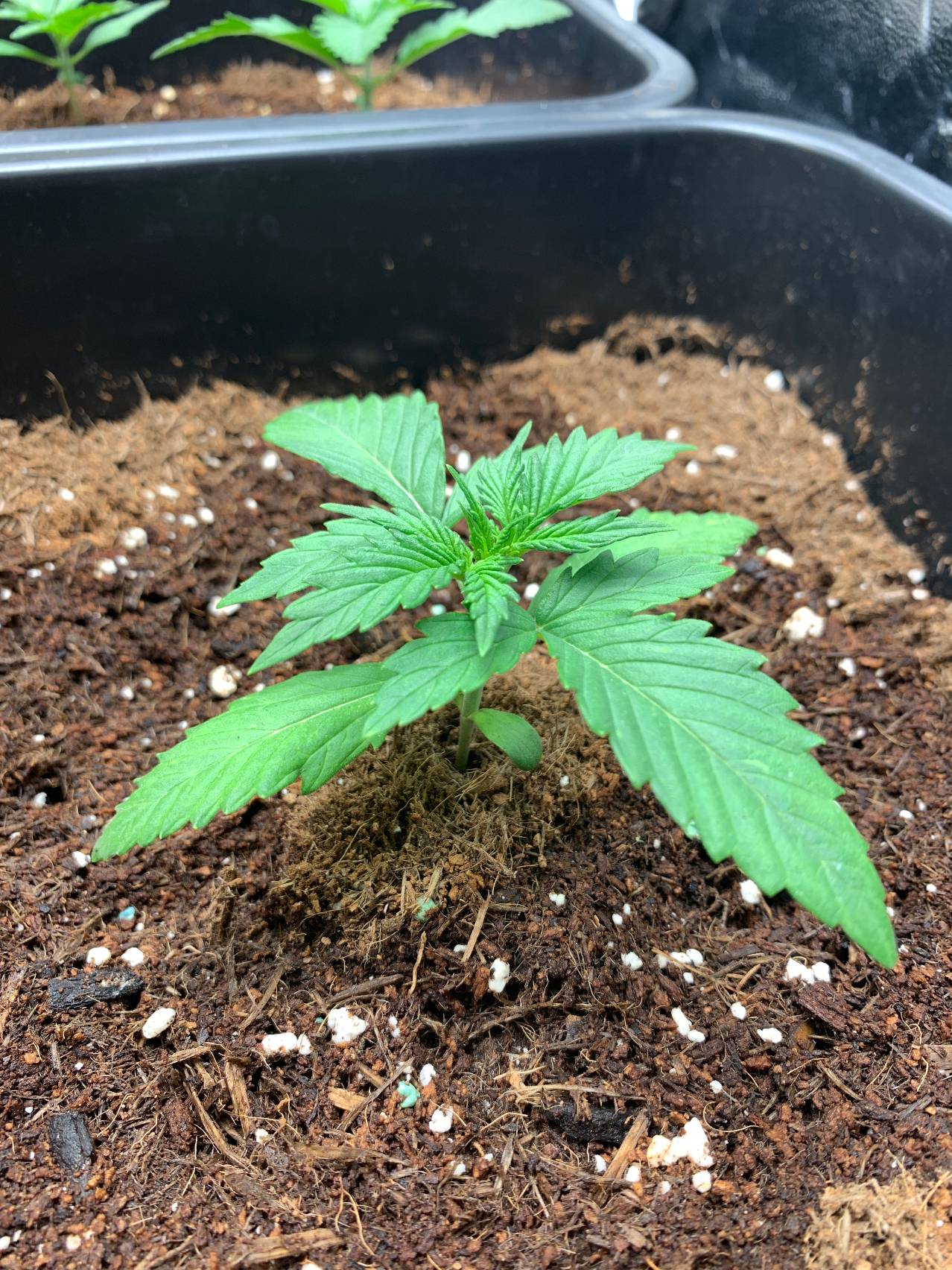 I was able to keeping the temp under 27 Celsius and the plants are growing strong.
4 years ago
Plants are growing great
4 years ago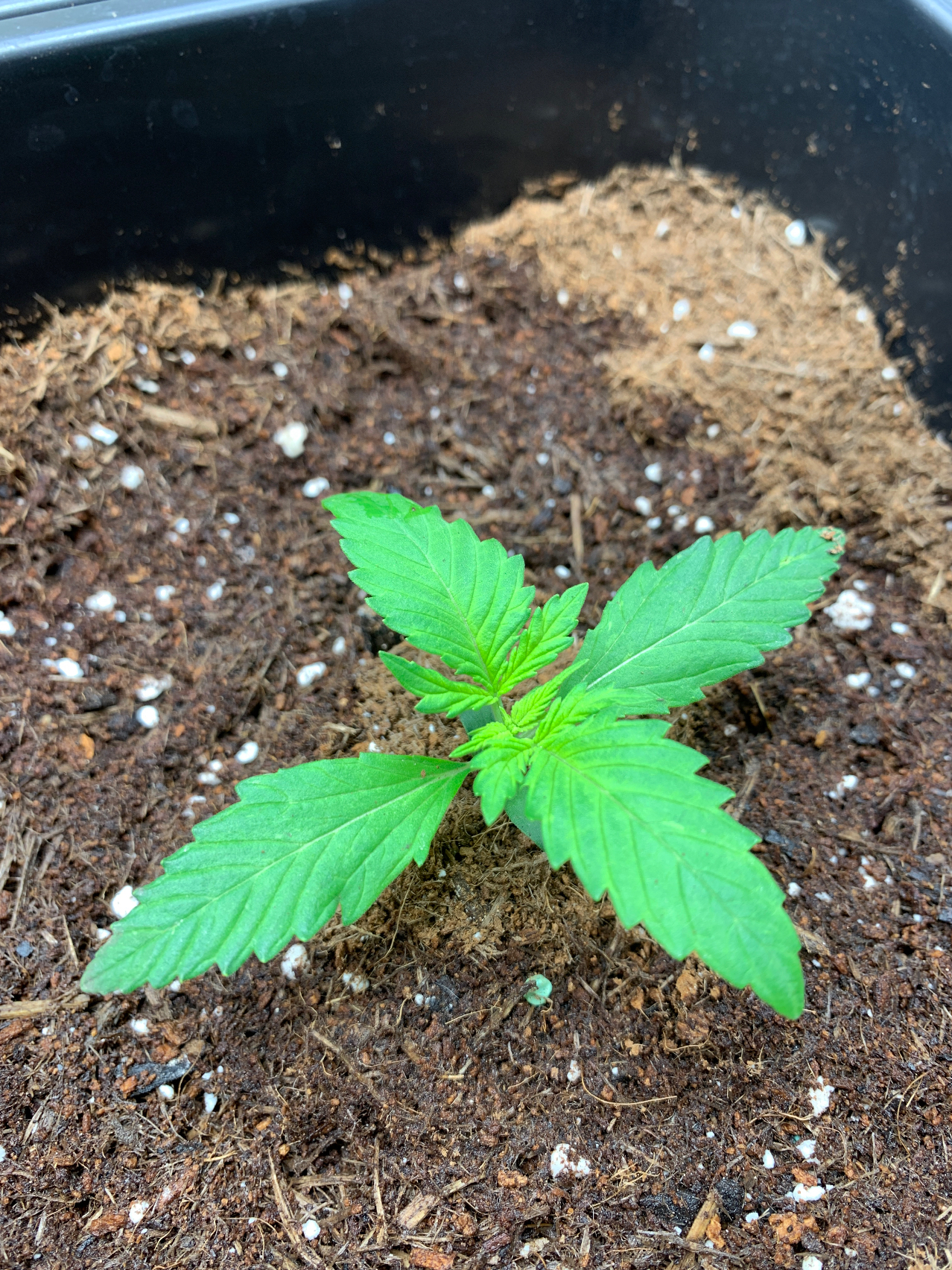 Yesterday i saw that there are white flees and not only few in my growing room. To get rid of all the eggs and the flys, i bought new dirt and planted the 5 plants into the new dirt. I also bought some yellow traps, because white flys are attracted by them. I left the plants over the night away from there normal place. I did that because i cleaned the darkroom and i didn't want any new eggs in the dirt. Today i installed some net over the air holes. I hope that only air and little particles get through it. (I think that it was way to warm and to wet in the room, thats why i have these fly's ). Keep sure it doesn't get to hot >27 and don't let the plants stay in water! (Its still kind of cool because im learning so much and im really happy to have something i can care for every day)
4 years ago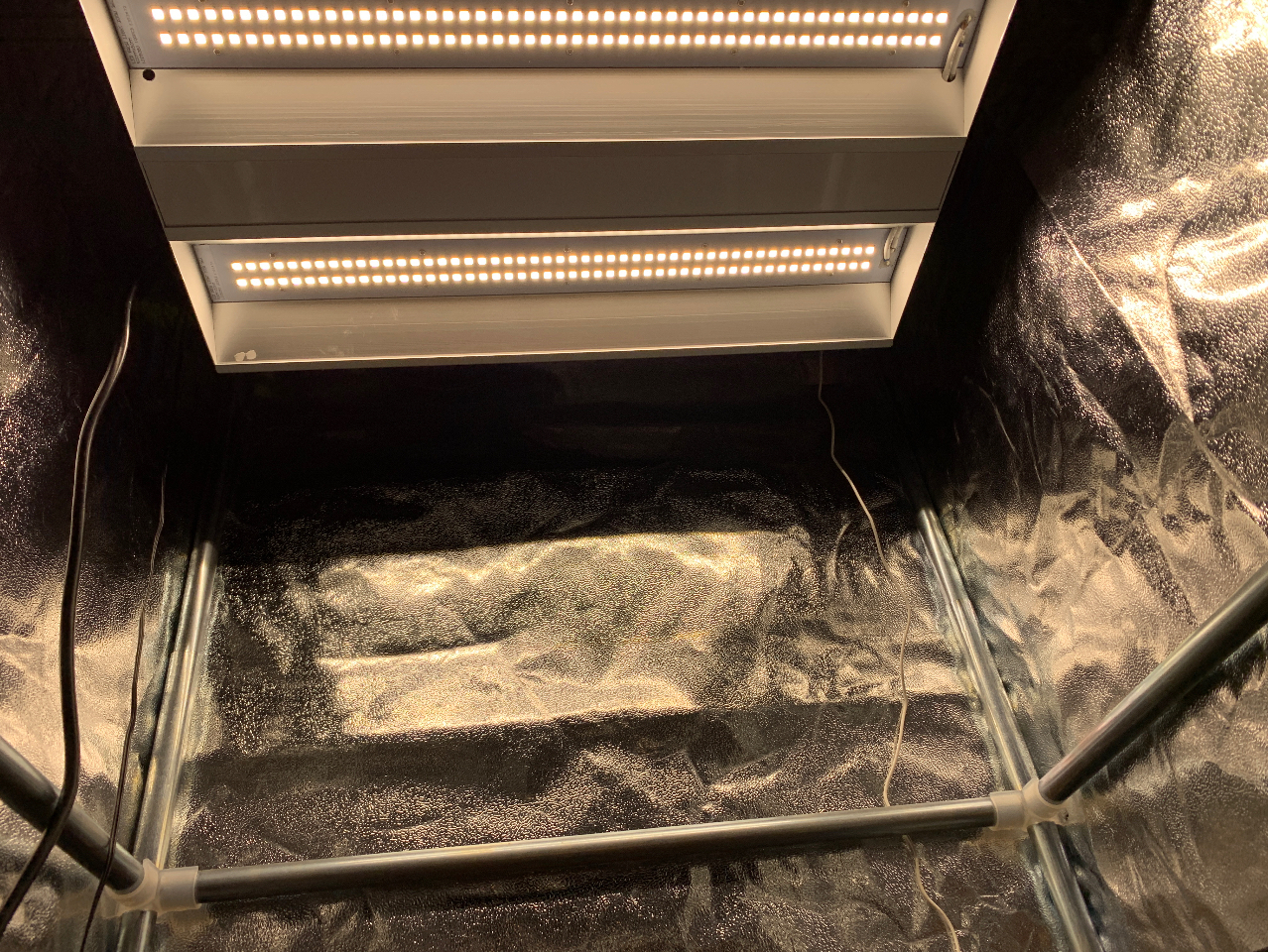 So i just realised that the Temprature is to high. I cant use my fan because it would push the hot air down again... but i want to use the fan and i want lower temp overall. So i got the idea to buy a led lamp. Because i live in suisse, i have access to a great company called "growlight.ch". They produce their own chips and the leds are really awesome as i heard. I went to their store and bought one. As i got home, it was time to change the light and change other stuff too. So here is what i did. A major difference is, that know the fan that sucks the air out, is outside of the box. This is not just for astetics, but also, i have more room in the box. I asked at the store how far the leds should away from the plants. They told me i should try 90 cm and work my way down, until im sure the plants don't get hurt. So i had to remove the cardboard box unter the plants and place them on the ground. I had to remove a little of the plastic underground, that it fits nicely. What did it do: Im able to let my fan spin, so my plants are getting strong. The temperature is at 25,4 Celsius. I have more room that i can use and my plants are receiving some of the best light, that is on the market. Im really happy and im looking forward how it turns out.
4 years ago
Plants are growing and growing. Temperatur is between 25 and 27.3 Celsius. I gave them new nutrition (BIO Grow) from biobizz. I found a great water spraying thing where i can lightly spray the water over the plant so it doesnt get harmed. I just found out that i have to put the light closer to the plants. Im going to do that tomorrow. (25-35cm with 250w)
4 years ago
Ich habe die Pflanzen in die Töpfe gepflanzt. Nun wachsen sie schön weiter :)
4 years ago
They are growing and growing. Soon i plant them in to the pots. :)
4 years ago
Ayyyyy thats what ive talked about.sad thing. Only have place for 4 of them... have to find a good solution. Temperatur is like always little under 27 Celsius. As soon as there are more roots coming out of the jiff-pallets i will plant them into the pots. Makes me happy :)
4 years ago
One of the five is pushing trough the dirt and trys to reach to the light. In the next few days all of them should get out of the dirt. Temperature is around 26-27 Celsius.
4 years ago
Still no reaction but thats normal i suppose. Always keeping them wet, but they dont stand in water. Temprature is between 25-27 Celsius. Maybe turning the Fan-Speed a little up during the day.
4 years ago
Still nothing but they need the time they need. I hope they grow. Temprature is around 25,5 Celsius.
4 years ago
Added water with BIOBIZZ ROOT JUICE for first time. Keep doing it until the plants are out. Temperature is steady at 25,6 Celsius. In the Morning and Evening i gave some of this water.
4 years ago
The seeds are planted into the Jiff-Pellets 1,5cm deep. The aim is too keep the temprature between 20 Celsius and 26 Celsius. The current power consumption is between 270 W and 275 W. It deepens how fast the airfan is running. Lets see how it works out.
4 years ago