Durban Gold
Lavender Grooms Genetics (Hawaii)
Durban gold. In the same set up with an EZ block and pyramid, along with rapid rooters. Same nutes in Reservoir with a mars Hydro TL 2000. And humidifier.
Had some friends come over, they got to keep whatever they trimmed. I believe the total was roughly 2-2.5oz. Now that I've learned a lot growing from this medium. I'm ready to apply this new knowledge into getting a bigger harvest. I've saved some nugs for myself to give to 3 diff friends. So I got roughly 3-6 weeks of curing to get that top shelf dispo grade. Total oz = 2.72oz ***UPDATE*** My father tried out the product for the first time and here's his quote. "FYI: I lit up your 'harvest' tonight. That is some Smoooooooth smoke! Mellow (and I only did a portion of a blunt). It snuck up on me but it was nice when it settled in. I'm cruising right now…very easy going. Not at this rate, it will last another hour or so and then it's sleepy time. I'm proud of you. This a smooth, mellow buzz. Not heavy or overwhelming. But remember, I only did a portion. I wanted to go light to see what the characteristics were on the initial hit."
2 months ago
Decided to harvest the plant because I was starting to get paranoid of bud rot but after many attempts of looking at the trichomes, everything on the flower is starting to look cloudy or frosty, which is a good sign with alot amber pistils. So I figured why not harvest at a better time than now since I'll be off in the next 12 days and will check from there. 
3 months ago
BitchWhatsThatSmell Thank you! I was getting paranoid of bud rot but it looks good and has no smell unless touched
View 11 additional comments
***7TH WEEK OF FLOWER*** The plant is drinking a lot. & I'm checking the trichomes to see if they're cloudy/amber but at this point right now they're still crystal clear. So idk hopefully 2 more weeks it should be ready? I'm ready to get started on another grow which is a CBD and another High THC strain.
3 months ago
*** 6TH WEEK OF FLOWER*** Just like some of these posts on Reddit I think she needs like two more weeks or until the trichomes like a little bit more cloudier or Amber and I'm not seeing that so maybe another two more weeks.
3 months ago
Caliban Looking good. One bit of advice would be to dial back the N. Those clawed downward tips with burns probably mean a nutrient overload. They don't need much N in flower so you may want to change the feed program or just let her ride out the issue until harvest. Sativa are very sensitive to over feeding.
BitchWhatsThatSmell Yah I had nute burn at the beginning of my veg. And ended up trying to correct mid way before flower. So I used 1/4 strength of the recommended nutes after flushing. And unfortunately what you see here was already there. So I've stopped it but just holding out til harvest.
*** 5TH WEEK OF FLOWER*** this plant has been challenging since it's my first photo I've ever grown. Everything is looking nice. I need to see how the trichomes are but it's putting off a slight dank smell that's somewhat woodsy and peppery. But for right now the plant is drinking ALOT. And hope it should be ready in the next 2 - 3 weeks.
4 months ago
***WEEK 3 OF FLOWER*** Defoliated best I could. I've learned a lot with the pyramids and with the next grow planned I know exactly what to do. At least the harvest is saved but next time I'll put the scrog net up and be a bit more aggressive with the LST
4 months ago
Great news! We got flowers! So the Durban Gold is officially female so there is still some hope. I've made another batch of corrected Nutes to 1/4 strength but added full strength Cal-Mag to help out with the deficiency showing on the leaves and the plant is starting to get their color back. I'm lollipopping and defoliating to help with the harvest. I've been doing everything in my power to keep rez ppm under 1150 best I can but for right now she's thirsty and has been drinking a lot. I've learned a lot in this grow since it's been 3 years since I've done this but in hydro now I can say I know exactly what to do next grow to have a bigger harvest. So for now all I need to do is coast until harvest.
4 months ago
adders Looking good man, welcome back!
adders I can imagine, I'm on my first auto at the moment wanna do 3 maybe 4 more and then I think I'm gonna pop a photo and see what I can make of it. Seem to be doing good though
Please refer to the major update on my other grow. It refers to both of these strains.
5 months ago
Even though we didn't quite make it to Day 50 I decided to start flowering so I can start adding blooming nutrients & to strengthen the nutrient solution since they were diluted due to nutrient burn. Both the plants including its neighbor is drinking a lot more water & it's time to get our nutrients dialed in right so we can get the best potential harvest out of this grow as we can.
5 months ago
Coux Such a gorgeous plant
Spoke with the seller and come to find out both of these plants are not autos, but they are photos so I will let this one catch up to the rainbow cake X tropical orange. To veg a little bit. And sometime in the next three weeks-ish flip to 12-12 lighting schedule
5 months ago
LeChron James I would be interested in a trade but have no idea how we'd make it happen. I have a pretty long list of cuts in veg that I'd rather not post here. Let me know what the next step is…
View 1 additional comment
This is growing pretty well compared to the older plant. There's no burnt/yellowing of the tips. And it's taking it's time.
5 months ago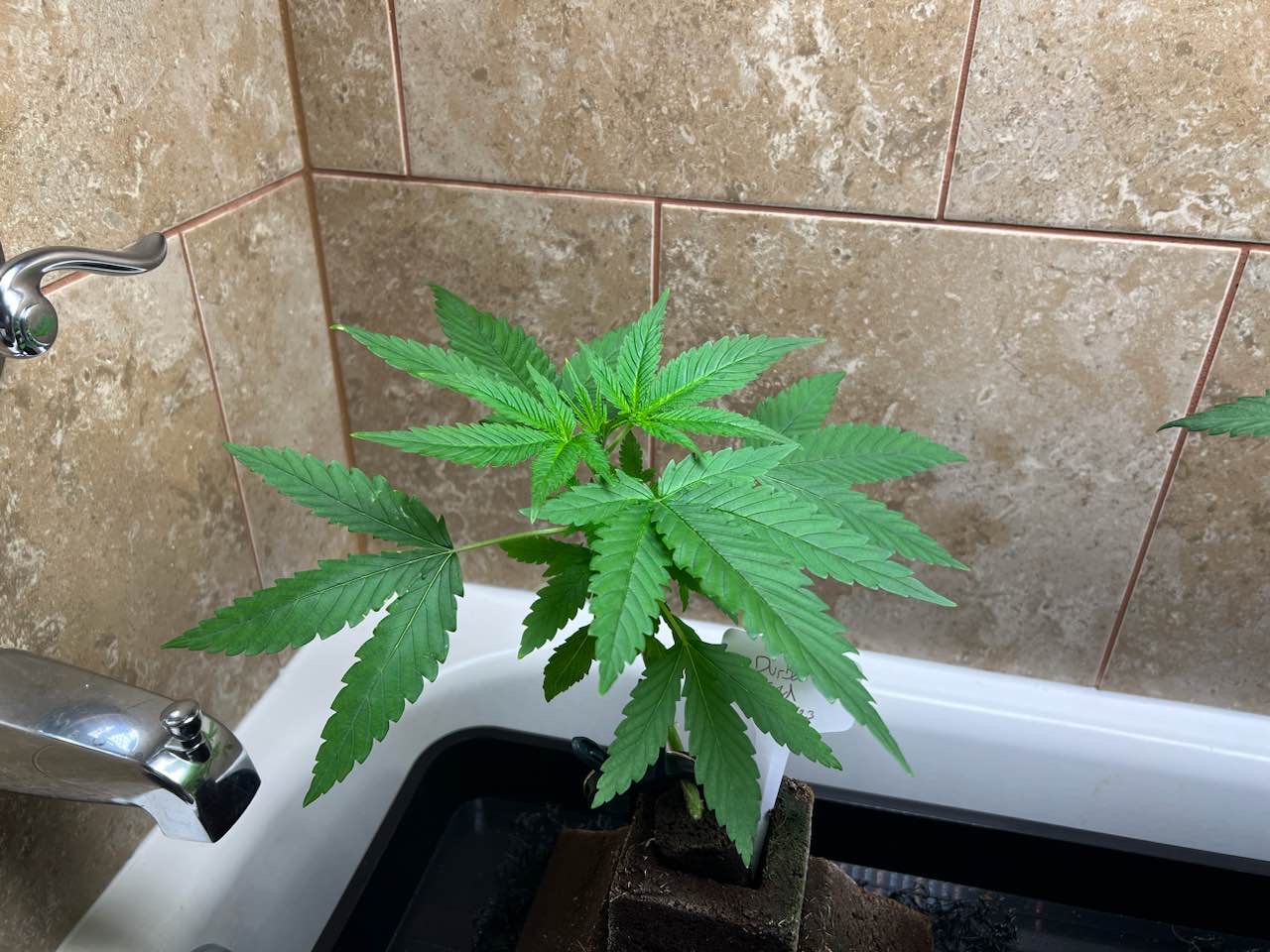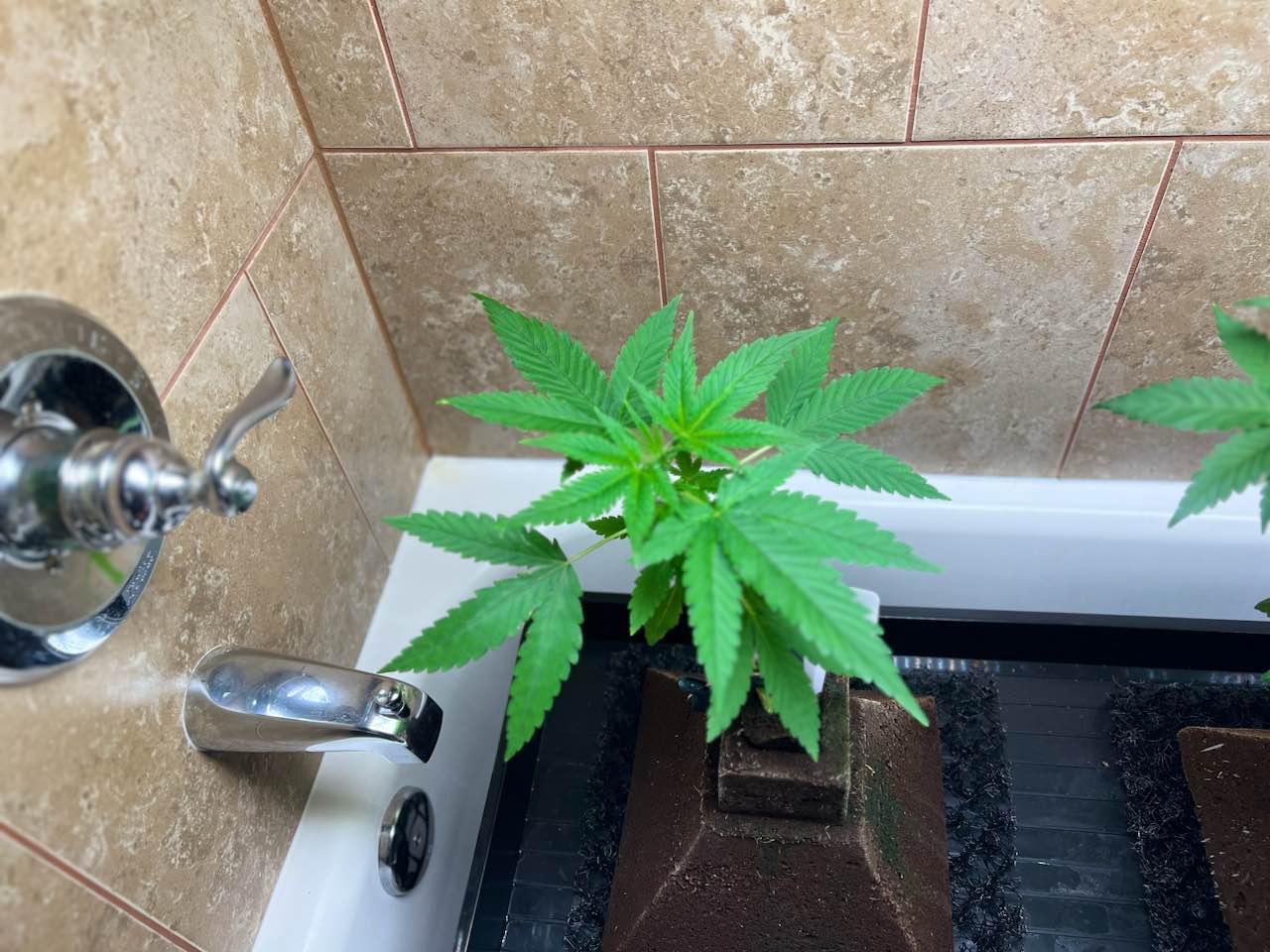 I have implemented an experiment until the LST clips come in with some regular clips to bend the main stock as a form of LST. The plant seems to started to compensate and angle itself better towards the light. I will keep a close eye on this one and wait until the LST clips come in and then top it a little bit later. 
5 months ago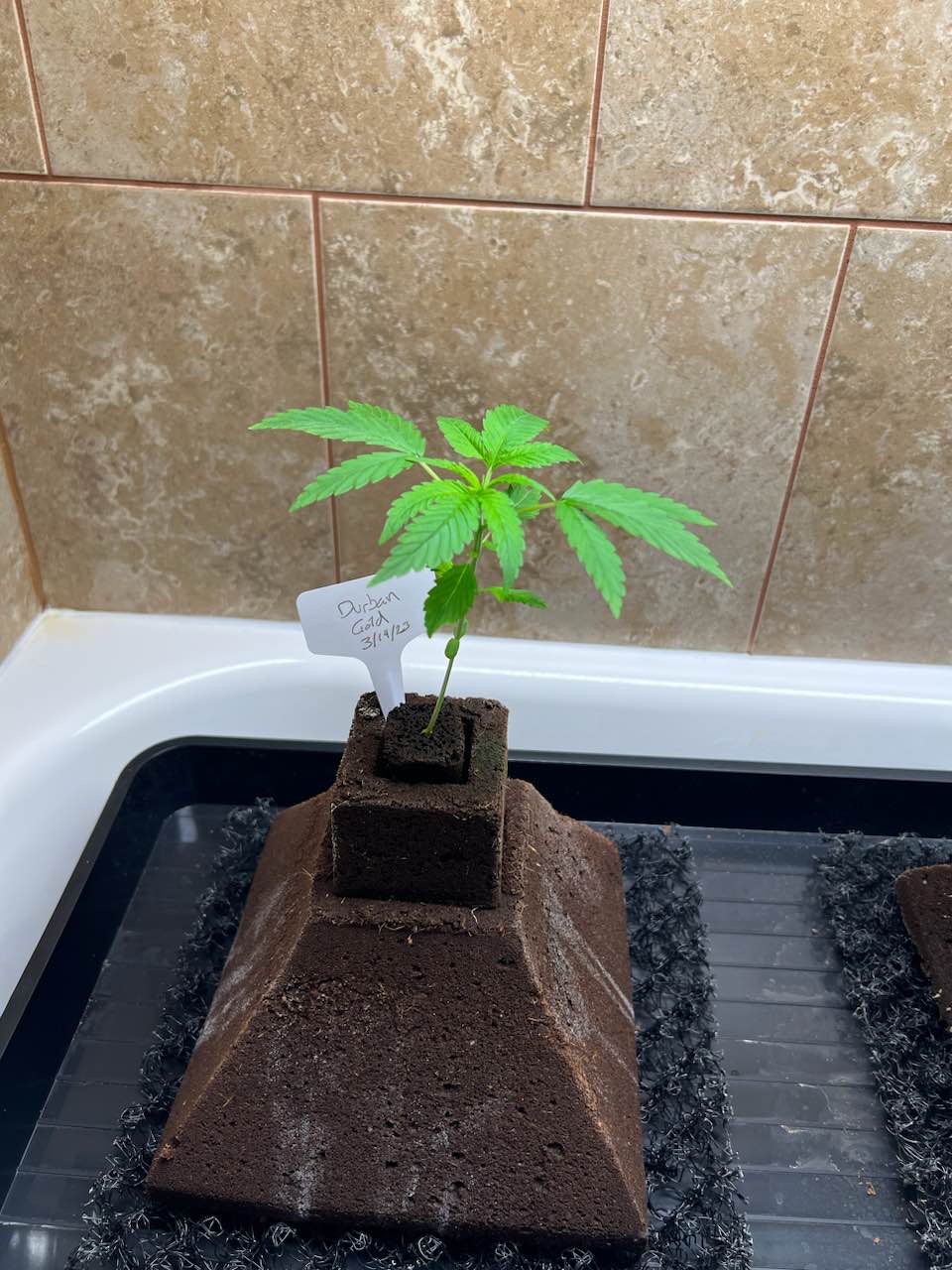 It feels like a few weeks have gone by but it's only been 5 days. My only concern is that maybe the growth might be stunted but it's not exhibiting the same color deficient tips like it's other roommate the rainbow cake x tropical gold. I'm assuming maybe I might have made the nutrient solution to strong I don't know, but they say the blocks in pyramid, our self regulating with the moisture so hopefully there's no lock out.
6 months ago
Same set up like it sister tropical orange x rainbow cake. Just hoping that these blocks work out it might be the nutrients I don't know what's going on with the leaves at the moment for both will continue to follow up and hope for the best.
6 months ago