mpress
Auto Grow 3 strains
Fall 2019
Trying my first auto grow and want to also diversify with three different strains . Using a soil of 65% fox farms ocean forest, 25% happy frog, and 10% additional perlite mixed in. Growing in 5 gallon Air Pot, two HLG 100s, in a 2x4 grow room. Nutrients to be used will be Botanicare: pure blend grow for veg and pre flower, Canna: throughout grow rhizotonic, cannazyme, FLOWER: terra flores and cannaboost.
Dark Purple auto (delicious seeds), White Widow Auto (Blumburn certified seeds), Northern Lights Auto (nirvana seeds)
January 1 officially now known as the New Years buds.....dry was faster then I wanted need to figure out the dry in my grow room temps were mid 60s humidity at 50-60 %rh and still dried quickly... overall quantities dried were better then I expected from these autos as none were from recognized big yielding better genetics Dry yields: Dark Purp auto 92grams Norther Lights 60 grams Purple widow 52 grams White widow 36 grams
3 years ago
Theable1 What kind of lights did you use? And how big is your tent?
Dec 26th, 75th day for auto dark purple which ultimately showed far more of her if kush genetics then any purple of any sort one of the widows did indeed show her purple genetics and I'm living that pheno!!! Day 71 for the northern lights her buds really hardened and swelled from the runt she was over the past 10 days. Day 69 for the two widow Phenos white and purple both were small plants but big buds. Wet yields at harvest fully trimmed were Dark Purple/og Kushish 330 grams, northern Lights 270 grams, purple widow 270 grams, white widow 180g... more then pleased with this auto flower experiment not sure I'd run autos again or at least not for a while. Want to get more photo period grows under my belt, build my personal use inventory and ultimately be in more control of the grow and less concerned of any mistakes being overly detrimental because of the nature of autos. I will certainly look for better genetics in autos as these seeds truly were purchased when I believed I would be growing in a tiny cabinet....
3 years ago
Dec 25th. Major defoliation today prepping for harvest tomorrow... after the house clears out from the holiday.
3 years ago
Dec 18. Busy week getttingthe girls down the home stretch. Had a few concerns over nite deficiencies this past week with some yellowing and signs of cal mag shortage but overall the girls are all healthy. On 12/14 about day 60-62 depending on the strain decided trichs were all milky and time to start initial flush. Went straight PH water and found PPMs off the chart bet 1800-2200... so yesterday 12/17 I did a flawless finish flush soaked the soil with FF waited 6 hours and then ran about 2-3 gallons of PH water through the girls and PPMs are now where they should be 4-500 with two more water flushes likely to go til harvest shooting for 23-25th for all Of them. The dark purple auto is looking great buds are fattening and hardening up, the WW's both look good but the NL has finally started to fatten up, still the runt if the litter but her buds are the hardest and keeping an eye on her to see if she needs more time would let her trichs go a little longer if I continue to see noticeable size increase on her buds. As much as I want to harvest all three together she may need a little more time! Also along with the flush all the gurls got a decent defoliation! From left to right Dark Purp, NL, WW
3 years ago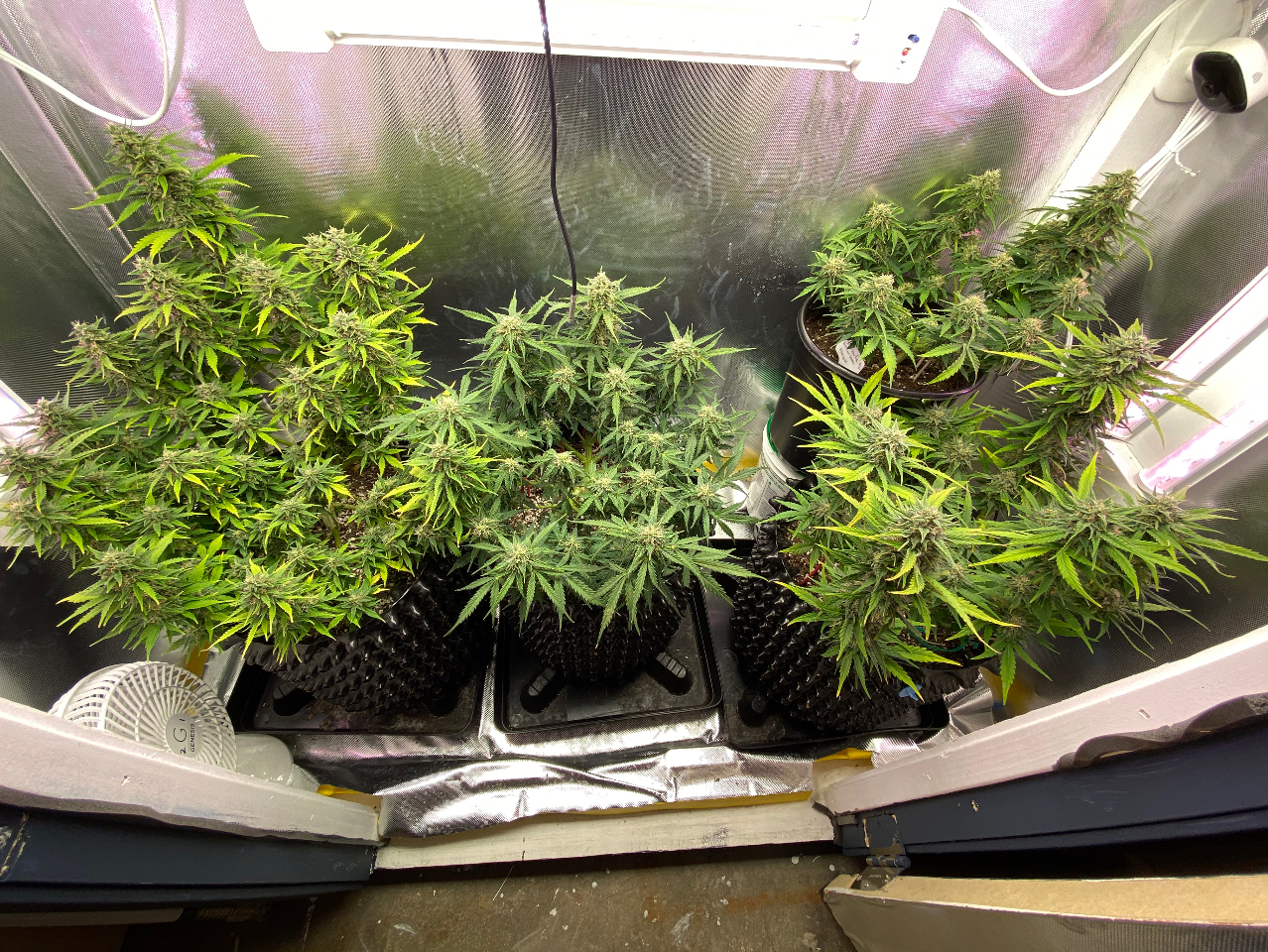 Dec 11. Dark purp and widow trichs are pretty milky Dj purp maybe even a 1% amber. Flush has begun today on those two strains... the NL is still a solid week or two behind the other strains and it's genetics states about a two week linger bloom so we will see how accurate that is as things play out. Target harvest timing would be 12/16-23 for the purple and 12/20-28 for the widow so falling pretty much on time . The NL has a harvest time of around 12/27-1/4 so that's either going to be fairly accurate or the NL will remain the runt if the grow.... I'm hoping for some Good Mother Nature luck and have the NL faTten up some more over the next 10-14 days before potential flush.
3 years ago
Dec 8th day 56 the week or two of paying closer attention to The individual needs of water amounts and if nutrients needs along with a Dose of bloombastic in the feed this week has really perked things up and the buds on widow and dark purple are noticeably fattening up ( I was told bloombastic is one of the most rewarding additives you can use because you truly see results quickly) first winter grow in north east is definitely proving to have its own new challenges as I navigate hitting my desired day and not temps.. had a couple nights where leaving a window open in the lung room had temps down to 58-60 over night and I think the root zone Chilled and the girls were definitely not happy... an over correction and the next morning I came down to see the girls had been in 88-90 degree temps for 5-6 hours a morning where they were due for feedings and were quite dry so the high temps really had them drooping and a noticeable increase in yellowed leaves..another round of insta green and bloombastic in their feed yesterday and they have rebounded really well! The northern lights continues to lag behind and while the auto and widow could be a week or two from left to right dark purple, northern lights and white widow
3 years ago
Nov 30th day 49 running three different autos the first time you try autos may have been a mistake.. mostly from a simplicity and this early in my stage of still learning trying to figure out how much and what each plant wants as they all want different things.. northern lights locked up a little and slowed her growth but a little tea from fox farms and some boost in a flush for her and she's bouncing back. Dark purple still not showing a lot of dark purple but is very pretty and she had a bunch of deficiencies this week needed a boost of calmag and som nitrogen so added in some Instagrren 3-0-0 into her fielding schedule and she has also rebounded.. the buds are very sweet grapey smelling which has me stoked. The white Widow had been share of neediness too. All three plants are doing well overall.
3 years ago
Sunday 11/23 day 42 for Dark purple , day 38 for northern lights, day 36 for white widow. All are doing well and finally making me Feel ok about potential yields from autos. All are mid flower now and starting to tighten and thicken up from a bud standpoint. Dark purple showed a bit of nitrogen deficiency so have begun feeding her on her own schedule essentially seems she needs food every watering! In contrast northern lights seems to struggle after each watering so I have extended days between and lowered water to barely a trickle run off! For the past week all are receiving canna Flores, rhizo,cannazyme, calmag, boost and terrpinator! The white widow starting to give off a great lemony smell and the dark purple while not showing any purple colors yet is starting to have strong grape and cotton candy aromas!!
3 years ago
All the girls have begun ore flower continued to lst but nearing end of training for the three main plants (still have the extra late sprouting white widow under the bigger lights as long as I have room. But she may need to move to the germination cabinet soon and see how they do with the 50w lightning there compared to the 300w hlg in the main grow room. Watered today with straight Ph water at 6.5 run off was 6.2 so soil seems healthy will go back to nutes on Friday. Girls are drying out in 2-3 days max.
3 years ago
All of the initial 3 autos are starting to take off. Continued LST on all three .. currently have small 2 gallon pits with some other small autos in the closet while there is room for them To benefit from the better lighting... ADDED half dose of canna boost To the nutes today and the girls too 1.5-2.5 qts. all seem healthy and begging to stretch, only have a little Width left before lst will no longer be that helpful but with so Many but sites exposed hoping the stretch will fill them out and present potential for a decent size harvest
3 years ago
All the girls are starting to make headway and seem more in pace then my concerns had me thinking early on Added two late germinated sprouts to the room and will keep them there til there isn't room for them and then experiment with them in the germination cabinet. A the plants are a bit short and sticky so have to keep readjusting the lst on them as their length allows All are now getting nutes, botanicare grow, and canna rhizo and cannazyme. Through grow will also use canna boost and canna pk13/14 Starting to really take water at each feeding now!!
3 years ago
Second lst in the dark purple northern lights will be ready for first one tomorrow
3 years ago
All the girls are finally officially out of the seedling stage, dark purple already spreading and recovering nicely from first lst, northern lights should be ready in a few days for her first tie down All fed today with 1/2 strength botanicare pro grow, and Canna rhizotonic and cannazyme.
3 years ago
Day 14 from the start of the grow at least for the dark purple auto, day 10 for the northern lights and 8 for the white widow... since adding the humidifier and getting the rh up in upper 60s to 70s has really woke the girls up... not really that far behind where I think they should be in comp to other grows but as first auto I'd like to see them thriving and growing as big as possible before they take it upon themselves to flip to flower... It was a watering day today the dark purple actually finally getting a real drink from a cup not a squirt bottle.... another week and she will start on bites. Can't wait till all three are well into veg!!! Lol
3 years ago
Was really hard to keep humidity above 40%. Added a humidifier the cool mist has allowed me to Lower the fans to lowest setting now keeping humidity in upper 50s to low 60s and temps in the upper 70s to low 80s... climate is back where it needs to be and the plants have shown more growth and seem happier! Felt the need to move the second seedling of white widow to the center of the pot hoping it was strong enough to move yet small enough that I could scoop under it and not touch any of its baby roots.. now whichever seeding does better I'll keep and might possible place the other into a smaller container and grow in my germination cabinet!!!
3 years ago
Plants seemed to struggle to grow although in comparison pics to other grows I guess all Is normal day 9 for the dark purple, 5 for the northern lights and 3 for the WHITE WIDOW... one if the earlier seeds that I started in soil did finally pop towards the side of the pot... will have to make a judgement call on trying to move her towards the center and see which of the two seems strongest to keep. Added a humidifier t being rh up from 38-42 up to 60-65 and the girls looked better after about 6 hours
3 years ago
The white widow finally emerged still unfurling 6days after the dark purple and two after the northern lights. Might be a tough thing to track all three grows with 6days between them Until we get to mid veg and they are relatively caught up to each other . Hoping the widow becomes strong and aggressive and catches up to her sisters
3 years ago
10/16 Still no sign of the WW OR NL sprouting been 4 days to be safe I have dropped another seed of each in water for 15 hours and planted them this morning. I may take a third seed of each and paper towel germinate to keep all options open. The dark purple standing strong a few More days and I won't worry as much lol
3 years ago
The first of the plants popped today direct soil germination after two days! Very fast for soil germ. Hope the NL and WW pop soon so all are on similar schedules .
3 years ago