CaptainRex
Cannacheese 1:1 CBD THC
Grow 2: Fall-Winter 2020
Mephisto Cannacheese Auto 1 Gallon AirPot Mother Earth Coco HLG 65 V2 4000K - 18:6 schedule DynaGrow Bloom/Grow Advanced Nutrients CalMag 15x15 IKEA cabinet High Grade Ultra Strength Growers Anxiety
Mephisto Cannacheese 1:1 Auto
This is the end. It's finally here. Whether out of readiness or impatience, it matters little because the plant is chopped! Trichs have looked Nice the past few checks, so I'm satisfied with my patience. Due to winter in the Northeast being very dry, I've opted for a dry trim, so really just took off most fan leaves as I saw fit. Because I had a pest problem early on and use some foilars I opted for a bud wash as well, using lemon juice and baking soda. The image of this shows mostly dust particles, but isn't too atrocious mostly due to the intake filter I had from an AC unit. We'll see on the smell and smoke if it proves superior! Not much effort for one plant anyhow. The buds look great, I'm psyched, and time for a low and slow dry hang. The temp will be good, around 68 constantly vs my summer chop, but the humidity may be a challenge. Looking forward to trimming next weekend and jarring!
3 years ago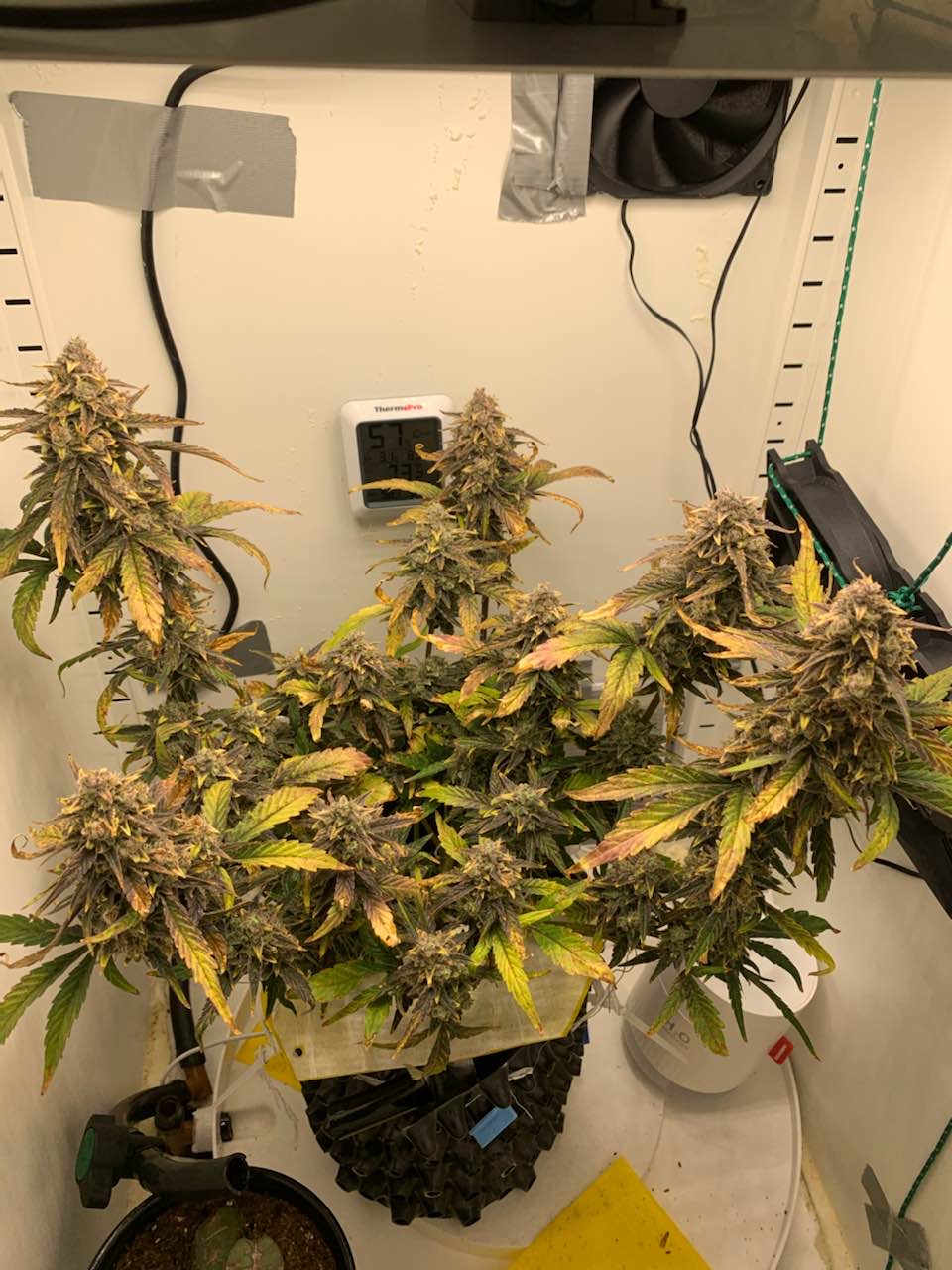 It's 3pm on a Tuesday, where are your workers? Probably staring longingly at their weed plants watching water turn to THCA, which is remarkably more impressive than Jesus' whole water to wine deal. Thanks nature. Buds are moving along, definitely thickening, although you can see those yellow/white tips just about everywhere. My next grow goal is to have a green/healthy plant to the end, but realistically this will still be well hitting weed if it can survive another week or two. Can't get enough of the microscope, and some amber is starting to come in as well. EC 1100-1400, pH 6.4-6.5, hand watering twice a day still. No concerns that it doesn't finish, just concerns that I wait with patience! I'd say it looks healthier in real life than in pictures if it's any consolation (to myself).
3 years ago
CraigBengfort That's going to be some couch lock weed with all those amber trichomes
pnq Could that be the result of overwatering?
View 1 additional comment
"Hate to see you leave, but I love to watch you go" Just kidding I could do with this plant being finished up, but I'm guessing a few more weeks before chop. Been hand watering since Jan 1, buds are still fattening up in-spite of the myriad of issues the plant is facing. EC is between 1000-1500, depending on the batch, and pH between 6.3-6.5, haven't really ventured below 6 in a few batches. Still signs of pests (I've included a few pics for identification) but probably won't be treating for them further since the plant is growing and any treatment could be harmful or toxic this close to harvest. Not to worried, this is like hospice care, tryna make it comfortable before chop. Just keep growing ¯\_(ツ)_/¯
3 years ago
Hello, viewers. I'm your host and I can't garden. Welcome to my grow journal. In today's update we'll see cloudy sticky trichomes up close and personal, purple leaves, and fat buds. Looks delicious! Now let's see how we got here (with a not so little help from my assistant, the internet). This plant has gone through a fair bit - a pest infestation that I haven't totally squashed (but it's contained to the roots so loss of yield but not eating the leaves/buds I guess) as well as some stress related to leaving it during the holidays on my automatic watering system. Deficiencies abound, hand watering, pHing, NPKing, and flushing has lead to a relatively healthy plant about a week after its 'on the box' date and probably 2 weeks out from actual harvest. I'm well into my BLOOM nutrients table, roughly giving it an end of flower/near harvest EC of 1100ish and generally pH 6-6.5 (the past reservoir switched to below 6 as this is in coco and there are some nutrients more abundant at that range). I really want to get a new nutrient combo for my next grow, the Dynagro has not been amazing imo. Anyways soon we'll have fat buds on a spinning table for your viewing pleasure. I still have bud from my last grow so I'm not going to rush chopping this baby, although my weak DIY carbon filter makes my grow space quite aromatic, which is a bit tiring. Can't wait to smoke this 1:1!
3 years ago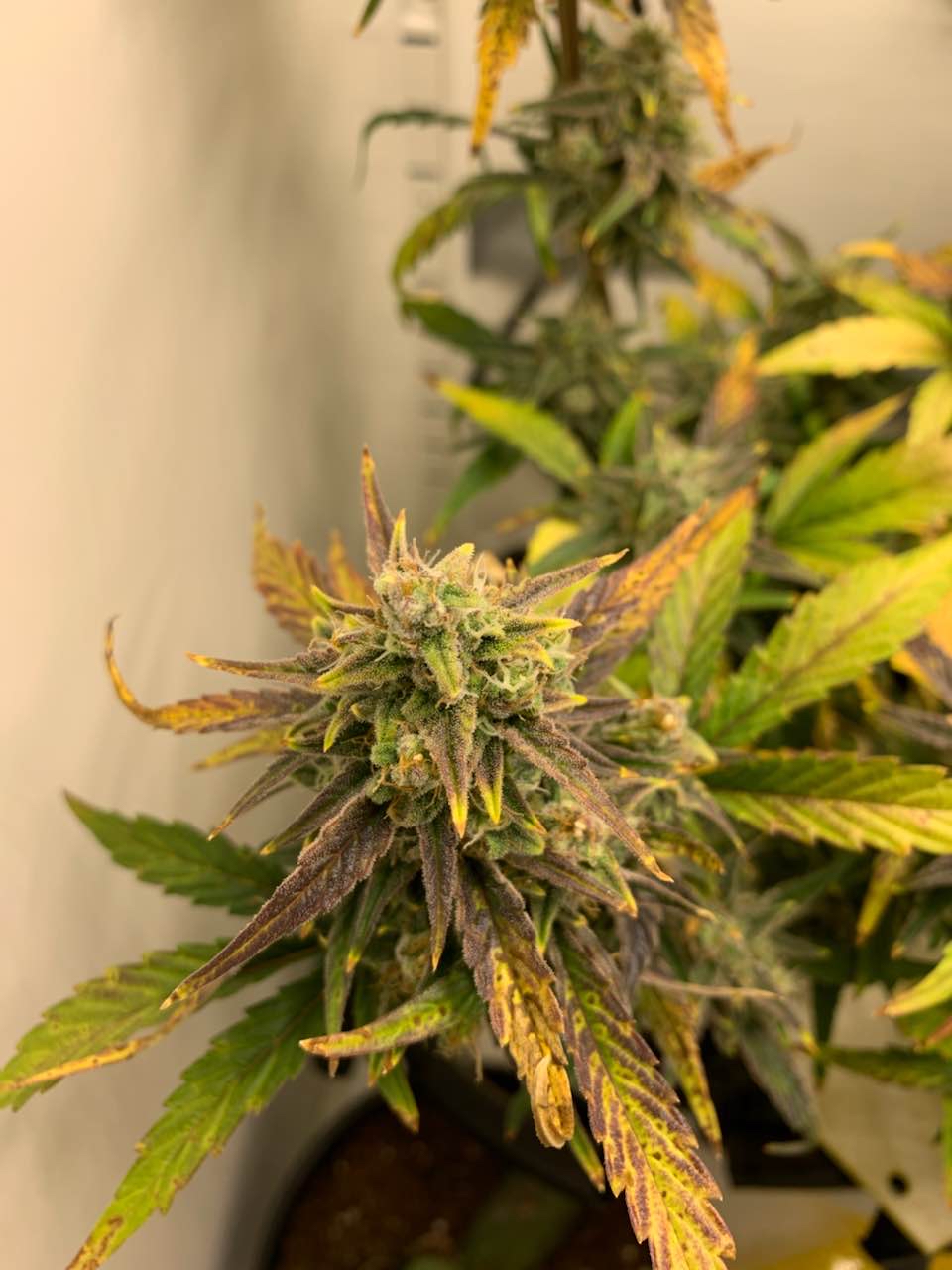 Cloudy with a chance of THC Took advantage of my new usb microscope, and it's revealed some cloudy trichs! This is day 70 of package 75, although in my head I'd forecasted 100 days to account for its sativa dominance and obviously not as ideal conditions as Mephisto, so somewhat of a surprise. With these images I'm thinking it could be only 2-3 more weeks til harvest! The nighttime temperatures are dropping to a low of 60F/15C at some times (sometimes the window is cracked open). This is definitely responsible for the beautiful purple leaves that have begun to take over, which is well worth any loss in grow efficiency due to breaking down chlorophyll in cold temps (chlorophyll is broken down making anthocyanins dominant in coloration). Not sure it actually has an effect on yield, especially when it happens fairly close to harvest. Exciting times approaching, enjoy the fall foliage and trich shots! [ph 6.4, EC 1100]
3 years ago
"The Bills Make Me Want To Shout" Been too busy in awe of Josh Allen's football tenacity to update my journal. Much like my plant, Josh has faithfully been nurtured through some pests and is blossoming in full before my loving eyes. I've flushed, remixed my nutes, and sort of let things fly. Output EC has been less than 1000 for the week, and the last picture shows a comparison over the week (maybe slightly more yellow now but not really as severe, so seemingly to slow and recover imo). I'm not too stressed. Another month or so. Go Bills.
3 years ago
"Fat budded girls you make the rocking world go round" From a civilian perspective, my plant debased itself in typical holiday tradition and is now wearing the consequences. We all look much the same. But lo, it is a new year and that magic flip of the calendar will solve all our problems! From a scientific perspective, I have nuked the plants roots with salts that are sucking the very life essence out of it, seeing runoff ECs in the 1400-1500s and clear signs of calcium lockout/deficiency. Was I slow to treat this? Yes. Will I be disbarred? Unlikely. Is this malpractice? My lawyer will not allow me to comment at this time. A thorough flush of ph'd calmag will hopefully restore balance - I'm seeing runoff down to 1100. I am going to continue this practice til the greenery generally returns and I'm going to lower the EC of my input (which frankly I'm too lazy to check my reservoir as it's quite an effort). The buds are still getting fat and while fan leaves and thus growing efficiency are being sacrificed, the plant will almost certainly survive. TDS your inputs. Save a life.
3 years ago
strawnana954 Damn bro, I usually write in my updates 3 words or so. You are dedicated to your craft and having fun with it. Kudos
tomdegas I too have 1 plant that looks like yours with plenty of buds. I just flushed it with 2 gallons of RO water and the runoff has a PH of 6.55 and an EC of 2.3. I know the EC is high. I'll flush everyday till my EC drops to 1.3 or so. Looks definitely like Nute burn. I'll keep you posted. Good luck. I hope your girl bounces back. If anyone has any other ideas I'm sure we would both like to hear them.
"We wish you a merry Christmas and a happy new year" We return 10 days later, it's New Years Eve, and we find out not only did we get gifts under the tree this year but on the tree as well. The buds are fat and only getting fatter, and frosting nicely for this 1:1 cross. I stayed away a few days longer than expected and the reservoir was already going to struggle with the full week, watering for 30 seconds a day less. Unsurprisingly came back to the calcium deficiency I had projected being worse, with more yellow and brown spots. But with some light and necessary defoliating it looks fairly good! All things considered the buds are fattening nicely, the smell is a pleasant planty-gassy, and most leaves healthy. I'm also guessing the lower watering lead to some of the remaining pests dying. At this point I won't use any treatments as it's a few weeks into flowering. 2 more months!
3 years ago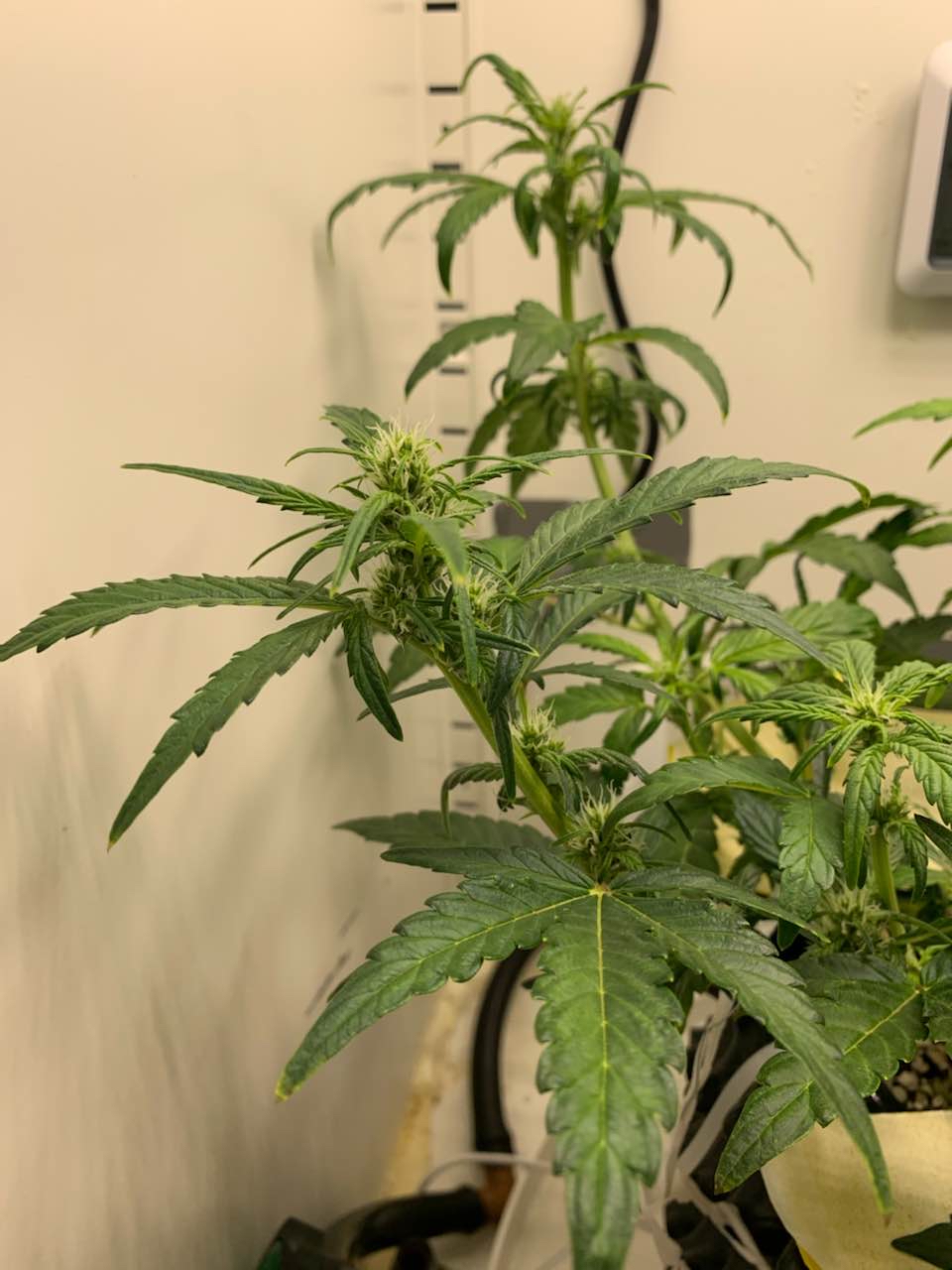 "Deck the Halls with yellow traps" I feel the holidays must be a stressful time for every grower that must prepare to leave their plants and spend some time with real people. The pests (potentially thrips) seem to have subsided. I still see these microscopic gray little bugs (worms?) in the runoff, however most appear to be dead after the two applications. I don't really see any further damage from pests, the newest seems to be all me. You'll see that the back half seems to be doing the nox claw but the front half seems relatively healthy (see the 4 main cola pics). I've done a cal/mag flush (which is 4% nitrogen) and will stop adding it to my bloom mix as I'm concerned that's what's bumping up the nitrogen. Let's hope that it sees improvement. I also did some pruning to remove low leafs in the thought that the bugs must go soil to leaf to continue their life stages. And adjusted the fans to improve overall air flow. God I hope this survives the holidays. Thoughts and prayers folks.
3 years ago
"You've cleaned up, found Jesus" Just completed my second application of Spinosad. I think I was supposed to check if it was too soon to apply, but geeze man bugs just gross me out! Then fully bleached and cleaned up my grow and then everything that touched it. Bleh. But dang her growth is coming along! Let's hope this is the last of the bests, and the beginning of booming flower.
3 years ago
Fuck you fucker little fucker thrip fucks. (Spinosad applied, it wasn't a great Monday)
3 years ago
Gather round for another tale of The Weed Grower Chrinicles: It was another December day in New England, rain dripping onto the barren pavement and gray impenetrable clouds looming. In an apartment in the city Mr. Solo Dolo III is heard, and Solo Dolo proceeds. What better to accompany the dismal weather and a peaceful high than nurturing the plant that promises more of the same? Now an attendant gardener, Mr. Solo Dolo turns his attention to the drooping leaf tips of the preflower plant. Nitrogen toxicity identified as thé sure culprit, a cal/mag flush is prescribed. Like a gardener of the future, our dear grower pauses takes in the simulated sunlight sunlight, 10000 lumens splashing down. In meditation, the flush drips into the drainage pan and seconds later waterfall into the unseen reservoir. Coconut particles swirl in the slow current, stemming and then stopping. Fuzzy friends glaze across filmy eyes. But wait. They're darker, and they're not in the eye they're on the invisible water surface. Eyes focused, heart beat amplified, the small pools of water are checked again. Sure enough small invaders skip and thrip across the surface, or so the gardener assumes for it is indeed the much feared and cursed thrip. Camera pans wide. Leaves examined in a new light. Light green patches mar dark green fan leaves, previously unseen. Perhaps a white speck here or a white thrip there? An invasion before our eyes! Photo above of incident aftermath.
3 years ago
Holy growth spurt Batman! Been continuing to up the EC on this guy, who's getting fed twice a day now around 1200-1500EC. Looking really healthy and really jumping in growth. I'm starting to get concerned about space as it's day 37 and really very little sign of flower. If it truly doubles in height during flower, I'll be pushing it! But also excited for that. The intense LST regimen continues and it seems to be paying off well. I'll keep pushing this plant towards the corners of my 15"x15" and hope for the best! ...should I try to induce flower by going 12:12?
3 years ago
"Walk tall, little one, walk tall" - Childish Gambino, Baby Boy Growth is excellent, this is about all the excitement I have right now, so glad it's doing well. Will be stepping up EC this week, adding in BLOOM. Discharge is around 1200EC which is a little low. See finger for scale on those fan leaves (normal sized hand), and bonus Jade growth pic.
3 years ago
When The Beatle sang well known lyric "Blackbird singing in the dead of night Take these broken wings and learn to fly All your life You were only waiting for this moment to arise" it is clear that the artist was raising his own plant and understood the hardships my very own plant is going through. Well I'm happy to report that she has seized the moment, and on repaired wings is soaring towards the artificial sun. Hopefully we don't encounter another well know culture reference, the story of Icarus and his golden wings! Anyways just happy to see the growth and the plant starting to take shape. Some serious LST is going to have to be done to keep her from erupting towards the light like Jacks bean stalk (boy the references keep coming!), but it's an exciting prospect and cool the topping worked thus far. Switched to feeding twice a day, still 1200ECish and 6.5pHish, as well as generally 45%rh,78F (VPD leaf ~1.1kPa) and aiming for a max of 1kPa in Veg, but it is what it is ¯\_(ツ)_/¯
3 years ago
Everyone always says you do your second child completely different, yet here I am worrying on a by the hour basis about this gal. On thé bright side all this exposure to my full spectrum light has helped stave off SAD thus far. Or maybe that's the harvest from my first grow? I'm no doctor, so hard to say. Anyways, I feel like she's making a stellar recovery, finally seeing some growth/improvement. Likely from my constant love and attention, but potentially also from consistent feeding, VPD, and what not. Barely a gardener, so it's hard to say as well. Behold her majestic recovery! (Part 1)
3 years ago
A picture of unhealth! Wow, I feel like I'm doing things right, or at least not more wrong than my last grow but this lady is s u f f e r i n g. Pretty disappointed in myself for forgetting to plug in my automatic watering system before the Thanksgiving Holiday, which has had a tremendous effect on growth. As you can see, over a week there's been barely any growth. The light green, wilting leaves, and brown spots appearing are a bummer. Probably going to be majorly stunted but even getting the feeding/VPD under control. Sad boi. Well the quest for a pound per plant continues. EC 1200ish. pH 6.2ish. Mood depressedish.
3 years ago
Keep taking pictures and getting too busy to update. Here's a suffering plant with no bedside care. Looks just like me :)
3 years ago
Have this lady doing some exercise before Thanksgiving feast! The experiment begins! LST (tried and true) got her bent over, and now for the first time ever we've got topping going. Now I could have waited another 6 days to top, but I feel that would be too late as she could take off in the next few days. My technique behind the topping: 1. waited til 5-6 nodes (note you probably counted one less, however in my humididome™️ I lost the first leaves due to droplets depositing residue on them and drying it up) 2. Cut node 4 (I had 5 peaking, 4 practically complete this morning) 3. Profit?? Hopefully this works otherwise I'm just 20 days in and no time lost really, just another heartbreak. Also have my auto water setup for once a day serving up the finest 750EC nutrients my hand has to offer. Turned off fans going out to get the humidity up, really need to get it up during this early stage for optimal VPD.
3 years ago
Day 19! I was concerned because this lady started out slower than my last grow, but also just because I was concerned about everything in life, and my plants success was the only thing keeping me going. Anyways, it's become clear she's slowly revving up. I'm expecting growth to get pretty wild in the next week, and have adjusted accordingly in my cabinet for this. Picture 2 shows a new humidifier I've picked up to get the RH under control as well as one of my fans from last grow back up and running. They're really shitty fans. I regret the purchase frequently, especially since I bought it not once but twice. This hobby is a series of uncontrolled split second purchases. Onto the 4th node growing, which means we're about to bend her over and start LST. Also planning to top, as this is a sativa in a small space so need to keep it under control as long as possible. Feed is about 700EC cal/mag, Grow right now. Also bonus pics of Jade growth!
3 years ago
The plants doing fine, two leaves didn't survive due to buildup from the humididome early on. Growth continues, watering about 400EC, 6.5pH, not very frequently right now (contrary to popular belief you can overwater coco early on). Fortified by Calmag and GROW. Now. On thé Healing Properties of Plants: This endeavor is one of scientific nature of course, and with the what with all and the wherewithal of our scientific breathren and community of scientific scholars, I hope to meet the rigor of such a standard. Here see one entry of such study: 11.15.20 (post dated) I've consumed approximately 25mg of THC infused saccharine sustenance post-exercise. My body responded by rapidly consuming over 1500 calories, ensuring vital nutrients reached my recovering muscles. I was put into a relaxing state that encouraged hydration and rest (both shown to benefit recovery). Within hours I was ready for sleep, put to rest at 9:00:34PM EST, with 10 hours of self assessed sleep. Awoke. The unbelievable medicinal effects of cannābis continue to astound.
3 years ago
Hello viewers, welcome back for a Day 5 update. Over the last 5 days nothing and everything has happened, with talks of Civil Wars, Race Wars, and Star Wars (Season 2 of the Mandalorian). Of course, the first 2 are complete fiction, and it seems there's a new president elect with enough problems on his hands not to make my mission of growing the best goddamn weed possible illegaler (it's federally illegal still, but legal within the state). I include details like this in-case Bud's server are up past the dusk of Civilization and Alien anthropologists are looking for clues of why went wrong. Some people were content growing weed, others wanted unlimited power. Anyways this guys been under a humidity dome for the past 5 days and will continue to be as even with these symbiotic plants the fall/winter humidity is keeping the cabinet around 35%. I've watered for the first time today with about 500EC of cal/mag & grow solution. It might be early but this is also an airpot in dry conditions so I am not too concerned both for the acidity of the plant or overwatering. Appears to be working on her second node now! Stay tuned! Disclaimer: if in-fact this is being read by alien civilizations, please note "orange man bad" is not in relation to Syracuse University, and in no way were they responsible for the downfall of Humanity. Just want that to be noted.
3 years ago
Hello, it's grow number 2 coming in on a historical day where 5 states have legalized marijuana or drugs in their elections! To celebrate let's take this medical grade CBD:THC 1:1 and see what can be done! A larger (1 gallon) pot this time, hoping to see some extensive LST and potentially topping to get a large sativa leaning plant in a relatively small cabinet. A lot of lessons learned from last grow!
3 years ago