In-House Genetics Grow
Fall 2020
6 plants, using my in-house genetics seeds I got recently. 4 are fem Bananacane and 2 are reg Jupiters. Built space in my basement. 6'x30'x9' Concrete on all sides and sealed with a door. ROI-680 LED with an Ac Infinity T6 with carbon filter, Oscillating big fan, 6 mil Mylar wrap on walls, and roofing wrap on the floor with a drain going out of the house.
In-House Genetics Bananacane, In-House GeneticsJup
Flush time for all the bananacane.
2 years ago
ganjaman420 Thanks guys! Chopping them in 2 days. The days couldn't go by any slower
View 2 additional comments
Banana still has a couple weeks. The Jupiter is almost done!
2 years ago
Jrus7 I can smell the darkness thru the fone
ganjaman420 Fr man haha never have smelled bud like this so fruity
Day 42 of flower. Decent frost. Good colors on some of the bananacanes and the Jupiter is flowering way faster than the rest
2 years ago
Day 35 of flower. Been on a trip so my brother was watching over the garden. He did a decent job.
2 years ago
Day 21 of flower. Did a big defoliation today.
2 years ago
Day 19 of flower! Starting to see nice trichome production.
2 years ago
Day 14 of flower. I chopped a male around day 3 of flower as I started to see some balls. Usually I can tell I'm veg but these beans were different.
2 years ago
Day 2 of flower
2 years ago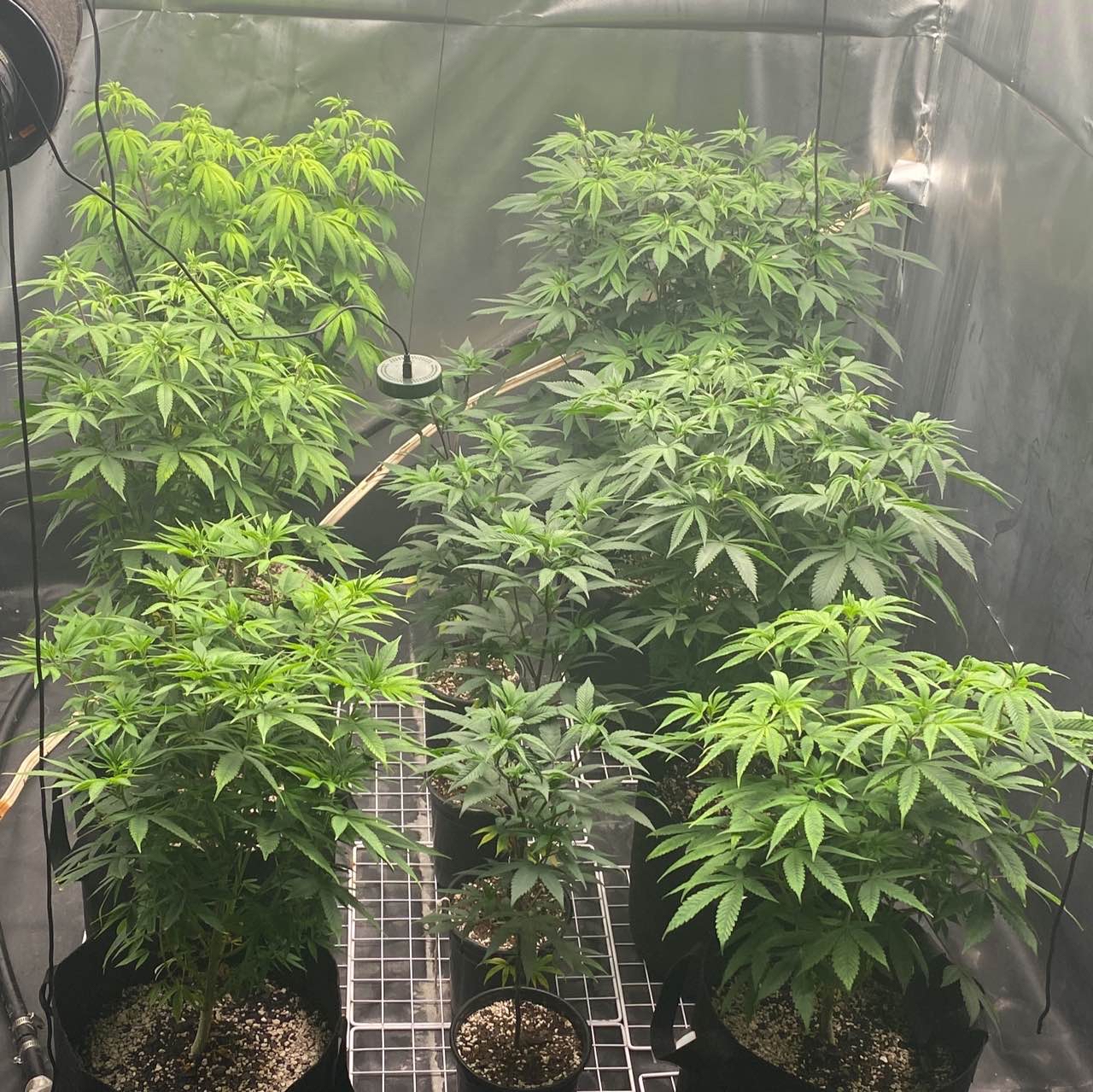 Watered all plants today. Gonna take clones soon then flip to flower
2 years ago
I need to find a place to put my clones so I can flip this room into flower. Might get another light for a veg room
2 years ago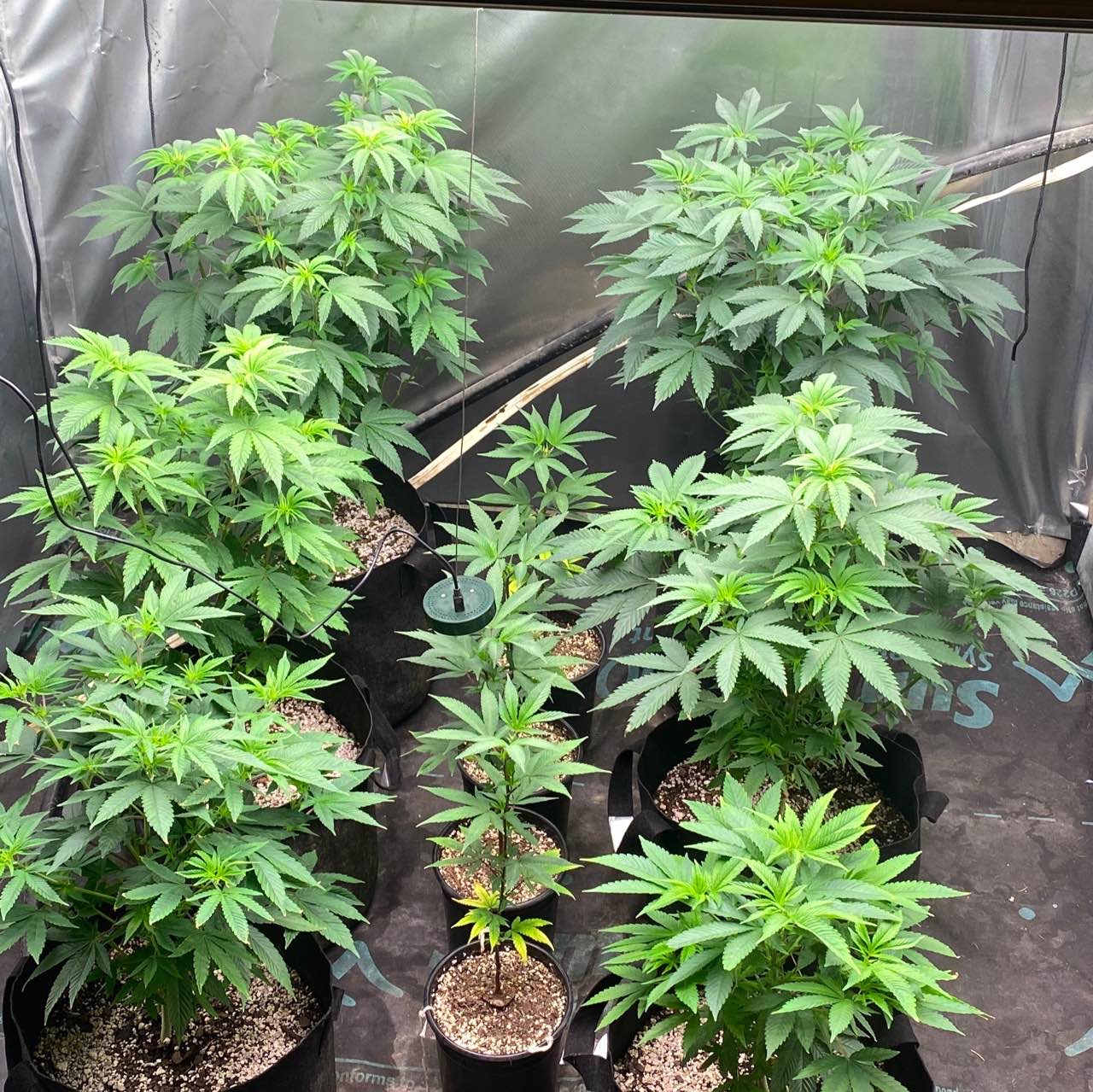 Still going in veg. I'll probably flip in 2 weeks or so
2 years ago
ganjaman420 It's a room I built it's 5.5 feet by 20 feet
Changing this room into a hybrid loop ventilation system. I'm gonna be adding CO2 after Christmas.
2 years ago
The plants are actually Starting to do something!
3 years ago
Kushingtons Lookin beautiful bro Man I'm waiting for this process as we speak 🤦🏾‍♂️
Watered yesterday with my R.O water. Looks like it's fixing the toxicity. I wasn't checking the ppm of my tap water and it was at 800... I now have the water ppm at 50 but I add basic nutrients until it gets to 200. A small feed for this week. Usually I feed at around 500 for this size but these babies have been giving me trouble. So I'll go slow.
3 years ago
Transplanted today. My water has been at 700-800 ppm so I got a reverse osmosis filter.
3 years ago
Day 25 for the 2 of the left and day 17 for the other 4. Watered yesterday with plain 400 ppm water phed to 6.7.
3 years ago
Topped the 2 on the left yesterday. The rest are like 8 days younger. But they're catching up in growth so that's good. I turned up the light the third day to 40% and the internode spacing is pretty good.
3 years ago
Seedlings lookin happy. I have been watering with 400 ppm water at 7 ph. Day 17 for the bigger ones and day 9 on the rest
3 years ago
Day 9 for the 2 bananacane on left and day 1 for 2 more bananacane and the 2 Jupiters.
3 years ago