pharaohgrow
Chile Verde - Wedding Cake (RIP Scoops)
Elevation
2 100W LEDs , Gorilla 2x4 Tent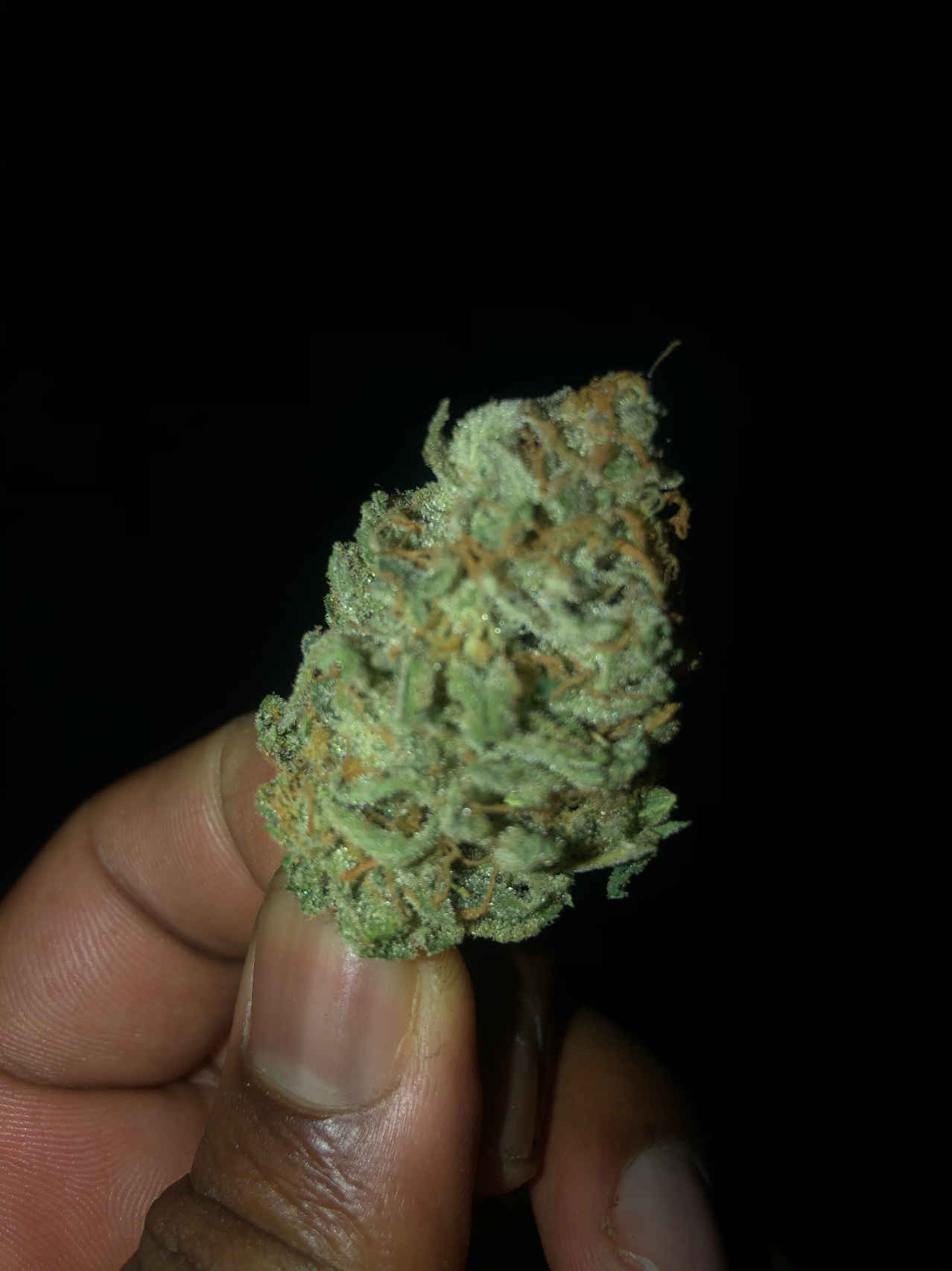 February 21, 2020 After cutting, drying, pruning and curing - end result 😈👌🏾 Chile Verde (top 3 pictures) turned out amazing, frosty and fluffy - has an intense full body high, that is also flavorful. It's the type that as soon as you break it down, you know it's going to be a strain you love. It's my personal favorite of the two. I yielded roughly 250 grams from this beauty 🏆 Wedding Cake (bottom 3 pictures) is not to be slept on, however. It is arguable the tastier of the two, with a distinctive head and body combo high. Also to me is the type of strain that as soon as you are done smoking, it hits you more intensely than it did during the process. I yielded roughly 130-140 grams of this one 🏆. Thanks for tuning in, I'd say the first grow exceeded expectations - feel free to hit me up if you have any questions or plan to start a grow of your own 💪🏾 Happy growing 😎💨🌲🌳
3 years ago
Week 7 of flower , home stretch now 💪🏾 Jan 6, 2020
3 years ago
Ducatiboy Rip scoops! You making him proud! Beasting these ladies
Week 6 of flower - we've got about 30-40% brown pistils on both girls, buds getting nice and thick Dec 30, 2019
3 years ago
CKDrouin Where do u get your seeds from? These came out great!
PharaohGrow I actually started with clones; went to a spot, purchased good clones and thankfully the good yield followed!
Ilsecastellon91 Had a quick question regarding the tips of your leaves. My GG4 are looking the same. Would it be a light problem.? I did raise my led lights 25/27 inches. They just hit the 5 wk mark for flowering.
Week 5 of flower. The Verde is getting super heavy, leaning all over the place. Might add another layer up trellis for it. The WC is slowly turning purple , especially at the top and at certain edges Dec 23, 2019
3 years ago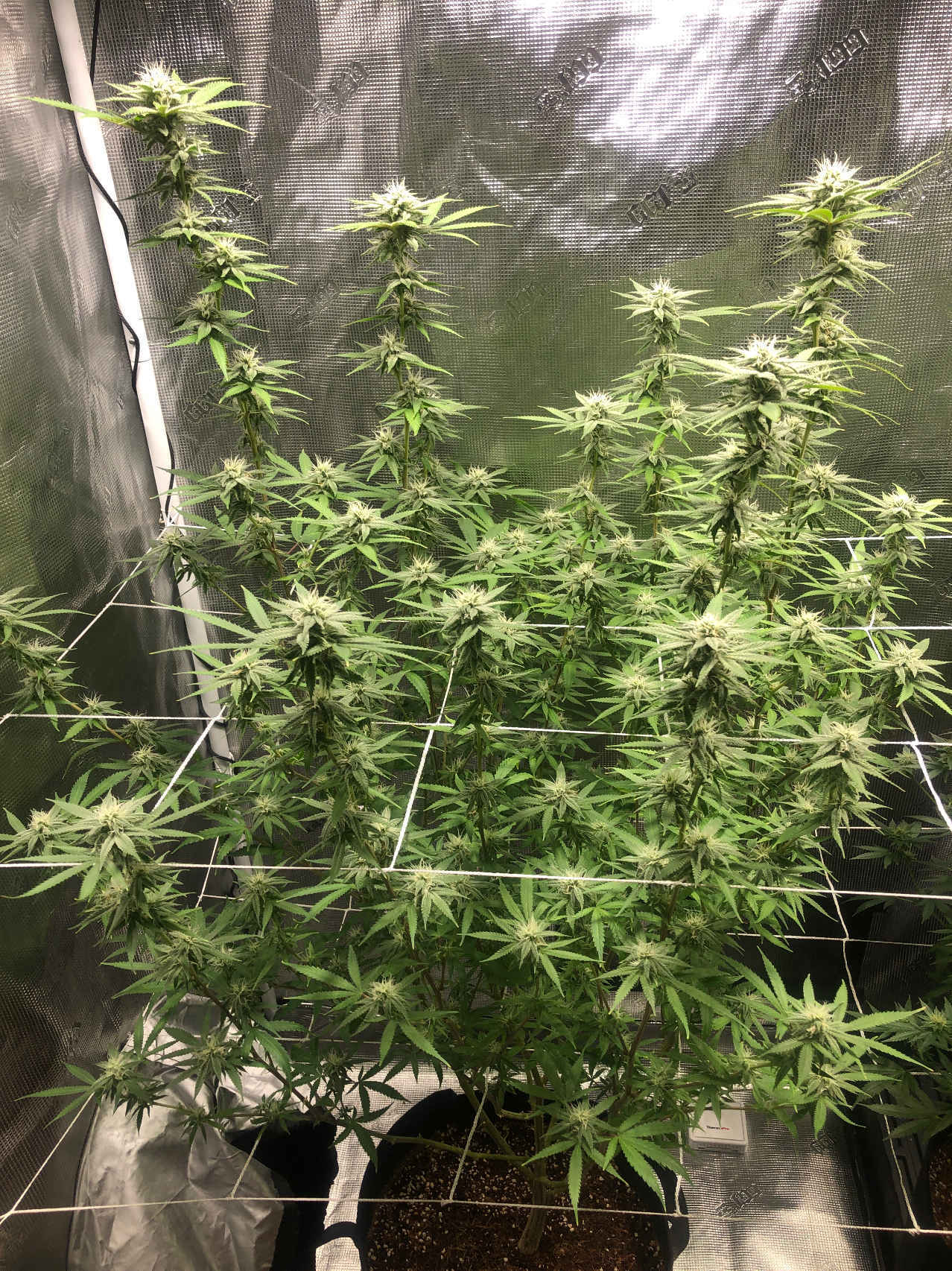 Week 4 of flower - the grow structure of both plants are interesting , the Verde grows wider and allows more light in the center of the plant while the WC grows more dense where I have to either remove or fold fan leaves to get better lighting. Both lookin lovely tho 👌🏾 Dec 16, 2019
3 years ago
Week 3 of flower. Added in Mammoth P to get those buds nice and thick Dec 9, 2019
4 years ago
The Verde is drinking fast, watered her again after a recent nute water. Both girls are loving their new buds Dec 2, 2019
4 years ago
Flowering has begun! - girls transitioning nicely W1F Nov 25, 2019
4 years ago
Flowering has begun. Light settings altered; at some point today will prune both girls so they can focus purely on bud production Nov 18, 2019
4 years ago
Week 9/10 of veg - we right in the thick of it Nov 11, 2019
4 years ago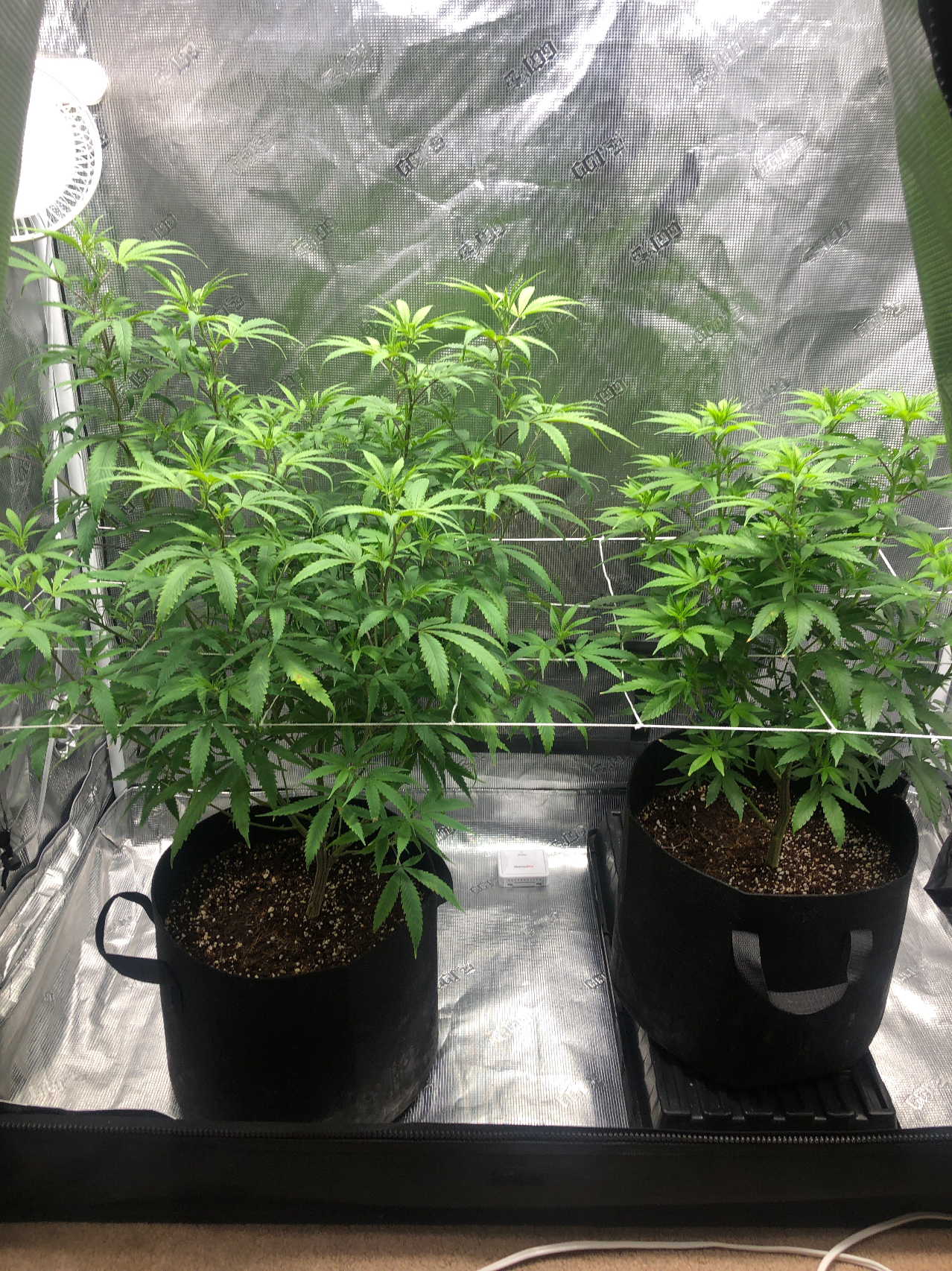 They loving everything right now; another couple weeks of veg then it'll be flipping time - got some trellis netting up too, I'll add another later when it's time to flower Nov 4, 2019
4 years ago
Bunkerbudsp What height are you setting your trellis at?
PharaohGrow First one is about a foot from the base of the stalk
Week 7/8 - Both ladies stretching out nicely October 28, 2019
4 years ago
Got a bigger tent - another 4 weeks of Veg before its flowering time 😈 October 21, 2019
4 years ago
Both girls have been topped, as you see, they love getting their tops taken off 😉 October 14, 2019
4 years ago
Both girls are thriving, the Verde seems the have the more aggressive genetic. Topped it yesterday , will top the WC shortly October 7, 2019
4 years ago
Mystrain420 Their looking good. Are u going lst? That 1st one looks like she'll be a monster bush
We had to say goodbye to Scoops but the other two strains are thriving - loving their nute and higher amounts of water each watering Sept 30, 2019
4 years ago
WC is getting over its light shock the fastest
4 years ago
Watering Scoops today Sept 21, 2019
4 years ago
Waited to water the scoops so she can get fully used to the light and new set up - 2 more days for her water
4 years ago
Mystrain420 I'm far from an expert but they look like they need food Nitrogen to be exact & I'm guessing higher humidity also
PharaohGrow Humidity is at 63% - they just have been introduced to the LEDs 100Ws so its not a Nitrogen def - it's light shock. Another week or two they will stabilize
Mystrain420 Oo ok just thought they look very yellow. I've never seen light shock personally. Clones usually just go for me I guess. I've seen them have problems adjusting to new humidity and temps but never light although I did light bleached my seedlings recently
View 1 additional comment
Week 2! Water day 💦
4 years ago
Lowered my lights down to 19'' so they can get better acquainted -
4 years ago
Looks like the WC and the Sc are getting over the light shock slowly - the Chile is flourishing !
4 years ago
The Chile Verde was the most developed so it's adjusted to the LEDs better than the other two strains - they all got their 2nd watering and first taste of nuts 👌🏾
4 years ago
Light green emerging at the top of the WC and Sc
4 years ago
Same as yesterday, slight differences maybe
4 years ago
ChV most developed - WC has some slight nut burn from Mom, no biggie - Sc might have gotten some slight wind burn, warmed her up before they sleep
4 years ago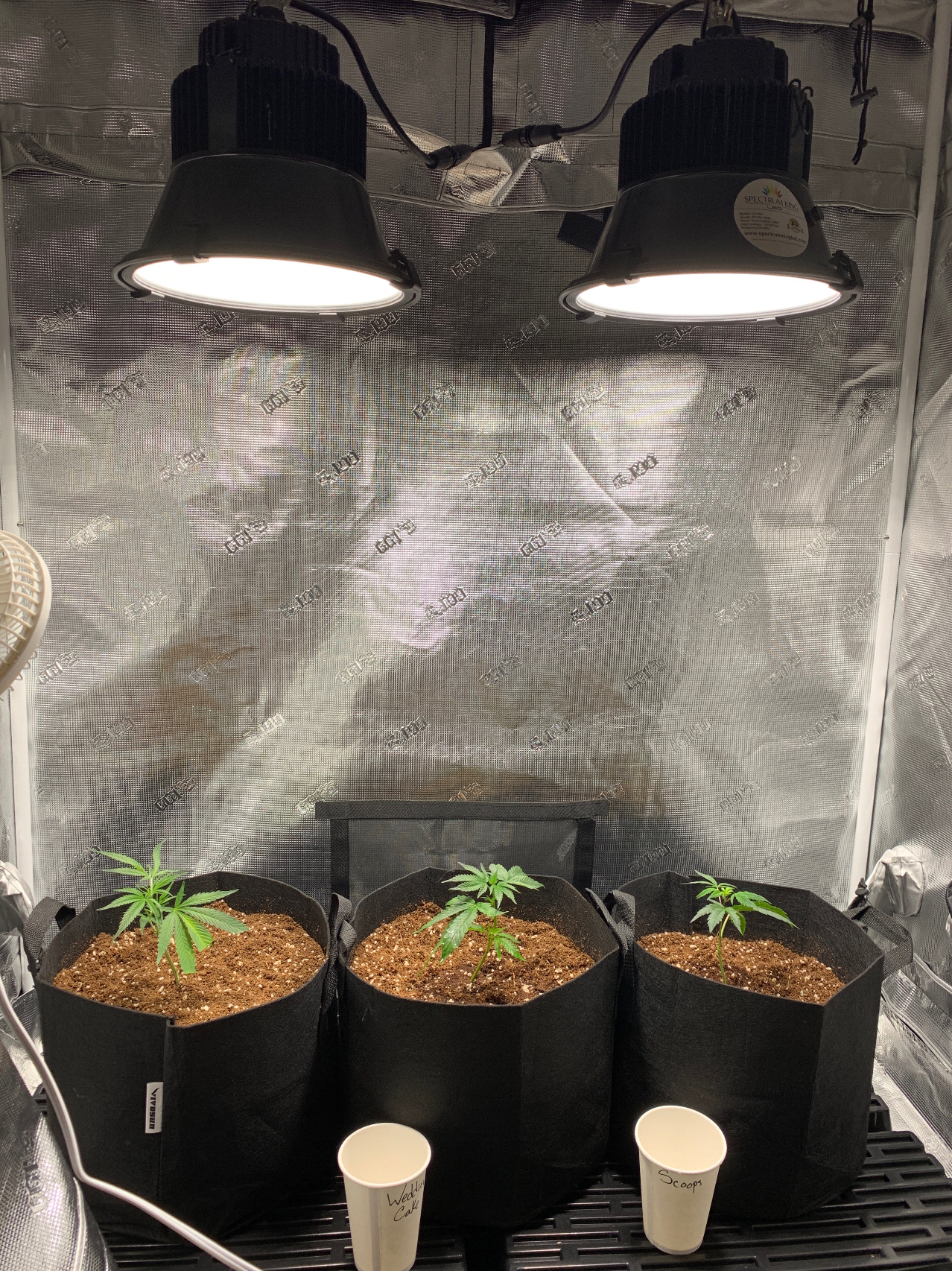 Day 1 - Clones sitting pretty Sept 12, 2019
4 years ago