Apple Fritter
Quick 2021 grow
2 clones my buddy gave me. Currently in inoculated soil. Sf4000 lights.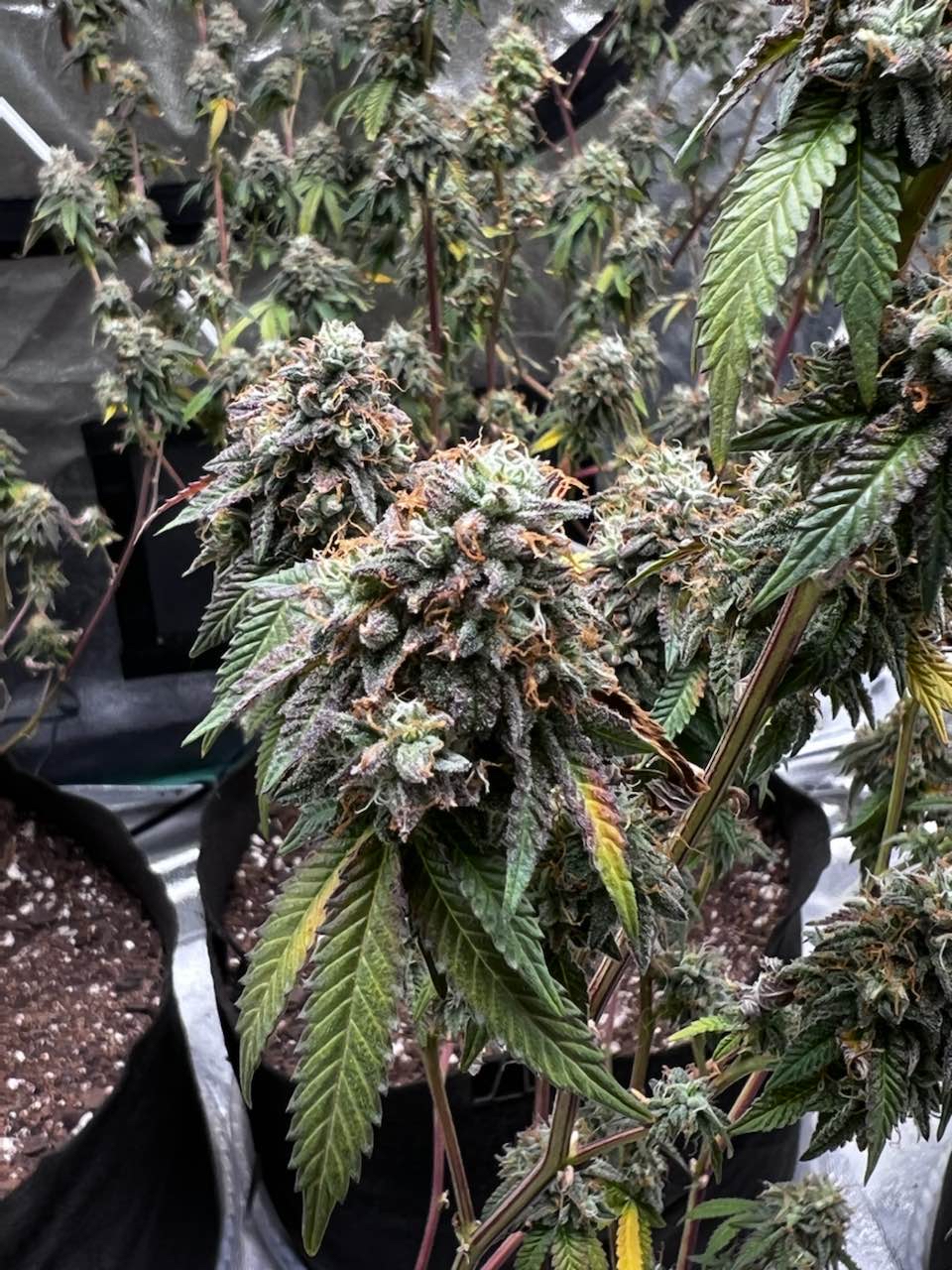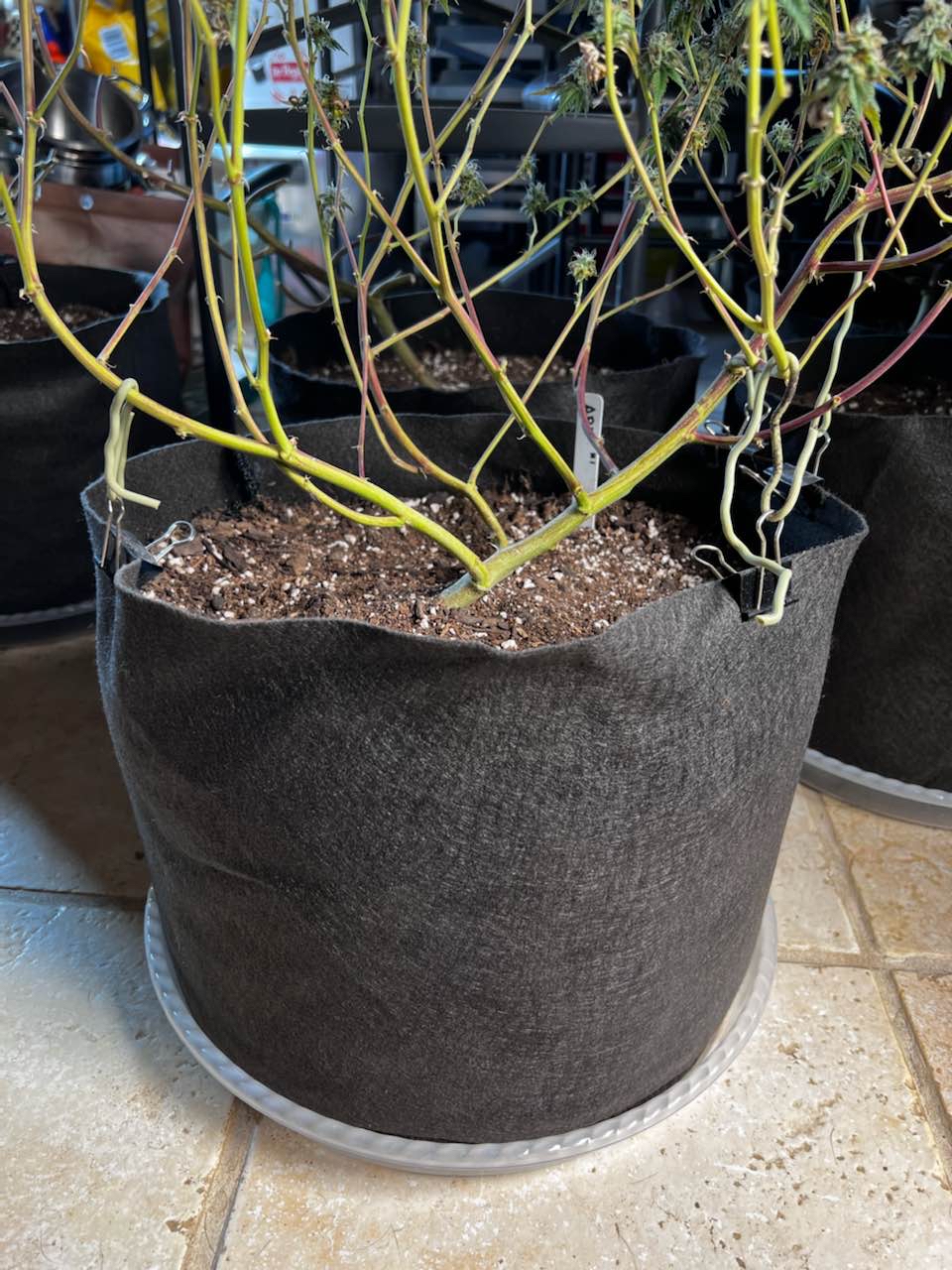 Harvested my tops today. Have the rest of the plant some cha Ching. Gonna flush next week and harvest.
a year ago
forkdik Notice the 1 gal water jugs in back ground is that what you water with ? I've used those often when I couldn't find distilled and I kinda liked how the plants responded to it !
smokingforthegram Yeah I have to buy my own water cause I live on a well system. Small coastal town in mendocino
forkdik Nice I have a new we'll at my outdoor grow coming in around 286 ppm I'm going to run an experiment with it just to see if I noticed any differences I agree tho water makes such a huge difference in growth and health when I switched from tap to ro my plants about doubled in a week then when I added mammoth p and fish shot it had just been explosive 🧨!!
View 7 additional comments
Lollipopped and fed them cha Ching. Gonna flush at the end of the week and harvest in a week.
a year ago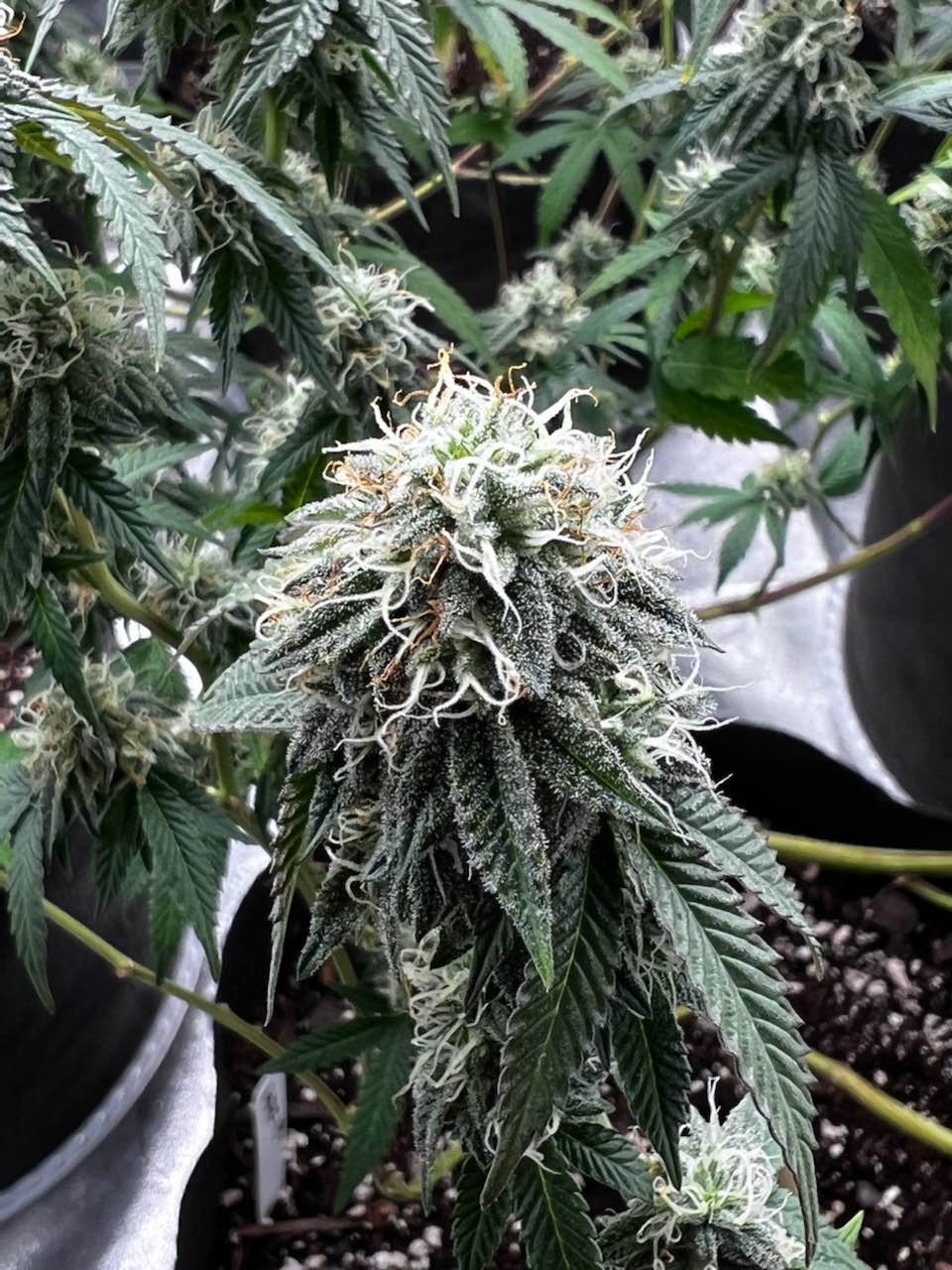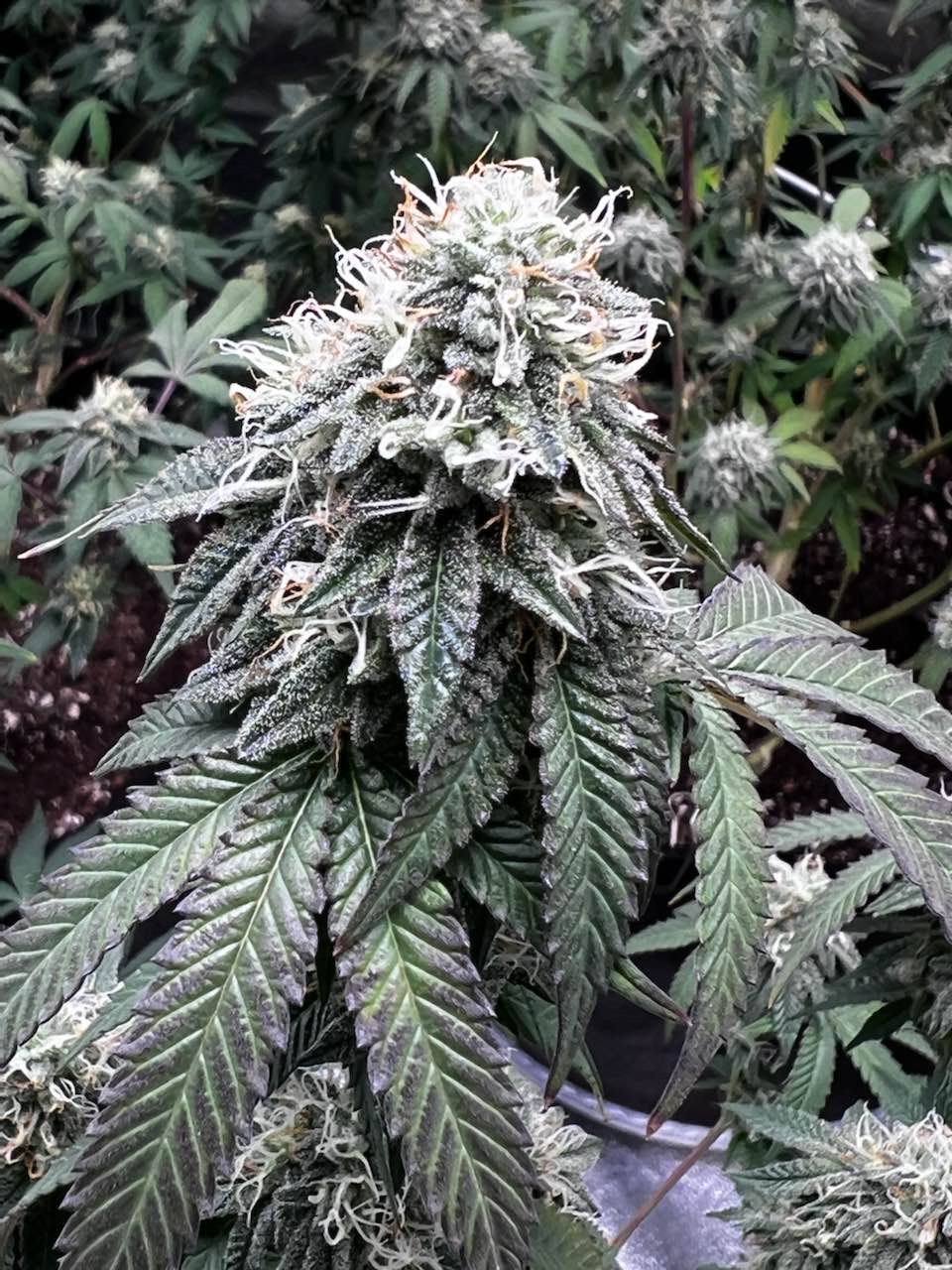 Got the PH issues fixed and gonna em get some potassium for the last few weeks.
a year ago
Week 7 of flower. I think these girls are gonna be done first.
a year ago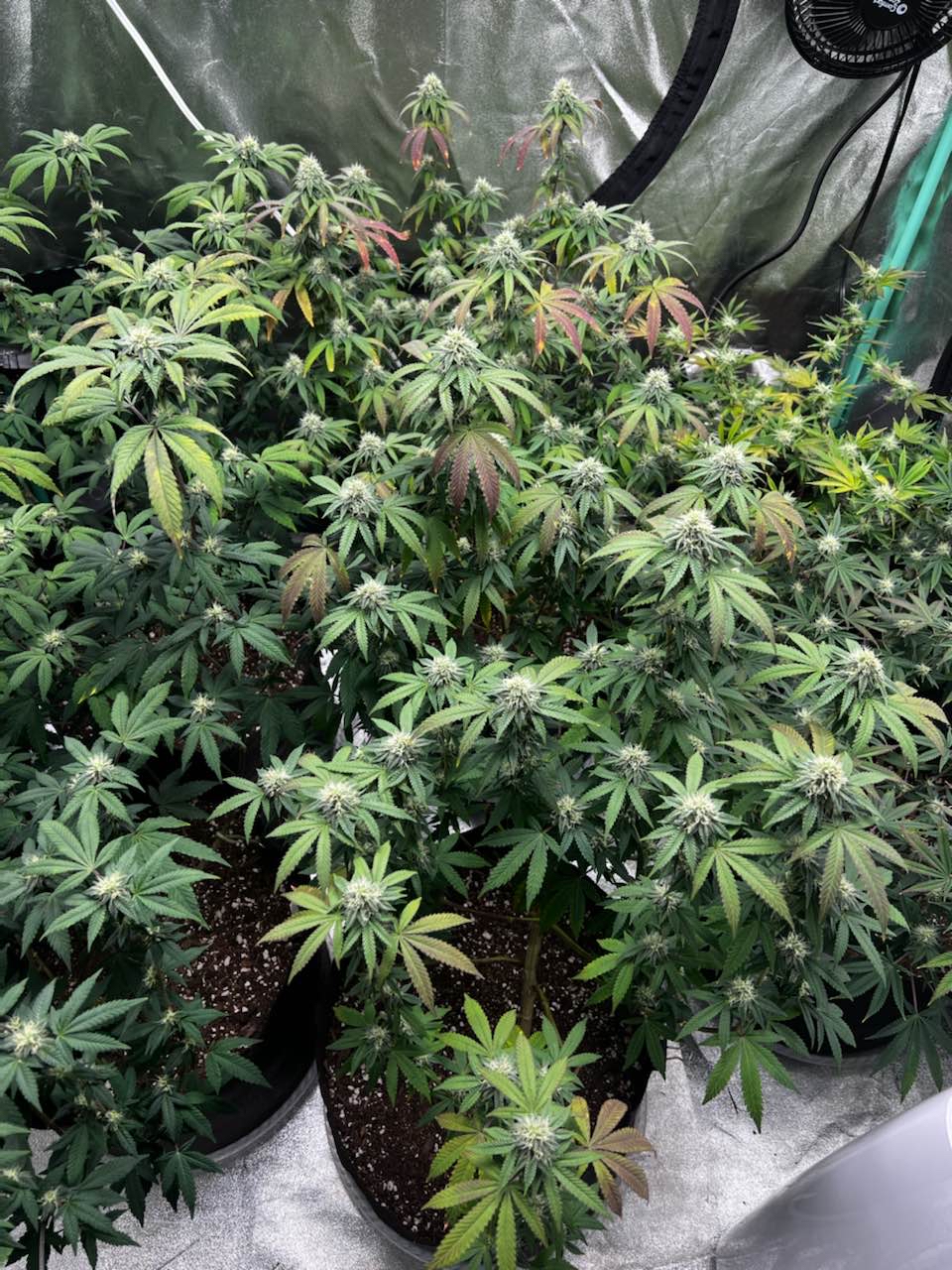 Got some PH problems identified so trying to fix those problems. So far though they seem to be pretty happy. Hitting the get chunky stage.
a year ago
The APF is gonna be the best out of the 3 strains I think. So many trichomes on this bitch
a year ago
Trichomes are coming in!
a year ago
Can't tell if I have nutrient burn or not. I'm running three strains and all three have something different going on. I reduced my lights to 55% so the problem isn't accelerated. Buds seem to be coming in, more leaves are coming in. These girls seem to get more pale by the day. Feeding bloom feed. Watered with 6.0 PH water.
a year ago
smokingforthegram You know, I had that thought too so I cut it back this round. I'll see if that helps
Day 11 of flower. Buds are finally forming. Fed them the actual amount of bloom flower so they should be happy. My new giant dehu is kicking ass!
2 years ago
Week1 of flower down. Girls are hungry so they will be fed as soon as they're dry, probly tomorrow. Got this new beast of a dehu. I live on a cliff by the ocean so humidity is insane here.
2 years ago
Day 3 of flower. All the bud sites are opening up. Yesterday I fed them and turned the lights up to 55%. You can see they're hungry so the food should make them happy.
2 years ago
Some before and after pics of the defol. They look hungry so I'm going to feed them bloom tomorrow. Flipped yesterday.
2 years ago
Well these girls are filling out the tent. Definitely gonna flip next week. I've never maxed my tent out before. Everyone got fed cal mag yesterday and a good defol this morning. I'm gonna need a bigger dehu for flower. Also raised the lights and have em at 50% now.
2 years ago
I went out of town for 5 days and came back to a bushy forest. Had to do another defol. I also raised the light and turned them up to 45% power. So far these 5% increases seem to do really well with minimum stress. I'm just watering them with cal mag every time I water and the PH is around 6.1 - 6.3
2 years ago
C_R I just popped some AF, what temperature are you running?
View 1 additional comment
Gave the girls a little defol and reworked the LST. Super happy plants. Also got watered with 1/4 gal of cal mag each
2 years ago
Had to rework the LST cause these girls are STRETCHING. Watered with cal mag 1/4 gal each. Ph 6.3. I can see early signs of cal mag deficiency so I'm trying to get ahead of it. They're really bushing out so I'm going to deleaf soon.
2 years ago
Full LST started today.
2 years ago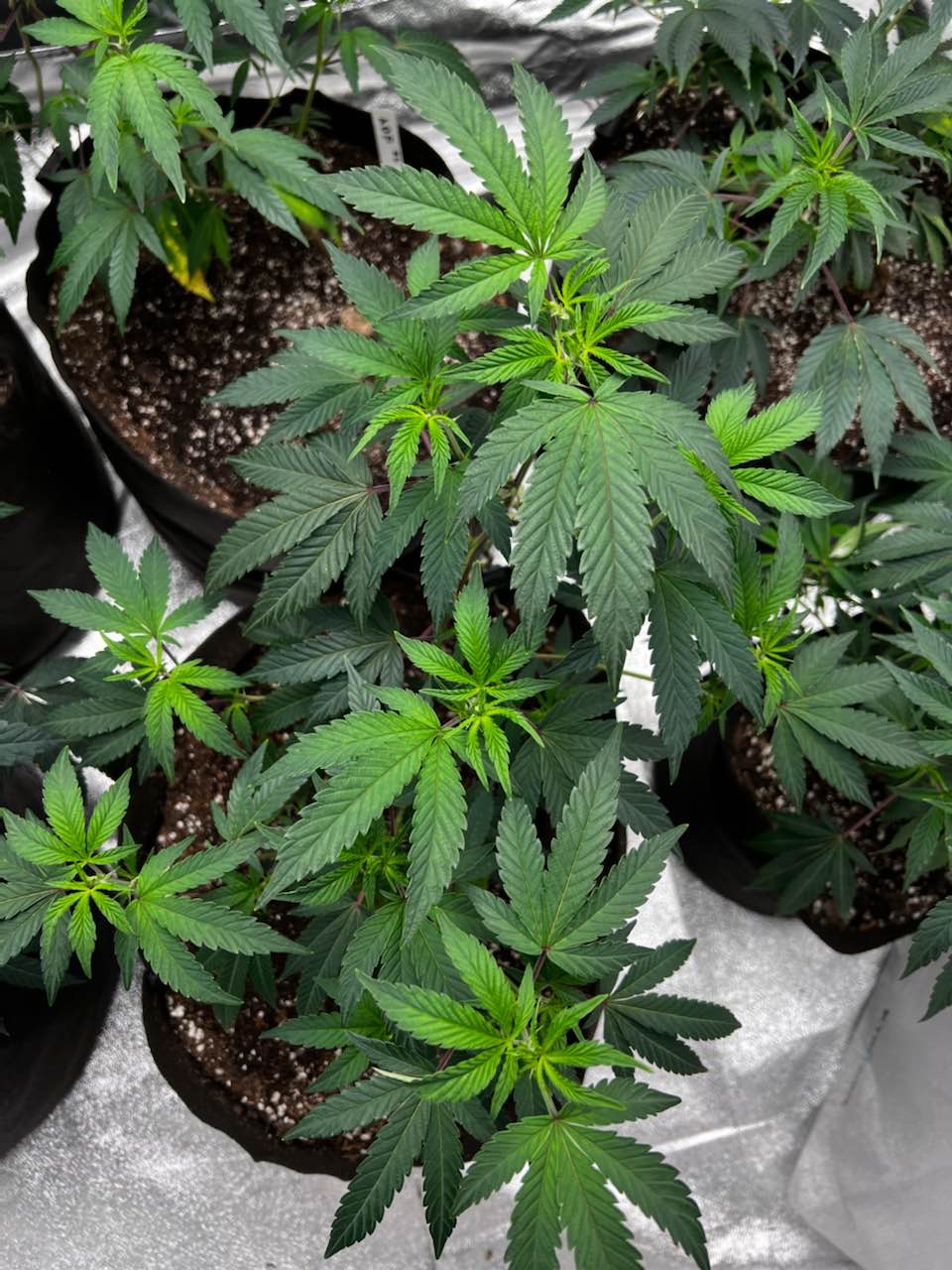 Transferred the girls into 5 gal pots. Raised up the lights and turned the power up to 40%. I'll let them settle into their new pots and then we're going to turn up the LST. Possibly scrog I haven't decided yet.
2 years ago
Really bushing out. I'm gonna let them go another week then transplant to 5 gal pots and continue LST. I'm pondering Stimming other branches since some are looking like main stems. Watered 2c PH WATER 6.0-6.1. Raised my lights up 3 clicks since some plants were showing signs of heat stress. They grow probly an inch a day at this point.
2 years ago
Beautiful color so far. They are happy girls. Started watering with 2c. Lights at 35% and 24" away. Already seeing roots sticking out of the bottom so we're gonna transfer to 5 gal pots here soon. Also idk if you can see in the last pic, but there's a weird mutation on that fading leaf; it has a node growing off of it.
2 years ago
Watered with PH'd water 6.0-6.1. Noticed they looked a little PH shocked so I recalibrated my PH pen cause I think that may be the problem. I also stimmed each plant today to do some moderate LST and make the plant bush out more. Also raised the lights and turned the power up to 35%.
2 years ago
Watered with cal mag and started LST. Sf4000 at 30% 24" above lights. 2 gal pots.
2 years ago
Transplanted these girls and they're super happy. Already grew another 2 inches. Soil is a 50/50 mix of happy frog and ocean forest.
2 years ago
Watered today. Raised lights and turned brightness up to 25%. They've grown about 2 inches. Transferring later to bigger pots.
2 years ago
Tallest girls so far. After they take root I will transfer them into new pots. 7 in. Right now
2 years ago