1fine69gto
Autoflower seed production
Makin babies
Planted today, will use colloidal silver on one as soon as she starts flowering, continue daily until pollen sacs start forming😏
She's about ready to harvest, unfortunately I see no seeds on her☹️
3 years ago
1Fine69GTO It's been so extremely humid, when I attempted to dry the pollen after harvest it became more moist and it was compromised 😡...since I have no more auto seeds I'll have to order a few more and do it again
Pretty sure I fucked up the pollen🤬🤬she's budding nicely though
3 years ago
I'm not seeing any beaners...possibly killed the pollen when "drying". It was VERY humid and actually damp inside the container. Water kills pollen so I'm not sure if it was still viable. Waiting game now.
3 years ago
Kept her outside, pollinated again (just to make sure), she's grown a foot in 9 days
3 years ago
Sittin on the back porch ( nighttime now)
3 years ago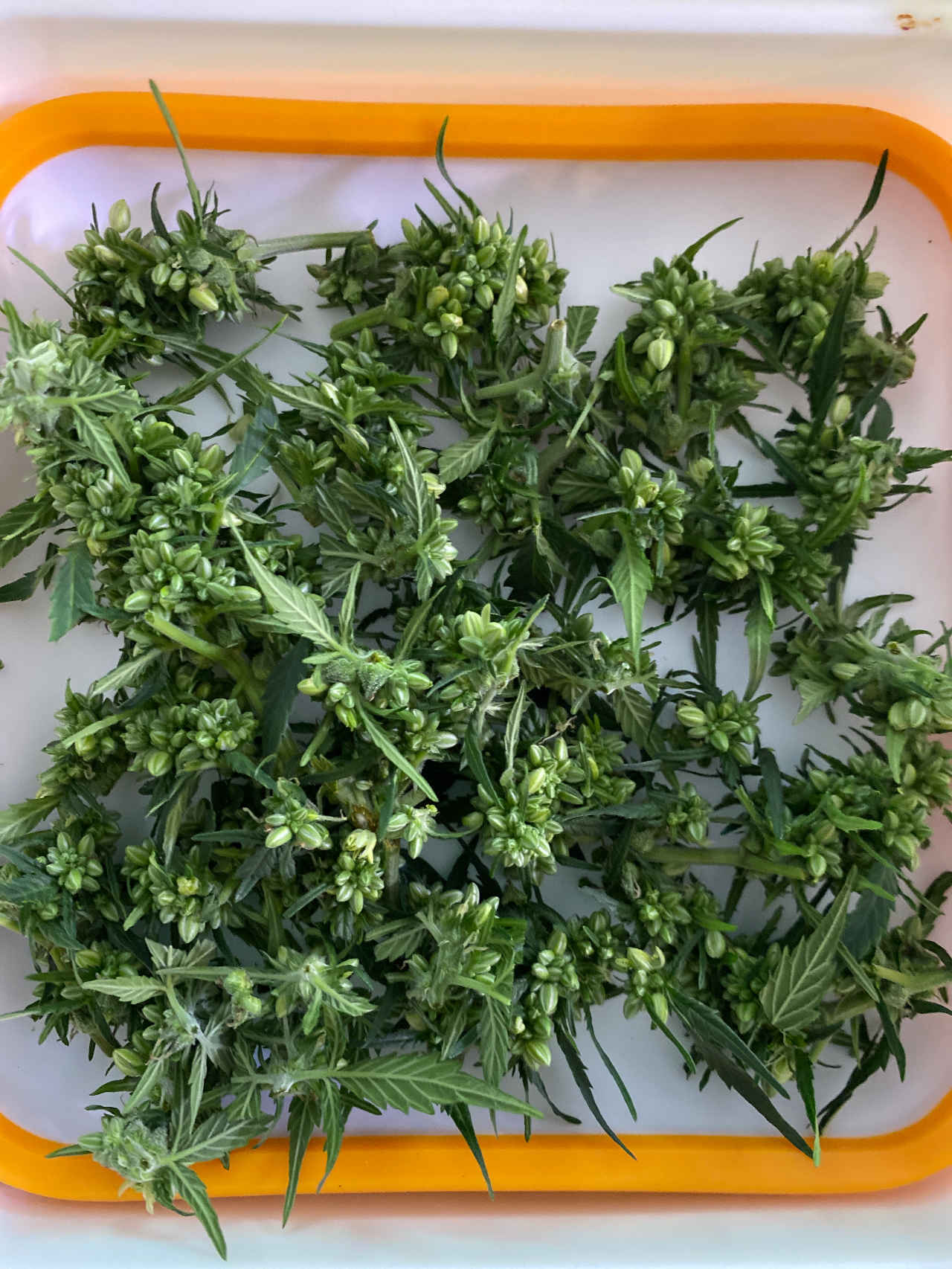 Harvest day for pollen, I'll let em sit in here sealed for a couple days to dry, then use micron filter and gently shake out the pollen over wax paper and put into a baby food jar with a 4:1 flour:pollen ratio to keep it dry n preserved. Will last a year or more in the feeezer
3 years ago
Rames Madness could u explain how your making autos would love to try it out
1Fine69GTO This pic is the pollen from a female plant I made a sex change to male using colloidal silver, when the female auto flower starts budding, you spray with colloidal silver - soak her down good - a couple times a day for a couple weeks. You'll notice the pistols becoming brown and shrivel up, male pollen sacs will form, after a few weeks of formation they'll start to open, harvest then and put int a dark, dry, air movement free zone for a couple days then using a micron filter gently shake out the pollen onto wax paper, put in small jar with a 4:1 ratio of flour:pollen (to keep it dry, moisture kills pollen). When you have another auto flower about two weeks into bloom you then pollinate the whole plant, a couple of branches or a single bud site- depending on how many seeds you want. You CANNOT consume any part of the plant you sprayed with colloidal silver so you might as well spray every bud site to get as much pollen as you can, then discard the rest. When you pollinate, remember that the plant uses a lot of energy to make seeds so the smokeable portion of the plant might not bud as big be as strong as if you were NOT making seeds...slight drawback.
Rames Sounds pretty easy will have to give it a try, if I make a strain can I name it get it out into the world
View 1 additional comment
So she's covered with pollen sacs, maybe another week and they'll be ready to harvest and the little one will still be a few days till I'll be able to pollinate her
3 years ago
1Fine69GTO The close up is of just the "cola", but all the bud sites look just like that, I'll get enough pollen off her to last a very long time. Since you cannot consume any part of a plant that has been sprayed with colloidal silver, might as well get enough so you won't ever have to 'ruin' another plant. I'll pollinate a branch on every run for a while till I feel I have enough seed to cover this strain forever for me...and I'll experiment with other strains, cross breeding my own
The nanners have started to appear, a few weeks and I'll be pollinating the little one
3 years ago
She has stretched a bunch misting with colloidal silver and the other has been very short...so I started misting with RO water and the one not being changed to male started getting bigger almost immediately. SOOOO, I will be misting the Cream Autoflower every time. The first pic is the colloidal silver plant, the other is just growing...both planted on same day, sprouted same day🧐
3 years ago
1Fine69GTO Notice the difference between day 28 (started spraying with colloidal silver) and today
Spraying 2/3 times daily with silver...she stretched quite a bit the last few days since I started
3 years ago
Made my colloidal silver last night and started spraying today...2/3 times a day till she starts showing nanners
3 years ago
Couple of preflower finally on her, going to be a short strain (I did kinda know that), but time to make the colloidal silver
3 years ago
Just planted the lady that will receive the pollen😁
3 years ago
Leolo Do you have to plant the pollen-receiver/seed-making plant so much later? Or is there a chance that you can have time to find the mother and trance-father in the same batch?
1Fine69GTO I just received the "mother plant" seed today...it is possible in the same batch but the one you would want to be the mother would have 3/4 weeks tops left till harvest. I like to give the "pollen plant" at least a couple weeks head start
1Fine69GTO I have heard of using colloidal silver on just a small portion of the plant, wait for the switch, stop spraying and when you have pollen...shake her up and the buds NOT sprayed with colloidal silver will germinate. In essence that is what you would be doing by planting both at the same time, I give the receiver a couple weeks so she's just starting to bud when I'm harvesting pollen from the donor
View 1 additional comment
Waiting for first preflower so I can start with the colloidal silver, I will change the lady in the forefront, the one in the back will stay in hydro until done, will be sewing three more Cream autos in a couple days, they (or parts of them) will receive the pollen...gonna have a shitload of seeds and some pollen left over in the freezer, stored in baby food jar with a touch of flower to keep out moisture.
3 years ago
After catastrophe and in hydro now, shouldn't take long to recover
3 years ago
Had another minor catastrophe...ended up with one of my autos in veg hydro...oh well, looks like this is going to be the male now, fine looking plant too.
3 years ago
Going to spray the one on the left with colloidal silver to give her a sex change...nicer of the two, want the best pollen.
3 years ago
Sewn in final pot, soil/coco mix dampened thoroughly, seed sewn at 1/2", covered with Saran Wrap until she sprouts, planted two like this, will plant the one to be pollinated in two weeks, gotta give the one waiting for a sex change a little head start
3 years ago