maximusprime
Unknown Indica Dominant Strain
Winter Novenmber 18th
So this next crap has a mixture of organic soil that has Pete Moss in it are use my own perlite to make my own putting soil adding in at 10 pounds of compost, 5 pounds of tea leaves and 1 pound of crushed and blended egg shells. The soil was thoroughly mix and spread out through 12 5 gallon buckets.
8/2/2020 Perform soil test to see what's going on with soil because the bus look like they have had a stop in growth. Results are in the picture below. Will fix these deficiencies with the next couple of days to a week
3 years ago
So one of the two bushy indica colognes was a mail so I used the pollen to make more seeds from a few birds on the female Plant Counter Park. Male plant was pulled up today didn't harvest much pilot from it probably because I had to move it into the bedroom and I didn't fully flower like it was supposed to which is actually fine. I got enough pollen to do what I wanted to deal with it. It's been trim several times but yesterday it was trimmed for the final time. It does have bugs on its head buds growing on it for about two weeks or so now maybe even three. All branches have been wired Down and are growing up towards the ceiling in a sea of green style. Last duck indigenous was from the first variation was proven to be too strong nutrient has been diluted two times prior to seems to be the right potency now. It is still concentrated but it is just a little less concentrated to fit within the parameters that I need. Plants will be given water for the next week or two I saw a little nitrogen burning on the leaves from the nutrient first version that was too potent. I would like to mention there are a few buds that did get pollinated on their own because I almost didn't catch the fact that it's female counterpart was a male.
3 years ago
6/30/2020 Not sure what's really going on. But it's been almost 30 days closer to 20 and I see orange hairs I see try combs growing but I do not see any bud growing the bud seems to be growing very very slow. I really hate that I don't know what strain these are. 21 days into harvest
3 years ago
06/09/2020 This plant has been topped and lollipopped. Fan leaves cut off several times. Still getting 3cups per gallon of water Green Elixur. Both plants have been flipped into bloom 12/12 light schedule. 24 clones were cut prior to bloom. PREDICTED HARVEST DATE: September 9, 2020
3 years ago
6/3/2020 Topped and Mack took 30 cuttings for clones. Feeding as normal. Allowing regrow the before harvesting in 30 days.
4 years ago
5/22/2020 Nothing new plant is doing great as expected. Waiting on my light so I can flip it into harvest.
4 years ago
4/7/2020 Both parents are big strong healthy. Which regimen has been exactly the same. Both plants have reached for growth. Stems thumb size the main branch is about the width the two fingers. I will be flipping them to bloom cycle this Saturday, April 12, 2020. I'm very excited to see what they produce.
4 years ago
4/19/2020 Everything is going good. Sale nutrient measurements as normal. Both plants are atleast 3ft. Training branches to snow light to hit the inner plant.
4 years ago
4/15/2020 No problems nutrients as usual.
4 years ago
4/5/2020 So the growth rate is confirmed for this strain as 2inches a day on average. Same nutrients heaven since last time. Skipped a day because they really didn't need any water.
4 years ago
12/2/2020 Tallest plant is not 2'9" inches and the shortest is 2'3" inches. I split a 1 gallon jug of water with about a cup and a half to 2 cups of Cal mag and about a cup and a half to 2 cups a homemade liquid nutrients between the two plans. Everything still going great and still growing taller.
4 years ago
3/30/2020 Tallest plant is 2ft 8 inches and the shortest is 2ft 3 inches. Growth rate appears to me 2 inches per day for each plant. Expecting 12 more inches of growth by Saturday 4/4/2020 for a total of 3" 8' for tallest plant and 2"3' for shortest plant.
4 years ago
3/29/2020 Tallest plant is 2ft 6 inches and the shortest is 2ft 1 inch
4 years ago
03/24/2020 Plants are doing OK. They're getting a gallon of water with 2 tablespoons of potassium, and about 2 cups of my liquid nutrients, and one cup of homemade calmag. The plants are growing nice and thick. There's been absolutely no yellowing of leaves. The only yellow leaves that have been is because the plant has very thick leaves and branches and some of the leaves turn yellow because they're being blocked by other leaves from the light. But other than that everything is going good. Both plants appear to have topped themselves which I'm very happy about because I did absolutely no training this time. Which I didn't want to train because the stems and stalks are so thick that they break off very easily so I decided not to do any training at all with them.
4 years ago
03/11/2020 1 1/2 cups CalMag(homemade), 1 1/2cups liquid nutrient organic, 3 spoonfuls of potassium in 1 gal Of water. Tall Plant 2ft y'all by 27 1/2" wide Short plant 19 1/2inches tall by 24" wide This plant appears to Have topped itself very very well
4 years ago
03/07/2020 Plants revived 2 spoons of potassium, 1 1/2cups cal mag, 1cup organic liquid nutrients in 1 gal Of water per plant. Both plants got foliar spray. Only damages leaves are the ones at the bottom being blocked by the bigger ones above it. 03/09/2020 Plants revived 3 spoons of potassium, 2cups cal mag, 1 1/2cups organic liquid nutrients in 1 gal Of water per plant. Both plants got foliar spray and NEEM oil spray for this week. Only damages leaves are the ones at the bottom being blocked by the bigger ones above it. Tallest plant is 22" & 23 1/2" wide Short plant is 16 1/2" tall & 19 1/2" wide
4 years ago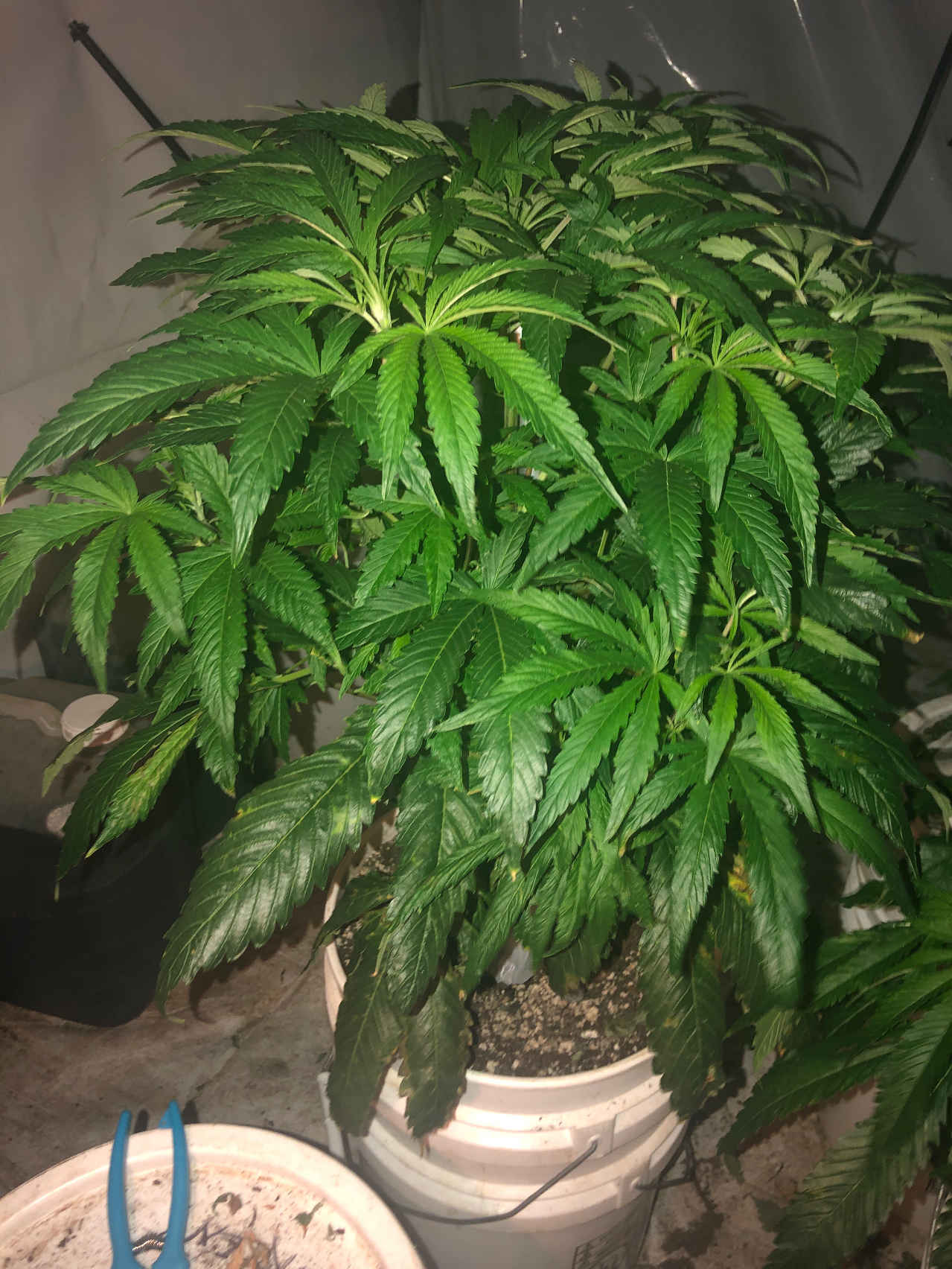 Mixed potassium powder 2 spoonfuls, homemade CalMag 1 1/2cups, liquid fertilizer nutrients in 1 gal of water 3 days ago. There growth rate is impressive! Very thick stems, branches and truck.
4 years ago
2/26/2020 Gave each plant 2 spoons fulls of potassium, 1/2 cup of cal/mag (homemade), in a gallon of water. Plants have already gotten taller with new growth.
4 years ago
Plant 1: 1.1ft tall & 1.7ft wide Plant 2: 1.7ft tall & 1.11ft wide Each plant gets 1cup organic liquid nutrients in 1gal of water. And they are THIRTY! Stems and stalks at very very thick and healthy. Wide broad leaves and green all of with minimal drying of leaves. This grow is going perfectly. My next crop I will definitely grow 12 plants. I'm ready for that challenge. My roots are Fantastic. Top roots look like buried branches and the bottom roots are very long as you can see in the pictures thanks to Microriza
4 years ago
So I was tending to my y'all plant and the stem are so thick that I went to nudge it and it snapped off lol oof. So I'm cloning it hope I get it to worm this time. Plants are still doing great a few dry brown and yellow spots but otherwise very good. Gave both plants 1cup of my HMLN in 1gal of water and split that between the two. And it takes to it very very good. The main branch is 1inch in width ok both plants. Still on an 18/6 light cycle.
4 years ago
The branch and stems of both plants are super thick. Still just 1cup of liquid jobes to eat gal of water. Can't believe it's barely been 90 days because they are growing fast.
4 years ago
1/27/2020 The more taller plant is about 11 inches tall the fat one is about 7 inches tall but about 12 inches wide. The main branch on both of them are at least a half inch thick if not a few millimeters more so. The subsequent branches and stems are thick as well. For size comparison the fan leaves on both plants are about the size of my hand maybe a little bit bigger. I'm 6 foot two 200 pounds so I have rather big hands. They don't excellent there's no green or yellow no discoloration or anything still haven't had any nutrients whatsoever just water in neem oil spray. The soil mixture has been very successful as produce the best growth growth rate I've ever seen. This will be a repeating recipe. And the roots on both plants are very thick I dug down with my fingers a little bit.
4 years ago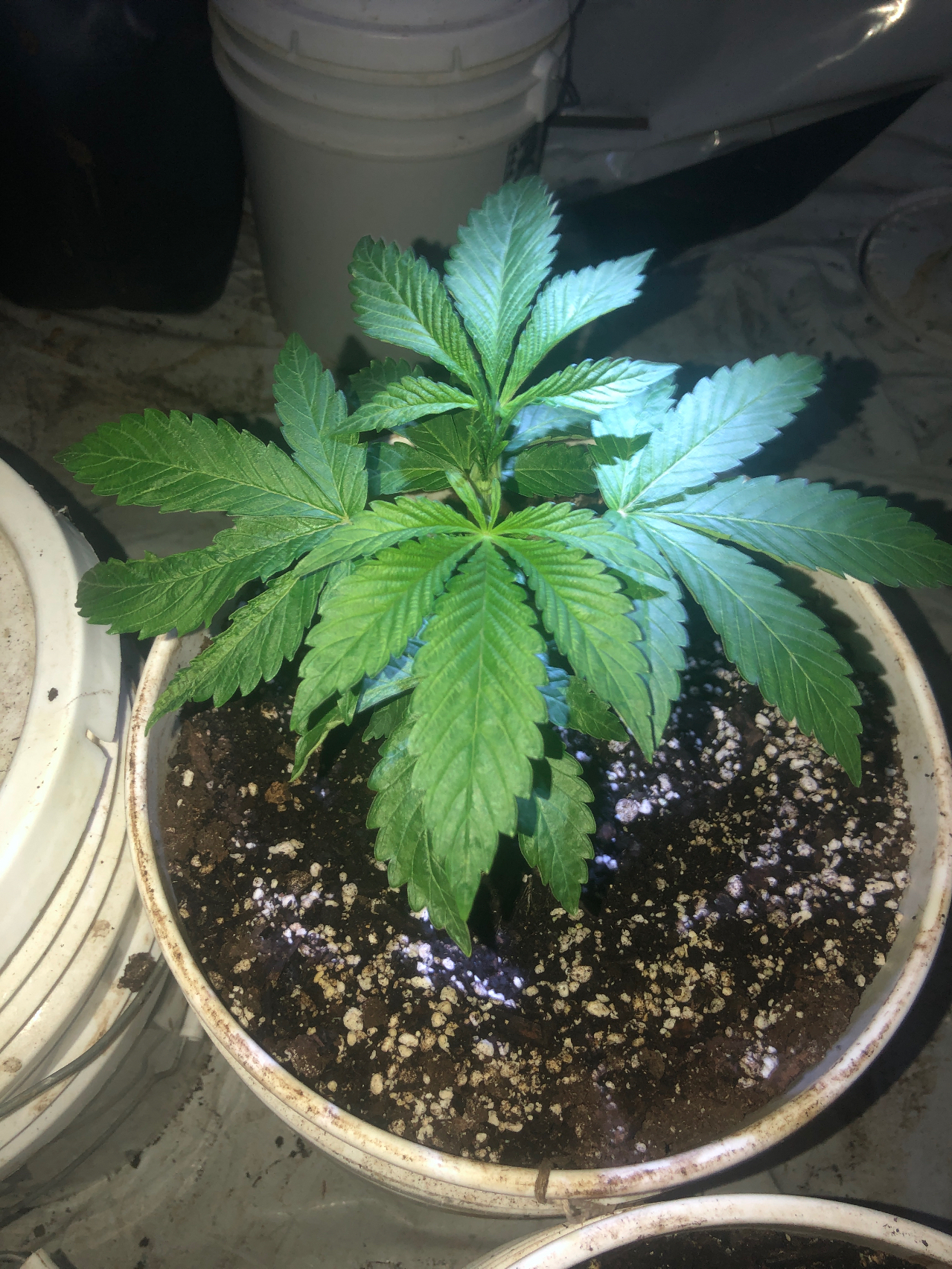 01/13/2020 Pictures Taken 01/15/2020 Measurements and Observations Tallest plant is atleast 9 13/16th inches tall. 1/8th an inch away from 10inches. I used a piece tape to measure height and measured that with a tape measure so if my math is right the plants current growth rate is .178inches per day multiplied times 30 days gives you 5.34inches of growth in a month which adding current estimated high yes at 9.72 plus 5.34 equals 15.06 inches estimated height in another 30 days but factoring in the natural increase in the amount of growth rate as the plant approaches veg stage is currently estimated at .96 just shy of an added inch of growth every 30 days currently meaning true estimated height at the end of 90 days under 18/6 light cycle using led lights with UV chips with my current soil mixture recipe should atleast be 16.02inches however judging also based on my visual observations as well I'd say it's between a range of 16-24inches as I am expecting another huge boost in growth as it reaches veg stage in a few days. It'll be cool to see how close my educated guesses actually are in 32 more days.
4 years ago
1/7/2020 They are doing gray! Still nothing but water. Looks like my potting soil recipe is actually working because they are growing fast!
4 years ago
12/27/2019 So here's how my little ones are doing so far. Nothing but water at this stage of course. The smallest almost died because the casing got stuck on after I planted it. I used tweezers to get the casing is and it was a little touch and go at first but she's good and growing now.
4 years ago
November 18, 2019 Same soil is within the 5 gallon buckets. Only using water because their ceilings and they don't need anything else but water. Light cycle is on an 18/6 light cycle. There are three seats but there will be a total of six still waiting on the other three to fully germinate.
4 years ago