Fall 2023
4x4
4x4 With happy frog and FF Ocean Forest. Little peat and pumice. Didn't test water drainage. Nutes plan is amendments (compost, cal mag, worm castings. I made 2 self watering bases, and have 3 BluMat classics. Ak and grape didn't germinate. Added another AK to a cup of water 7pm. Will redo the grape tomorrow. (Grape sunk and didn't germ, put it on paper towel so it don't drown.)
Various. (Bubblegum, white widow, AK47, (photos). Double grape (auto)(F) ILGM and Mephisto.
They got a bit yellow and crispy, likely because of my ph issue and nute lockout.
3 days ago
Auto almost ready for harvest. No Amber yet though.
20 days ago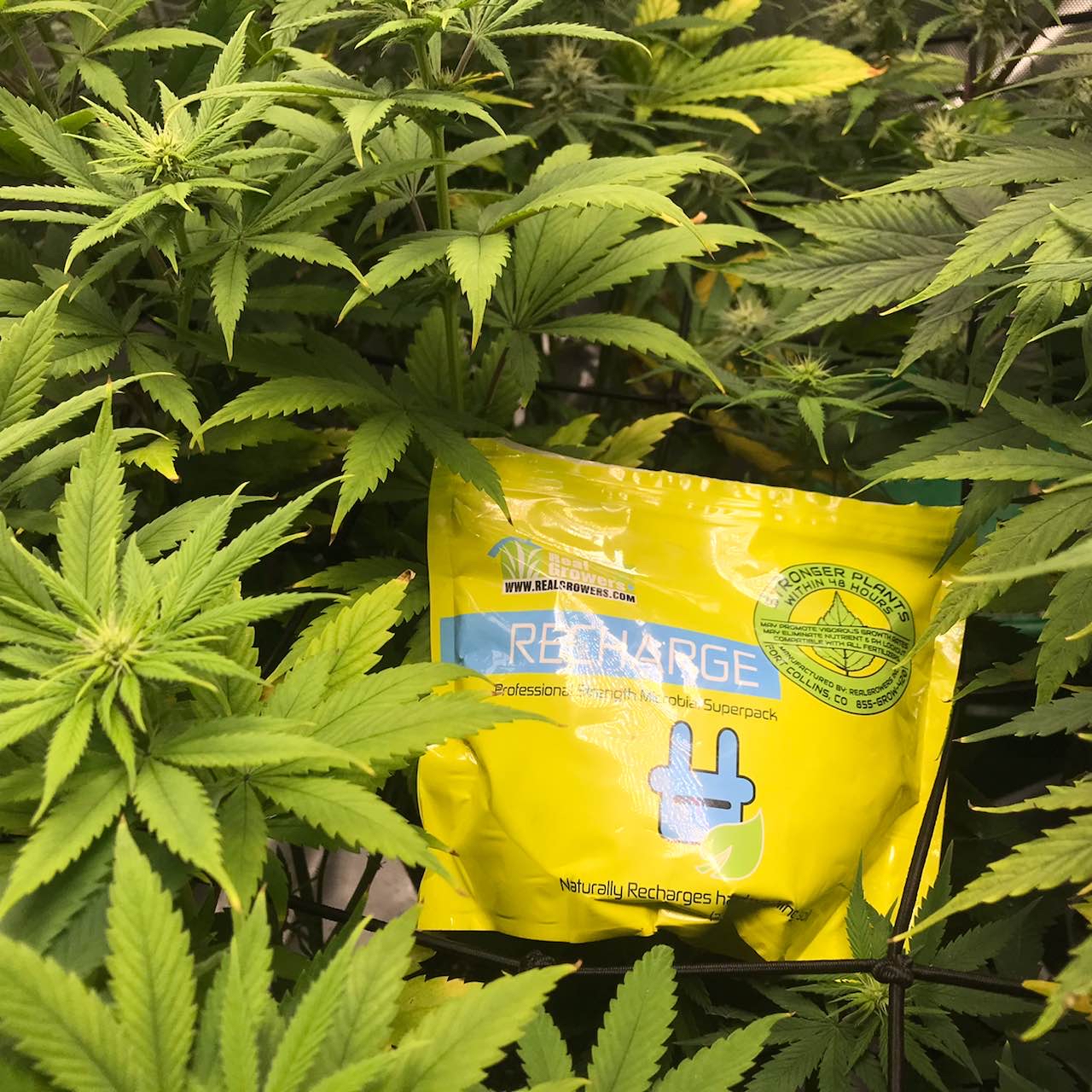 I think I've lost the war on keeping the canopy even. Might have to just tie a couple down once they get too close to the sun.
a month ago
Update. Got the soil PH back down I think. Tested one at 6.5. I'm totally lost on the nute stage. Likely a lot in the soil from when they were fed, but too high PH to eat. I'm using a multi function probe to test water and nutrients, not sure how accurate it is, but better than nothing. I added some flower girl and mag to the top, and am trying to figure out if I should be feeding the elm dirt plant juice or the bloom juice at this stage. //Ph down h2o with lemon juice.
a month ago
My posts are disappearing. Need some help verifying issues here. 1: phosphorous deficiency? 2 & 3: Too much light or heat? 4: Cal or mag deficiency? TIA!
a month ago
Flipping! Hope my DG auto that is flowering doesn't suffer.
a month ago
TrpX My comment was nuked. I didn't mean to add the last four pics with the first two. Since they are here… I need some experts. Pic 3: phosphorous deficiency? Pic 4&5: To much/close to light? Pic 6: cal or mag deficiency?
Something was chomping on the leaves. Sprayed with insecticidal soap and neem is on the way. It looks like my auto is starting to flower. …Wife said the house smells, but I can't smell it. It's not going to get better though. I seriously can't smell anything until I open the tent. Lung room smells clean to me.
2 months ago
Caliban Look underneath the leaves for caterpillar. You could probably defoliate some of the redundant fan leaves too if you wanted.
TrpX Right on. Remove the lower fan leaves then? Like a lollipopping defoliation at the lower quarter? I've plucked several that were yellowing from no light.
Caliban You don't have to be severe otherwise it will stunt growth. I remove 1-2 fans per day down below not getting light or above of blocking buds
View 23 additional comments
Fed some silica last night. Added net to start the scrog.
2 months ago
TrpX I made two DIY bottom feeders, and they seem to be working. Roots on the Bubblegum are finding the wet wicks.
SaviiBuds Awesome! I have some DIY wick feeders too that look super similar to the ac infinity ones. They work pretty well. My nutrients are powder so I still top feed, but anytime they just get water it comes from their wick lines. If the roots are growing into the lines you can take them off of the wick lines like every other watering and it'll help keep them from sticking down
TrpX I just saw them attaching this time, and pulled them off. I'll do that every so often. I figure I'll still give a good water one a week to keep all of the soil moist, and I also too with worm castings. I have the Blu Mat carrots in three of the plants as well. They are the classic version, and really small. Doesn't seem to be an issue covering all of my bases and doubling up. I ordered some elm dirt plant juice. They targeted me hard on the ads, and had a special. Anyone ever use that stuff?
Not sure why the Bubblegum has had so many leaf issues. Today some are curling up. And those spots. I do use cal mag as a foliar spray.
2 months ago
TrpX I'm going to use DR Earth FG when it's time. Has anyone used Elm Dirt juice? I'm a sucker for organic miracle food, and want to try it.
Good wallpaper. My tips on the new growth are a tinge yellow. ?
2 months ago
TrpX Closest to heater, and highest in tent. New growth reacting to light I think.
Caliban Sometimes that's just the immature leaf. Normal to me
TrpX Figured it will go away, and it's just because new. Just watching them closely! Do you top (and how many times), and lollipop? It feels like there is a lot of potential under some of the fan leaves. I don't want to start hacking away at it though. Also seems to be split camps about lollipopping and topping. More fruitful or not? Do I wait until closer to flower?
View 13 additional comments
A couple different views. I love taking their picture.
2 months ago
Just checking in.
2 months ago
Did some LST on left. Trying to leave them alone and not F it up. I think they are beautiful!
2 months ago
Family photo after 1 month. They are all the same age, aside from a few days for a redo of germination for the white widow (back right). What's the problem with her? Genetics? I'm not expecting much fruit from that one.
2 months ago
Single is Double Grape auto. The other two are AK47 and Bubblegum photos. Should be getting hungry soon. Still not sure what the feeding plan is. Not doing synth. Trying to make healthy soil. I have Dr. Earth FG ready when they are. Wondering if I should add some cal mag, silica or Epsom to the next watering.?
2 months ago
Doing well after topping. Tried to get some light on the new growth. White widow is a lost cause at this point, I think.
2 months ago
TrpX They seem so squat to me. A lot of new growth under there.
Did my first topping on the AK. I didn't like it one bit. And after and before pic from the top. I think she's pretty!
2 months ago
Topped the Bubblegum. She has had some nute lockout and deficiencies. I have no idea what I'm doing.
2 months ago
AK47 is the leader out of this pack. Added the worm castings and a bit of silica and cal mag, with a few grains of Epsom on top.
2 months ago
Double Grape auto taking her time. Added the worm castings and a bit of silica and cal mag, with a few grains of Epsom on top. A bit of coffee grounds.
2 months ago
TrpX I'm hopeful I'll see some nice fruit!
Bubblegum seems to be getting her cal now. Added the worm castings and a bit of silica and cal mag, with a few grains of Epsom on top. PH pic included for reference.
2 months ago
White Widow wants to be little. Wondering if I should try to pop another before the others get too far ahead. ?
2 months ago
Environment, daily snapshot, soil PH, tap water PH (I'm going to switch from RO to tap water soon).
2 months ago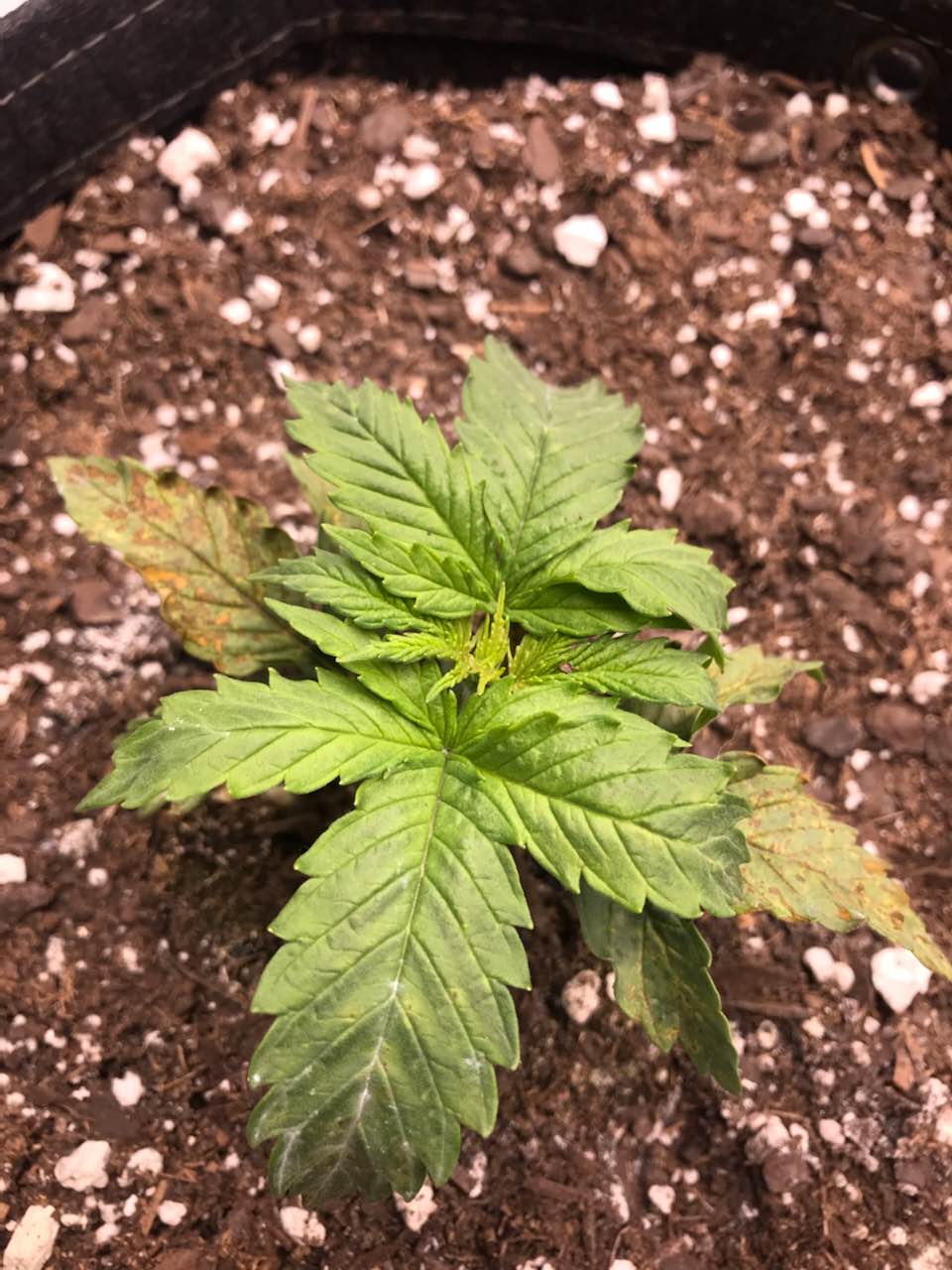 Should I just pluck those bottom leaves off? They are getting dry and papery. Still not sure if that was caused by misting and sitting water after lights out. She doesn't pray like the others. I'm concerned about her health and happiness. I have no idea what I'm doing. I've never really drenched the soil yet, just lighter sprays with the sprayer. No nutes or additives. Doing FFOF, HF and some peat and pumice.
2 months ago
Caliban Looks like a C deficiency. I would remove them as they look damaged.
TrpX Maybe my soil wasn't mixed well enough and it hit a patch of peat? It was like 11 days old and in ocean forrest. Shouldn't that provide enough nutes for a youngin? This happened after I misted a bit late or a bit much. Temps get down to 65 too.
Caliban OF usually gives you about 3 weeks of nutrients. Check ph too. Could be that at one point you were to alkaline which may limit C access.
View 21 additional comments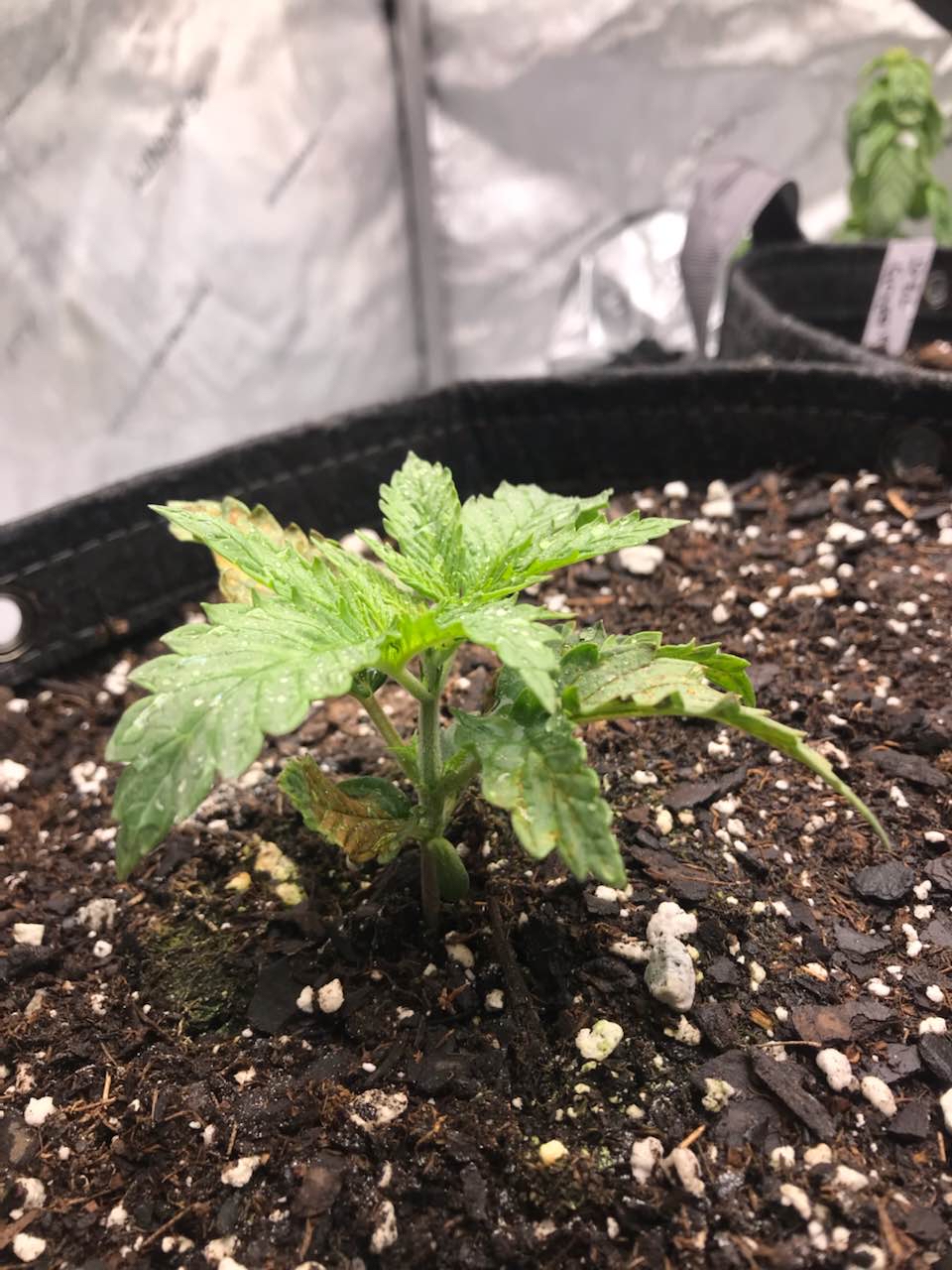 Best growth in order: Bubblegum photo (2 pics), AK47 photo, Double Grape auto, and last place goes to White Widow photo. …not sure it wants to be a plant. Absolutely minimal growth. (Around 5-6 days behind the others as the first didn't germinate.) Whatever caused the spots on bubblegum seems better. Mainly misting them and watering the top soil lightly with a sprayer. Still not sure how much water to give, so I think I'm going lightly. Also have two plants on the homemade self watering base. (Too early to use, but the root system should expand quickly considering their growth.)
3 months ago
The Bubblegum still isn't happy, but man she took off! Roots are showing through the bottom holes. Should I transfer?
3 months ago
bigbudz1776 Beyond time to transplant. It should be done before the edges of the leaves reach the sides of the container. Get on it.
View 2 additional comments
Transplanted 2/3 of the photos.
3 months ago
I made something! Need some wicking, and I'll test it out. Basic.
3 months ago
RO water seemed to have sat over night after lights off. From misting them. Does that sound like a reason for the discoloration? The stipples made me think bugs. ?
3 months ago
TrpX Yeah. I mist them heavily about 5x a day. I might need to make sure the fan is hitting them too I think. There was a drop of water this am from the misting the night before.
zer0ping Just my opinion but when last year I stopped misting period unless it's a clone etc. this new grow setup for 2023 will be the same because of this EXACT issue.
View 2 additional comments
Slow. I put the light up around 12" above plants. It's at level 6.
3 months ago
Just waiting.
3 months ago
TrpX Thanks for the tip, friend o!
Redid white widow. Sprouted and planted. Bubblegum looking pretty. Is it ready yet? Can I flip to flower? Man this shiz takes forever!
3 months ago
TrpX Done! Lights off and going 12/12. This is going to be great! Just dumped 400ml fox farm bloom non diluted.
xuzen I'm sorry. Correct me if im wrong. Is this an auto? If so, 12/12 light schedule will greatly reduce yields
View 1 additional comment
My white widow has no cots! Will it survive?
3 months ago
TrpX Bummer. Prolly better start a new one.
SaviiBuds Is the seed just covering them still? It's hard to tell from the picture.
View 4 additional comments
3/4 seem normal
3 months ago
Consistency? Nah bruh- not here!
3 months ago
3/4 sprouted. The AK and White Widow have some catching up to do. Hoping the Mephisto Double Grape pops up today!
3 months ago
Double grape popped. Bubblegum looks like a show winner. White widow missing cotyledon and first set of leaves. AK is tiny runty.
3 months ago
Bubblegum sprouted from soil. All others in soil and chilling still.
3 months ago
Bubblegum the first to sprout. Maybe a couple other trying. Nothing from double grape auto. As of morning. 3 photos from ILGM, and a dbl grape auto from Mephisto.
3 months ago
TroopaCabra Re germinating AK. Will redo grape tomorrow. Hard to keep humidity high enough, it's at average 50%. Cloudforge T3. Seems filter is eating it. Not sure how to run a filter and keep humidity up.
TroopaCabra First timer, will take help and feedback. Good genetics would be a great start.