merch
Mystery Seeds - Scrog
Winter 18/19
5x5 scrog, Sealed Co2 grow with 2000W LED in 5 gal smart pots. Super soil and REMO nutrients.
5 Quality mystery seeds from GYO seedbank.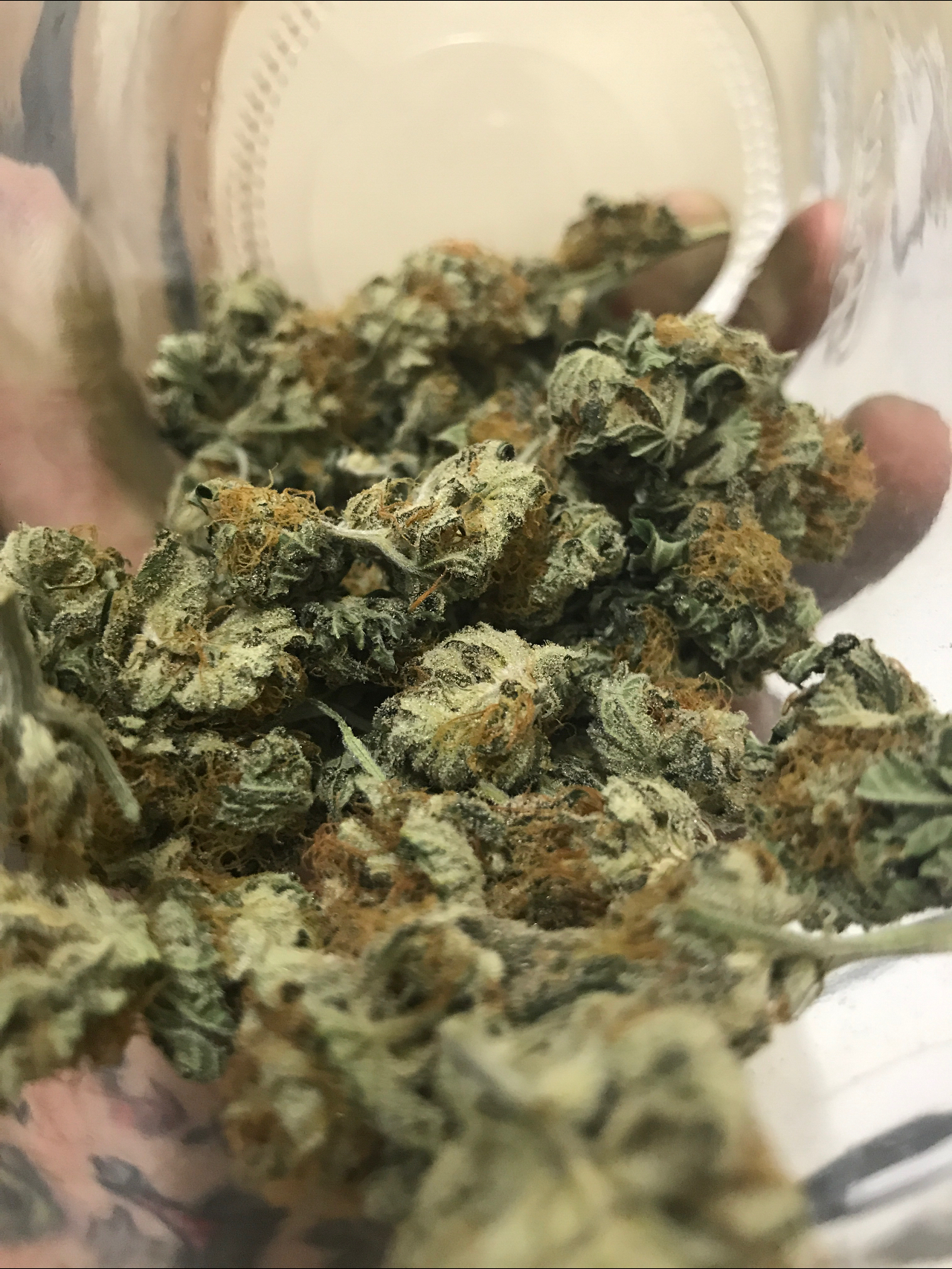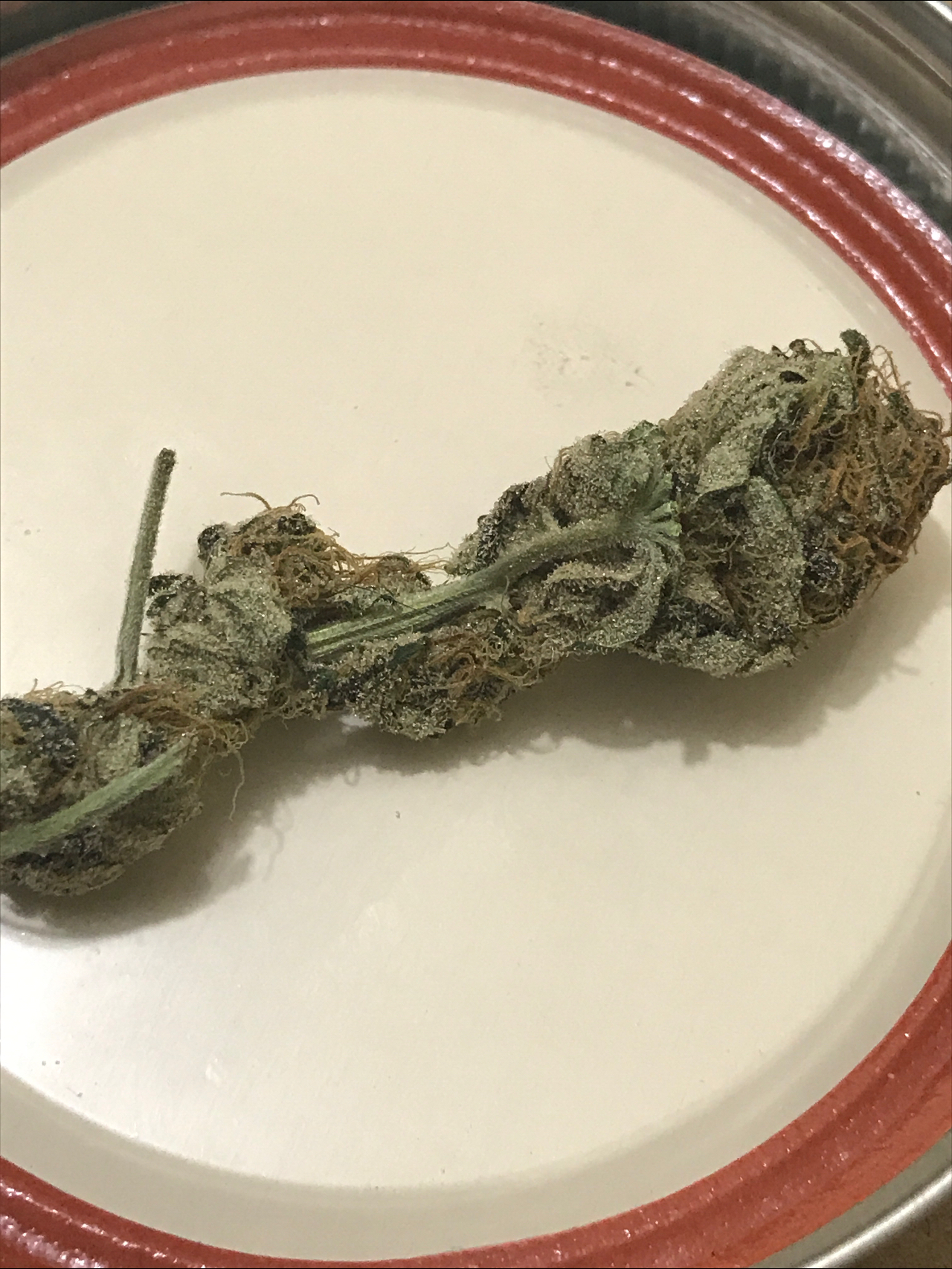 Still curing and still burping, haven't tried yet gonna cure for a few more weeks but the smells are amazing and each plant is different
4 years ago
Curing stage now, not a lot of bud but it was a trial run after all, got a pretty good amount to last a while I guess I'll weigh it after the cure process because it's gonna Lose more weight.
4 years ago
I Cut them down on day 61, they are drying now, it's just not worth the nutes, electricity and time to continue in my opinion. I'll update this when they are dried and cured but be on the lookout for a follow up SOG soon.
4 years ago
Zerocool Great grow. You had some awesome photos. With the pollen sacs. Did you not check regularly or just didn't see them? This is my first indoor grow. Every other ones been planting out in the bush. So I'm worried about getting males
Merch They were absolutely tiny so they were really easy to miss but if you check often for them You will see them, I just didn't think about hermis at all honestly. I pruned too hard at the end I think and stressed them. But the male sacs were all on the bottom parts of the plants on all of them so I'd check there first.
So all of my 5 mystery plants are hermaphrodites, I have been a little careless lately and wasn't thoroughly checking but pollen sacs are on all plants on the bottom most portions. I assume that I must have stressed them at some point by either exposing them to light during the dark cycle or by extreme environmental changes of some type, possibly the soil PH issue I had combined with other variables. All that aside, since not many were open, two were, I took pollen from the two best plants and crossed them in hopes that I can get feminized seeds and a new phenotype that will be good for the next grow. I won't keep the other seeds if they arise so I didn't bother, just pulled off as many sacs as I could on the remaining plants. I'm still going to finish these Plants out to maturity, this grow has taught me a lot and I'm glad I used these free seeds to do it and not my good ones, and hey I might actually get a cool new strand that's FEMINIZED out of it, so I'm staying positive about it.
4 years ago
Ending week 5 of flower
4 years ago
Had some issues with nutrition but back on par now
4 years ago
Starting to develop more frost
4 years ago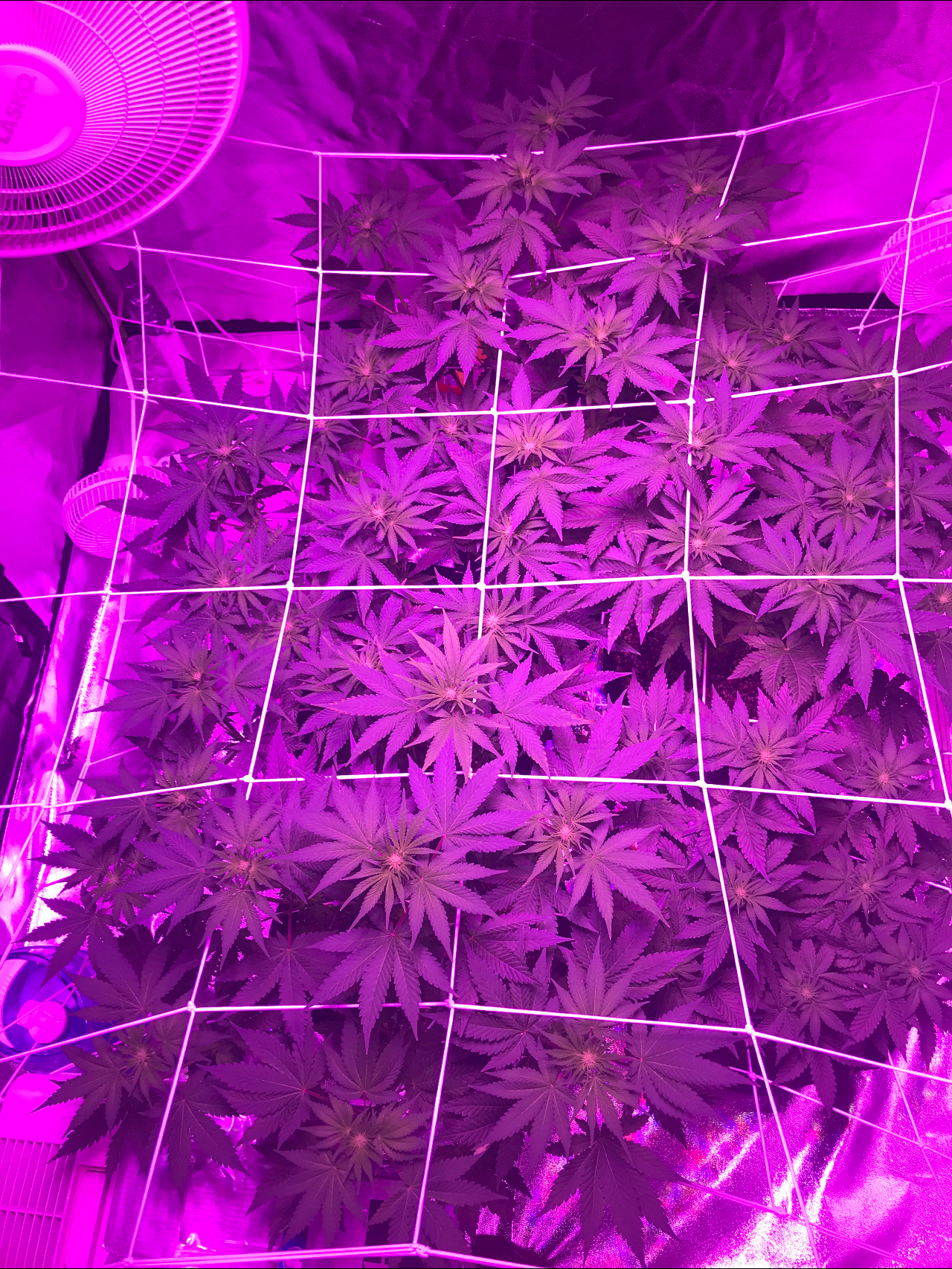 New trellis net
4 years ago
So I've figured out I can't run both bloom and grow settings without having the temps rise above 82 and kicking on the AC, So I'm going to try to just finish with bloom setting on as a trial run to see what kind of results I get. It says it's 2000watts (1000w each setting) but It's obviously not, I'm just curious how the buds will come out, if it's ok I can save a LOT on energy using half lighting and not using AC for months.
4 years ago
Since this was just supposed to be a trial run after all I've made the decision to flip to flower and set up my scrog net + cut down the runt. Now I need to monitor my environment during flower since this is a new grow setup for me. I realize I will get a lot less buds but I'm ok with that.
4 years ago
I've been rotating the plants so they get different fan wind and light sweet-spot time to even out the grow. Might as well while there isn't a net yet.
4 years ago
Bushing out more, I'm liking it. Using the VPD scale this time and it calls for 75% humidity at 86-90 degrees which I'm running. It sounds crazy but with 1300-1500 Co2 PPM they seem to be liking it. Except the runt, that one is the land race, should've known.
4 years ago
I was documenting this on MassRoots but it kind of sucks so I'll try it here. Doing some training, each plant is bushing out nicely and I'm pleased so far. Gonna switch to flower at another foot of growth.
4 years ago