Blue Dream Sativa
5 little Sativan ladies
100% Blue Dream Auto (ILGM)
This was the last of my Blue Dream strain. Idk 🤷🏻‍♂️ why this plant was a little runt. Steady signs of stunted growth throughout her life and as u can see, small harvest. I let her grow almost 30 days longer then the other 4 I harvested. I wanted to see if she would fill out but I guess not. The trichomes started to turn an amber color so I chopped her and have her drying right now.
a year ago
Sativa357 No seeds, just very little yield. It grew 30 days longer then the other 4 seeds lol, and this is the results 🤣 🤷🏻‍♂️… might have to wait till spring for another big grow. In the mean time I got 2 more Indica seeds about 30 days from harvest.
Harvested all but my last of 5 Blue Dream ladies. So far I'm pleased with the results.
a year ago
Harvested 2 of the 5 Blue Dream plants. Satisfied with my harvest, I just decided to let these ladies ripen a little longer. They're showing their fall "purple" colors, so beautiful. I'll let them ripen for another week, then chop chop.
a year ago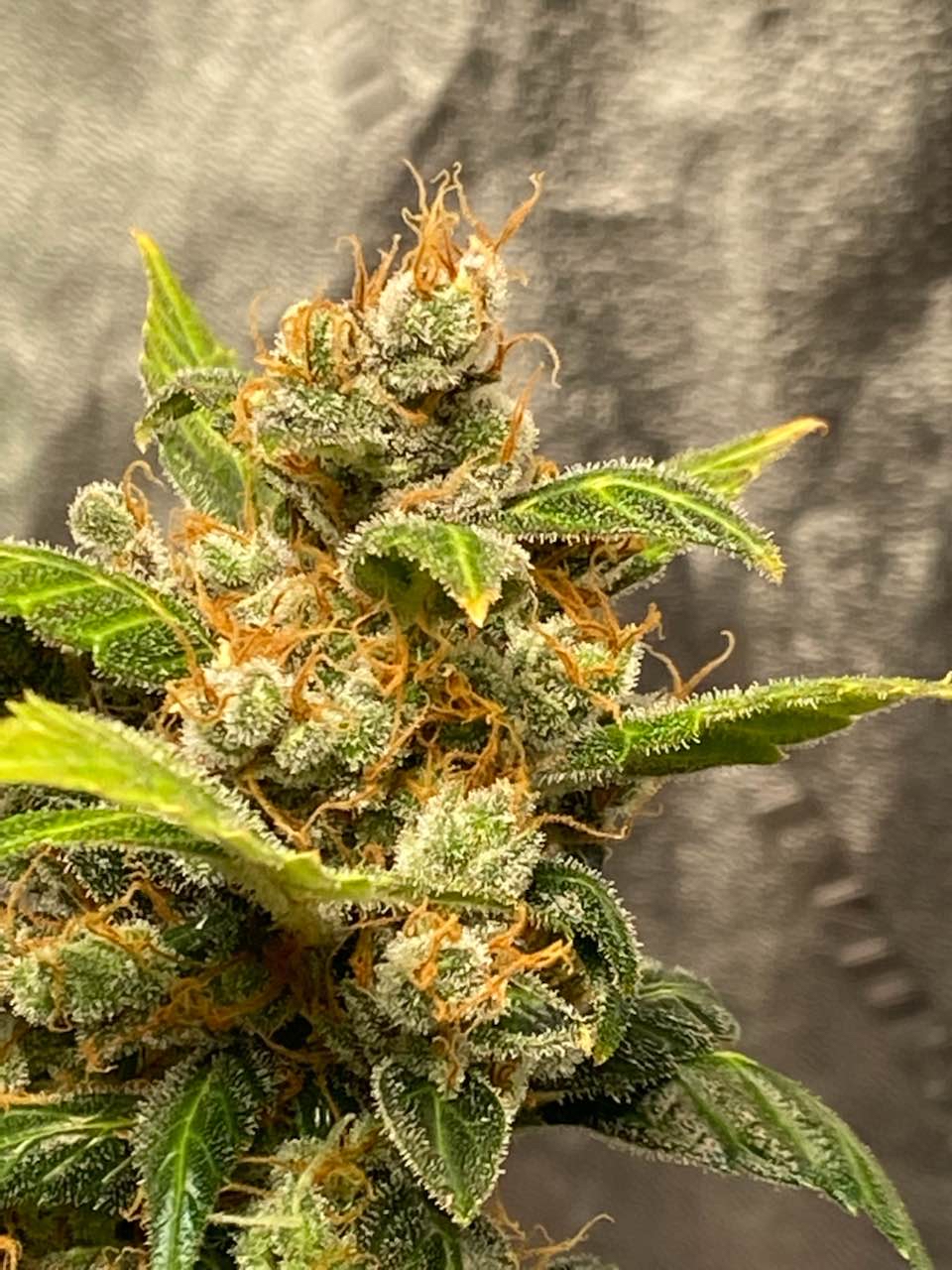 Almost time to harvest these Blue Dreams 😁 super stocked. Ima finish their flush and chop by Thursday or Friday. However, the runt of the litter in pics 6 & 7 I'll probably keep her growing for another week or so and see if she fills out or anything. If nothing happens before the hairs turn red and curl in… chop chop 👍🏼 🍻
a year ago
As y'all can see in pic #3, is the runt of the litter. I have no idea why she's SSOO tiny. The rest of the BD are filling out nicely, it's just this 1 out of the 5 that is showing stunted growth. 🤷🏻‍♂️
a year ago
Coming along nicely, I stay talking to the girls like, "grow mf grow!" 🤣 I'm sure y'all can relate! 1 out of my 5 Blue Dream plants is a runt for sure. Maybe get 3.5 grams from her. The runt of the litter. The other plants so far maybe an oz each. I should've used bigger pots… definitely a learning process. I'll be planting more outside next year, look at my outside grow op. Hubba Bubba, she's looking like a Xmas tree. 🎄 💯
a year ago
highgrade What breeder is the blue dream seeds from?
View 1 additional comment
Hairs are almost all red and trichomes are starting to turn milky, so I officially started flush today. I'll flush with 100% H2O for the next week, then chop chop my friends. Almost time to enjoy the fruits of my labor!!
a year ago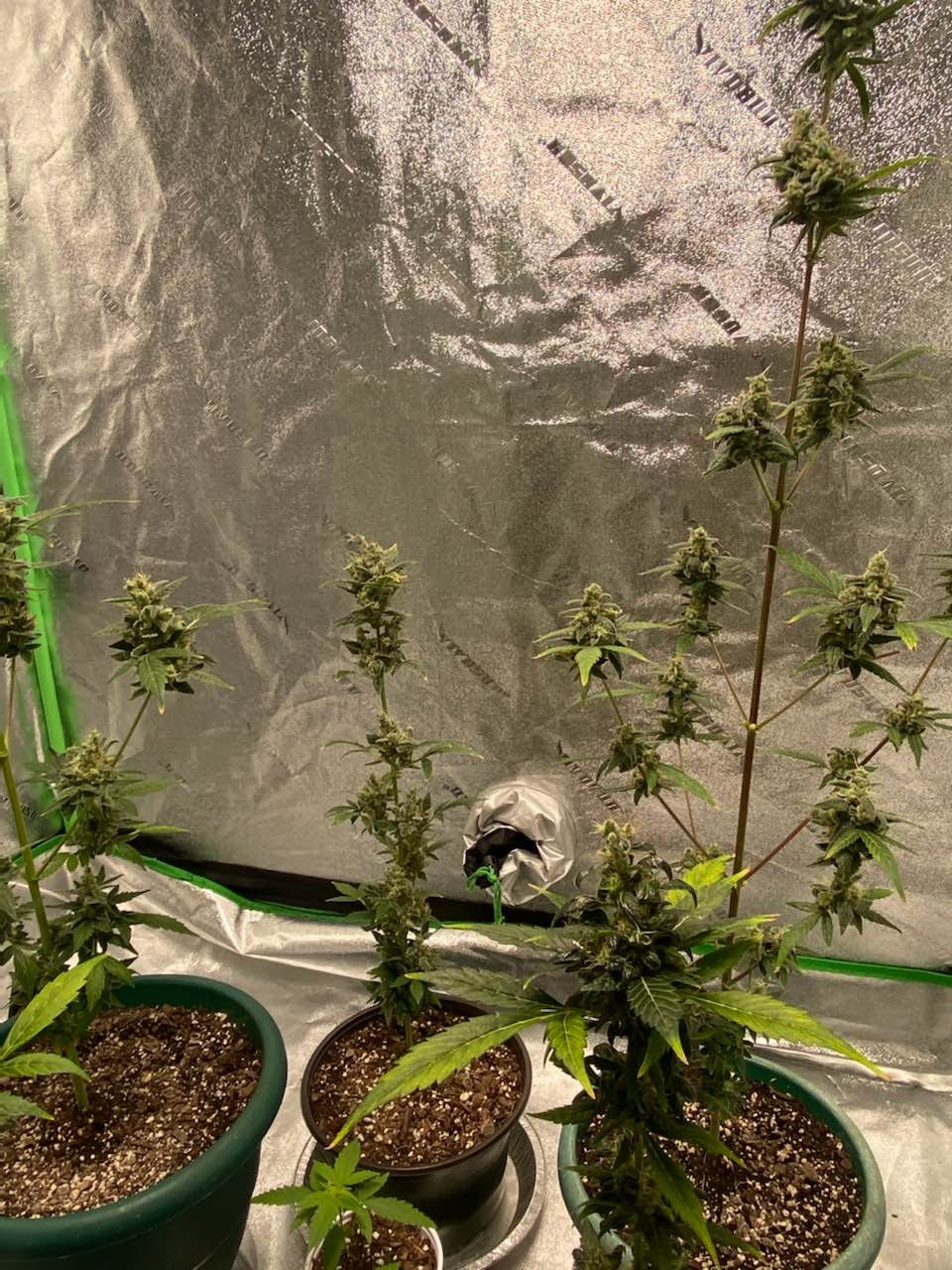 Some maturing faster than others. Looking to harvest within the next week. 👌🏼👍🏼 🍻
a year ago
Making decent progress. Idk if it's a phenotype issue or what but the little runts are only 7 days younger then the big girls. Something seems off… 🤷🏻‍♂️ but either way I'm very close to harvest.
a year ago
So far so good, Only minor deficiencies. But nothing out of the ordinary. Overall plant's are looking good and healthy, some bigger than others but what can I say overall I'm happy with my crops. Trichomes are coming in nicely and getting we're close to harvest time!! 🍻 😊 ✌🏼
2 years ago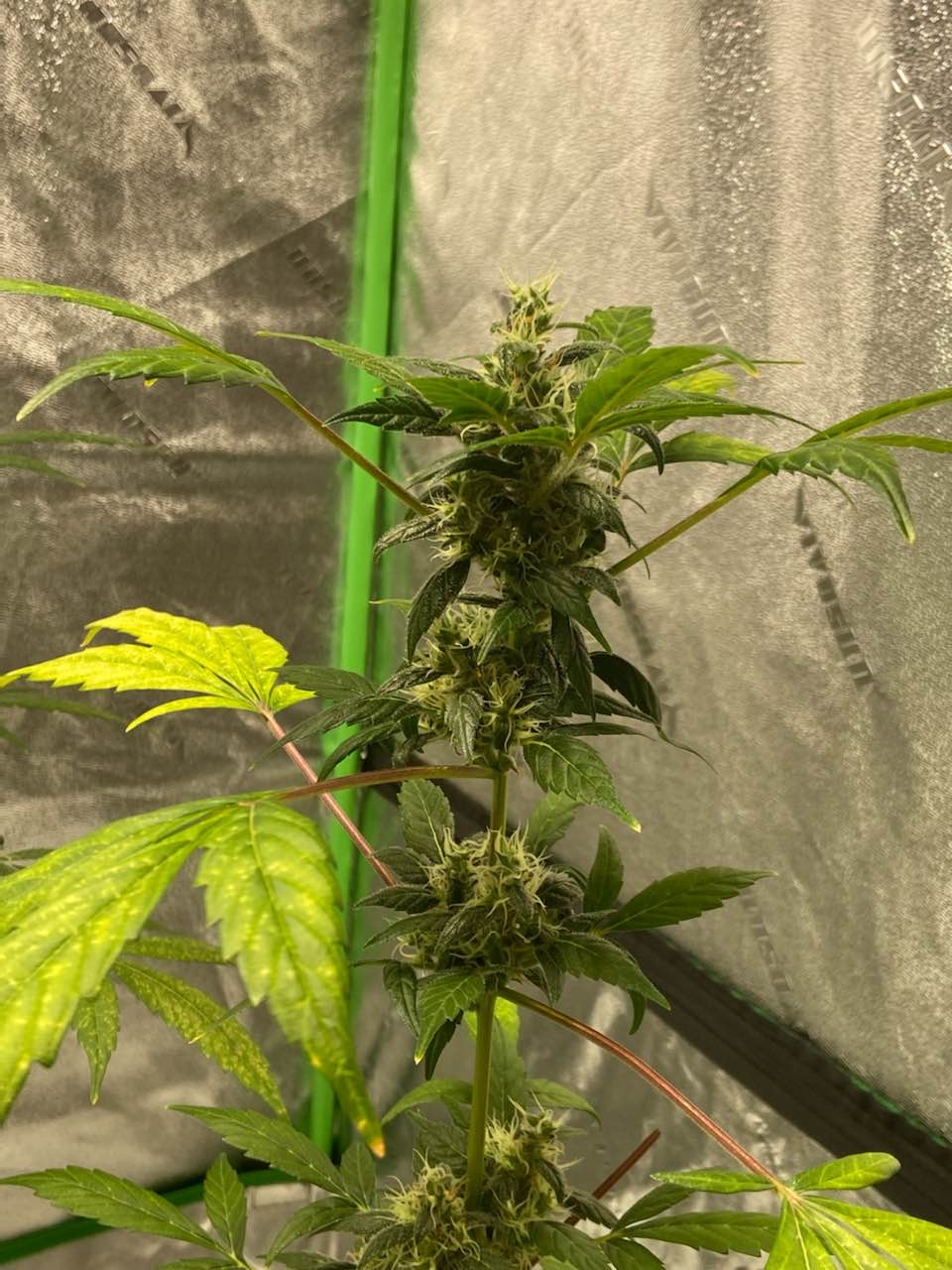 Most are stacking buds nicely. As u can see in pic.#2 is the runt of the litter. The 2 smallest were planted 1 week behind the other 3. I have no clue why they are short and the others are twice the height. However, buds are starting to get some red hairs. 👍🏼
2 years ago
Blue Dreams coming soon! 😝 can't wait, trichomes are forming very nicely and flower is stacking thick and dense. If all continues to go well, should be enjoying the fruits or in this case, the berries 🫐 of my labor within the next 30 days!
2 years ago
Couple of my ladies are recovering ❤️‍🩹 from deficiencies. Starting to get their dark, heathy green color back. I got rid of the damaged leafs and watered 6.3ph including some Tiger Bloom. Fingers crossed 🤞🏼 they bounce back 100%.
2 years ago
Sativa357 Yep, good genetics 🧬 from a legit source.
Got a slight ph issue that's causing discoloration in the leafs (calcium + alkalinity). Bought CalMag yesterday so I'm going to let them dry out over the next couple days and adjust ph. 🙏🏼 never had an issue of this extent…
2 years ago
Growing FAST, starting to form buds and trichomes. Looking frosty ❄️
2 years ago
Zeyberlin Lst training could make a difference in your next grow. Also lowering the light to slow the stretching
Exponential growth at day 55! Starting to see some bud formation under the pistils. Happy healthy little ladies👍🏼.
2 years ago
Janixbis Why didn't you top them and do low stress training you would've been able to have more bud sites and yield a lot more!
Sativa357 I was going to but they are autos and started flowering at day 30. My first ever autos so u live and u learn I guess 😂
Janixbis I see. Ya bro after they have at least 4 nodes you can top them. So like a week 2 weeks after the start showing you can top them
View 3 additional comments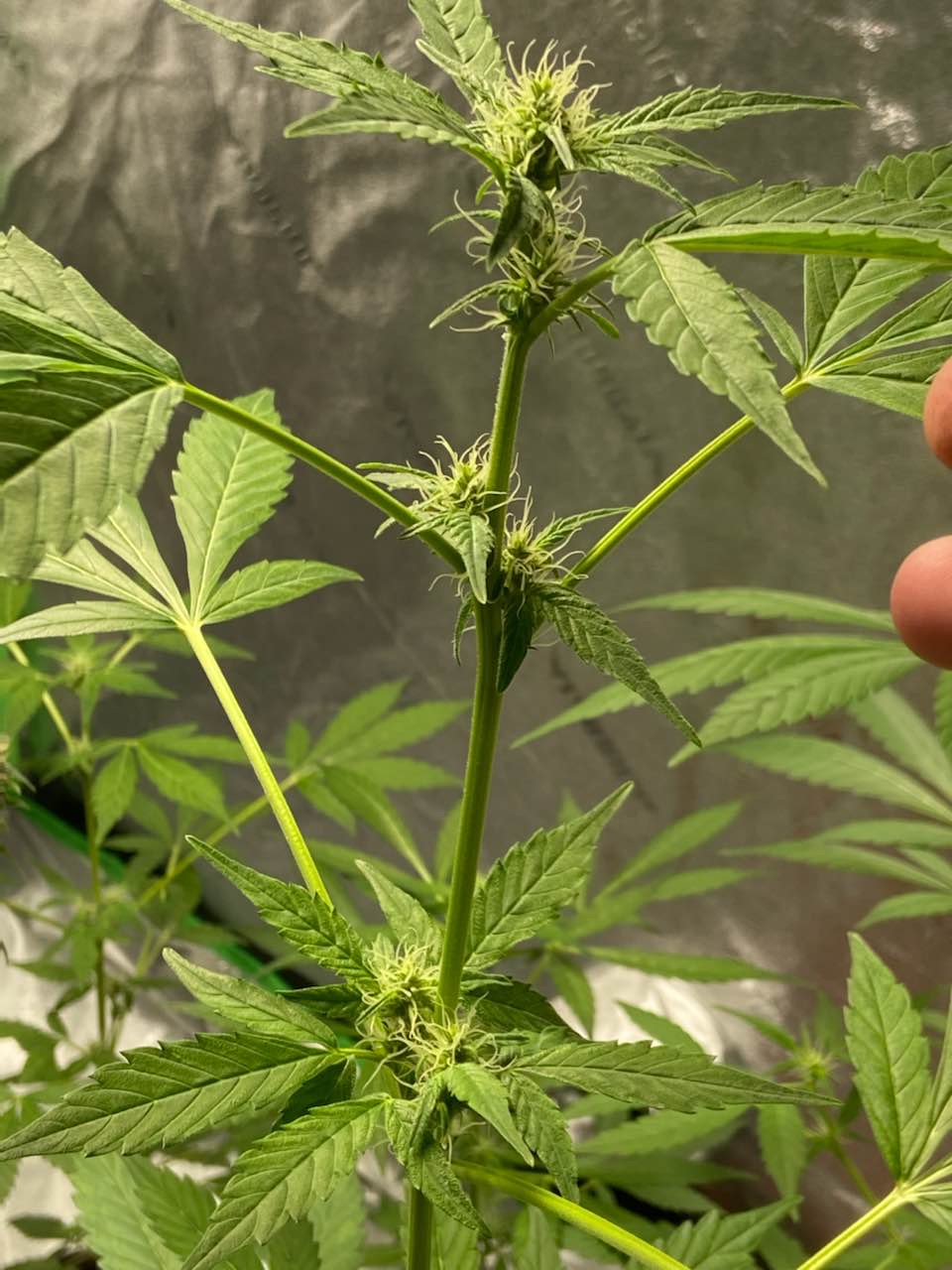 Reaching about 28.5 inches. Pic #1 shows the crazy amounts of pistils. I still don't understand how some growers have buds on their autos by day 60.
2 years ago
Sativa357 Thanks Troy, I always take your feedback seriously. A lot of people on here don't know what they're talking about, let alone giving advice to others lol.
Sativa357 If possible, I would love to talk more in regards to growing. If possible can u email me at ratliff137@gmail asap please? Some the better, I'm about to harvest and could use some advice.
Sativa357 Unfortunately I don't have Instagram 🤦🏻‍♂️
View 1 additional comment
Exponentially showing more height and pistils everyday! I might have to transplant 1 more time, I didn't know they would reach this height. I thought autoflowers stayed short, but apparently I was mistaken. However, I'm not complaining, the bigger the plant, the more flower she shall yield!
2 years ago
My first auto flowers, & they grow extremely fast! Now in week 6 & they are doubling in size every week. Soon my plants that are flowering will be harvested so my Blue Dream will have the tent all to their selfs.
2 years ago
These auto flowers are taking off, growing at least 2 twice as fast as my other plants.
2 years ago
Blue Dream Growing Strong! Been feeding Botanicare 15ml, about to switch over to Fox Farm Tiger Bloom within the next couple weeks because I already see pistils forming. So obviously there's like less than 30 days of the vegetations stage for auto flower plants. 
2 years ago
Little ladies are doing good thus far. My first auto flower strain. In pic #2, I do believe those are pistils! Apparently they only veg for about 30 days, then flower right away??
2 years ago
Excellent new growth 🌱! I have surrounded by big pots to minimize the reflection of light, since I have in clear solo cups I don't want the roots too exposed. (Beginner mistake w/clear cups!) I water twice daily, 1 x 15ml Botanicare veg & 1 x 100% water ph: 6.5
2 years ago
botanist Just slide red solo cup over the clear cup problem solved! ✌️
Sativa357 Going to get red solo cups today ✌🏼 thanks for the compliment(s) y'all! Means a lot to me.
Fed <15ml (diluted) of Botanicare, still very young, but looking happy + healthy.
2 years ago
growin4thepham I would def change up those cups to sumthin that isn't clear. Red cups or sumthin..
growin4thepham Only cuz the light entering the sides of the cups could hurt ur roots. May not but what chance it ya know. Plus u could start growing algea and shit. Just a risk I wouldn't wanna take
Going to transplant these little ladies soon.
2 years ago
Caliban Let them grow Into those cups and spread their leaves laterally first. And put them into non clear cups or you will damage the roots.
combatmedic81 I agree. Let them root out before transplant and also roots do not like light
Sativa357 So I've heard… definitely a beginners mistake planting in clear cups 😔 lesson learned.
View 2 additional comments
Happy Healthy Blue Dreams! 😴 🤣 I have these 5 BD seedlings in a tent with 3 other plants (Hubba Bubba) in week 2 of flower. Lighting set at 12:12.
2 years ago
combatmedic81 Might be stretching. Also clear cups let the roots see light, they do not like light.
Sativa357 Duly noted my friend, I only plan on keeping in cups for about 2 weeks.
Broke soil today! Other 2 seeds germinating.
2 years ago