jahraakhu
Soil Medicinal Test Run
Winter 2018/2019
Flower Cultivated in Fox Farm Ocean Blend soil in 2x2 SCROG under 400w HPS. GH fed with a blended mix of supplements (GH, FF, Heavy 16, Avalanche, Terpenez
Turned lights off day 65. Chopped them down and hung up today. Shooting for 7 to 10 days before cure.
4 years ago
Harvesting in 4 days. No more watering here on out. Letting it use up any remaining available elements in the soil. Enjoying the purple tones on the leaves. Hints of vanilla and spice are heavy like the frost on leaves and flowers.
4 years ago
Although temps are consistent between 65 and 77 degrees recent rain has increased humidity to nearly 88/89. Harvest in 5 days.
4 years ago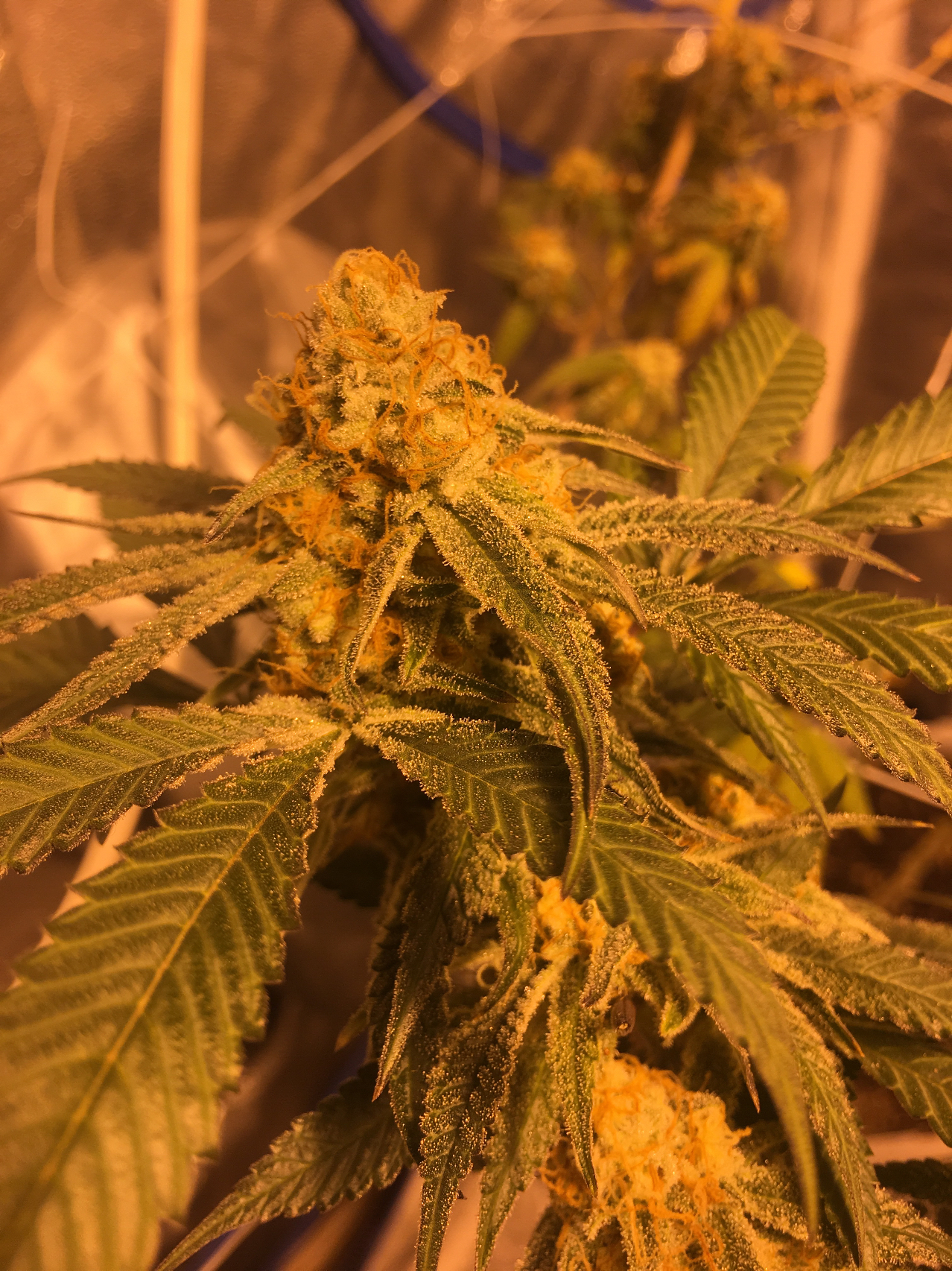 10 days until chop. Strictly RO feeding here on out. Nice condensed nugs One of the two plants is a 9 month old former mother. Her yield consists of small solid nugs scattered throughout the plant. The other is frosty and has stacked well. Sundae Driver has a fruity sweet aroma with moderate yields in 8 weeks. Purple leaves are really starting to pop.
4 years ago
Count down to harvest. Hairs have ripened and started to withdraw. Growth has ended while leaves are turning purple and gold.Flowers are dense however not as large as the purple punch or OGs. Another 10 days or so. Supplements only today. Strictly RO from hear on out.
4 years ago
Although not very big colas are starting to ripen. Hairs are turning brown/red as growth has slowed considerably. Little over two weeks out. Full nutrient regimen tonight. Feeding only supplements btw nutrient feeds.
4 years ago
Received full nutrient regimen today. SD is looking shocked. Looks as though it's starting to ripen already but not nearly the size it should be. The high humidity caused by heavy rains and fluctuations in temperature has had an impact. PP is holding well, expecting another push in growth with the addition of Mammoth P starting today.
4 years ago
Humidity was 89% with a high of 90%. Rain continues with another storm predicted to arrive. Temps were 65-77*. Walls of entrance were moist. Growing area was fine with circulation. Fed full nutrient regimen. More purple SD leaves.
4 years ago
Full nutrient regimen today. Friday 11h was watering,SD wilted while PP held strong. SD bounced back shortly after. Humidity has been up due to precipitation over last few days.
4 years ago
A few purple leaves have began to stand out on the SD. PP continues to frost.
4 years ago
Flowers have increased in size since being stripped. LST applies to enable canopy to fill in evenly.
4 years ago
Trimmed more fan leaves today.
4 years ago
Really taking off, pushing on the trellis as canopy fills in.
4 years ago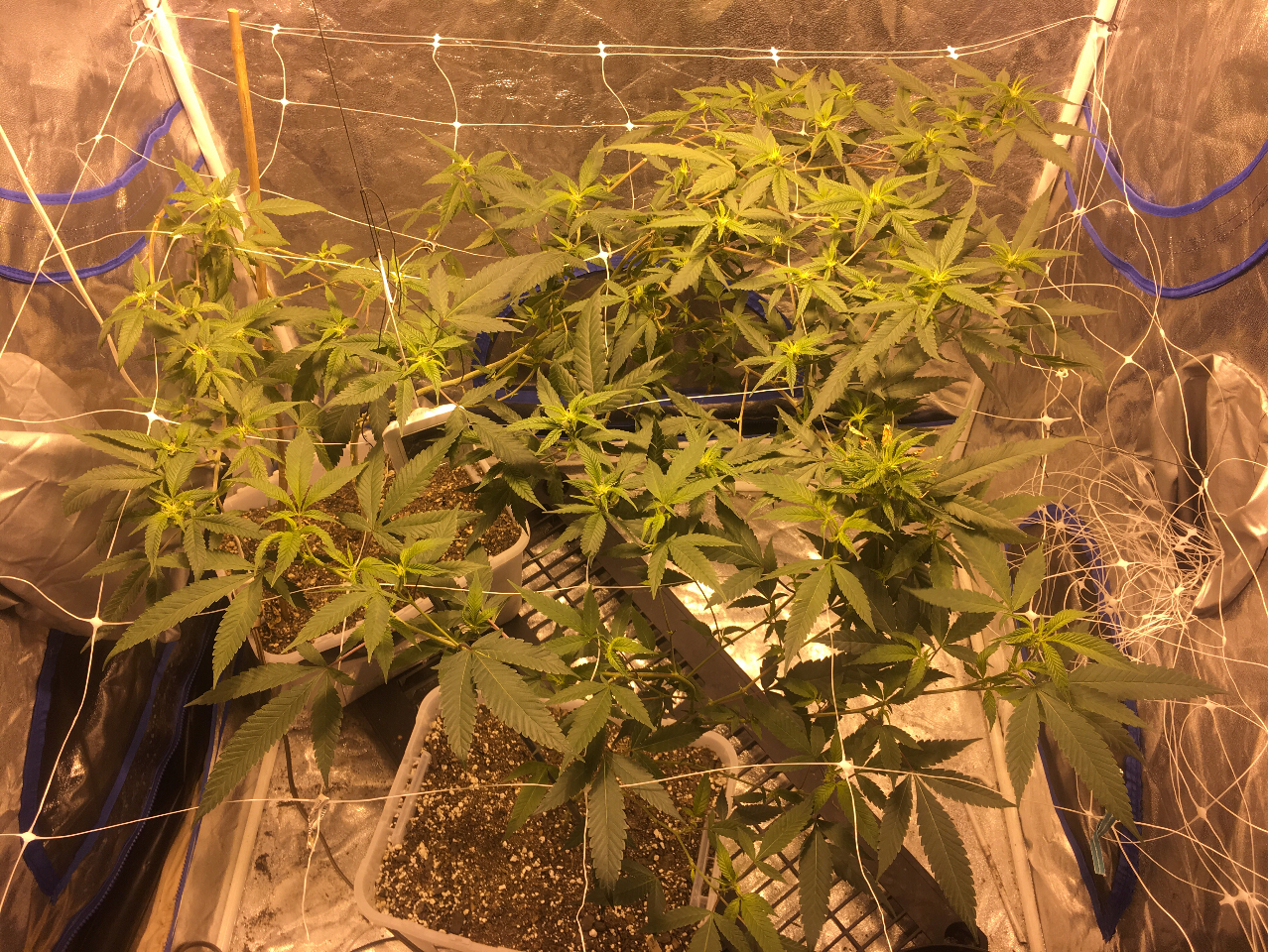 Budding well after 2 weeks in.
4 years ago