Longs peaks blue and black domina scrog
Summer to winter 2021
8 plants under the net. These plants were super cropped to half their height after vegging too long in their tent before the first round finished up. These are my first time scrogging in a few years, let's see how it goes! I'm running Jack's 321 with power si, great white once a week top fed, and cannazyme. This round I am testing top feed drip style drain to recirculation. The goal at the moment is the finish filling out the canopy, veg another week and flip these girls
Longs peaks blue and black domina
Woo! They have pretty much finished stretching and seem to be focusing on the bud growth now. Upping the ec and feed shot amount seems to have helped the over-dryback situation as well! So far this is looking like a good alternative to flood and drain on this table. That said, tonight we are swapping back from the bloom boost feed to my usual modified Jack's full strength recipe for the next few weeks of flower. Really excited to see how these grow!
a year ago
grandgrow Thank you as always brother @mystrain420_@eaegifts! The Jack's definitely helps keep it all nice and easy, loving the results of the last run and this so far too! Definitely still fine tuning the drip amount though lol. Top feeding is a different ball game for sure
mystrain420 _@eaegifts Yea I know the temps and rh can effect the frequency needed. They look amazing nonetheless just like the last run 👍🏾
All goes well. They seem to have been a little more thirsty than I would like the last few days, so we are going from a 42sec watering (9x over the day) to a 55sec. With my particular config that nets a about a 376ml feed per shot. While that is higher than some people's shot of 100ml, I worry that I cannot hit a high enough number of shots to keep these girls happy with my current timer, so here goes. In an effort to fight the phosphor deficiency I've seen in the remaining inside and under canopy tops, I've also upped the ec starting point by .3, increased the feeding and flushed with RO in case of salt buildup
a year ago
Stretch has slowed down and preflower is in full effect. Had to turn down the lights again because they stretched so much X'D. That said, the are looking great so far. Hoping the next few weeks bring great growth
a year ago
Budset is in full effect! Almost the whole canopy is well through the second net as well. I ended up lowering the 2nd a few inches after the tallest started to slow down while the middle has continued to stretch. Current ph is 5.8, ec is 2.7 and temp of solution is 74-77f (no chiller!) I will be swapping the solution and giving the girls another Jack's boost feeding with silica, hydrogaurd, and cannazyme tomorrow night. The last batch was 6.5ph 1.5ec and has drifted to 5.8ph 2.7ec over the last weak-ish (which I like). I will likely ramp up to a peak of 3-4ec depending on plant reaction over time. Also, at week 2 the plants have proven very light hungry, currently soaking in around 800ppfd across the canopy
a year ago
Defoliated a bit more today, taking s few leaves from between the 3rd from the top node and the net to help open it up a bit, as after the last round some of the less mature leaves of the tops inside very quickly filled the space as they continue to rise. So far I am only doing this to the tallest and most developed tops, in order to help even out the growth. Will post an update tomorrow as time will tell if they skip a beat or not. The first pic is before and the second pic is after.
a year ago
I'm happy to report the girls didnt slow down a bit! They also hit the 2nd net today! For the next two weeks they will get the bloom feed from Jack's with my usual additives. I am curious to see how these girls like it compared roughly to how the last round liked 321. So far so good
a year ago
souciefa Looks solid! Do you recommend a specific size scrog/trellis net?
grandgrow I like using a 3.5inch nylon net (bit of stretch to it) for the first layer. Then a 5 or 6 inch net, just for support. These may not even need the second net, though time will tell
View 1 additional comment
Day 5 flower. The stretch has started to really kick in and I had to defoliate to open the canopy up a bit earlier than I would usually like. We will see how that affects everything. That said, overall we are looking pretty good. I will be swapping back to the normal feed for one more week before running bud set for 1-2 weeks. So far so good
a year ago
Well, I did flip day 11 of this log. So far 3 days into flower everything seems to be stretching at the outside first. I checked the ppfd across the canopy and adjusted it as some of the middle was getting about 100ppfd higher. They whole canopy is now getting 600+/-10ppfd. Other than that, they have started their stretch and have began presenting even more pistils. 3 or so days from now we will see if they get the budsite boost feeding or another veg feeding based on the stage of the stretch the plants are in. So far looking great though! Stay tuned for more!
a year ago
Getting a small amount of clawing and found that my EC had risen to 2.6 😂. I topped the res off to bring it down to 2.2 before I swap it tomorrow. Other than that, i will likely flip tomorrow as well. Next update should be 2-3 days post flip!
a year ago
grandgrow Thank you much!! Will keep it going :D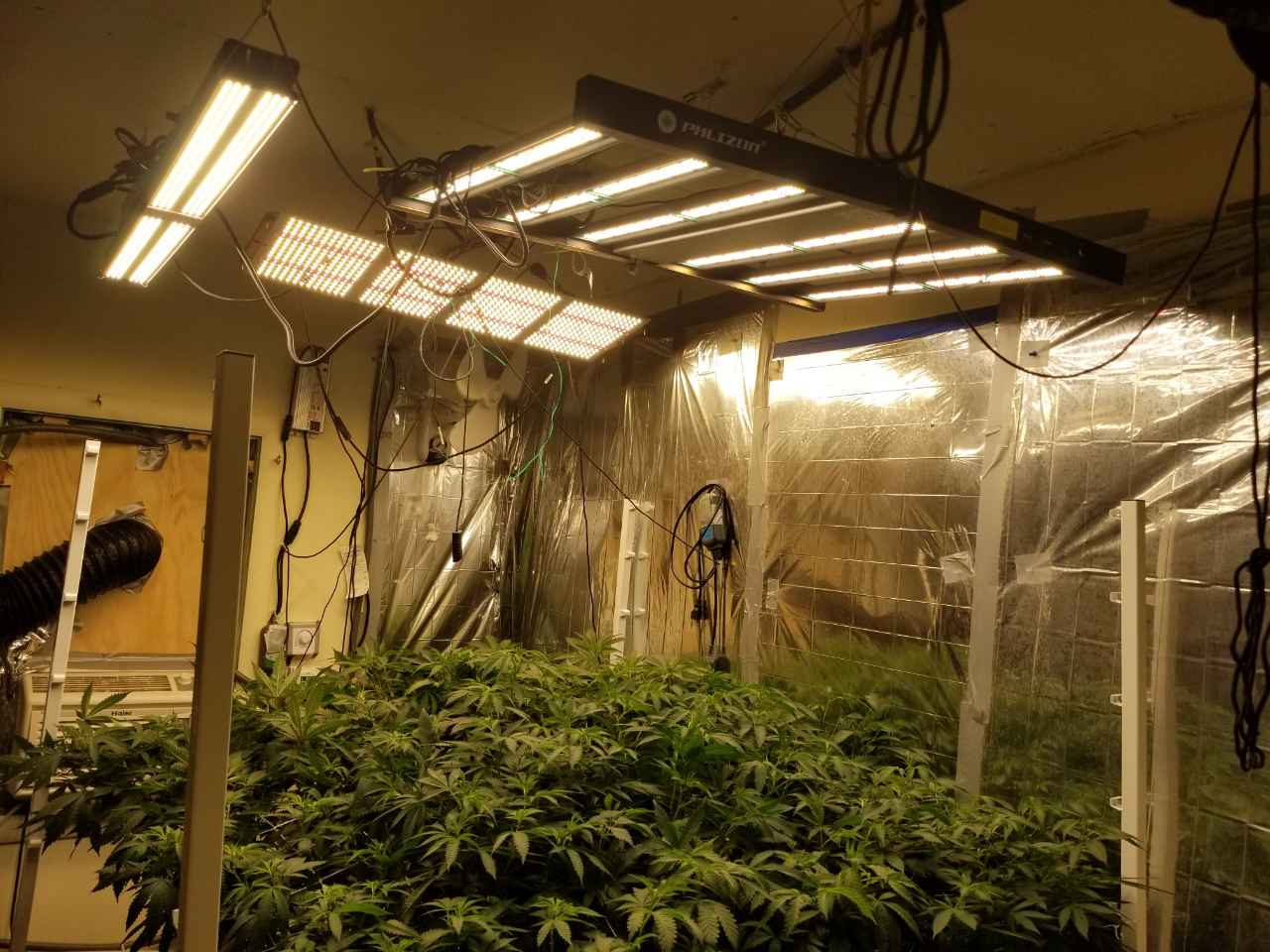 A few days after the defol, and everything is looking really happy. All tops are getting good vertical growth through the net. All seems set for one more round of canopy clean up before we flip these girls to flower! I also lowered the RH to 55% after the last defol and they seem to be appreciating it. So far so good!
a year ago
k1w1 Well done mate. My aim is what you have accomplished so far
grandgrow Thank you very much! I'll keep it going! Your plants are beautiful as well and your edible game puts mine to shame! Keep it up!
grandgrow I've gone ahead and updated this post with stem/training and canopy detail shots. Hope all enjoy!
View 1 additional comment
Here is the before for next updates after! I have finished my defoliation/lollipoping for this stage of growth. Cant wait to see how they like it over the next week before flip. I will be spraying some lost coast tonight as well, as a preventative measure before flower. Cheers all!
a year ago
Leveled out tonight as I prep to spray again, and swap their nutrient solution. So far the roots have hit the bottom of the new pots and have started to air prune out of the sides and bottoms of most of the pots. Tonight I also lolipopped and defoliated almost as all what I'll take off at this stage . We are almost there as far as filling the net how I like. I'm feeling another 2 weeks of veg tops if they keep up with their current growth rate! The photos are the a few views of the canopy, one at the side to show the current level and a few of the undercarriage post lollipop! Cheers till next update all!
a year ago
Havent gotten to the minor defol, but the re-sort yesterday is already making a difference! I'm planning on re leveling the scrog next and will post the results!
a year ago
The first three pictures are the current state of the state. The rest are from the first day of scrog. It's been a productive few weeks!
a year ago