monkeydabs710
1st real grow
Spring 2019
Outdoor grow
2 SuperLemonHaze 1 sour deisel
Final day of my plants they are harvested 209 days after I first got my clones
3 years ago
I'm starting to flush my sour deisel and my random 3 seeds my super lemon haze has about one more month to go but my 4 plants (SD and random seeds) are ready and just need about one more week of flush and I'll harvest them 4 maybe all in one day or separate days!! I'm just soo happy to be finished with my project I put so much faith and heart to make these girls bloom very beautiful and learning how to not mess up and overall these plants taught me more than I would have ever imagined!!! Great growing!!!
3 years ago
Sheeeeshhhh day 164 dayummmmm!! I'm glad to do this this year so I'm think at about 175 I should start flushing my sour deisel and blossom from the 3 random seeds but they are doing all great and smelling amzzzzinggg the aroma is so much better than cured weed I just hope my weed comes out smelling and tasting good the most important part is coming up and I got many ways to mess up so hope me good luck!! Almost done!!
3 years ago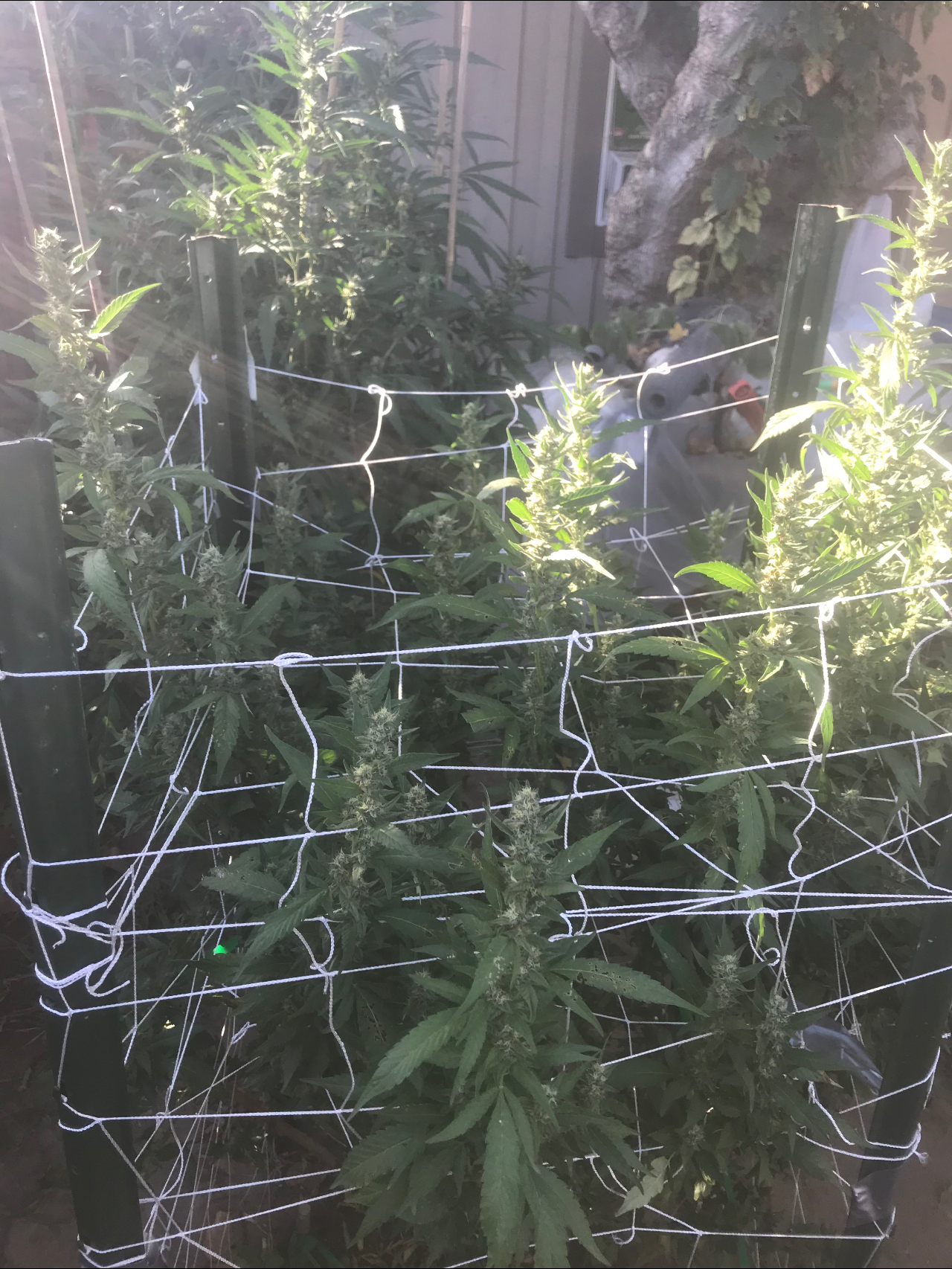 My grow has been excellent as always the only problem I have is with grasshoppers biting leaves and lots of spiders making nest in random spots but they my flowers are doing great and I just can't wait to harvest them!!:) full flowering now!!
3 years ago
I defoilated the last 5 plants that really needed their defoliation sooner but I did it now and my 3 random seeds are spread out much better and my two super lemon haze have so much air room now so I have less risk of getting mold I saw a few spiders that made webs deep in my plants so I'm glad I got all them out because that could of caused some nasty buds or mold my sour deisel got defoilated before it started flowering but I will be going thru it next week to check out for insect or spiders on the very bottom but Full Flower Now this feed is my first full overall flower feed some nothing stopping my girls now
3 years ago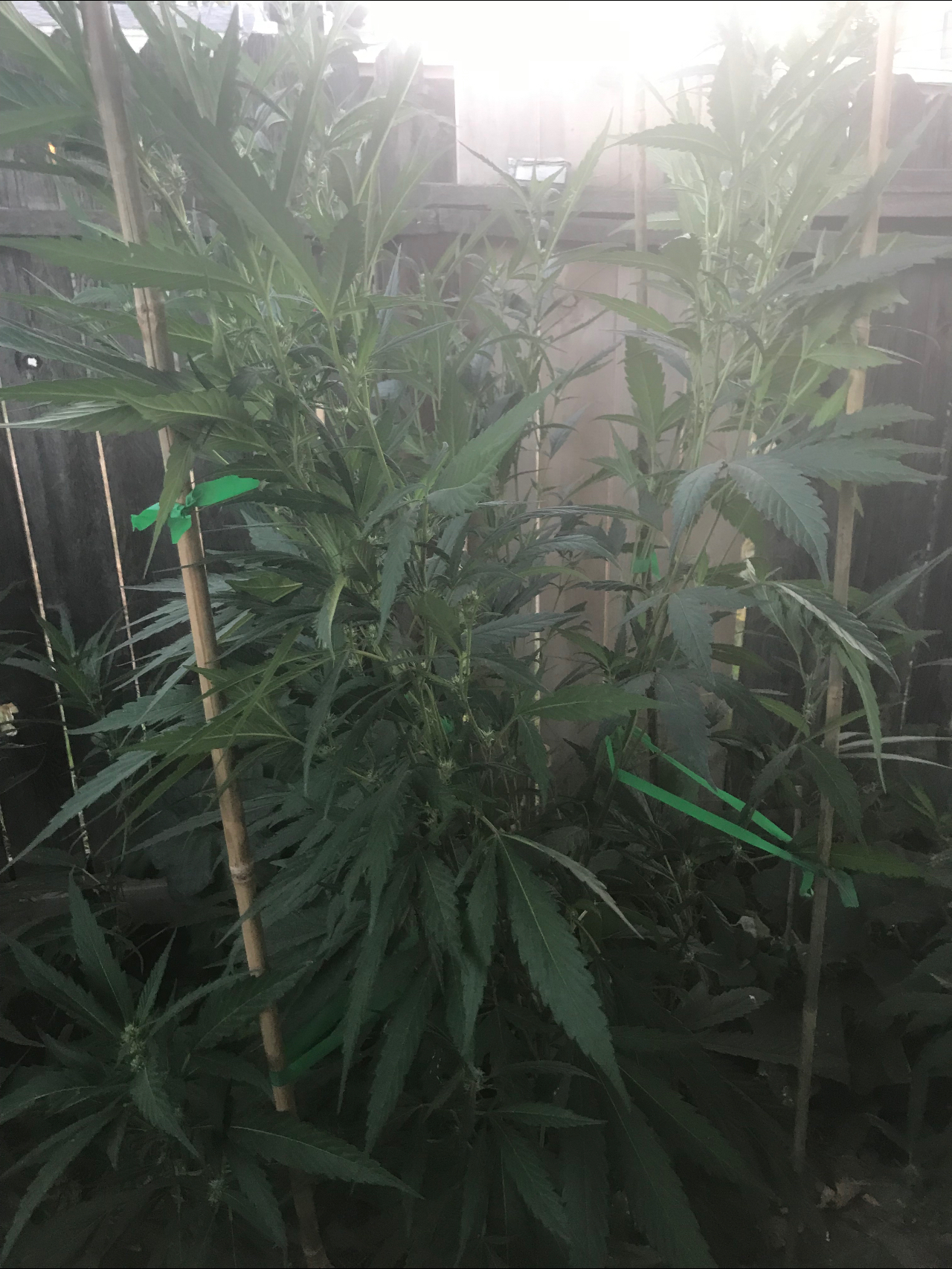 My plants are amazing as always I just finished putting my trellis up for my last two big plants to support the flowers when they come out big and my other 4 plants are doing amazing as always as well I had grasshopper damage but I finally got some stuff to get rid of them should work in about a couple of days or weeks I just gotta maintain and spray them I dnt get caterpillars no more just grasshoppers and assassin bugs that nibble on my leaves but everything is great!!
3 years ago
Everything is growing crazy and y'all and bushy I would not ever expect my first grow to be this big it's amazing and I just need a few more months to go!! Already in week 2 and 3 of flower with 4 of my plants Sour Deisel and the 3 random seeds! My two Super Lemon Haze are not yet flowering but they should be flowering in the next two weeks!! But everything is great and fantastic! I have also started feeding my 4 flowering plants their flowering nutrients!! My SLH are still receiving Veg nutrients at the moment until they start flowering!
3 years ago
Been a while since I updated on here I'm sorry if u follow me I am on YouTube my channel is "MonkeyDabs 710" but I just do this update every once in a while as well as weekly on YouTube but my plants are doing great my two super lemon haze are amazing and have blown up like bushes and my sour deisel is flowering as well as my 3 random seeds and everything is just looking amazing next week is first feed of flower and I hope my recipe is delicious and perfect for them
3 years ago
Passed 100 days on Sunday but was too lazy to update with pictures and description but I have an update today on the 104 they are doing excellent and I topped my 3 younger plants once again to hopefully make it more bushy and get more tops but everything is going fantastic and my 3 older plants are killing it the sour D is out of flower but showing preflowers again so it might fully flower now since the days are slowly diminishing but my two SLH are still in full transition and are trying to get super tall before flowering
3 years ago
My plants are amazing they had a nutrient Defeciecy the other day so on my Sunday feed I gave them a high dose they are doing great now and I got some bars for my sour D and I will be getting more for my other two Super Lemon Haze and my 3 other plants are doing great idk the strains but one of them is a really great genetic I her name is butters just like the power puff girls blossom butters and buttercup and the bigger ones are Ed Edd and Eddy!!
3 years ago
My plants are doing just amazing as usual I topped my 2 SLH and super cropped them they are going to gets giant!! And my sour deisel is in full flower it's cool I started feeding it flowering nutrients this Sunday and it's loving it and my other 3 smaller plants are amazing they are just loving life outside those pots!!! I love it!!
3 years ago
This was the first day of summer I forgot to update it on this day but I still got the pictures so my sour deisel is fully in flower and it's flowering beautiful and at this point I was just seeing a lot of caterpillars and I have been check everyday in and around the plants! My other two SLH were growing soo much I believe I hadn't topped them yet for a second time but I will be soon and my 3 baby seeds are growing good they love this ground soil!!
3 years ago
Sorry for not updating as much lately been working all week and it's been extremely hot to go outside and train but today was a great day and train I did I super cropped one of my SLH the other day and they are doing amazing right now and I started some more LST to continue my introduction to July where they will stretch and get ready for flower and my 4 small plants are jut ehhh I mean I can't do anything but wait for them to grow or show me their sex I want to put them outside in ground but I'm not sure when but here's an update!!
3 years ago
My plants re still doing great I defoliated took off the training and now they are growing great but I did have a big problem with my sour deiselmy water hose fell on a branch and took it out and actually took some of the stalk with it hopefully it does good it was a big branch but none of the toppp its alright there's plenty of shoots and my other two super lemon haze are doing a making as well without their LST but my small plants look like they aren't going to grow they just don't get bigger or so much of anything I might just kill them so I don't waste nutrients but that's my update after 5 days haha took a awhile sorry
3 years ago
My plants are amazing doing great every day I can't believe how great these nutrients are doing and my sour D is not flowering I can tell cuz it's growing regular leaves and they are all doing great after all the training I super cropped my sour D and they are just amazing I got a new plant snow cookies last time but a bug ate a leave while I was at work full but it should heal I hope and get better
3 years ago
My plants are doing amazing as always I have them low stress training and I topped off my two super lemon haze! My sour deisel is still growing but idk if I got preflowers to show the sex or it's going to flower but either way it won't stay flowering but I will lose out on some growth cuz of the stun it will get revert back to veg but I got time still and she shall do good but I hope she's just showing sex! But my garden is doing great my other little plants are doing awesome and I got a new seed some Snow Cookies hopefully it's a girl to grow and flower her already 2days germinating and I also got rid of my cilantro plant to dry it out for seeds!! My garden is doing greaaat!!!
3 years ago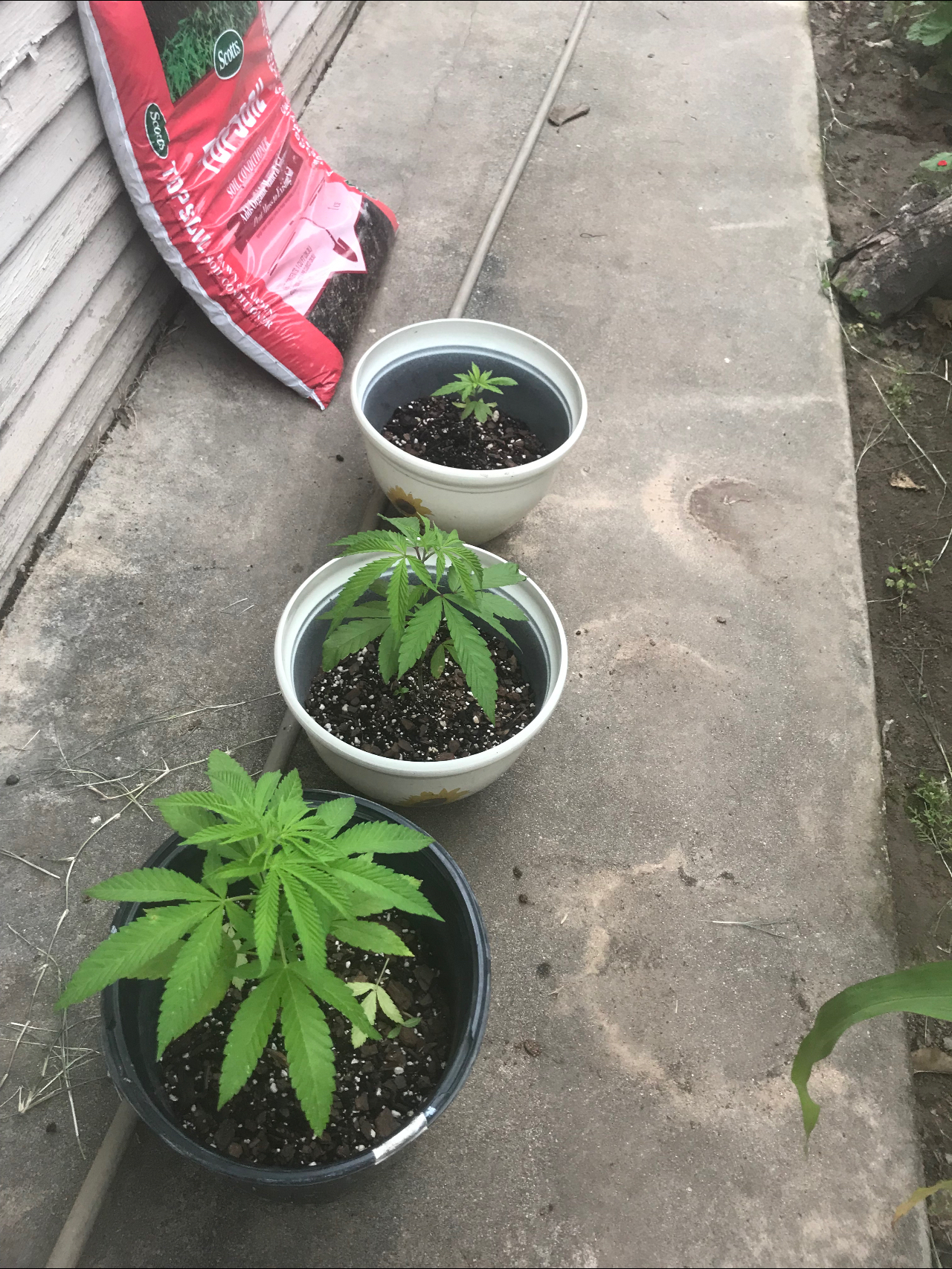 My plants are amaaaaaaazzzing I got my nutrients I need for vegetation stage and a little of bloom but I'll get some better stuff but amazing I got this General Hydroponics Go Box and I also got Silica for my plants ohh awesome I floral fed them neem oil for my pesticide and the nutrients had them standing all up this morning awesome great day to have these plants the weather don't even phase them so I am now training them since it's going to be sunny now after all this Cali weather awesomeeee!!! And the 3 small ones are great I fed them a lil bit of what I fed my other plants
4 years ago
Today is day 50 I'm soo happy to have kepted them this long wow they are looking great and doing fantastic to continue growing I bought my nutrients I today on amazon and I should be getting them tomorrow before 9PM hopefully they get here quickly in the morning and I can feed them on Sunday and my other smaller plants are doing great as well!! DAY 50!!!! Yyyyaaayyy
4 years ago
Today they are doing amazing as always the growth just always makes me always amazed and the LST is amazing they look like they are going to break but sooooo healthy and strong and the 2 SLH are growing soo bushy now and all the shoots are growing hopefully they do great and for the sour deisel I Topped it off today and hopefully it grows amazing after that they are soo great ouutside and my 3 seeds I'm just waiting for their sex they are great too!!
4 years ago
MonkeyDabs710 I'm bending my small two Super Lemon Haze and lowering the other branches of my taller Sour Deisel plant
After a thunderstorm here in Cali and all this rain I got a little sunshine this Sunday I hadn't been able to give them water in a week and I'm kinda scared to feed them but I'll just wait cuz there's plenty of amendments in my soil to keep my plant in excellent condition but I finally defoliated you plant and took 3 clones (2 SD and 1 SLH) and I just put them to LST right now hopefully they don't stress too much but they've always reacted very good for their training the other 3 seeds are okay for now they just need to keep going and show me their sex already I've been checking every day!!! But every plant is fantastic even tho all this rain and wind amazing I can't wait for these summers that's going to be the real difficulty! But yea they are great!!! Now to start my clones!!!
4 years ago
It's been almost a week since I transplanted them will be tomorrow and they were stressed out for a little bit it rained two days ago and now they are doing great after the rain and they should start growing another node any day now and my small ones are loving life in their new pots too just to wait for the sex now for those seedlings
4 years ago
They are doing great and just showing signs of a little low stress I just hope to have them do great outdoor and love the new soil they are in just a little update and they are some getting droppy during the night and some droopy during the day but until next update:) they are great
4 years ago
I have finally transplanted them outside I'm sooo happy and I hope they feel very good to be in the super soil I made I added 2 different soils from dr earth one was soft and the other had many beneficial material like fish bone and kelp and I added work castings peat moss and perlite I hope they grow big I will be buying nutrients soon so I hope they do good And I also transplanted the small ones into the the pots my clones were in And at the end there is a full view of my garden
4 years ago
Carsonova Looking good man! They look happy and healthy!!!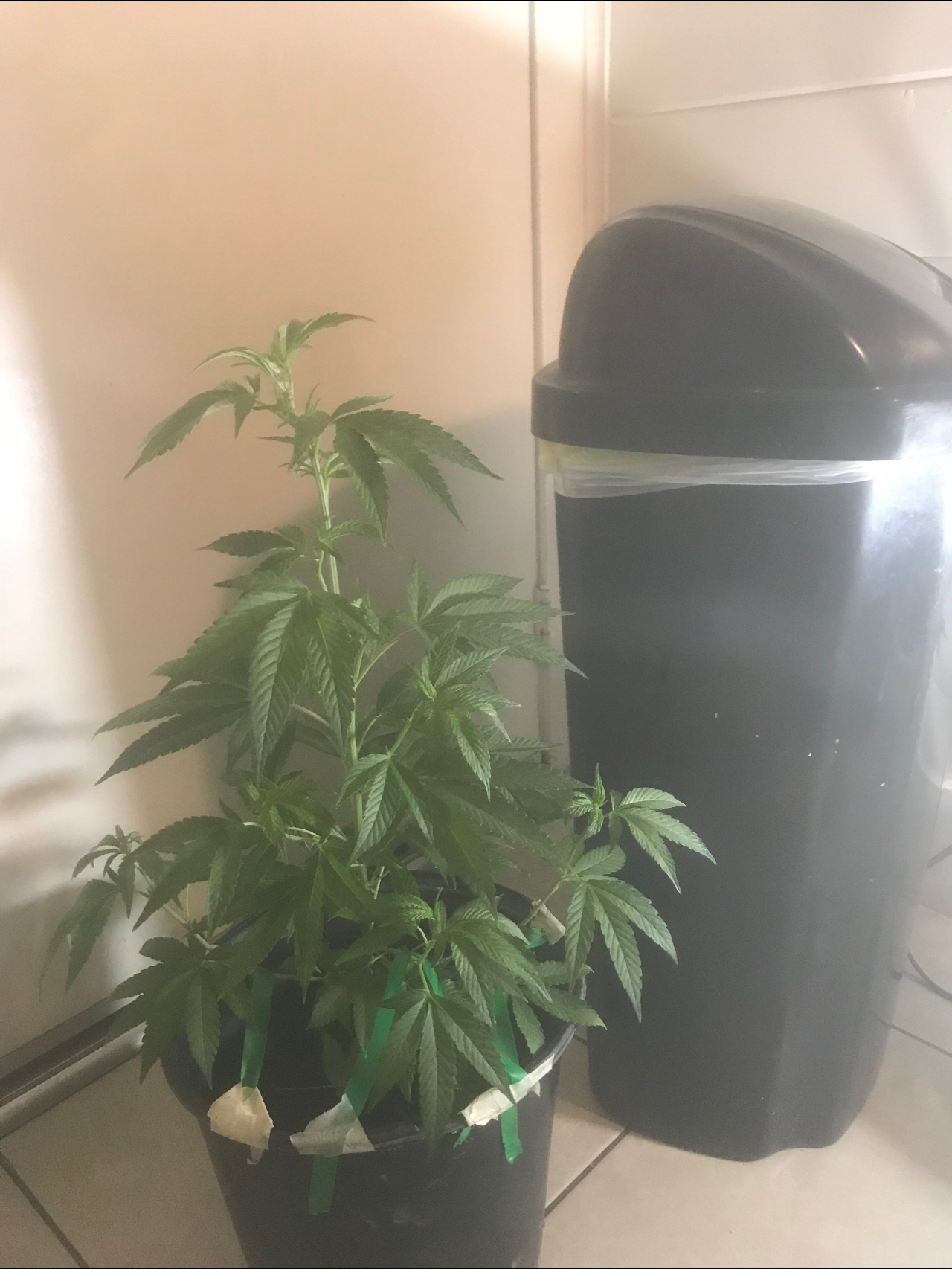 I finally got the fungus gnats under control and I drained it with lots of water Sunday morning and they are looking a lot netting but I did get rid of the bottom leave I need to now see the next few days and see if they don't have nitrogen deficiency but idk I don't think they will I hope they won't the sour deisel is doing great and super lemon haze are about a foot tall now and sour deisel is almost two so I hope they catch up soon and the little ones are doing excellent except little fucken burny overthere idk what's wrong with it I'm just trying to let it grow
4 years ago
MonkeyDabs710 Oh yea and finally a whole month with all my clones next week will be a month with my seeds
I believe I got the pest problem under control and I have lost a full sugar leaf from all the stress and probably over watering my two super lemon haze plants but my sour deisel can not stop growing omg I just need to fix these other two girls and they will be on their way too The 3 little ones are doing great too but one looks like it's burning idk maybe it's not a good plant for these hotter summers it's been about 80 lately so idk what's it's deal haha but they are looking good
4 years ago
I've been busy last couple of days but this sour deisel is just growing amazing but the other two super lemon haze are having trouble with fringes gnats and nutrient deficiency so I have prepared them some nutrients and finally gave them some of my home made compost tea originally made and a mix of different home made remedies and one miracle grow nitrogen booster liquid feed so hopefully I can get my yellow bottoms leaves back up and I just stated feeding my Young Lings so I hope they do good too fuckkkkk fungus gnatsssss
4 years ago
My sour deisel is above 1 foot and the other two super lemon haze are under but they are very bushy and the 3 little plants are doing well but the smallest did get hit a lil from the 100 degree weather but everything's going great she will live and everyone's doing fine!!!!
4 years ago
My plants are getting really bushy now and taller the Sour D is getting y'all and is now 1 foot tall from the soil and it's other branches and the two Super Lemon Haze are getting bushy and the small ones are coming in beautiful as well!! Great days to be alive!!!
4 years ago
4/20 pictures and they are growing really bushy now and the sour diesel is beating the other two in height! The little 3 seeds are doing great still and I believe 2 of them are growing their second set of leaves
4 years ago
It has been more than a week from transplant, gave them some nutrients and the sun has been great lately so they should start growing higher
4 years ago
I've had my clones for 1 week and 2 days and been giving a little more than 16hrs of light and sunlight
4 years ago
MonkeyDabs710 I had transferred them into 1 gallon pots 3 days after I received my clones