topsoil83
No Till Led Tent Grow
Fall/Winter of 2019
2x2x4 grow tent with modified stealth grow 602 led. Using build a soils Malibu mix as well there LOS mix. Will also be using kis organics soil most likely when the no till bed is created.
Dark horse genetics "Hulkmania"
Pics say it all. Nothing left to do but wait. May start plucking fan leaves to aid in plant catabolization and probably shitting lights off permanently when they go off Saturday night to preserve terps then chop chop Monday.
4 years ago
Harvest day will be Monday. Which will also be germination day for the 3 slurricane and 1 purplenpunch 3.0 all fem. ladies looking lovely. What's interesting is the different rate certain branches are maturing in the same plant. Some clearly finishing up while others are bursting with new growth. Perhaps a multi day harvest is in order. Until then just observing the beefing up.
4 years ago
Last day of week 9. Decided to give them one last week because of the massive amounts of white hairs. Still over 50% white hairs, and while that's not the best indicator for harvest it certainly should be more than 50%. These ladies are getting beefy and beautiful. Plenty of bleaching and light burn on a lot of cold but the upside is the massive buds. Silver linings people. Worms looking good. Drinking almost a gallon a day. Chopping a week from tomorrow. Starting the seeds in water probably on Sunday. Gonna get a big ups fox to dry in and will make some holes for airflow but not too much to let light in.
4 years ago
Apologies for the lack of posting, not much to report other than slowly continuing to chunk up. Just over 8 weeks into flower and still pushing out new pistils. Hoping to chop next week but these ladies just keep growing. Gonna hold on as long as I can. Did a defoliation today, very light. Think I may be hitting a quarter pound which isn't too shabby for a 4 foot tall tent
4 years ago
Dukeshaba It keeps growing pistols Bc it's to close to the light... what do you trichomes look like one it that's all that matters
Seed have arrived! Came with two purple punch 3.0 seeds. So excited! Took this pic right after the lights went out.
4 years ago
Plants looking good. Really starting to put on size. Probably harvesting last day in January. Slurricane seeds should be arriving today. Been bumping up the watering to make sure they're all set for maximizing yield. Works looking good. Love No Till. Second cycle a couple weeks away.
4 years ago
Did a pretty heavy defoliation and happy with the results. So many more bud sites are getting light now. Worms are happy. Soil looks good. Plants don't seem too affected by the over water incident. Blumat bucket hasn't drained a cm since filling which is good since soil clearly doesn't need water so it's working well.
4 years ago
So had a bit of a hiccup. Woke up to the tent leaking water to find out a blumat carrot had opened up too much and dumped all 3.5 gallons into the soil. Woke up in a bit of a panic but shut off the valve immediately and started drying the floor mat with towels. Hope I caught it in time. Plants and worm seem fine. Plants definitely chunking up 💪🏼
4 years ago
Plants looking good, 6 weeks into flower. Probably 3 weeks from chop. Doing another top dress tomorrow. Been having trouble ordering seeds. Think i may use heavily connected Swedbank, let me know if you have experience with them. Still hoping for slurricane.
4 years ago
May be as little as 3 weeks from harvest, more likely 4 to 5. Not much to do at this point. Blumat keeping the soil perfect. Not much room to tie down anymore. Should be ordering seeds today for next round. Time to see what the slurricane hype is all about. Usually prefer regular seeds but happy to have more confidence next round knowing there fem. getting frosty and think I decided it's simply three tasting notes grapefruit, bubblegum, and kush(aka earth). The smaller plant is definitely terpinoline, caryopholine and or pinene heavy or at least that's what I remember to be the dominant jack herer terpene profile which is what I'm getting on the nose.
4 years ago
Week 6 of flower has commenced! Tied down some branches once more. Unfortunately some tops have been light bleached. Did another top dress of bierkashi and super worm frass. Not much other to report. Smells starting to kick up.
4 years ago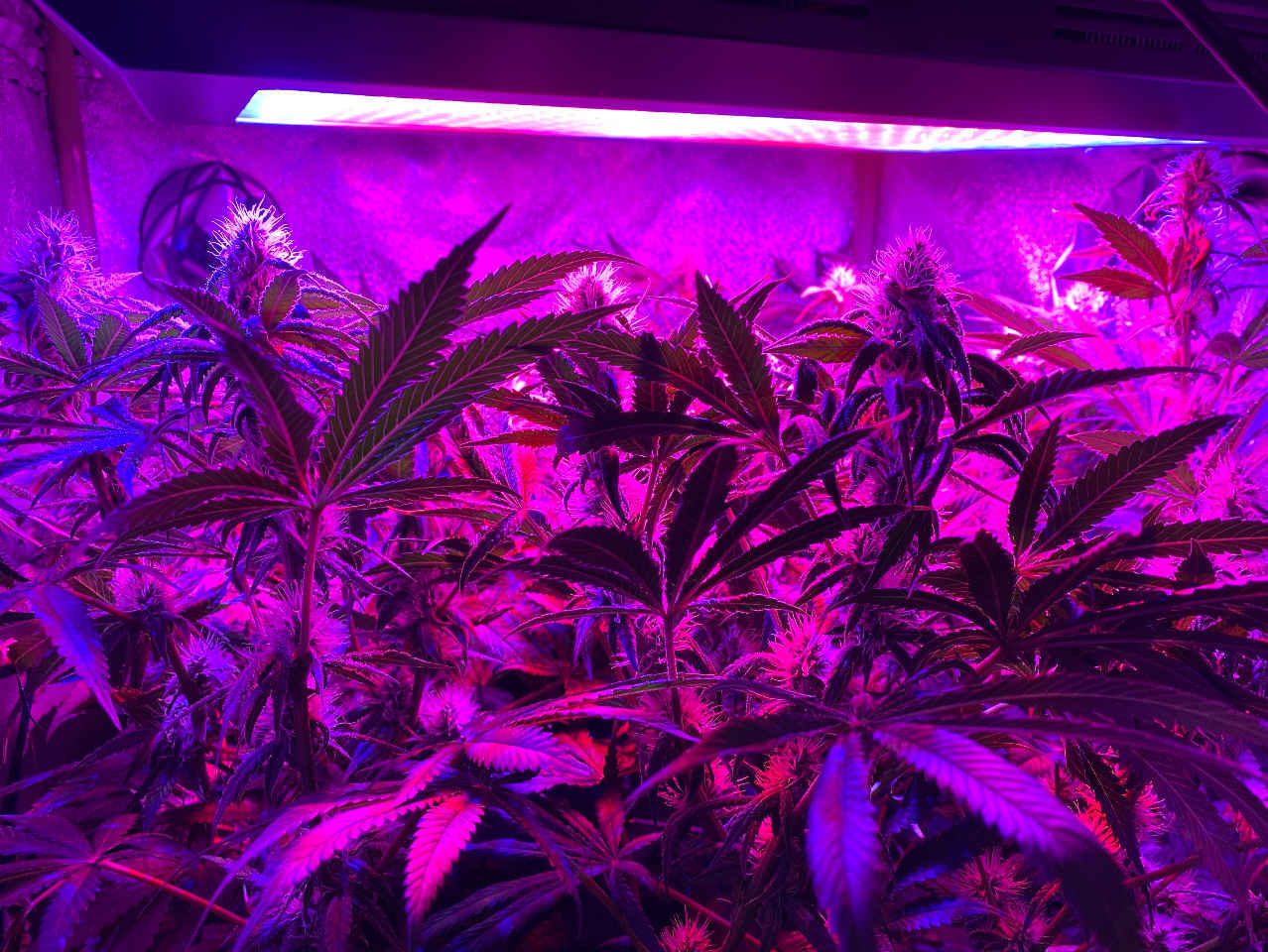 Went home for the holidays, a branch had grown into the light, luckily the rim not the actual light part. Just tied it down. Couple more days left of week 5 🤙🏼 worms looking good. Unfortunately top nugs getting light bleached. Lesson for next round. First not cannabis flower of the no till. As you may be able to tell I got an iPhone 11 Pro for Christmas so pic quality will be increasing. 🙌🏼
4 years ago
Cooking with gas. Plants looking stellar and just thickening and chunking up in the daily now. Snapped a branch slightly trying to bend it. Seems to be healing fine though and taped it just to be safe. Not much other to report. Tightened a couple sip ties. Moved some fan leaves blocking nodes. Everything looking puuurty.
4 years ago
Love seeing the worms on the top layer where they belong. Happy to know the environment is moist and resource filled enough to keep them around. Hard to keep track of there population so as long as I'm seeing activity when I check I'm a happy camper.
4 years ago
Took off a couple zip ties of plants that were a little too far from the light for how tall they were. Did another top dress of bierkashi and superworm frass
4 years ago
Had to do it again, tightened down some zip ties and added a few more. Worms more and more active on the top soil. Debating if terps are grapefruit gas or bubblegum.
4 years ago
Tightened some zip ties but other than that not doing much. Worms seem happy. Everything looking good. Still some deficiencies but doesn't seem to be spreading. May be getting freeze dried coconut water powder for flower.
4 years ago
Ladies beginning the chunk. As you can see it is coming just in time. Saw a worm working the top soil today, made me happy to see. Day 69 since the seeds hit water 🤙🏼. Turned the monkey fan off inside the tent a few days ago since it was blowing directly on the plants since they're so tall now. May need to look into this coconut powder.
4 years ago
Found out one of the plants has a citrus note (the larger plant) and the other has my favorite terpene profile, the jack herrer terpene (the smaller plant). Had a node that was tied to the back right post which was too far out of the light so I pulled it down and forward along the right side.
4 years ago
And so we begin week 4. Hard to believe this canopy is filled by only two (predominantly 1) plants. Seems I finally have the canopy evened out. Hopefully the last time I need to do anymore training. Just added a 1/3 cup of superworm frass and 2/3 cup of bierkashi. Seeing some slight deficiencies so trying to keep it at bay. May purchase some coconut powder for when heavy flower production begins. Any insights always welcome 🙏🏼 all in all feeling happy and blessed. Oh worm update: have only had 1 experience with a single escaped worm which leads me to think it was accidental not environmental which is good to know. Love knowing they're down there making the medium more and more bio available and bio diverse.
4 years ago
Had to do even more intense LST. Putting these zip ties to work. Starting to see some beginnings of a deficiency which is interesting because I'm not sure what is causing it since I know there is plenty of life in the soil. Today is the final day of week 3 of flower. Stretching should be coming to a close (I say hopefully) we shall see. Slurricane fem vs wedding Crashers reg vs birthday cake s1 fem are the options for next round. Will order seeds January 1st
4 years ago
Was gone for a day and got back to the back right branch had grown above the light! Had to tie her down towards the back left (you can see the bent branch in the back center). Also drinking more and more water. Some signs of trichome frosting starting to begin. Interested to see how much they're drinking when the flowers are plumping. Tomorrow is the last day of week 3.
4 years ago
That natty light hittin so nice 😍 did some more weaving through the scrog and even a couple zip ties to keep them all 8 in Che's from the light. Perhaps it was a blessing there are only two plants cause they filling up the tent clearly, would prefer 10-12 inches of head space. Saw some critters in the soil (: should be chipping last day in January.
4 years ago
MySkullSide Your Plants are beautiful...They are growing just like mines with Nine blades..👌🏾
Ladies looking healthy. Hoping the stretch s near complete because as you can see the space from the light is quickly disappearing. They are drinking almost a gallon a day. Wondering if the worm activity plays a role, I would assume so. Debating getting "slurricane" for next round possibly since they are fem and would guarantee not having the same male issue but would have to worry about herms 🤷🏻‍♂️ happy with everything so far.
4 years ago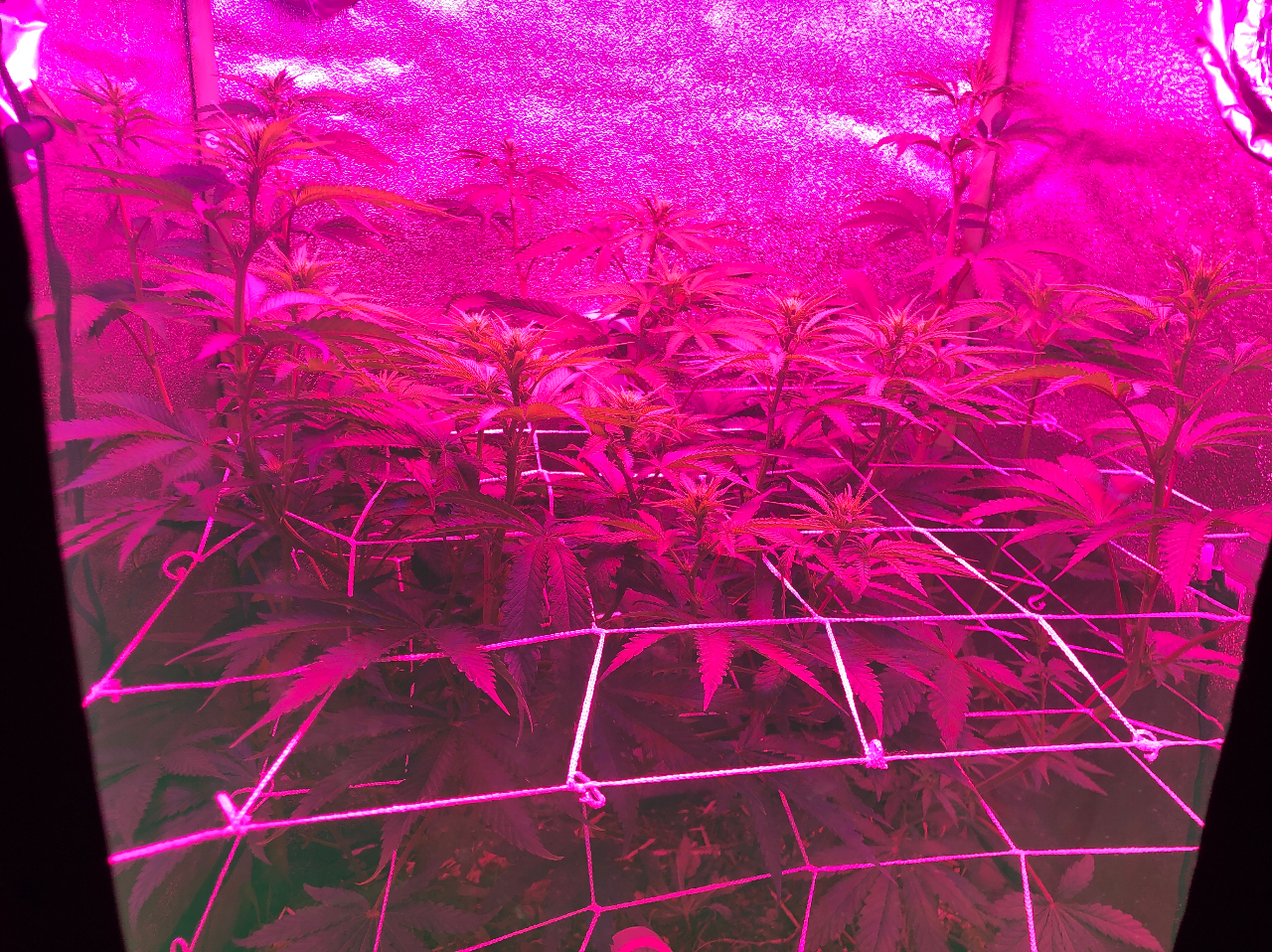 Bierkashi has arrived! Just did a top dress of bierkashi and superworm frass (routine stolen from @kingjaygardens) haven't seen any worms which to me indicates they are happy in the soil. Gonna look into doing top dresses to feed them with oats and kelp and maybe even malted barley. Today marks 60 days or two months since the seeds were put in water. Symbiotic genetics for the next round, probably "punch breath". Plants are about 10" from light. Hope stretching is near done cause the layout is pretty good.
4 years ago
Worms have arrived! Today is the beginning of the third week of flower. Dumped the pound of European nightcrawlers on the soil and just an hour or so later they had all gone deep into the soil. Bierkashi arrives today 🙌🏼 plants looking super healthy. Anyone have experience using spent coffee grounds on their soil?
4 years ago
Flower day 11! Plants looking good. Been trying to estimate yield. The over under is 2 ounces. If I can get over that will consider this a success. Some benefits of only having two plants is great light penetration and airflow.
4 years ago
Day 10 of flower! Out of the 10 seeds left with only two females and unfortunately one of them was the plant left in a solo cup so it's a bit smaller. Still pumped to see what we can do with just two plants. Using the scrog to the max to fill out the canopy. Emailed about the works and apparently they were sent out yesterday. We shall see. Bierkashi also on the way. 🤙🏼
4 years ago
I'm back! Just got back from a week vacation. The plants were looking great but unfortunately almost all males. Only one confirmed female of 10 seeds and one of the other two that are left looks like a male as well but waiting to confirm. Needless to say I will not be recommending or purchasing from dark horse genetics ever again. Next series is most likely symbiotic genetics "punch breath". Luckily I have a lot of greens for smoothies now lol and got to see that I can leave the grow and the automation takes care of it. Ordered bierkashi which should be here soon. Worms still haven't arrived. Just thankful I have a nice phat female I can train and maximize yield off of. We keep moving forward! 🤙🏼
4 years ago
So decided to start flower yeaterday. So today is day 2 of flower. Looking good. Pulled a plant(male) in the front left corner but barely noticeable ain't wits crammed in there. Did one last lollipop and defoliation. Leaving early tomorrow. Then it's a week away from the babes. Luckily have someone coming to stay with them starting Saturday. I've made this setup though where it should run on its own as long as the blumat bucket and humidifier are full.
4 years ago
Getting harder to get the whole canopy in the pic. Seems like I'm defoliating daily at this point. Noticed some yellowing tips on new growth. Haven't adjusted the blumats since installation so I turned them all up by one notch. They seem to be enjoying it. Trying to dial in as much as I can before i leave in a couple days. Added the second trellis as you can see just in case they grow that quickly while I'm gone. Thankfully have someone to check in on them as well. I love no till.
4 years ago
Just did another lollipop/defoliating session. 3 more full days with the babes. Should be able to pull at least one more confirmed male by then so they have time to fill the spot out while I'm gone.
4 years ago
Not much to report today. Did a quick sex check. Might have found another make but gonna give it a few more days before pulling it. May do sex tests next round or clones. Hope in center is all but gone.
4 years ago
Scrog net is up! Plants got a light defoliation. Instead of top dressing them I stored them for smoothies. Light top dress of worm frass and malted barley. Will see how that does.
4 years ago
Plants are absolutely taking off. As you can see they have almost completely covered the whole in just 24 hours! So pumped/nervous. Maxing out yield in a 2x2x4' tent is going to take some serious managing. Especially since I'm leaving for vacation in a week. All good problems though.
4 years ago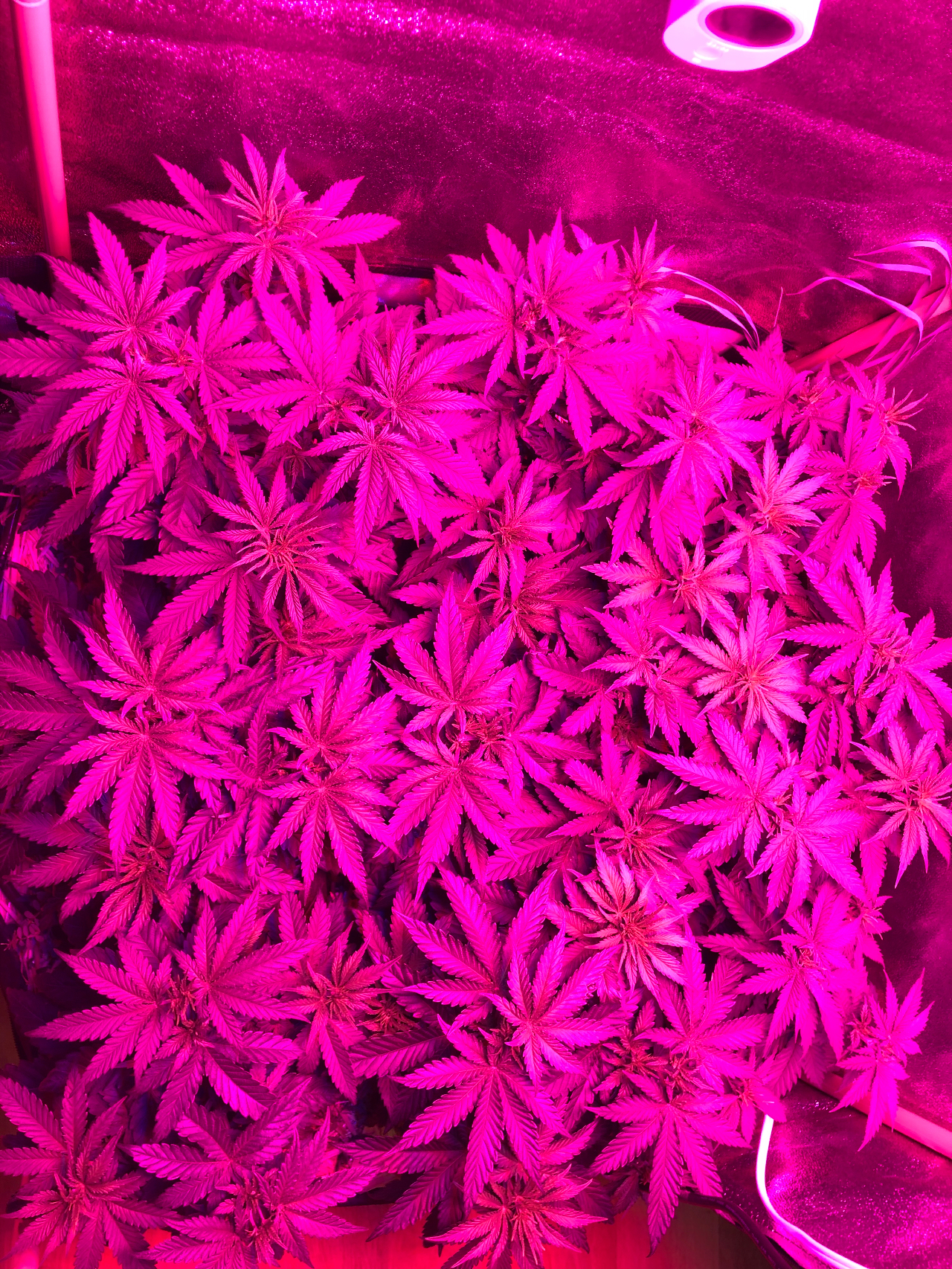 Did a light lollipop to crest some better airflow below canopy especially with a decent cover crop under there. Put all those leaves back on top of the soil. Did a quick sex check and found out first male as well as a couple confirmed females. Unfortunately it's the plant right in the middle but luckily have time to fill the space especially when the trellis arrives tomorrow. Took one last pic of the beautiful canopy. Wyze cam should arrive later today 🤞🏼
4 years ago
Worms should arrive this week. Tent is officially dialed. Just ordered a trellis, ac infinity carbon filter, and a wyze camera. Temps and humidity are finally where I want. Plants are happy, life is good. That's day 39 from the seeds being put in water.
4 years ago
Setup almost complete. New humidifier (air innovations) just arrived. Glad to have it outside the tent so I can easily access it and don't have to worry about it falling on the plants 🤦🏻‍♂️ will let y'all know how much it helps the humidity, have it next to the in-line fan. Yes this is counter intuitive to the norm of having your inline going to the bottom and pulling air from the top. Blumat pictured behind the humidifier. Plants are really settling in and even got to see the blumats in action. Such a sick product. Leaving for thanksgiving vacation for a week and now all setup just need someone to top off the humidifier and blumat bucket. Humidifier can run for 3 days straight on lowest setting 💁🏻‍♂️
4 years ago
Found out the humidifier had tipped overnight and wasn't working. Tried cleaning it and setting it back up but was clearly busted. Ordered an improved one that I will keep outside of the tent but right next to the inline fan. Just got to check for moisture build up. Added some more mulch to cover exposed soil spots. Keeping tent open until the new humidifier arrives tomorrow. Think I can start to see very early signs of sex on some. Just missing; ac infinity carbon filter, trellis netting, live video camera, and hopefully a scynce dragon turbo s for cyber Monday🤞🏼
4 years ago
Plants are finally starting to pray! Every plant except the back right plant is perky. I think the soil was too wet which I had to do to install the blumat. Think they're finding a good moisture balance now and able to uptake nutrients etc more efficiently (cation exchange and whatnot) looks like they had a drink front he blumat. Hard to tell cause there isn't a measure inside the bucket. Will probably get one. Humidity still low but hopefully will solve itself as the plants get bigger. Happy farmer 💁🏻‍♂️
4 years ago
Topped all the plants except for the little one in the middle of the back four. Struggling with keeping humidity up today. Hovered around 50. Hoping the plants perk up a bit as they settle in. Green and healthy just not praying as much as I'd like.
4 years ago
Blumats have been setup! A little stressful but so cool! Definitely going to maximizing what is capable out of 2x2x4 tent. All that's left is a trellis. A carbon filter or two and some worms. Shits about to take off! Next up is sexing these babies .
4 years ago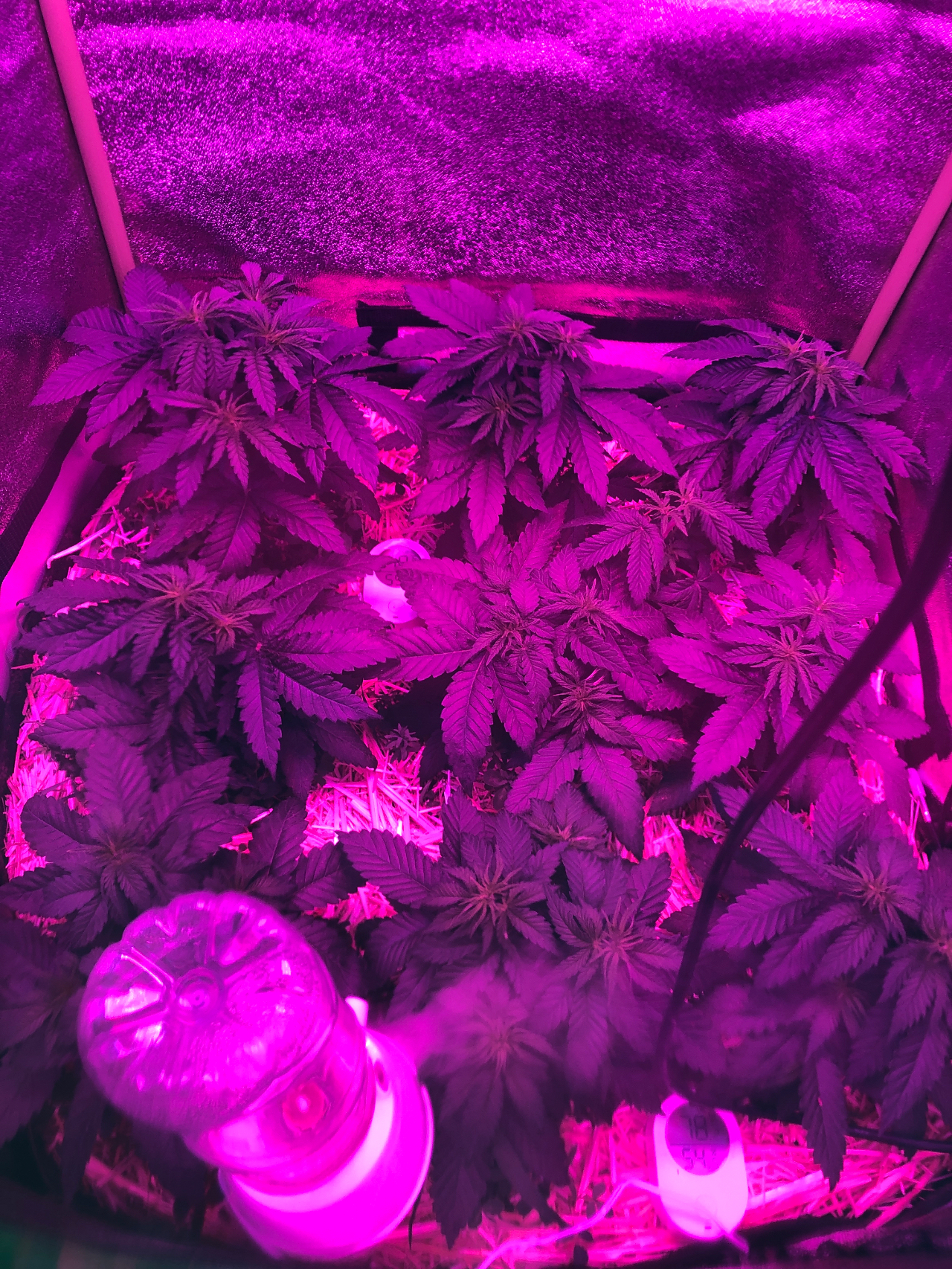 Day after the transplant. Looking like they are handling it well. They will probably spend today settling in. Blumats come later today's and will be installed right away. Not excited to cull males eventually but that's for another day. Probably another topping coming soon.
4 years ago
We have No Till! The soil is the LOS 3.0 and the Malibu living soil both from buildasoil. Added some more cover crop and barley straw. Used wow pumpkins mycho and wow were those roots thick. Sorry for not taking pics of them. Just wanted to get it done. About to blast off now.
4 years ago
Plants getting watered every day at 5pm. Very deep green healthy grow (couldn't tell from the LED) soil should be arriving today which if it does will make today transplant day into the 25gallon smart pot. After that they're going to blow up. Really want that scynce led drag turbo s 😍
4 years ago
Still struggling with humidity, 50% ain't bad but definitely not VPD friendly. Temps dropped under 60 overnight so may keep the room the tent is in warmer or consider turning off the in-line fan overnight to help retain heat.
4 years ago
Photos taken just before bed. Got the online fan installed and having running a level above the outlet fan to "blow up" the tent with positive pressure and give me more room in there. Realized in the evening the girls needed water so gave them a drink and hopefully with perk up tomorrow. Soil expected to arrive Sunday which would be transplant day. Blumats expected Monday. Temps good at 80 but humidity at 50 trying to get it to 60.
4 years ago
Plants looking good, second ac infinity fan arrives tomorrow. So far have only had a single outline ac infinity 6", also have the blumat 6 carrot, and the soil for the 25g no till pot. About to hit full blast off. Probably about 2 weeks or so from flower. Life is good.
4 years ago
Plants all got watered today so that they all were within 100 grams of weight of each other (range:1950-2050g). They're all looking great with only very slight minute discolorations. Cover crop looking good too and even added some more barley straw to cover the spots I saw soil to keep from drying out. Roots still looking good and even saw hyphae on the soil level under the straw mulch 👌🏻
4 years ago
Plants haven't been looking as perky unfortunately but all the color spots have healed. Trying to keep the soil moist not drenched or dried out. Need to figure out how to make room for the solo cup plant to be transplanted into a 1 gallon.
4 years ago
Looks like the added life from the superworm frass and the waterings helped stop the deficiency from spreading. Hoping to be able to sex these before I transplant into the 25 gallon no till fabric pot.
4 years ago
Plants got too dressed with a tbsp each of superworm frass from frass valley followed by a light watering to water it in. Roots looking great already busting out of the bottom
4 years ago
Babes got topped today. The 25 gallon no till square fabric pot arrives today 💁🏻‍♂️ probably another 2-3 weeks, and a few more toppings before they get transplanted into it though. Today marks 3 weeks since the seeds were put into water to germinate. They grow up so fast.
4 years ago
Looking much better since the watering, and some issues even seemed to resolve themselves. Probably getting their first topping tomorrow.
4 years ago
Forgot to post yesterday 😬 they all got a light watering today mainly for the top layer. Looking good. Slight deficiency sign on #2, #5 and # 6 will keep an eye on. Ordered the no till fabric pot today 🤗
4 years ago
Humidity went over 90% while I was out. Luckily nothing was negatively affected. Peeled up around 330-4 right on schedule.
4 years ago
Still a bit droopy from wake up until about 4pm eastern time. Then like clockwork they perk up. Cover crop starting to sprout up. Mostly just clover so far.
4 years ago
Just ordered some earthworm frass I'm excited to try out. May do a malted barley top dress when I water in a couple days.
4 years ago
Plants all looking happy and seem to finally be settled into there new transplanted homes. Buildasoil Cover cop starting to sprout!
4 years ago
Not much to report other than moving the humidifier to a hopefully more suitable spot for air flow.
4 years ago
The plants have been on an 18/6 light cycle and doing fairly well. Seem to be most perky late evening for unknown reasons.
4 years ago
Topsoil83 Lol it really does, just barley straw though