WadeoftheNorth
First grow ever
Spring 2021
One Durban Poison feminized seed soaked 24 hrs in filtered water then planted 1/4" deep in Fox Farm Ocean Forest organic potting soil.
Due to the odd and changing weather patterns she has gone into pre-flower. I've changed the nutrients (removing grow big and adding tiger bloom).
2 years ago
Continuing to rotate nutrients and had to spray her down with neem oil to keep the pests off but she's growing thru the trellis and with LST getting a good canopy.
2 years ago
Started pruning the lower fan leaves to focus growth to the upper Apical's. She's about an inch away from the trellis net. I will be adding more LST to hopefully flatten out the canopy.
2 years ago
LST is coming along. She is getting bigger so I'm working on the trellis netting next. Now I'm doing a bunch of research on pruning. 🙂
2 years ago
She appears to be thriving in her new environment. Next I'm going to top her and start LST.
2 years ago
⚖️Golden Ratio 🧬 Looking very good 👍- time to start training and lsting her , check out my grow! Just at that phase of 16th day flower after good lst - got about 20-30 good shoots that will yield flowers 💐
nugsovile She has grown a lot these past couple of weeks!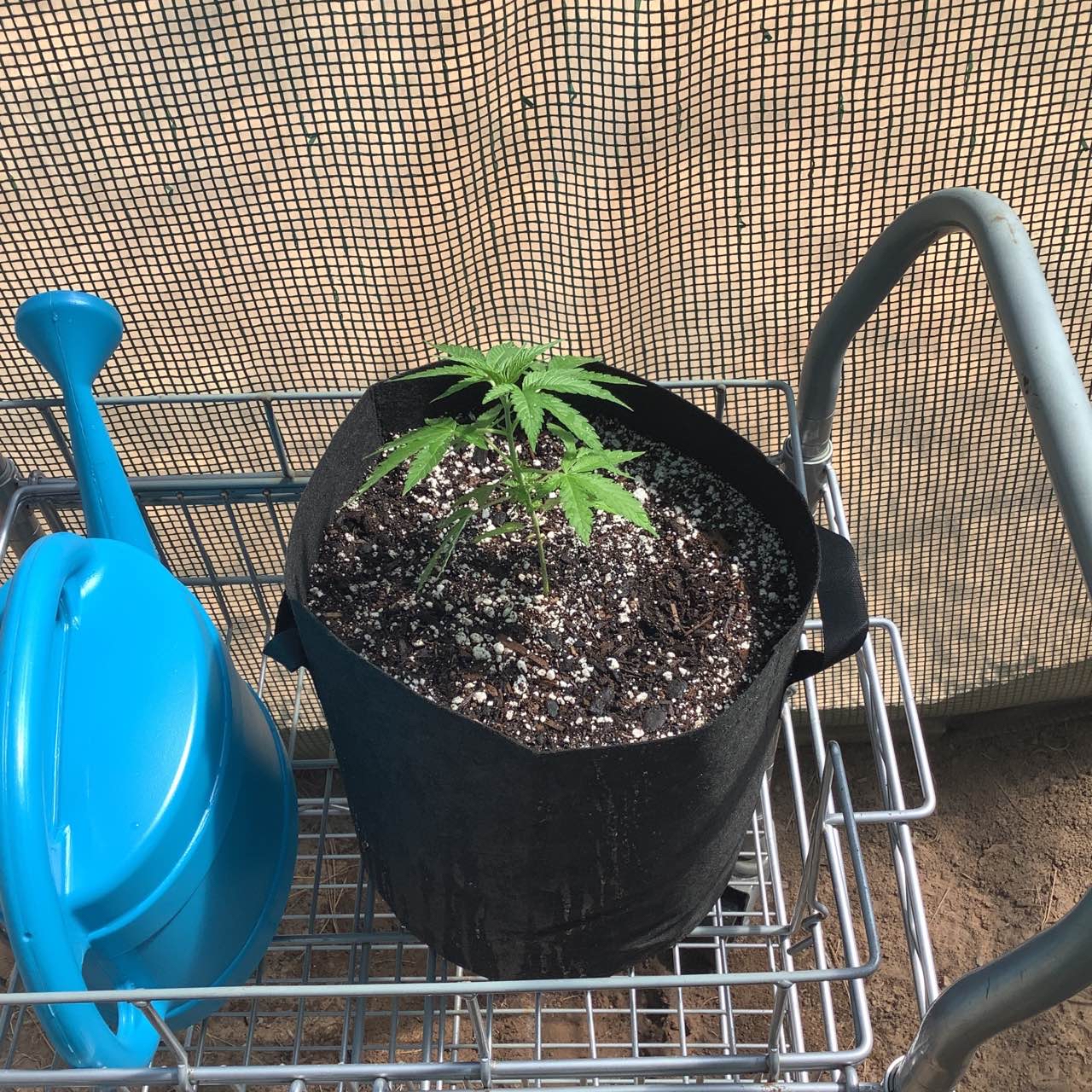 Transplant day. I got her moved into her new home in the greenhouse. Her roots were ready for more space.
2 years ago
Mystrain420 Looking nice, she's gonna explode with growth 👍🏾
Next weeks weather looks promising, either way I'm transplanting her this weekend into a 5gal cloth pot. Should be easy enough to move if the weather gets cold again.
2 years ago
Still waiting to transplant. Can't move her to the greenhouse just yet, temps are still dropping too much in the evenings. She's beautiful.
2 years ago
I've made some mistakes but She's recovering and beautiful. Hope to transplant this weekend into a larger container.
2 years ago
She is getting a little leggie but thanks to advice from the community, I cut the cup down.
2 years ago
mystrain420 How does cutting the cup help? Just wondering
WadeoftheNorth As I understand it, the plant was reaching to get sunlight and started getting taller than necessary at this stage.
She sprouted and is loving the soil and sun.
2 years ago
nobuddyatall Maybe cut the top off that cup (and add more medium) ... she'll stretch less and get more light! 👍🌿
Seedling in soil
2 years ago