Pineapple Upside Down Cake featuring Marshmallow Fellow- Closet Grow
Spring 2023
Four regular seeds from Humboldt Seed Organization. Fingers crossed I don't get any males.
Pineapple Upside Down Cake
Approximately 60g from this small batch of testers. I even got seeds from one Pineapple Upside Down Cake plants. So I feel like that's a win because they actually smell like pineapples. lol so I could see myself throwing the next run in the large tent.
3 months ago
These girls smell amazingly like fruit (🍍). Beautiful fade from one girl whereas the others had their own unique color fades. One got really dark. I find it all interesting and soon they will get harvested. Just waiting on the trichomes to mature slightly further.
4 months ago
These four short ladies have been fighting through cold temps. I've had my AC unit on 60°F to assist my Master Kong harvest. These ladies took it with stride; producing trichomes and seemingly ever growing flowers. Although stunted by the temps they are growing well.
5 months ago
WK1 of 🌺 After flipping to flower this week, I noticed one of the PUSDC was a male. I replaced it with a Banana Mango from Humboldt Seed Organization (found on the upper right corner). I flipped them because I don't want them to get big. As you can see, not much space on the rack
6 months ago
Two months in and these girls are stretchy. I have a hunch the sativa side of their genetics is showing off. Either way their roots are very strong and they are ready to be transplanted. That will give more room for my Top Shelf run and for my clones. The girls are going into 2 gallon fabric pots.
6 months ago
Girls moved into their new home; a 2x2x4 smart tent by AC Infinity.
6 months ago
Three Pineapple Upside Down Cake plants are all looking great. One Marshmallow Fellow just as strong!
7 months ago
LOUD&GASSY Inside the dome? Yes they are clones. Outside? No they are from seed. Currently covered by red cups
phriedphoenix I was talking and the outside ones. Why cut the leaves?
View 1 additional comment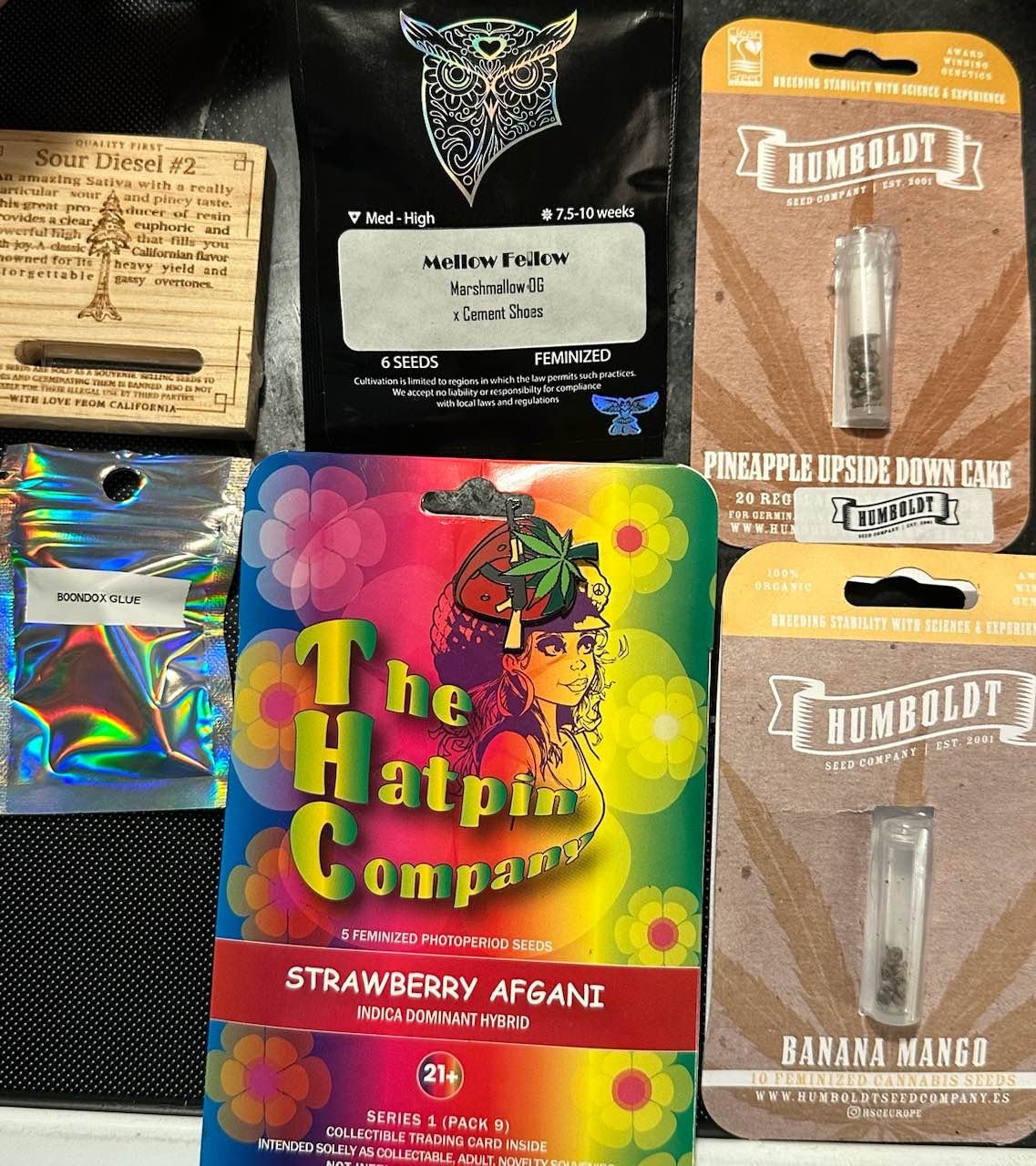 The Pineapple Upside Down Cake Run just became a Variety Run. 🌈 We have from Humboldt Seed Company: PUSDC, Banana Mango, & Sour Diesel #2. We have from The HatPin Company: Strawberry Afgani Kush. We have from Za Za Genetics: Boondox Glue. Lastly we have from Miss Reefer: Mellow Fellow. Put them all in water tonight.
8 months ago
After 24hrs in water, 24-48-hrs in a wet paper towel, and in a Rapid Rooter for overnight, this girl popped out! Mark day 1 for upper right plant (plant #1)
8 months ago
Dropped the seeds into purified water and placed them in a dark warm place.
8 months ago