t3rr3t
Multiple strain SOG.
Spring 2019
Indoor 2x4x5 tent Promix HPCC Fox farm nutrients Fox farm feeding schedule 5 gal felt pots 1500W COB LED LIGHT 3x Death Star. #1 male. #2 male 2x Tahoe OG 2x Mandarin Sunset 2x Herijuana Jack 1x Blue Cheese 1x Green Crack. Male 1x Rock Lock. Male This grow will be a short veg (24 hour light) 3/26/19 Day 6 replaced Mandarin Sunset. 3/29/19 Day 9. Repot and 16/8 light cycle. 4/5/19 Day 15 switched to 12/12 light cycle 6/19/19 day 91 Blue cheese harvested
Multiple strains regular seeds (not feminized).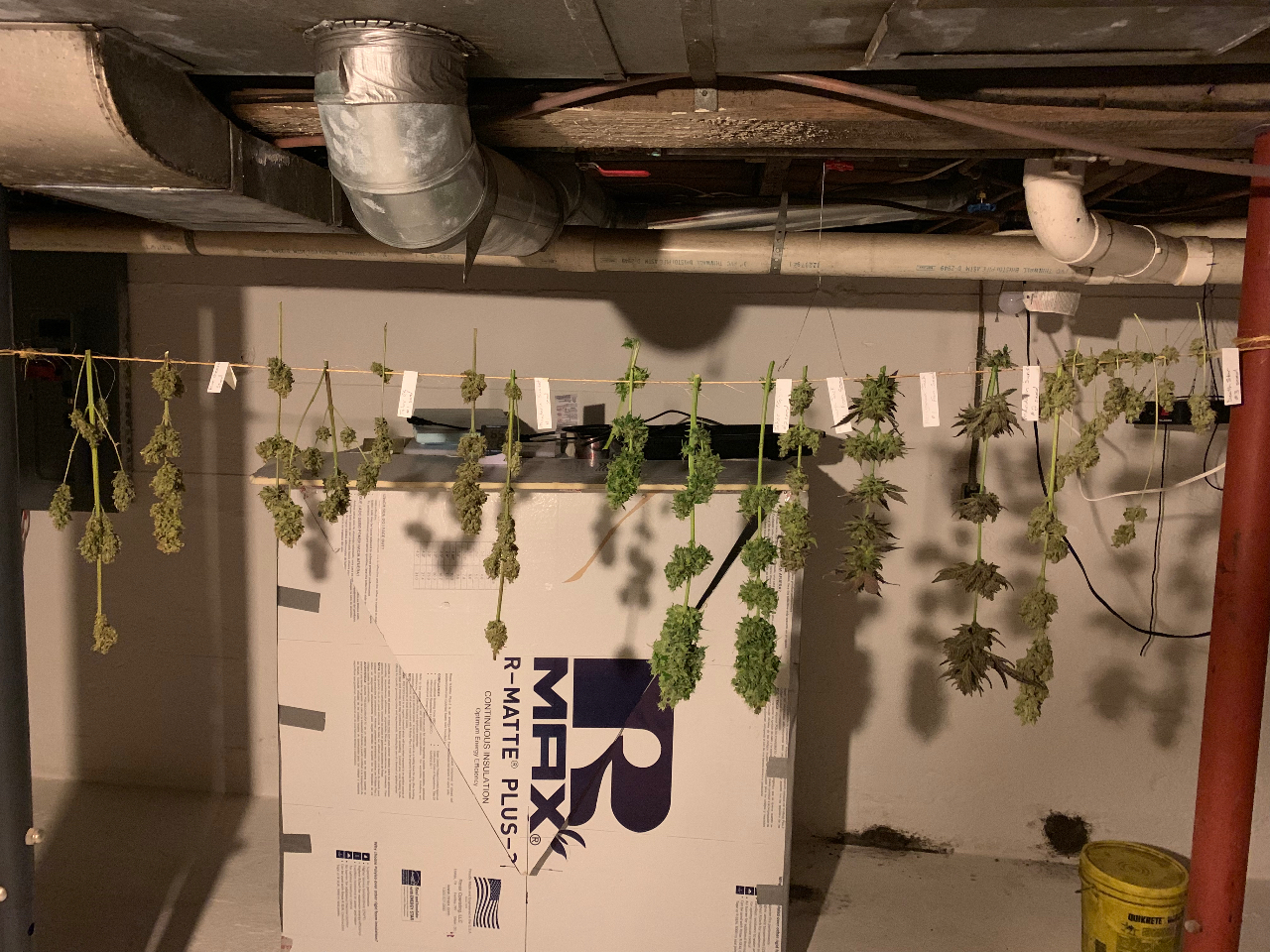 All cut and drying.
4 years ago
Mike1392 What kind of light did u use and what's the average dry harvest wieght per plant
I didn't forget. First one ended up about 36" I have been using fresh water at a pH of 6.1. The blumat have been great.
4 years ago
Watered 2.5 gal + 2 ml cal mag/gal @ 6.2 pH.
4 years ago
Keystone.genetics Probably fungus gnats annoying they don't really do anything it's the larvae thats a bitch
T3RR3T I think it's fungus gnats also. They were put into flower at 2 weeks. Harvesting soon. Trichomes are pretty clear still.
View 1 additional comment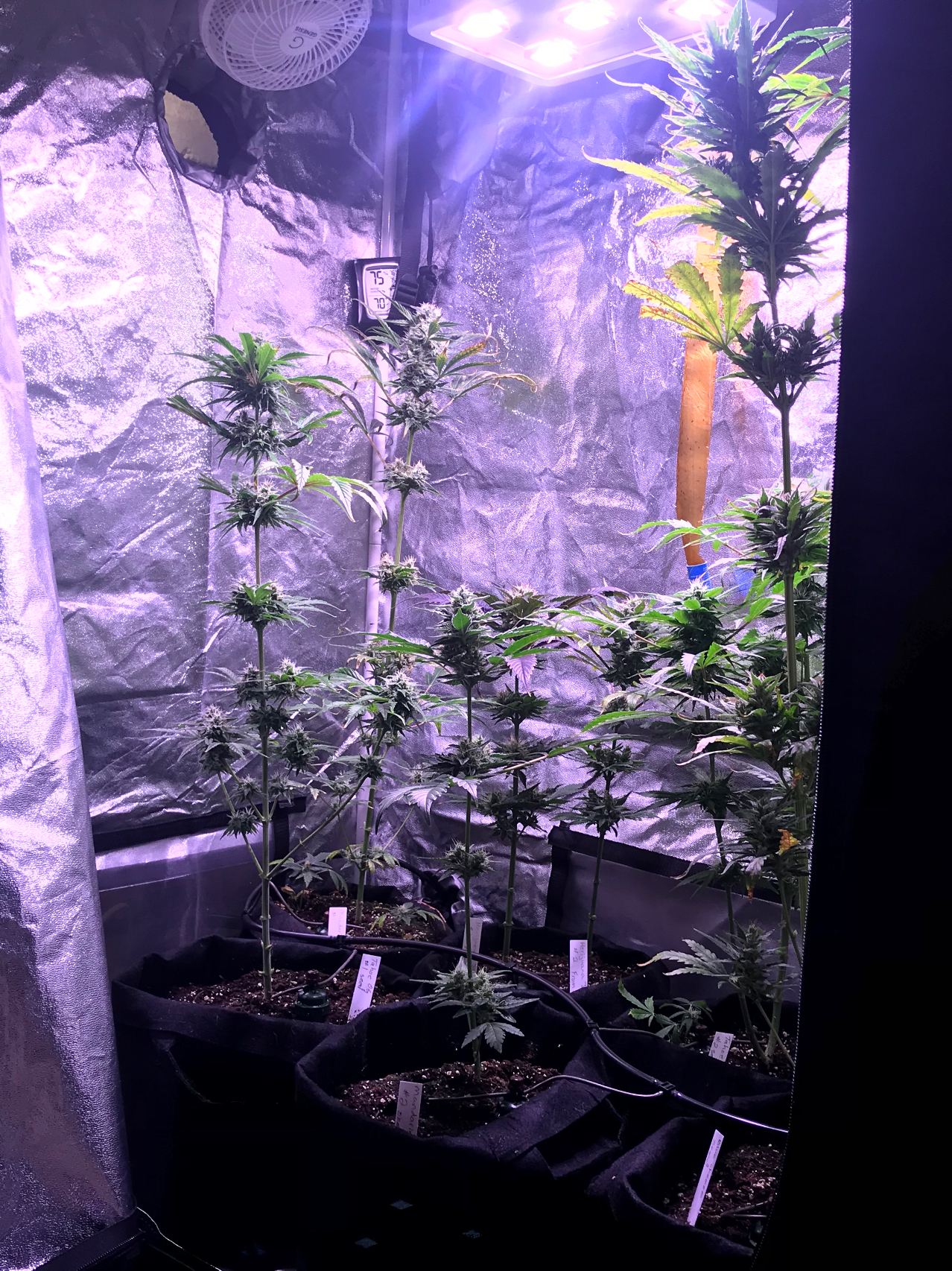 Fed 500 ml full strength nutrients @5.1 pH. Added 2gal. Water with 4 ml cal mag per/gal @5.0 pH. The blumats watered about 2 gals last week. Trichome density is very nice and still white. I have Some sort of fly. Small population. Monitoring.
4 years ago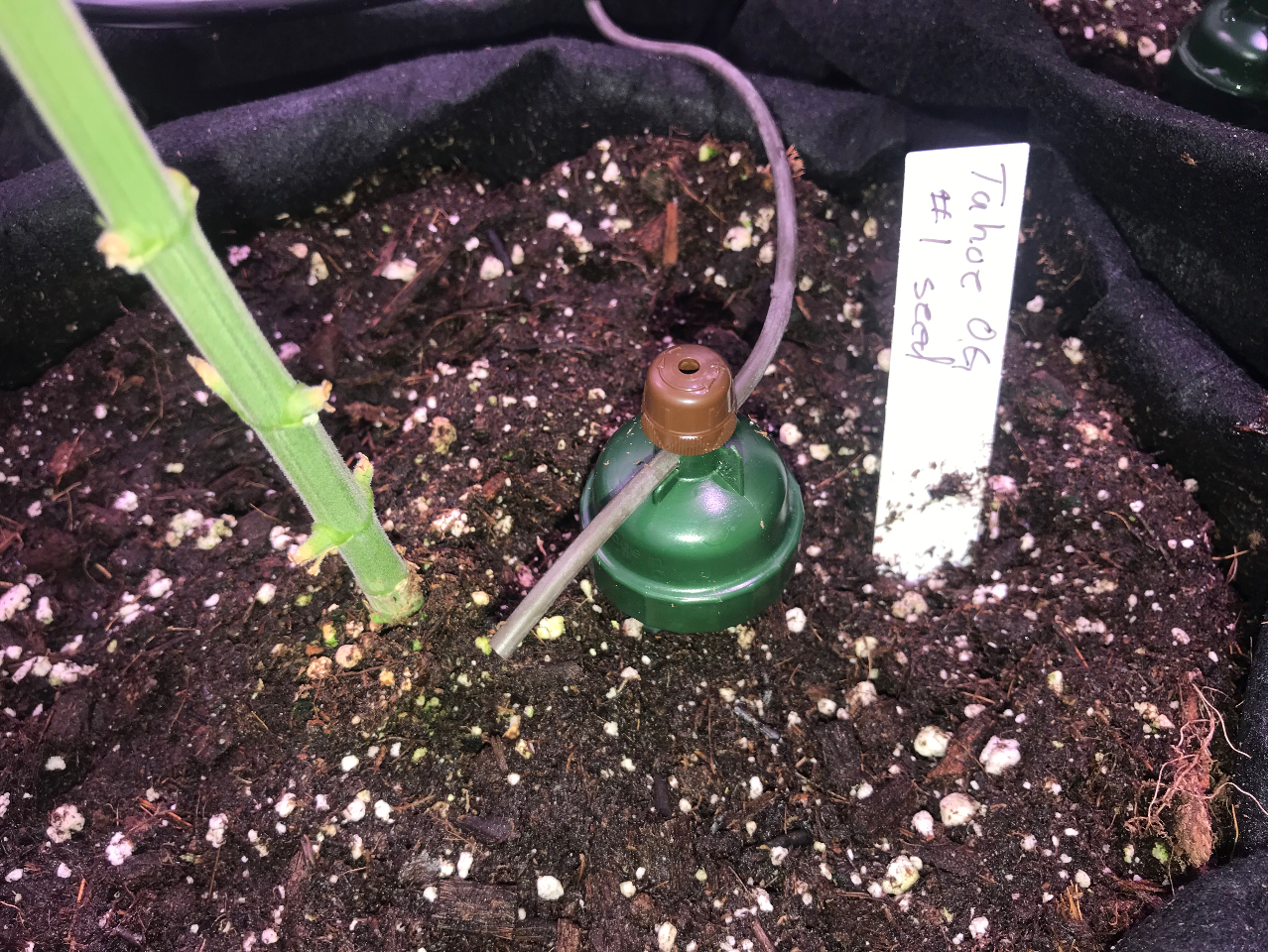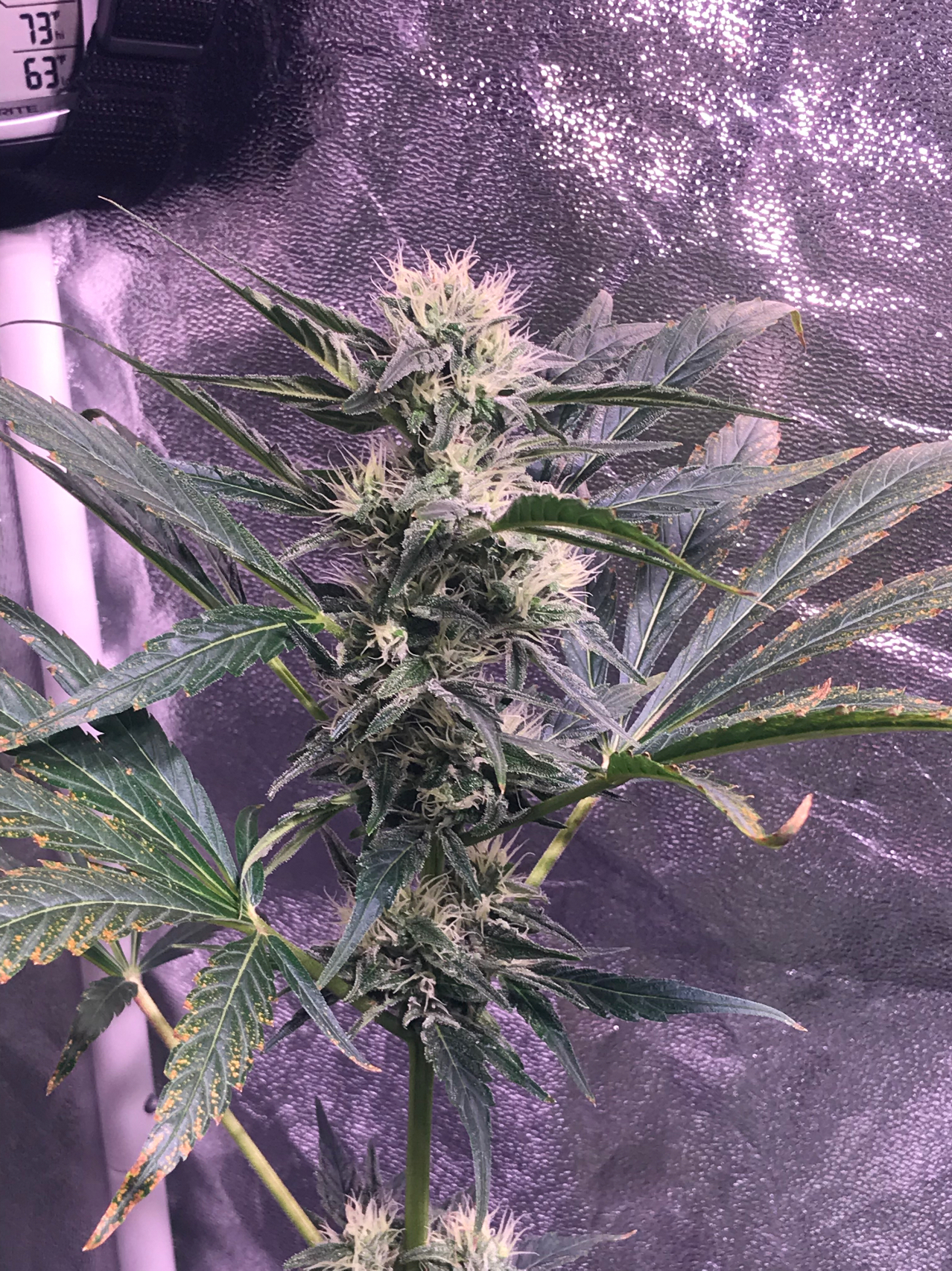 Plants are looking good. I heard about these blumat https://www.blumat.com/tropf/das-tropf-blumat-system/vorteile auto watering devices. I have added one to each of the pots and followed the set up directions. I set these up about three days ago. Added 2.5 gal fresh water with 4 ml cal mag per @6.1 pH. Water level in the reservoir hasn't dropped much. Today I fed with week 10 recipe. Full strength 500 ml +2 ml cal mag @ 6.3 ph. I hope the nutrients aren't too strong. Plan is to do about 500 ml full strength once a week while blumats keep em wet. Anyone else use the blumat? Fingers crossed.
4 years ago
I have missed a few updates. Watered today 750 ml 2 ml cal mag, 6.1 pH. I'm in the middle of the week 9 feeding schedule. It's fun watching the different strains growing next to each other. The final picture is the Mandarin sunset that has been on 12/12 from germination. It's around 12 days behind the rest.
4 years ago
Fed week 8 recipe. 500 ml Half strength nutrients, 1.5 ml cal mag @ 5.9 ph. Mandarin orange #1 is looking a bit stressed. Leaves curling under. Other than that all looks well.
4 years ago
Mystrain420 Just curious, why didn't you train them? And what's your medium because 5.9 ph makes me think coco coir?. If your using soil stay at 6.2-6.8 ph 😊 Look into low stress training, it will greatly increase yields
Mystrain420 Also look into light distance and PAR. Your lights where not positioned at the rite distance that what makes them stretch between nodes. U don't want that because then u get nugs instead of colas as u look into lst and get comfy with it learning topping is next so u get multiple colas
T3RR3T My last cycle was a SCROG. This time it's a SOG. I am new to growing so I am just doing some experiments to see what's the best style for me and my space. Also you can check the grow info to see what im using. Thanks for the feedback. :)
View 1 additional comment
Watered 750 ml with 2 ml cal mag 6.2 pH. Deathstar #2 male Nearly 4 weeks into flower and colas are starting to put on some size.
4 years ago
Fed 500 ml half strength nutrients 5.9 ph
4 years ago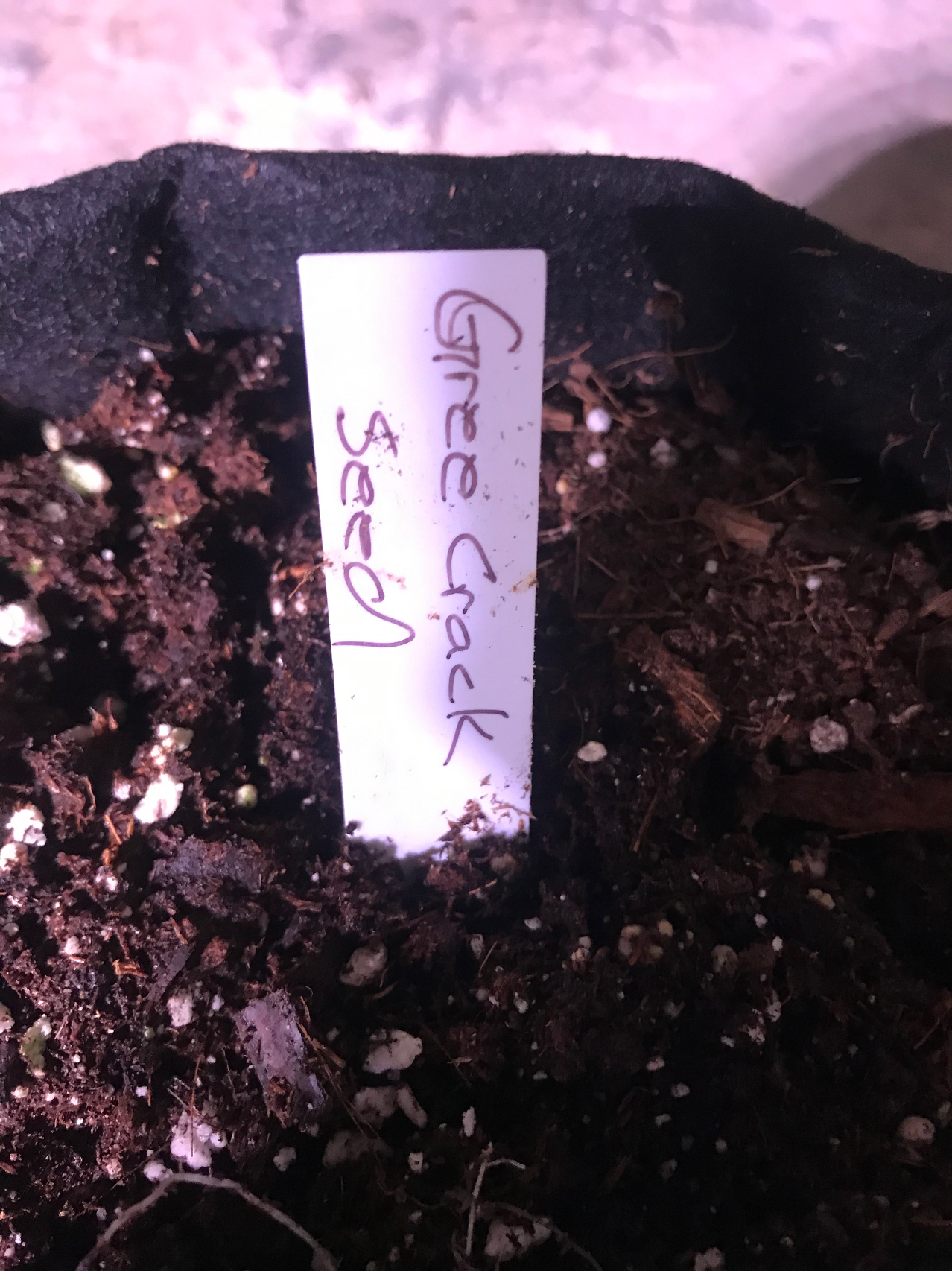 Pulled another male today. I think it's the last one. 9 females out of 12 seeds isn't bad.
4 years ago
Watered 1.5 ml cal mag 5.9 pH. 750 ml per pot
4 years ago
Found two that I think are males. I removed them. First plant is the rocklock.
4 years ago
Fed today with 1L half strength week six recipe pH of 5.9. Starting to show. Will be looking for help in sexing.
4 years ago
I think this one is male
4 years ago
750 ml half strength nutrients week 5 recipe. +1.5ml cal mag Removed some lower leaves. All looks good so far.
4 years ago
Coming along nicely.
4 years ago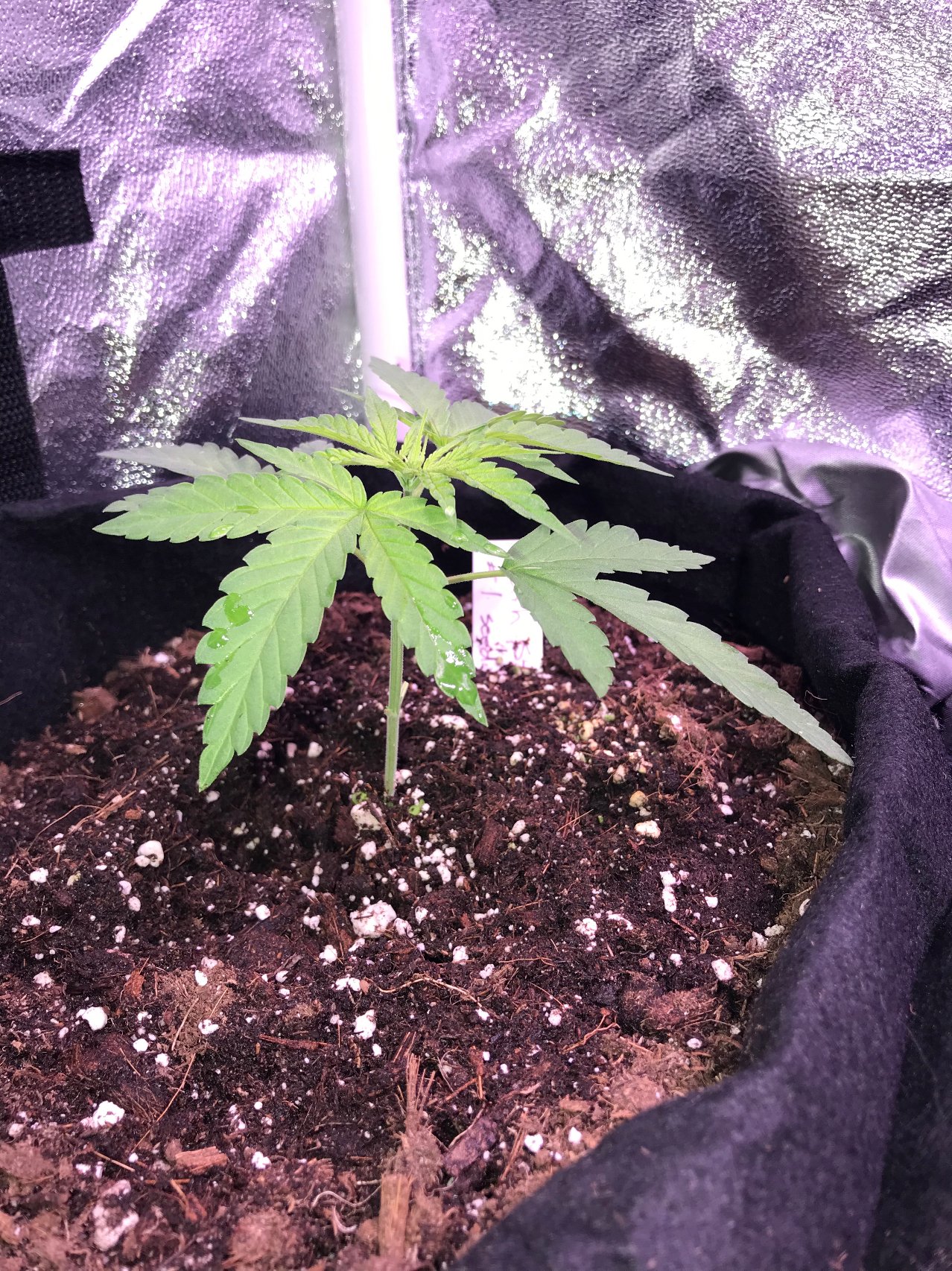 Fresh water w/1.5 ml per gal call mag 6.0 ph. 750 ml per pot
4 years ago
Looking good. Humidity was a bit high when light came on. Changed venting.
4 years ago
Feeding 1 liter half strength nutrients per pot. Week 4 recipe. 6.1ph. removed some bottom leaves.
4 years ago
Getting big fast. Topped Tahoe OG #2 it looked strange.
4 years ago
Watered 700 ml fresh. Most have 2 nodes.
4 years ago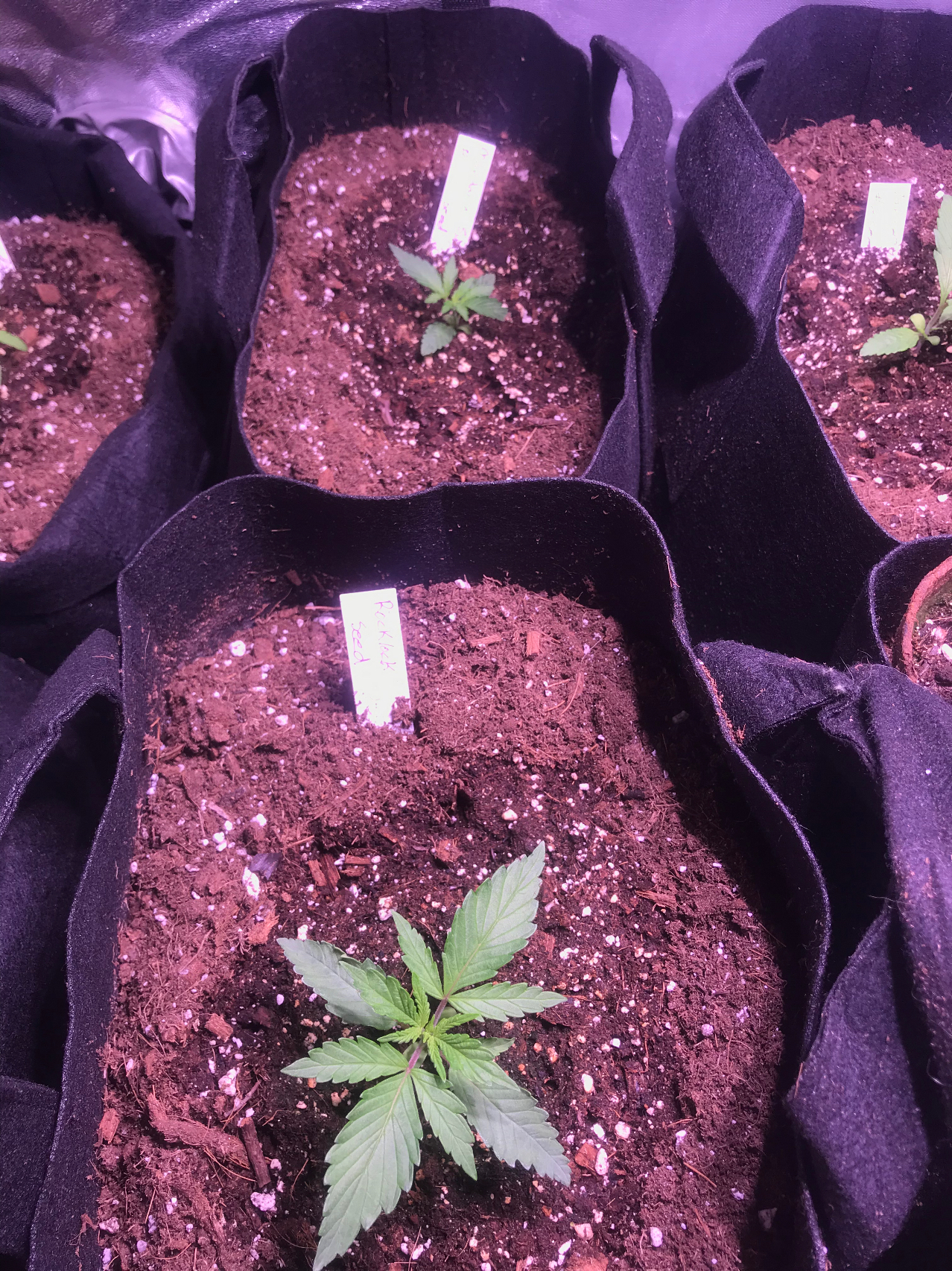 Starting 12/12 light cycle. All look strong.
4 years ago
Watered half strength nutrients. 700 ml. 6.1 ph
4 years ago
Getting bigger. Just a misting
4 years ago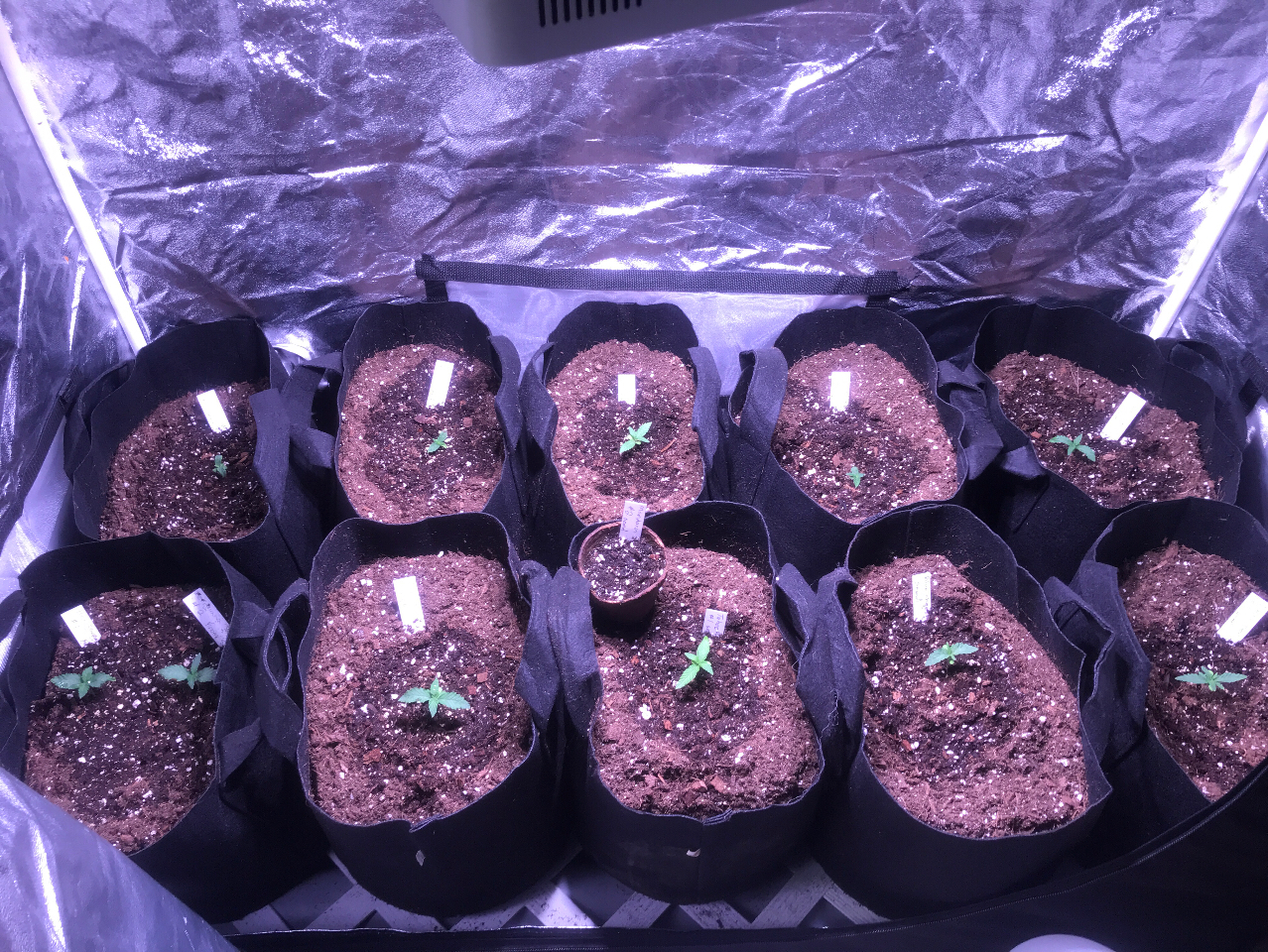 Watered half strength nutrients 500 ml @ 6.0 ph
4 years ago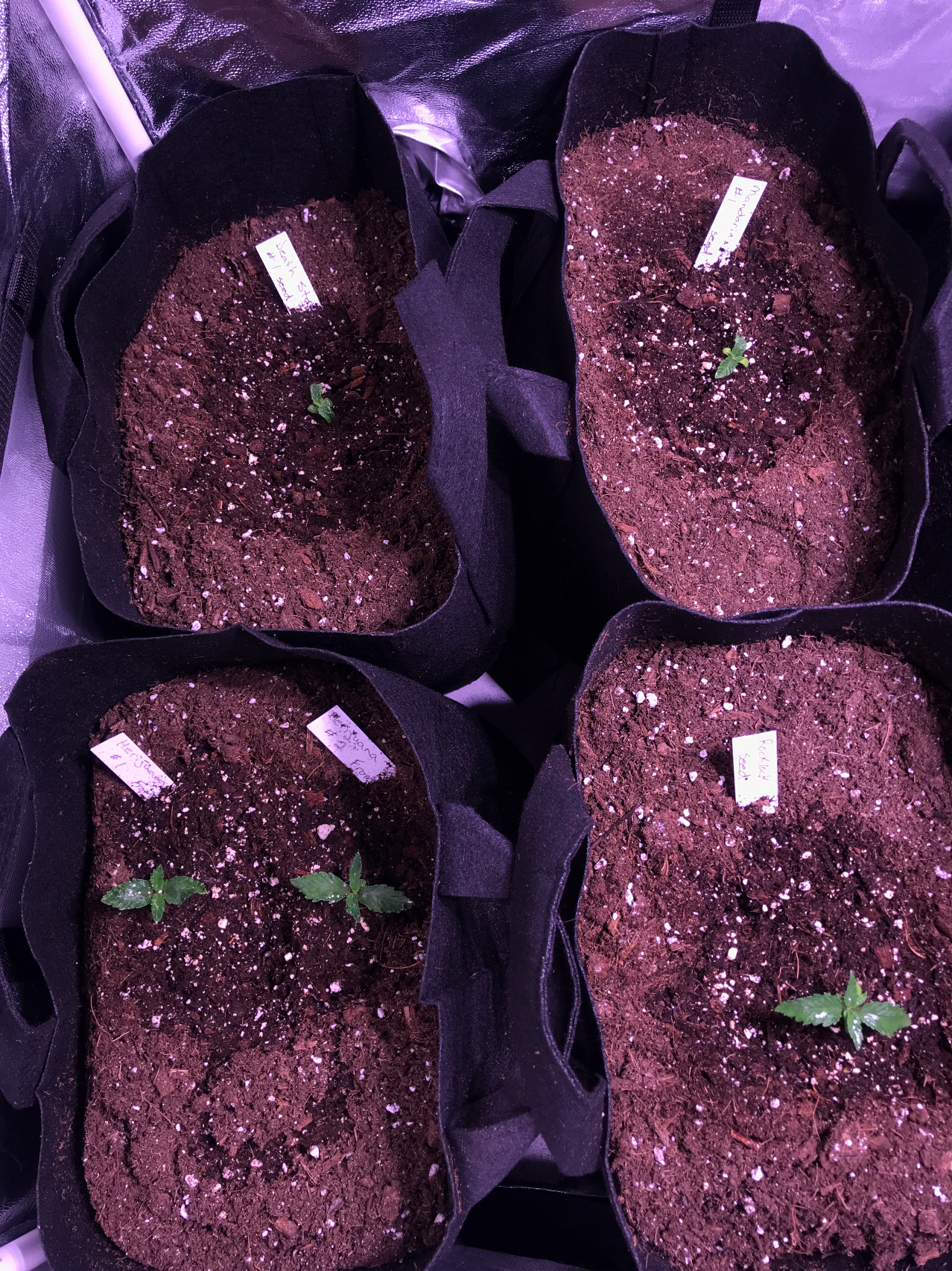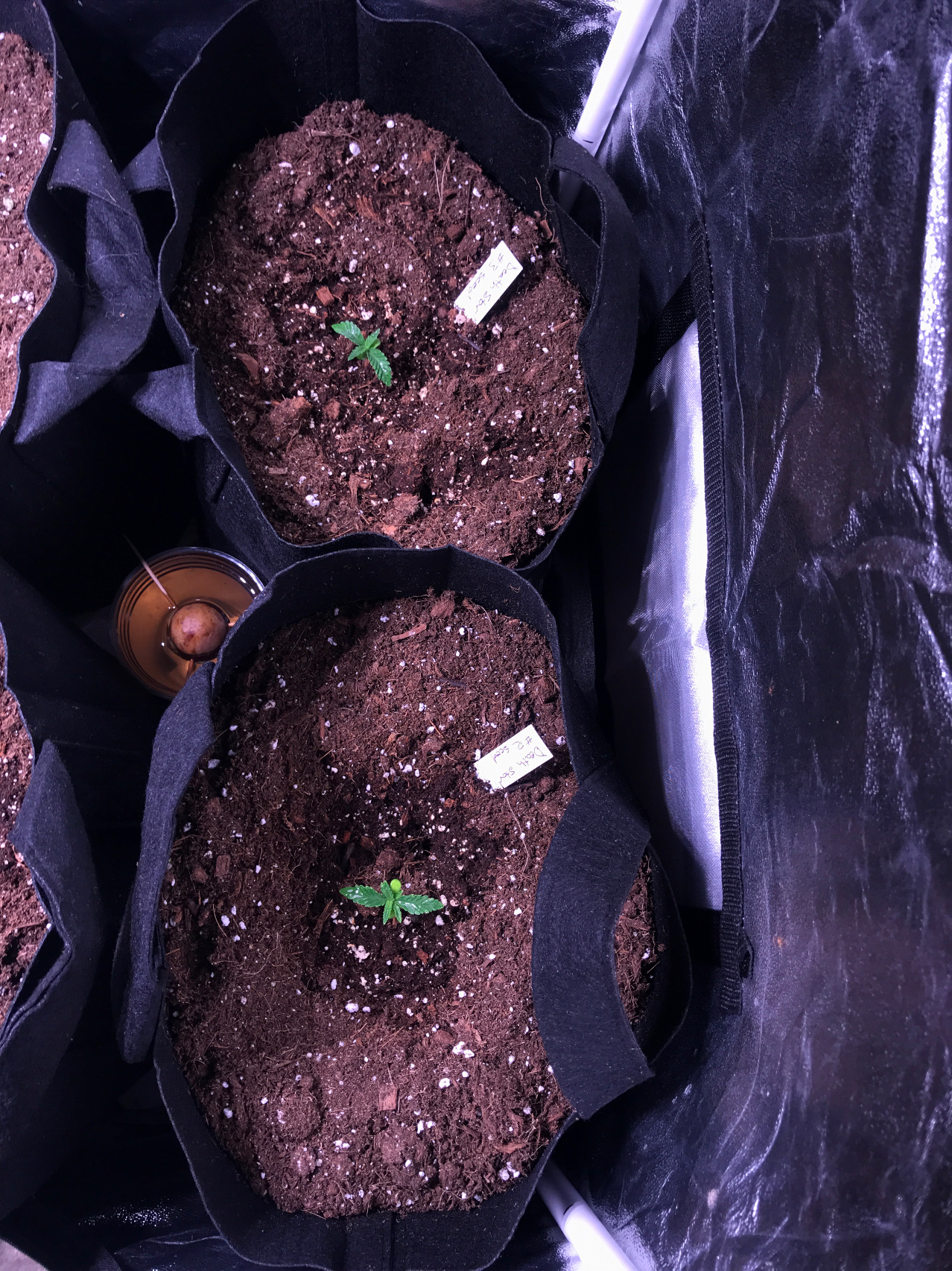 Spraying with flowerkiss twice daily on non water days
4 years ago
Potted into 5 gal felt bags. Watered fresh about 750 ml each. Switching to 16/8.
4 years ago
Watered fresh at ~6.1ph. Most are over two inches. New Mandarin seed hasn't sprouted yet. Had been 77' and 55%.
4 years ago
Seedlings 1"-2" tall. Replaced Mandarin Sunset#2 original appeared very traumatized. Watered with half strength nutrients.
4 years ago
Seedlings. 76' 55%. Morning
4 years ago
All of them have sprouted. Soil is still wet. Added 40 ml. Of half strength seedling mix. Good run off. 75' 50% steady.
4 years ago
Some are popping up already.
4 years ago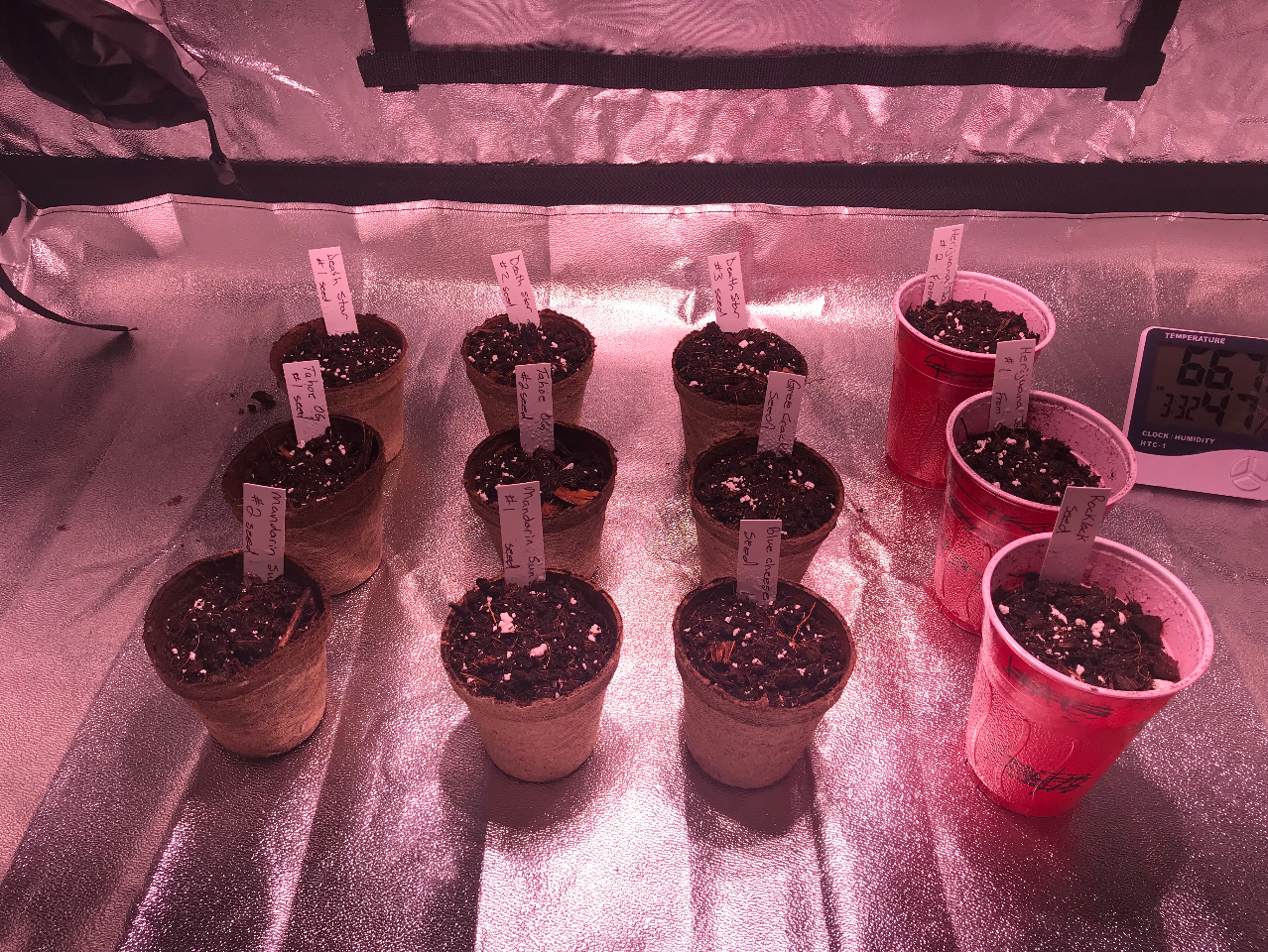 Germinating. Hoping for 8 females.
5 years ago