joshin_yah
Cream caramel autos 2x
Growing in coco advanced nutrients
Growing in Cyco coco pearl and advanced nutrient line
Cream caramel sweet seeds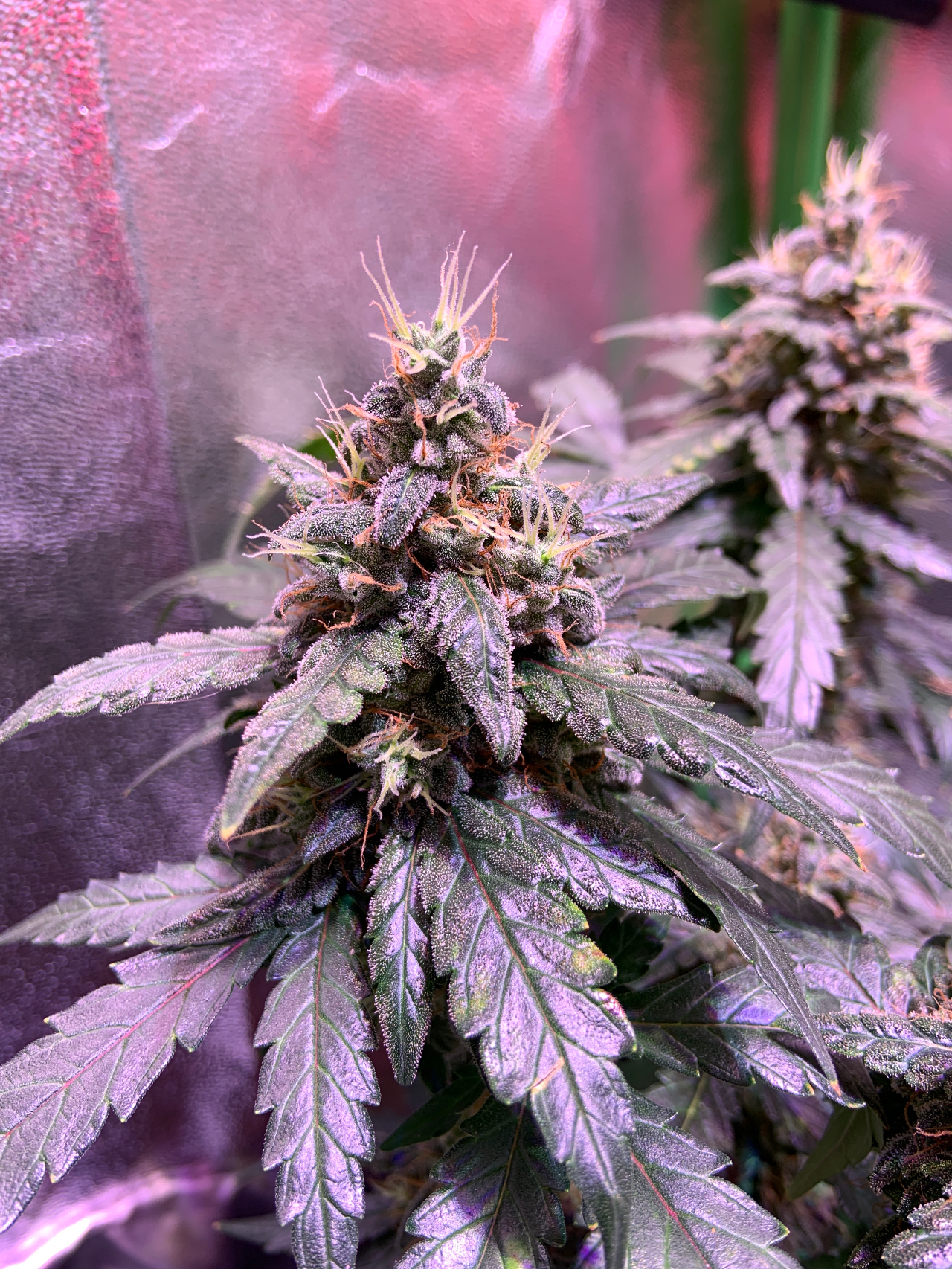 Both girls are super sticky and ready for flush.. wishing I would have upped there ppms sooner .. but I'm still pleased
4 years ago
She's a little unhappy I recently raised her ppm
4 years ago
Yes believe it or not those two colas in the back are the very bottom branches on the plant.. it has shot out higher than the mains .. I raise my ppm to about 870.. the crack jack hates it and the cream caramel eat it up!! I have to continuously clean up there bushy leaves all in all looking good
4 years ago
Both girls are looking great, and creating some nice colas, both have a nice even canopy, some of the bottom branches have passed the top colas that have been tied down and readjusted numerous time, they started there bloom nutrients, which amazon messed up and sold me two part A, so the plants a missing a few ingredients, still looking good, they should be ready to go with another watering with both a&b on Monday or Tuesday! Oh merry Christmas btw!!
4 years ago
Tweak What type of lights are you growing under?
Starting to get a nice even canopy, you know them lower branches on YOUR autos that only produce popcorn nugs, welp mine are at the top with the other main colas, if you don't top 1 practice leaf tucking 2 and low stress training 3; early your gonna be stuck with yes a beautiful plant when it buds, but anyone can put a seed in soil and let it grow just straight up and down, like a bud on a stick, if you want nice yields then be sure to practice those three things when growing
4 years ago
Tweak Is she turning purple or are those your lights?
Joshin_yah Probably the light, there's not much purple on these yet, not sure if this strain even turns purple..
Tweak The ruderalis genes for auto flowering must be giving her those narrow leaflets. Have you ever grown this or the original before, looks like she's getting ready to start releasing her scent. Let me know how she smells when she does.
The one CC that had a deformity in the beginning, is now the stronger of the two plants, they are really bushing out due to the LST I keep readjusting, maybe one more watering of grow nutes, try to let them get there last stretch in.. I'm still learning on the low stress training but I'll tell you one thing I will never go back to just letting the autos grow like a bud on a stick look.. but to each is own !
4 years ago
Tweak Hey, thanks for the comment, your girls are looking great, I can't believe how fast yours are flowering. This is my first grow not using autos, my other grows were from FastBuds auto LSD-25 and GSC. What nutes are you using in you coco? I'm using sensi coco from advanced nutrients.
This girls are extremely bushy ..
4 years ago
The girls got watered today with their normal feeding of Sensigrow a&b 1ml each Cali-mag 1ml B-52 1ml Sensizym 1/4ml Also had to re-tie the LST, brought down the topping branches to try and make it more even! The main branch looks like an S .. both of them are bushing out nicely, and have been habitually leaf tucking! It definitely helps, instead of stressing out the autos and cutting them at a young age.. either way works..
4 years ago
Both of the girls have responded to the LST nicely, one got a later start on the low stress training due to how short she was, but has recently had a growth spurt! Looking good had some humidity /heat problems in the veg tent, but finally got it fixed, added a inline fan to suck the hot air out! Finally I don't have to keep checking the tent, next is a humidity controller , even though I'm sitting at 43RH I want to eliminate this bulky vornado humidifier.. maybe a bigger tent but the wife will kill me!! Either way the plants are looking good and I'm excited to get them in the flower tent with the optic2 and watch these girls take off!!
4 years ago
Just got water and nutrients yesterday looking good.. little yellowing on the bottom leaves but it's because of water stress my humidity fan was running constantly yesterday
4 years ago
Did some early veg LST, only on one of the cream caramels, the other one is growing a little slower, so I'll just let her do her own thing!
4 years ago
Looking good!! There getting bigger and I'm excited to see how they turn out!!
4 years ago
They just got transferred to a 3x2x3 which is now my official veg tent under the viparspectra! They just got there 3rd week of nutrients which was Cali mag 1ml Sensi-grow coco a&b 1ml each B52 1ml They are looking good and I'm hoping this new veg tent works out, I wanted my plants that are flowering to get a full potential of which ever light they are under! And wouldn't be fair if I had plants vegging in there with them!
4 years ago
Picture one is cream caramel #1 and pic two is the second one. Looking Healthy!! even the second cream caramel that came out with a deformity, has sprung up and is doing great!! Can't wait to see them flower!!
4 years ago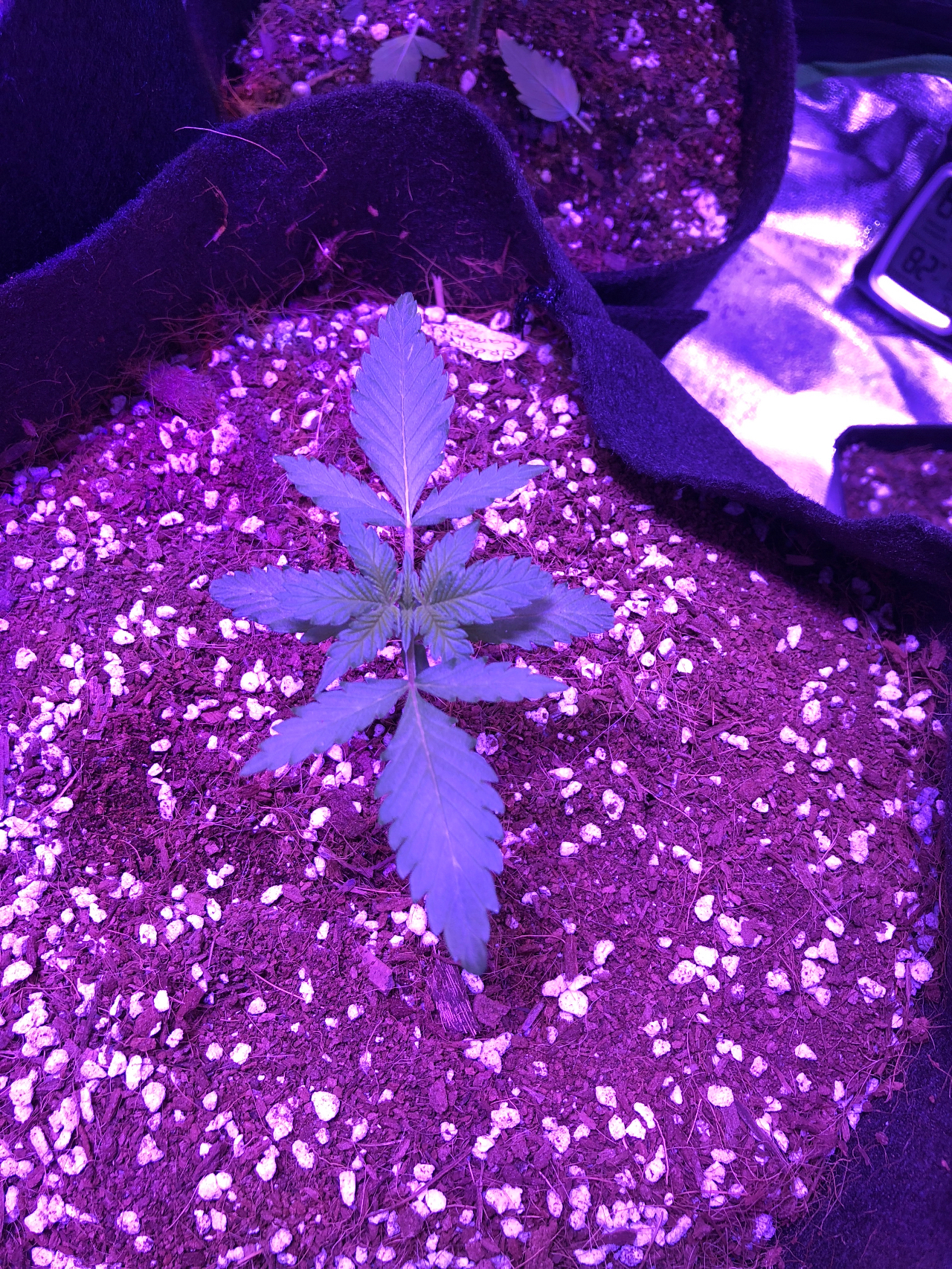 Looking good so far on both of the progressing nicely
4 years ago
🌱 looking good
4 years ago
Veggies...:by next week should be ready for some LST
4 years ago
Just got there week 2 of nutrients Cali-mag 1ml Voodoo juice 1ml Tarantula 1ml Sensi-grow a&b 1/2ml each 1ml whole B-52 1ml In 1L of water split between both cream caramel autos
4 years ago
18/6 straight to final pot 3g smart pot, in Cyco coco pearl, with my mykos. I gave it in week one just RO water, week 2 gave advanced nutrients cali-mag, voodoo juice, tarantula, sensi grow a&b, using a quarter or half of what they recommend, less is more!! Learning from my first autos! Tomorrow will be week 3 of veg and I will be watering again the same way...
4 years ago