footballrain7
First grow
Summer 2019
3 banana punch, 6 Shit mid seed under a 315Wcmh with a 6" exhaust fan in a 5X5 tent. Testing the waters with this first grow and adjusting to the learning curve as I go.
Banana punch and shit mid bagseed
Just posting to update status Of the girls
4 years ago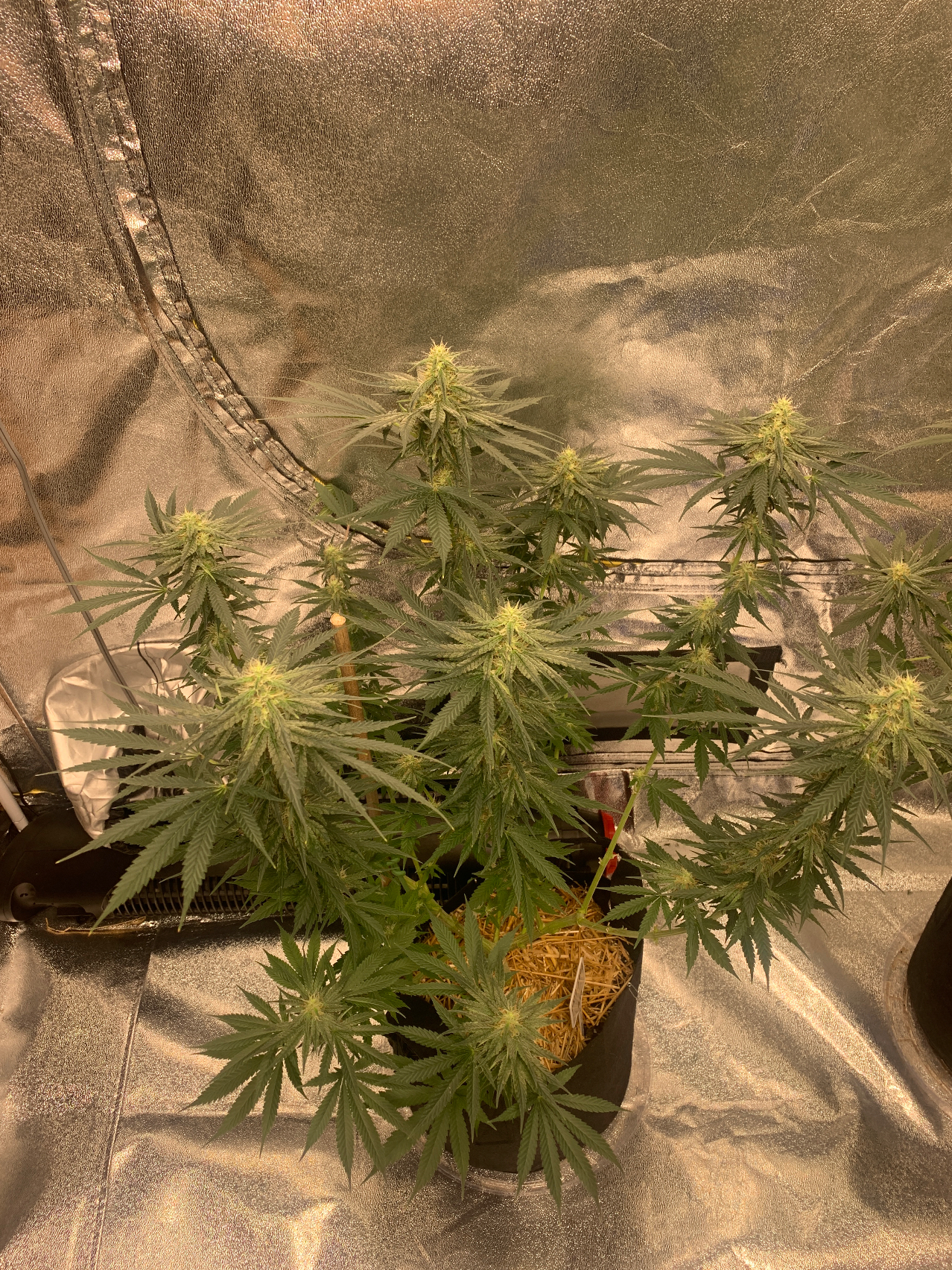 Been sick this week so really slacking on my documentation. Just been feeding regular pH'd water. Autos are getting more purple spots by the day. Should harvest in less than 10 days.
4 years ago
Mystrain420 They're looking good. U going by eye or a microscope?
Footballrain7 I have a microscope I just bought that plugs into my phone. No Amber trichomes yet on the auto. 🤦🏻‍♂️
Fed with a Banana, Mango, and Apple FFJ tonight. 5ml per gallon so 25ml of each into 5 gallons of water. Defol took place last night. Allowing light to penetrate all the way through to the bud sites.
4 years ago
Defoliated abunch of fan leaves to expose bud sites. A little late on doing it but live and learn... feels less crowded in the tent now with those leaves thinned out now! Fermenting some more FFJ and starting some FPJ tomorrow.
4 years ago
Pics actually from day 76 forgot to post them here.
4 years ago
Watered tonight after getting too drunk last night and not being able to water them. 🤣🤣🤣 they were a tad too dry but not too bad that a little water didn't fix. I also fed the girls with a Banana and Mango Fermented Fruit Juice mixed into their water. 5ml per gallon of water. 25ml into a 5 gallon bucket. Help build the Myrcene profiles in the buds and add potassium to thicken buds up for the last few weeks of flower! I will be feeding them banana,mango, and apple FFJ next week! Apple is high in Terpinolene which is a natural sedative. So definitely want to feed the girls with that as well once I get my apples fermenting! 🤘🏻💯
4 years ago
Mystrain420 They looking great. Interesting information also I knew that banana was good, but never read anything about mango or apple
Watered tonight. Buds are developing more and more on the photos and the autos are REALLY stacking up! Hoping to be feeding with some FFJ and Organic LAB's in the next few days to a week to increase microbe activity and the added nutrients that brings. I have a mango and banana FFJ fermenting currently and rice LAB's. 🤘🏻
4 years ago
Girls are progressing getting stronger and stronger. Getting REALLY big. Fan leaves are getting HUGE
4 years ago
Watered tonight. Can tell the nutrients are kicking in. These girls are growing more and more each day. Stronger and stronger. Going to start LABS and Teas tomorrow. 💯
4 years ago
Mystrain420 Looking nice..how far into flower are they?
Auto is finally starting to STACK. UP. Gotten a lot thicker in the last 2 days. I think that top dress is starting to kick in now! Can't wait to see what these beauties look like in another week! 😍😍😍🤤🤤🤤🤤
4 years ago
Just watered and added straw mulch to the top of the soil to hold moisture. Girls are continue to grow like crazy with little to no issues! Been a very good grow so far! 🤘🏻
4 years ago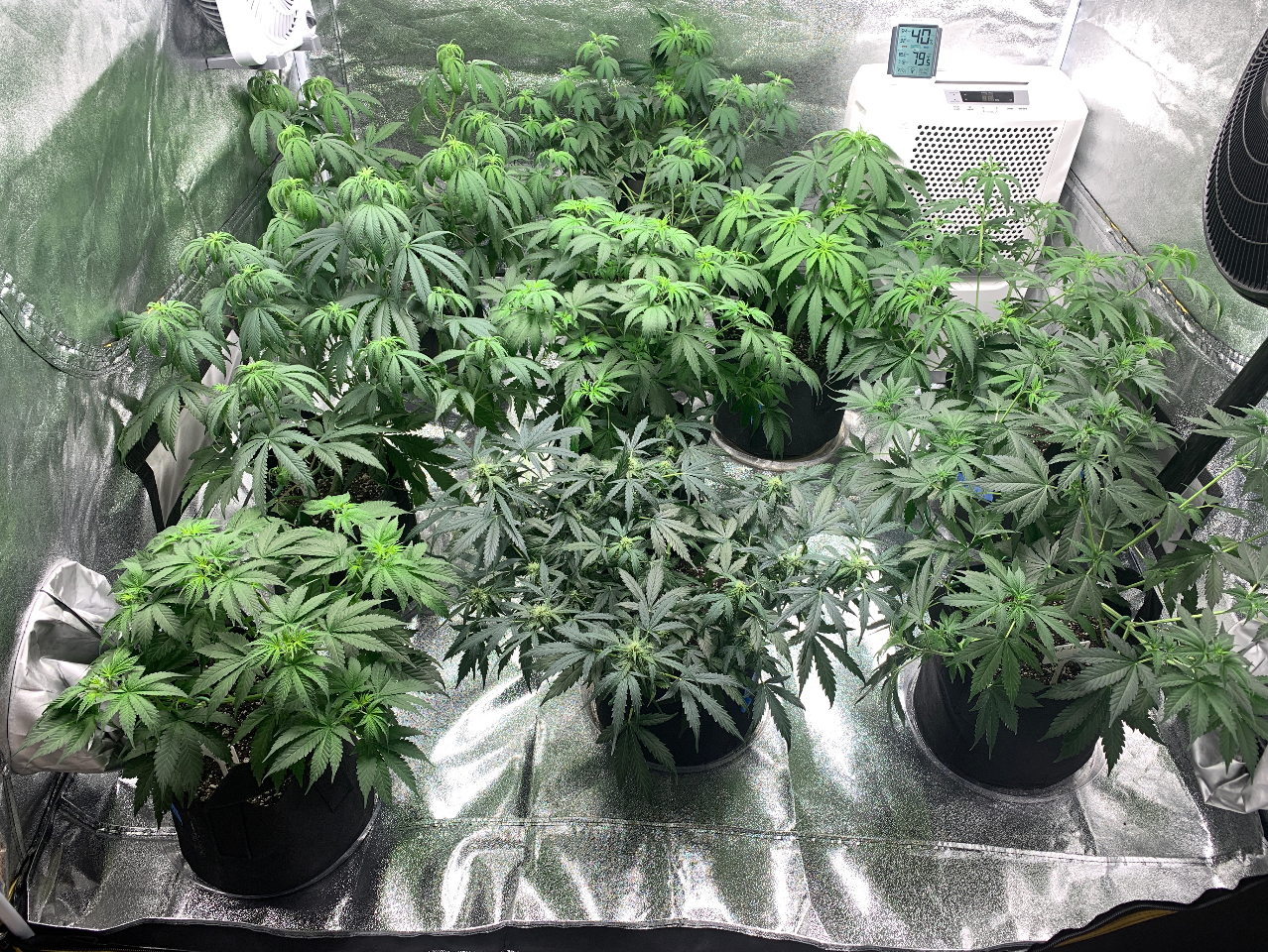 Just top dressed with 1 tablespoon of dolomite lime, 3 tablespoons of kelp mix, and 4.5 tablespoons of Dr. Earth Flower Girl. Remounted my fan temporarily until I get a better one. Redneck engineering. Needed more floor room. 7 of the 9 have started flowering! 🤘🏻
4 years ago
Slowly progressing in flowering. Far back row in the middle showed its sex and it's a female! Top dressing tomorrow night with kelp meal and flower girl! Can't wait to see what these girls do after the top dress! 🤘🏻🤘🏻🤘🏻
4 years ago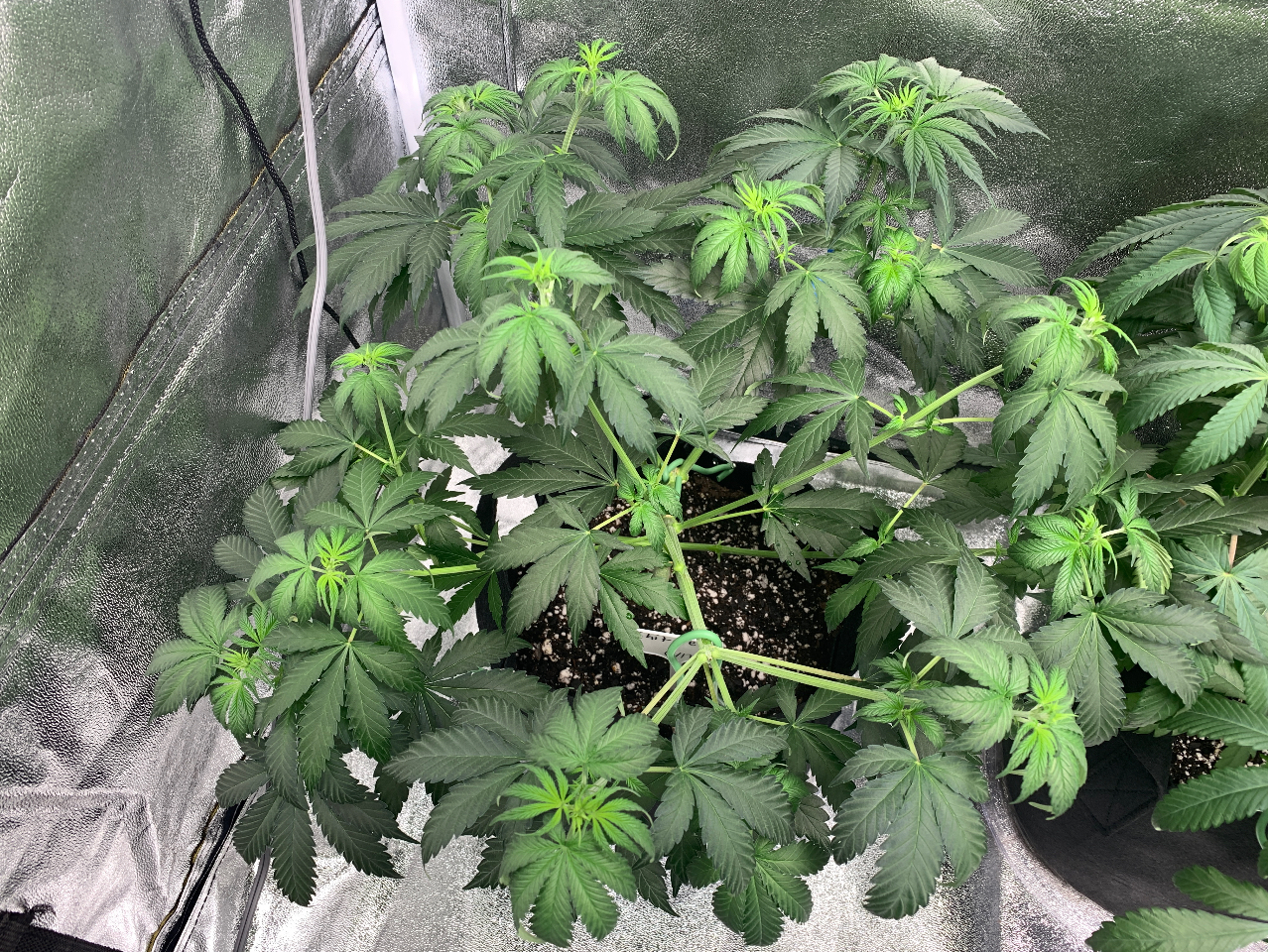 Just lollipopped and watered. Top dressing Saturday! Can't wait to see how they boom after all the changes!
4 years ago
Mystrain420 Are u flowering in a bigger room or just a few at a time?
Footballrain7 No. I'm vegging and flowering all in the Same room. Just a small personal grow for myself to have plenty to make oil, infusions, concentrates, etc.
Mystrain420 Oo ok looking good I just asked because it looks like it'll be tight in there when the flower stretch happens.
View 22 additional comments
Can't believe the growth I'm getting day to day. Fan leaves are huge on some of the plants. Getting BIG!
4 years ago
Had to put dehumidifier back into the tent. It wasn't getting my humidity down below 50%. Holding at 45% now. Watered tonight. 2nd day of flowering. Currently at 73 degrees.
4 years ago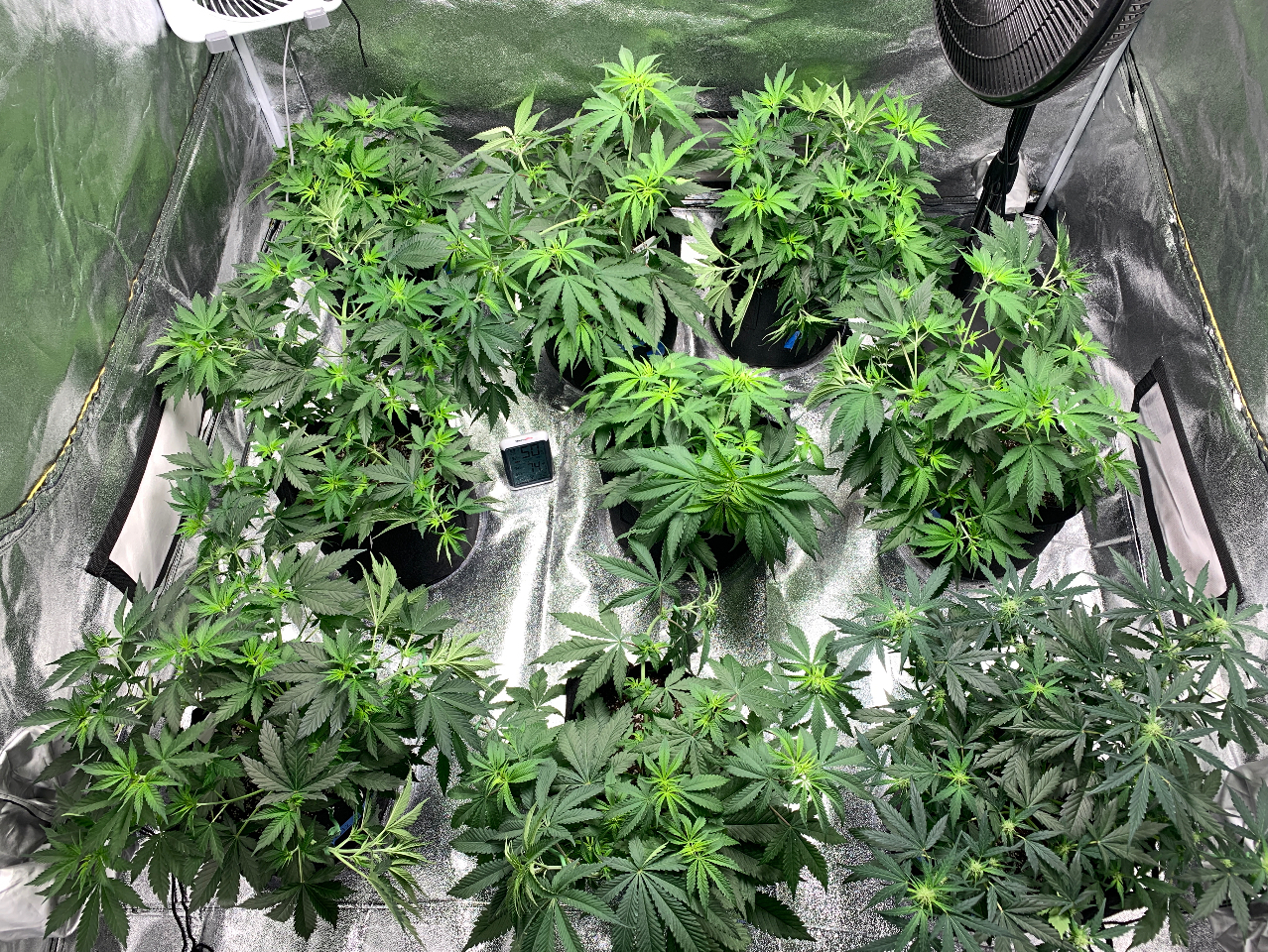 Plants just flipped to 12/12. Getting some real height! Pulled the dehumidifier to the outside of the tent for some more space.
4 years ago
Just keeping track of growth. Did some more LST. 🤘🏻
4 years ago
Adjusting lst today. Watered yesterday. Plants continuing to grow like crazy. Added dehumidifier a few days ago to knock my humidity down to 55% from 70%. Temps averaging between 79-69 degrees over 24 hours. Humidity averaging from 58-46%. Snapped the main stem a few days ago and didn't tape it back right. The 15% that didn't rip made a knuckle so to speak and the main stem is doing fine and growing. 🤷🏻‍♂️👀💯
4 years ago
Plants are absolutely booming still. Just watering every 3 days. Temps are maintaining at 75-79 degrees and 50-55% humidity. Just had to add a dehumidifier to the tent to keep it out of the high 70's humidity wise. Besides that, nothing else changed minus taking the ac out for a dehumidifier. Can't wait to see how big they are in a week! 🤘🏻🤘🏻🤘🏻
4 years ago
Adjusted LST. Made changes to fans elevating the air flow and using better fans. Watered yesterday. Planning to flip to flower August 1st. Want to keep these girls small. 🤘🏻
4 years ago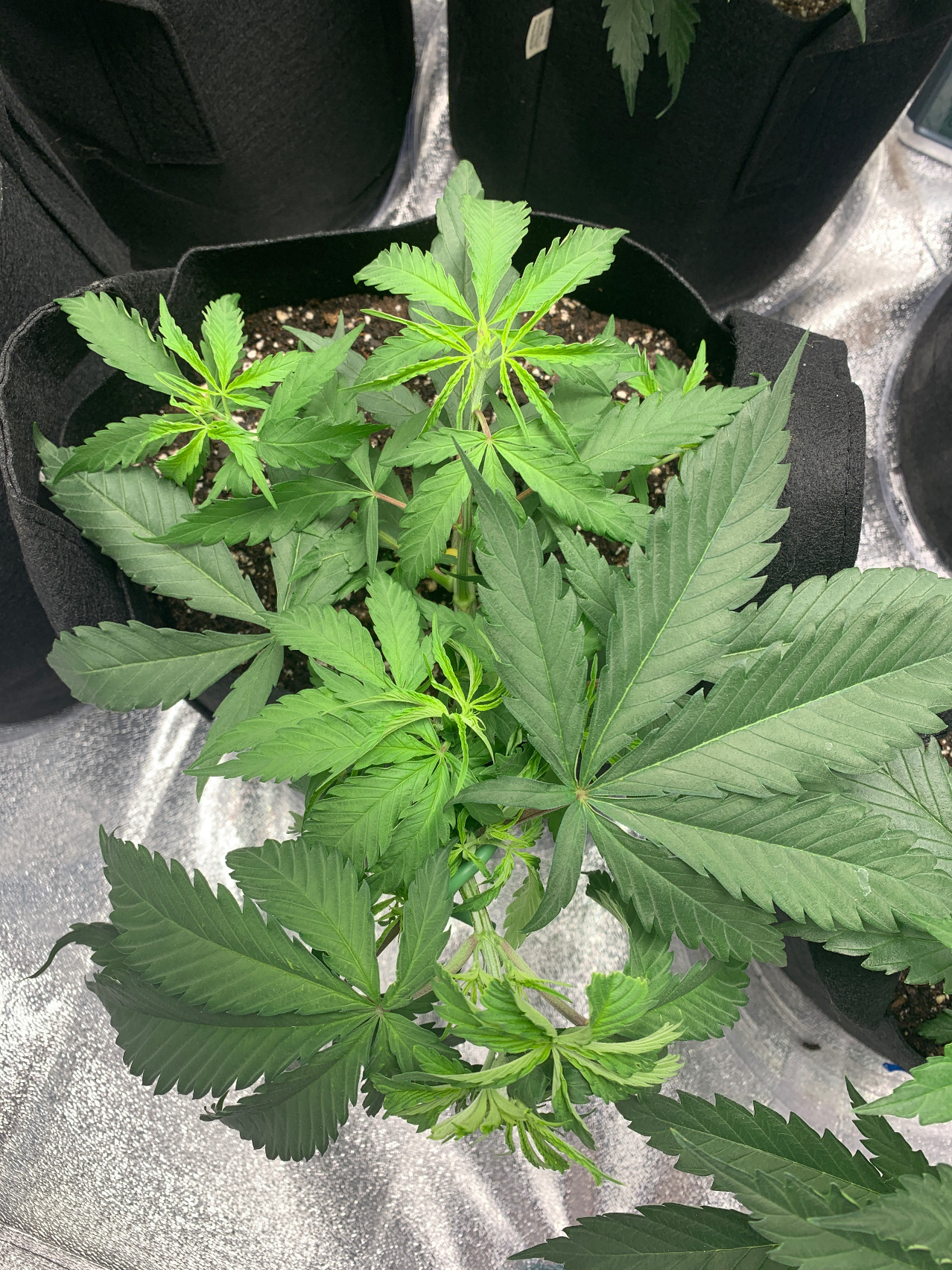 Continuing LST. Plants are shooting up besides one little one. Day by day getting more and more bud sites! Can't wait to flip to flower and see these plants bud!
4 years ago
Just put in 2 240W Meiju quantum boards and these girls are happy! One is showing its sex and it's FEMALE!
4 years ago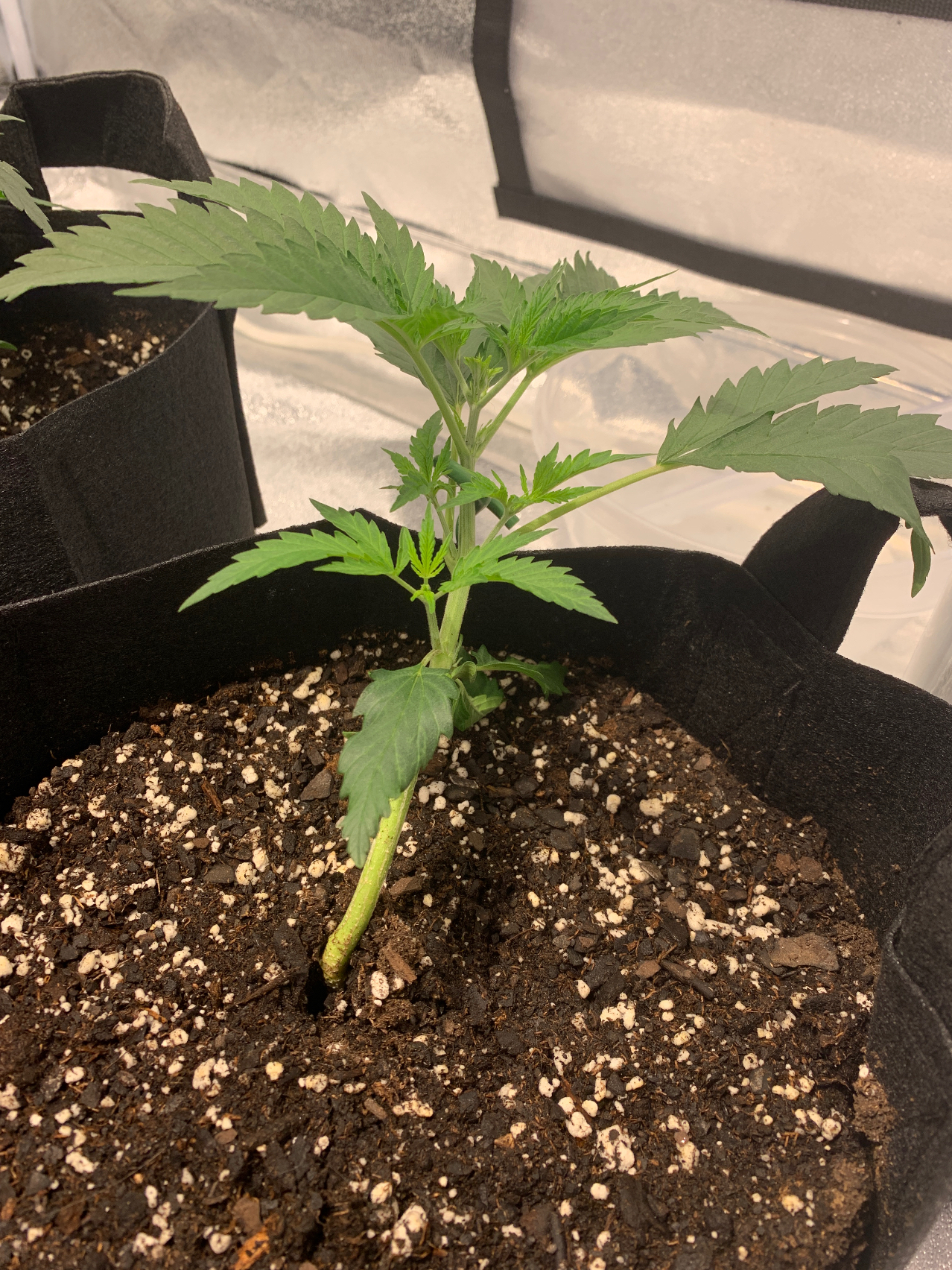 24 hours after starting LST and bending the plants over. Definitely seeing some new strong under growth emerging. 🤘🏻
4 years ago
Just tied the girls down. Little bit of lst letting the undergrowth get some extra light. And also watered them. Should be good for a few days!
4 years ago
Plants are about 6-9 inches tall now. Just transplanted to 3 gallon pots 2 days ago. And I fim'd all of the plants today. No shock or real damage being shown. They just keep growing significantly! Doing a rushed veg of about 5 weeks. Then flipping to flower to hurry the yield on this grow for personal stash until I get the second grow yielded. I used bat guano, perlite, dolomite lime, and EWC (earthworm castings) to amend the soil going into the 3 gallon pots. Hope that helps aid their growth! 🤘🏻🤙🏻
4 years ago
Banana punch are outgrowing the bagseed by a mile. 2/3 banana punch already have an odor!
4 years ago
Mystrain420 They're looking nice bro but y so much stem showing they'll grow better if the stem is covered deeper with only about 1-2" out the dirt
Footballrain7 They were in a window sill the first week of their life. And that caused major stretching. I've been trying to correct it since they were put into the tent. They've gotten a lot better lol but definitely been correcting that! 🤙🏻
Plants are growing more and more every day.
4 years ago
Klaus42 They're stretching for light that's why they're "growing like crazy" it should stand up on its own without falling over and not look so lanky. But if you transplant them and bury them deeper into the soil and get them under a grow light then you could be ok but they may be stunted a little already.
Footballrain7 They were put into a window sill for a week before I got my pod fully put together. They were reaching towards the window badly those days. I'm still making adjustments. May repost them tomorrow in a one gallon fabric pot!
Don't have an exact date. But this is the latest footage.
4 years ago