New To This
3/18/21
I have a 4x4 grow tent while using (2) two 1000 watt LED grow lights for my first ever grow and plan to experiment with different lights and different grow tents/rooms in the future. But for my first grow... let me know what you think! Im open to all tips and tricks! Please give me knowledge! Thank you!
Not ready to harvest yet but snipped one little bud at the bottom of the plant to dry and try and this is what it's looking like 2 days after drying
2 years ago
Started the flower stage 35 days ago. I started with 6 but ended up with 3 males so I have 3 beautiful females left and they are growing everyday. In image 5 in the back left corner... that little plant I'm just trying something out with! I don't have any pictures in natural light but I will get some and post! But other then that let me know what you guys think!
2 years ago
Way to much leaves! Had to do some trimming!
2 years ago
Transplanted all but 1 into 5 gal bucket. I ran out of soil. But will have the last one in the 5 gal bucket sometime today. But could anybody explain to me why they look so sad? Is it from the transplant? I'm stuck!
2 years ago
After I transplanted them into 5 gal buckets yesterday they were looking real sad! But today they are back to normal and smiling again!
2 years ago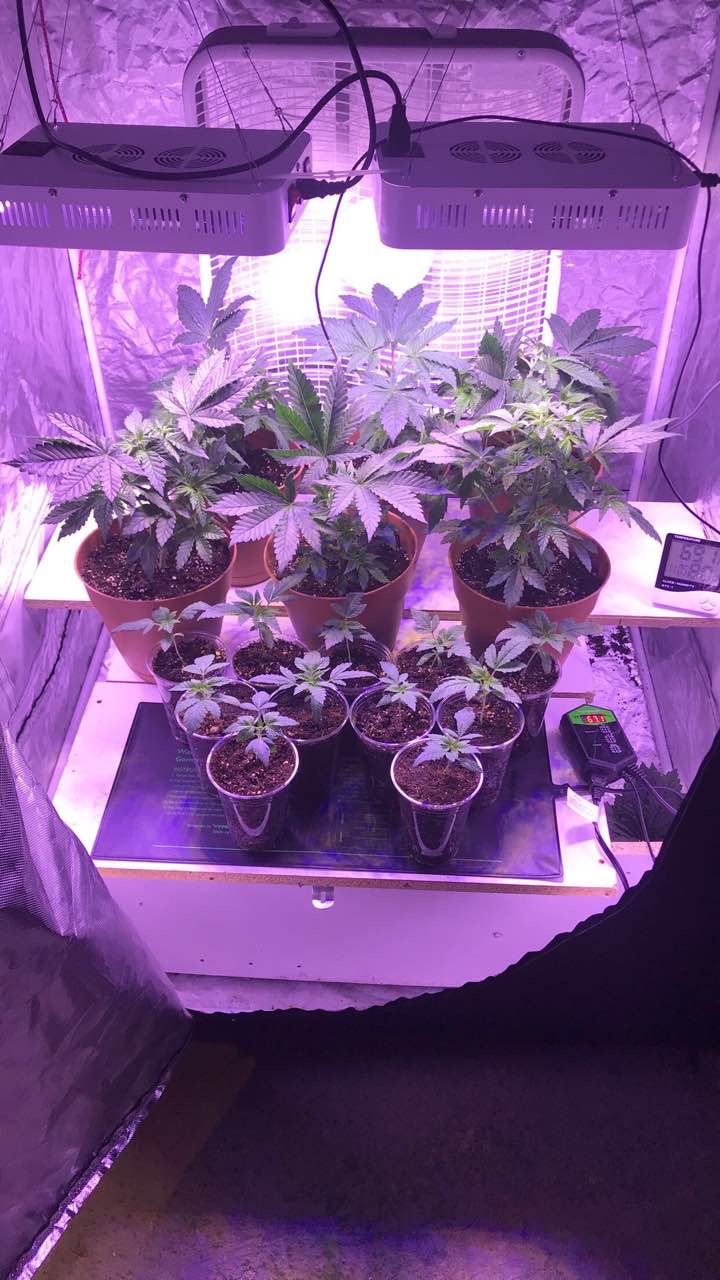 Growing Strong! Waiting for my 5 Gal Cloth Buckets to get her to transplant.
2 years ago
Update! Any advice or concerns I'm more then happy to listen!
2 years ago
On 3/24 I topped 4 of plants. 3/29 these are what they look like
2 years ago
Will I need anything else other then this?
2 years ago
Rate the set up
2 years ago
Mr.BlueGrow That depends the lights look a little too close to the new plants are you gonna burn your shit before you even get it started depending on the wattage of the lamp but you do what you Gotta do
Sk3rt Sweet & Sour Chicken they are (1000W LED Grow Light, Dual Switch & Dual Chips Full Spectrum LED Grow Light Hydroponic Indoor Plants Veg and Flower(Actual Power 135W)
View 29 additional comments
Do they look alright for 10 days old
2 years ago
Mr.BlueGrow You're not feeding her supplements and you're using an LED light I wonder how close it is
View 63 additional comments
Got a couple more seedlings coming in
2 years ago
Mr.BlueGrow Then you might be on your own why does advice make sure that the lamps aren't that close so you don't burn your product
Mr.BlueGrow Make sure that the pH levels are right with the water if not you're gonna have some very messed up plants very soon