bestbuds
Gold Leaf (Feminized)
Gold Leaf
Excited to grow this strain! It will be my first indica dominant plant!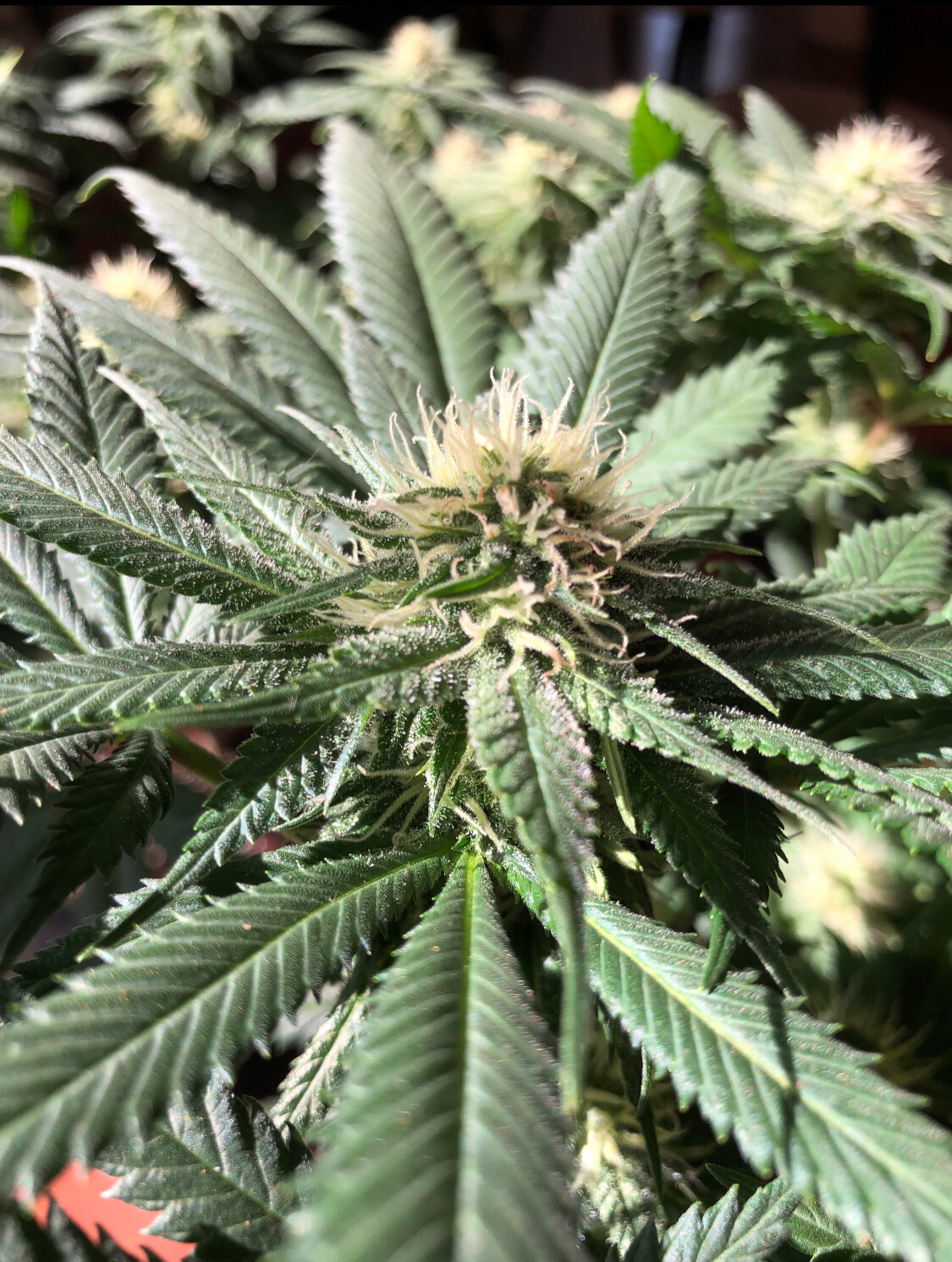 Plant has been doing great! She seems to have recovered from the nitrogen deficiency she had. When trying to correct the nitrogen deficiency I ended up causing a nitrogen toxicity that I have been flushing out the past couple days. I put her in a Super Lemon Haze plant in the sun for about two hours yesterday. I gave both plants a decent amount of nutrients and watered with a gallon of water each🌞 I am about done with low stress training because her stem has started to thicken and become stronger. She doesn't have as many bud sites as my super lemon haze plan but I think she's going to be a beautiful harvest🌱
4 years ago
Still looking so good. Her shape has been hard to fix because each lateral bud site becomes so tall if I don't have it secured. I'm not too worried about it, the whole plant is healthy and I have room for her odd shape😂
4 years ago
She is growing beautifully, but I should have done a better job with LST. I have created an oblong canopy. I should be able to fix it with some more attention! Other than that she is thriving! No new signs of Nitrogen deficiency or pH imbalances which I was worried about!😁 I took some time trying to LST her into more of a circular canopy! Will update soon to show what happens🌱 She has an impressive amount of bud sites that are all thriving and producing buds🌞
4 years ago
Well, I was finally hit with my first big deficiency. It seems that I caught the deficiency fairly quick as the very two bottom leaves were the only ones that were majorly affected. I took a look at the symptoms and figured nitrogen deficiency was the most likely cause💊. I made a nutrient solution that included a higher dose of vegetative formula that contains a good amount of Nitrogen. I gave her about 0.5 gallons of this fresh nutrient solution in hopes of restoring any unbalanced pH in the root zone and also correcting any Nitrogen deficiency. My Super Lemon Haze plant also started to show early signs of Nitrogen deficiency so I also gave her 0.5 gallons of the same nutrient solution. I was amazed to wake up the next morning to see that both plants were thriving and sseemed to have grown about 2 inches overnight. There is no new signs of the Nitrogen deficiency continuation. This was a very scary moment but a great learning experience😂. It seems that Nitrogen deficiency is fairly common when plants are switched over to flowering stage. Other than that both plants are growing so fast and looking so healthy at this point😁
4 years ago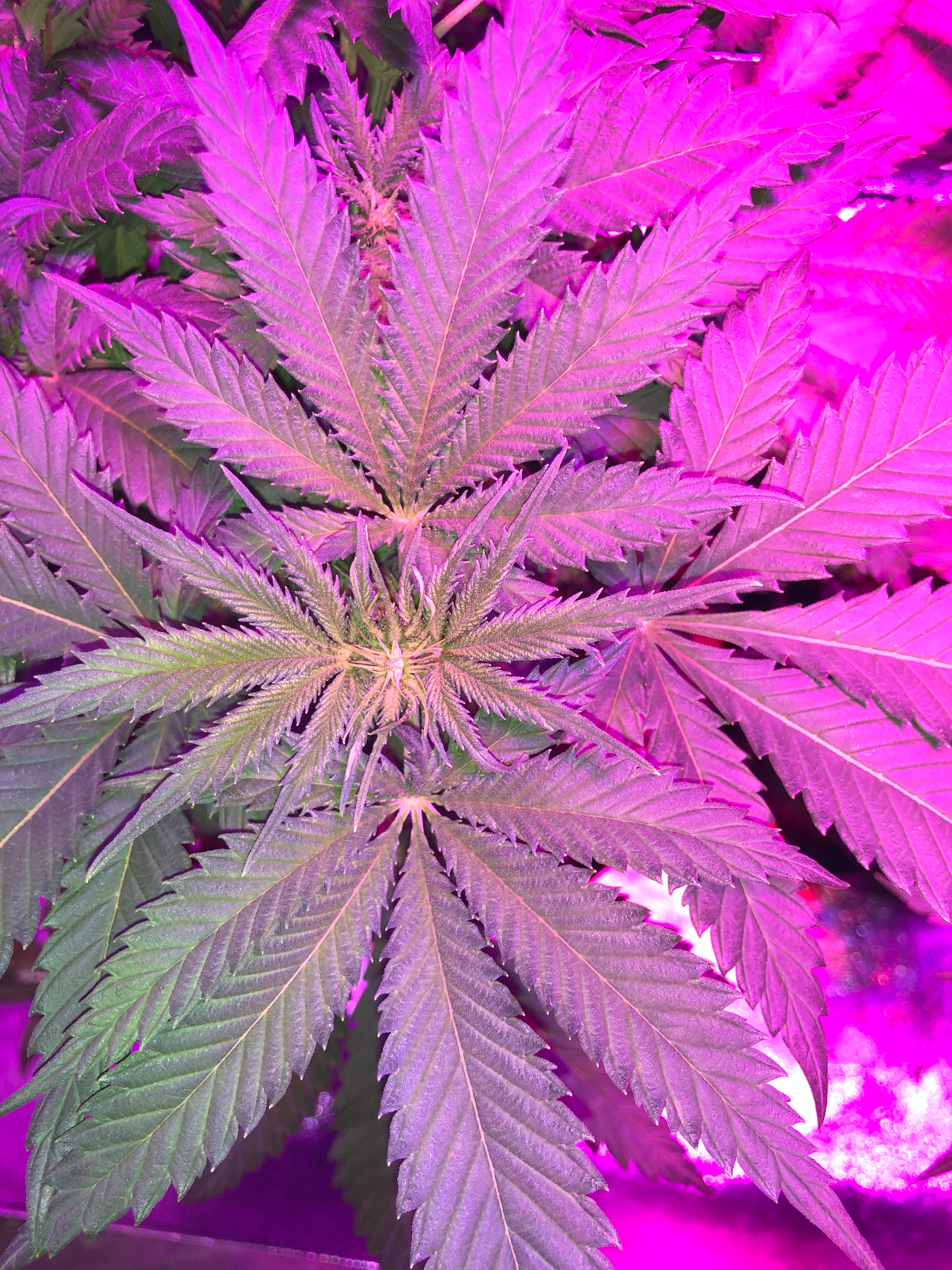 So here she is😂 She has grown so much the past few days, both length and width wise. She was about 8 inches tall the first day of her 12-12 light cycle change. She is now about 11! Her canopy and bud sites have continued to grow like crazy!!🌞
4 years ago
Indianboy Isn't it a little early to switch to 12/12 lighting??? I'm 1st time grower and I'm also on around day 45.
Bestbuds When you want to flip is up to you! Things like grow space and time constraints are usually big factors. The longer you veg for will lead to a higher yield but these plants will get huge if you let them. I think I timed it perfectly for this plant! She is doing great!
View 1 additional comment
Bad picture I know, but here she is! She responded so well to everything I did to her and I am so proud of her (and myself to be quite honest😂) The only big problem I had with her was early stage Manganese deficiency. This quickly stopped spreading after a day or two of foliar spray. You can see some on the left lateral fan leaf🍀 I did some very LST just to even out her canopy. These pictures are her last day with an 18-6 light schedule. She is now officially on a 12 on and 12 off schedule. I have learned SOOOO much about germination, seedling and vegetative growth from her, and the Super Lemon Haze plant I'm growing. These two are now preparing for flowering, can't wait to see some results🌺🍀🌞
4 years ago
Another picture with the lights off to show her true color🍀 She is doing so good! I topped her for the second time today and I think she will be fine! This is the last time I'm topping her. I plan to leave her alone for the next week or two and see if she looks healthy enough to start budding!🌺 The two clones I took from her seem to be doing okay. I need two more before flipping her to budding.
4 years ago
She is doing great😁 Took two possible clones from her lower portion, we will see if they live or not! She responded perfectly to topping, she now has two perfectly symmetrical stems 🌱 I might top her again one more time in a week or two. (4 colas is better than one🍀)
4 years ago
She's been topped🌱 I was able to take off a nice little amount of new growth to execute a pretty nice topping. Hopefully she recovers quick and I will be able to take a few clones before flipping her to flower🍀
4 years ago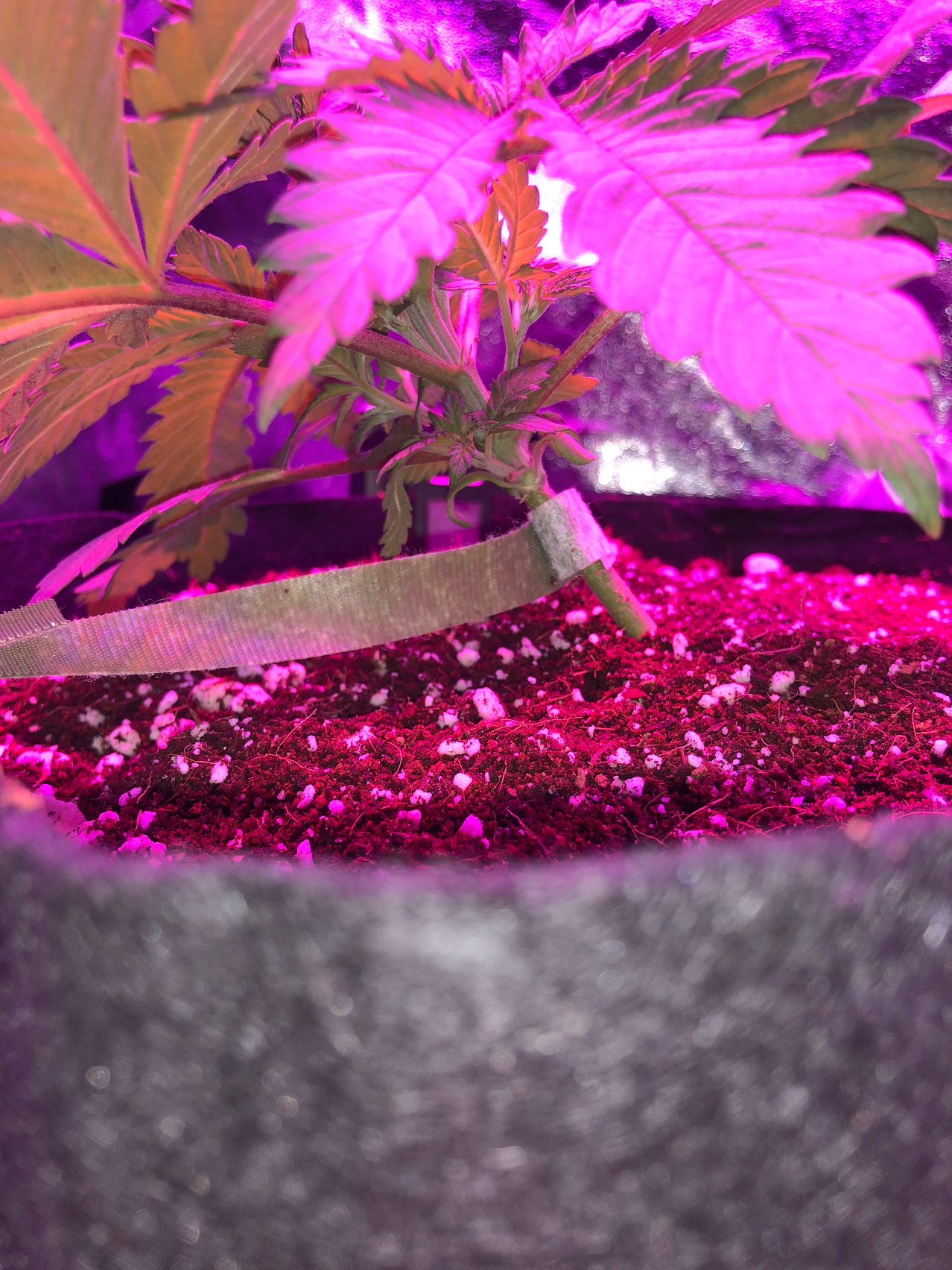 Started some LST! Just giving her a slight lean to expose some of her lower leafs that would normally be shaded🌞
4 years ago
She is doing well in her 5 gallon pot🍀
4 years ago
Got her into a bigger tent today😁 I will be taking a few clones from her soon to start a SOG in my smaller tent.
4 years ago
Looking so good🌞
4 years ago
Watered with some nutrients today🍀🌞
4 years ago
I honestly cannot believe how fast she has been growing. Looking like a tasty indica more and more everyday😈🌿
4 years ago
90% of the discoloration seen here is from my grow lights. Although, her first set of fan leaves look a little misshaped😂 I'm not worried about it, I'll probably end up clipping these in a week or two anyway. Other than that all of her superior central growth has been great! It's awesome to see the growth differences between Indicas and Sativas! Looking forward to taking some clones from her to create a SOG. After taking the clones I will probably move her into the bigger tent that I'll be ordering today! It will be her and my Super Lemon Haze plant in that tent. That way they will both be able to grow nice and big😁
4 years ago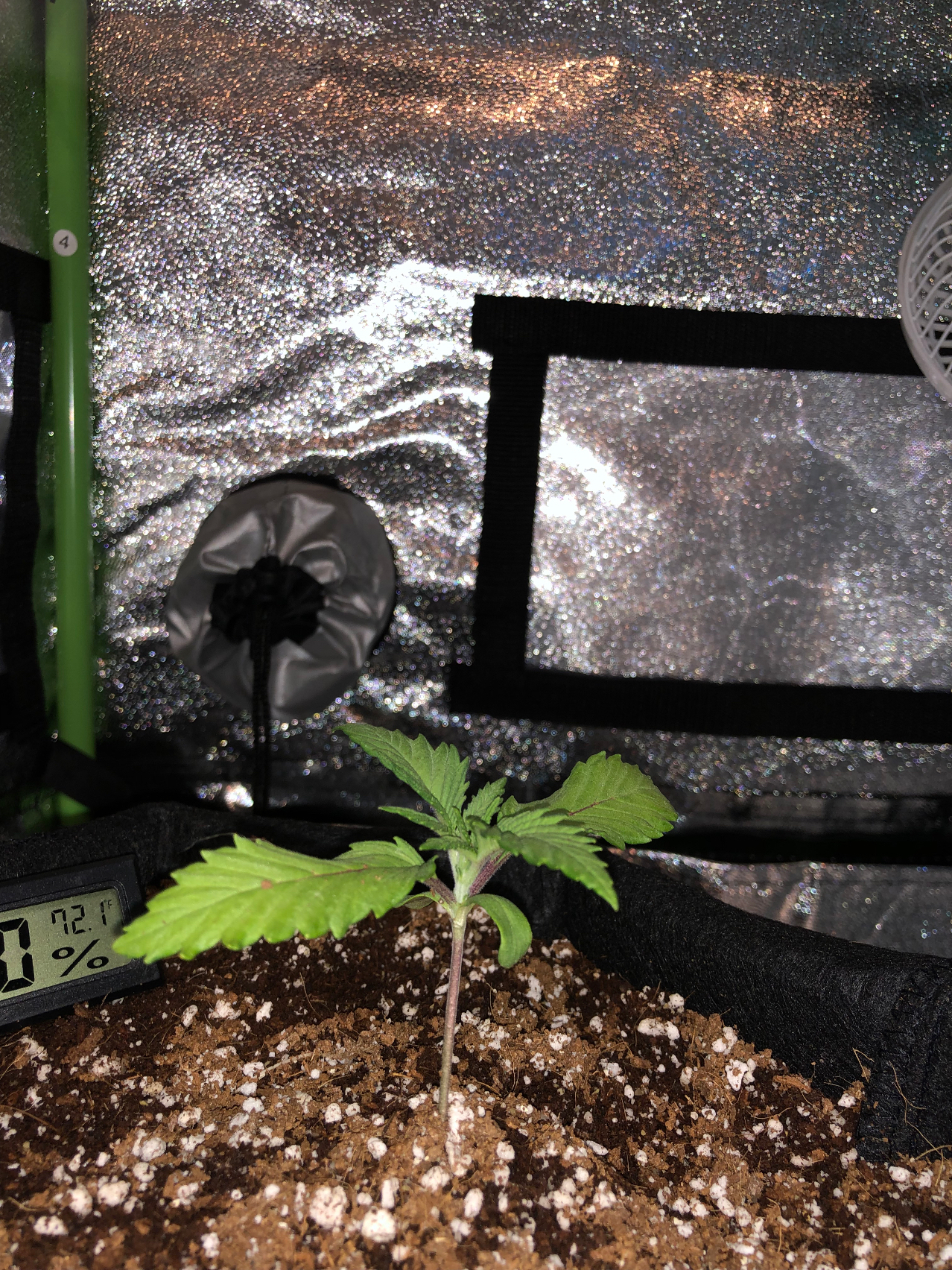 She looks slightly stressed from transplant. This will resolve itself soon I'm sure. My new plan is to veg her for another 2 or 3 weeks, then chop 4 clones from her to start a SOG in this 2x2x4 tent. I am purchasing another tent which is slightly larger (3x2x5). This new tent is where I will grow 2 or 3 full size plants. This way I will have faster harvest times with the SOG plants, and the plants in the bigger tent will take a little longer, but give me much bigger yields😁🌱 For right now she is thriving everyday🌞
4 years ago
Transplanted her today!🌱 Prepared the coco yesterday and dried it out a little today. Placed her in a new 3 gallon fabric pot. I wanted to get her into a bigger size quickly because she has had some big growth the past week. Her roots were very well formed when I pulled her out. I sprinkled some Mycorrhizal Inoculant in her hole and onto her exposed roots as well. I'm hoping this prevents some, or all possible shock, due to transplantation. This fungus will continue to work symbiotically with her root system to promote quick, healthy growth and also increase nutrient uptake ability🦠💊
4 years ago
She is quickly growing outward with thick leafs😁 I'm going to try to keep her as short as possible without interfering with yield. My tent is not that big as of right now! May get a second small tent to create a small perpetual harvest.
4 years ago
Thriving is all I can say😂 She is growing like crazy everyday. She is working on her next set of fan leaves! Watering with plain water. This is only my second plant ever growing, but I feel like she is starting to look like an indica already😁 Her first set of fan leaves are much fatter than the Super Lemon Haze that I am also growing.
4 years ago
Still looking very healthy😁 She is an Indica dominant strain so I'm thinking of trying a SOG. I may grow her out a little and clone about 4 plants from her. Other than that she is thriving🌱
4 years ago
She is looking healthy😁 Some very small fan leaf formation can be seen in the middle!
4 years ago
She's putting in a lot of work on her first fan leaves😁🌱
4 years ago
Hello world🌱😁 It was a big day for her. She stood up straight and opened up her leaves to get some light🌞 (picture taken through jewelers magnifying lens)
4 years ago
Smokey.710 Hey can you show a side view yet I'm taking notes of you I'm a beginner grow in Temecula,ca
Just waiting for her to lift her head up for some light🌞
4 years ago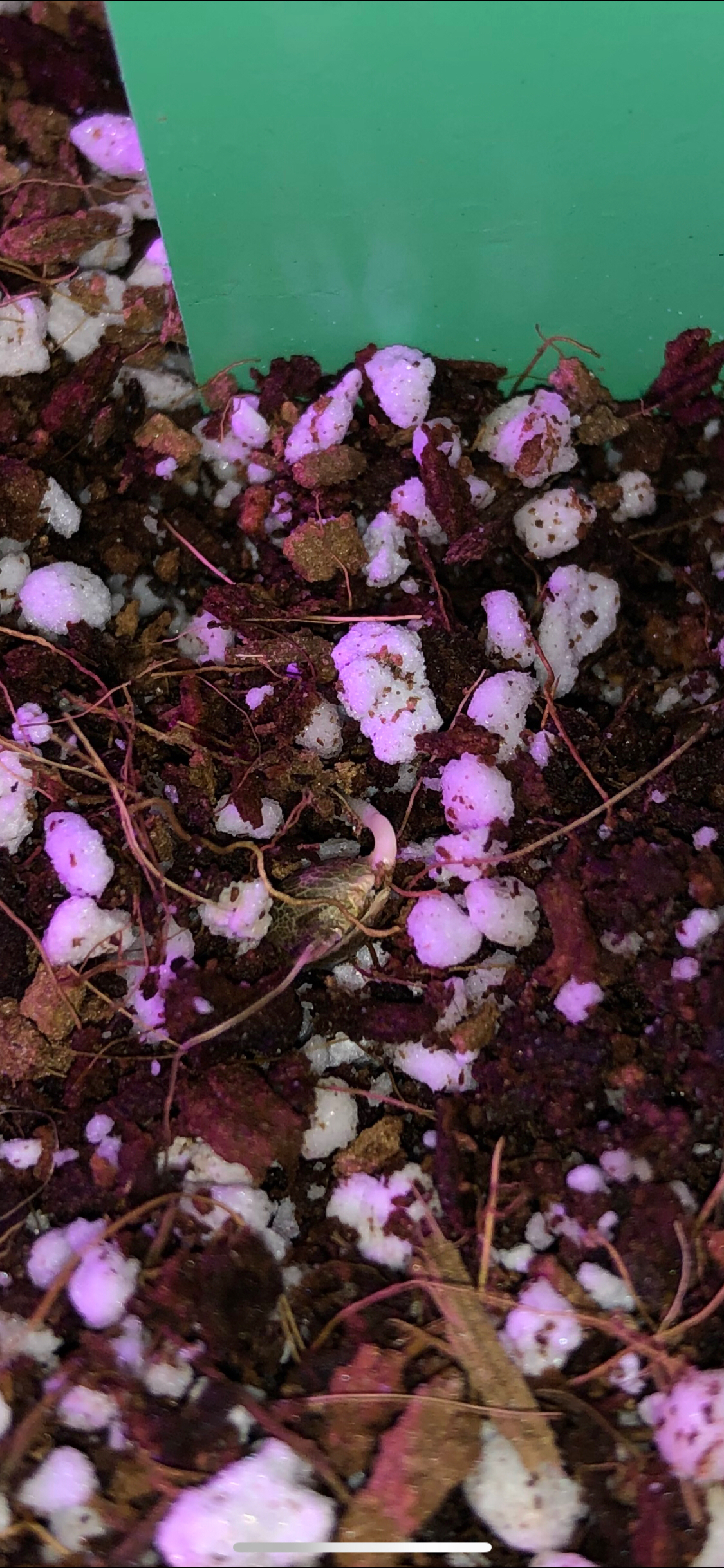 The hydrogen peroxide method seemed to work really well!! She looks good😁
4 years ago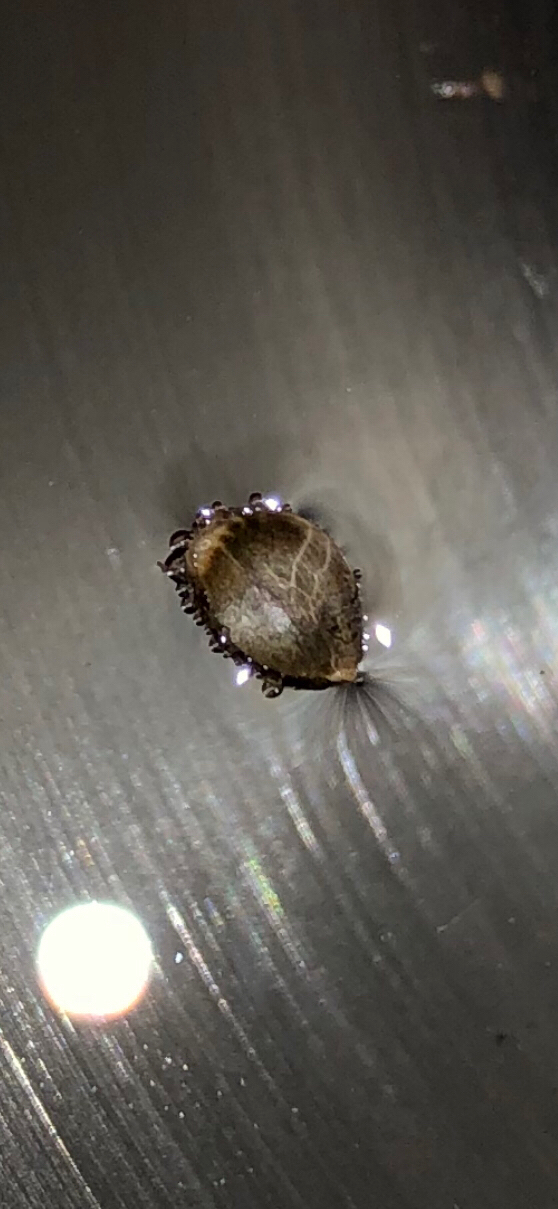 Here she is, soaking up a nice mix of water and 3% hydrogen peroxide😁 This was taken about 5 hours into germination.
4 years ago