gatewaygrow
Slow start
September start
Two Big Bud, 3 Lambo 2 Alien taturantula and just the one autoflower gorilla zkittles. Germed lambo and AT on 9/3 popped 9/4. Big bud germed on 9/26. Pretty slow start not pleased with that but looking forward to seeing what comes of it.
Big bud, Lambo, Alien Turantula and 1 Gorilla Zkittles Auto
So after drying curing and "sampling" what I have left is listed in the photo. Not great but not bad considering it hermied and stopped producing weight. These were the even numbers I weighed to, gram wise it was a little more of each but I don't remember what those goals were because I don't have that extra anymore lol.
3 years ago
They all three hermied on me, it was my fault I let em dry out too many times for to long. Either way here's a picture from the finished stuff, can't wait to do my next run I'm upgrading my setup to include an automatic watering system.
3 years ago
Zombie1 I'm new to growing. How can you tell if the are going to herm? I'm also running a Zkittles auto right now.
GatewayGrow The first thing is the tiny banana looking objects at the nodes and or male "balls" forming at the nodes or within the bud. I'll see if I can get a picture of some of it for you but I'm pretty sure I pulled all that off last night when I did a quick wet trim.
GatewayGrow Also mine hermied because I stressed it into it, it can also happen just because of the genetics so the key is to watch it and inspect the plant nodes leaves and all as often as possible. I recommend doing it in regular lighting too because I was looking under the hid and the yellow tent made it a lot harder to find the "nanners" so it was too late for me once I found them. If you look it up online they look a hell of a lot larger than they really are, they are literally the size of maybe an ant or something. Good luck and don't worry just keep the conditions right with good genetics you'll be fine. Oh and the zkittles other than that was a great strain to grow!
View 12 additional comments
Watered ph to 6.47. The first two pics are lambo the others are big bud
3 years ago
Ph 6.47 no nutes this time
3 years ago
Watered at 6.5 used fox farm nutes this time and last time which seems to be helping the color.
3 years ago
Watered ph to 6.47.... first one is the gorilla zkittles auto it's the only one that isn't completely yellow. Can't wait to do my next run.
3 years ago
Watered ph to 6.45 still can't kick this yellow plant shit but they are still growing so idk
3 years ago
Can't get them to shake the yellow leaves
3 years ago
In flower, starting to bud. Had to trash 4 plants that were males. Gorilla zkittles auto in the bucket, lambo and big bud in 3.5 gallon bags.
3 years ago
Checked the "girls" today after about a week of flower stage and found 4 showing sex. 3 were males and 1 female. Good thing I started with 7 I have 2 females (one was feminized) and still waiting on the other to show. Pretty bummed but it's the risk you run. Had to destroy about 5 clones too.
3 years ago
Sprayed the girls with neem oil to kill the tiny bugs and they got a little burnt but I'm sure they will pull out of it.
3 years ago
Did some pruning and topping, took a few clones as well this is the day after but they are still alive so far so we will see how it goes.
3 years ago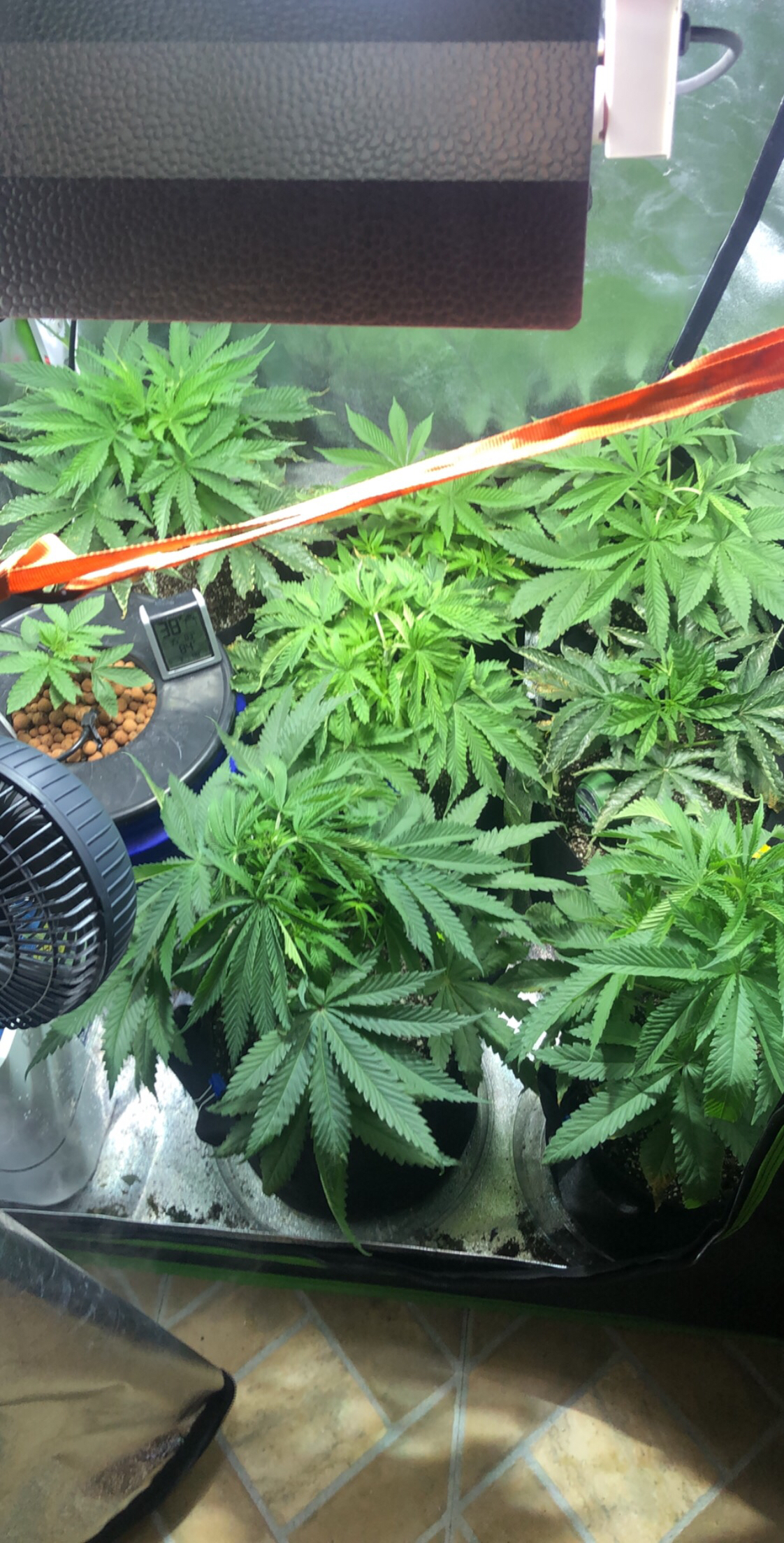 Flushed the girls, they were sitting at 4500+ ppm and were in lockout I believe, this is 3 days later and much better growth.
3 years ago
New tent took some figuring out with the heat and all that
3 years ago
Had some heat issues but I moved the lights up and it seems to have helped
3 years ago