Purple punch Trash can
Late Summer 22
Photo period fems. Using fox farm soil Started under 600w but moved to 1000w LED
She got clipped and trimmed today. Gave her about 48 darkness. Triches are cloudy enough to make me feel okay going this early. Did better than expect, hence trash can. It's a thin can that I put between plants! 🪴🌸🪴
a year ago
Gave her plain ph water again. Lil less than half gallon. I'm thinking and hoping she's done next Saturday. Added some poles to help with sagging branches. Trichomes looking clear with foggy spots…if you look and hope real close
a year ago
Gave her a support stick
a year ago
Gave her other half of that last gallon. She seems happy. Temps around 81
a year ago
She's growing along. In final few weeks. Watered 1/2 gallon. Tiger bloom 2tsp per gal.
a year ago
Got 3/4 gallon and she gave some back. Cal mag and tiger bloom. Temps have been all over the place.
a year ago
Before/after shot. Did some trimming before watering. 1tsp of tiger bloom 1 tsp of cal mag. Gave half gallon. Ph low 6. Temp in high 70s with heater
a year ago
Watered her last night with some fish fertilizer (half gallon). Looking good minus some of that fan leaf spots that won't go away. Buds look good and fattening.
a year ago
Added some support to the split per recommendation. Tape was t working well enough. Gave her half gallon of 6ph with some high nitrogen Fish poop. 🐠 buds look bigger.
a year ago
Big scary update. Just watered her with cal mag and tiger bloom. but….two days ago I was trimming leaves and adjusting temp. Added a heater to keep in 70s. Then…I moved her wrong and she split down the middle. Taped her up tight and loosened tension. Raised main light a few inches.
a year ago
blazinherb Personally i wouldnt have used tape. The ties you are using would of been good. Twist tied it up. Remove after its healed so it wont grow over.
sgntias @blazinherb i was thinking it would cut into it too much. But will try next time. I've done the tape before and no prob
blazinherb Just don't over do the tightening and you'll be good. Ive split a few girls myself.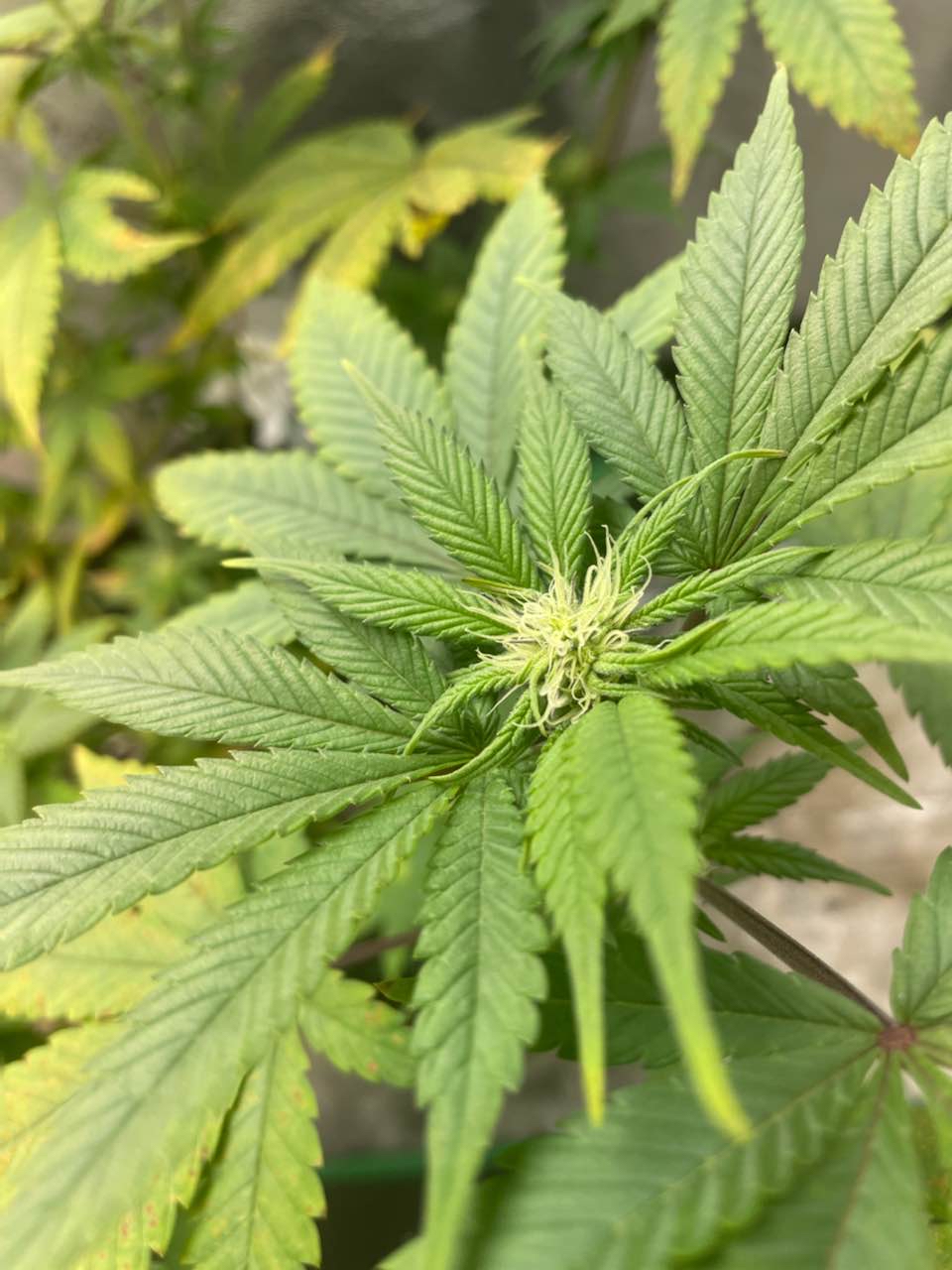 She got a half gallon of Cal Mag and Tiger bloom. 1 tsp per gallon 6.0ph going in. About 1 qt came back at 5.3ph.
a year ago
Got a half gallon of water with cal/mag from last round.
a year ago
DuganNash I'd say cal/mag too. I'm a new grower but it was the first deficiency I ran across
View 3 additional comments
She's taking over the tent. I added another LST. Turned on the 600w and moved to middle.
a year ago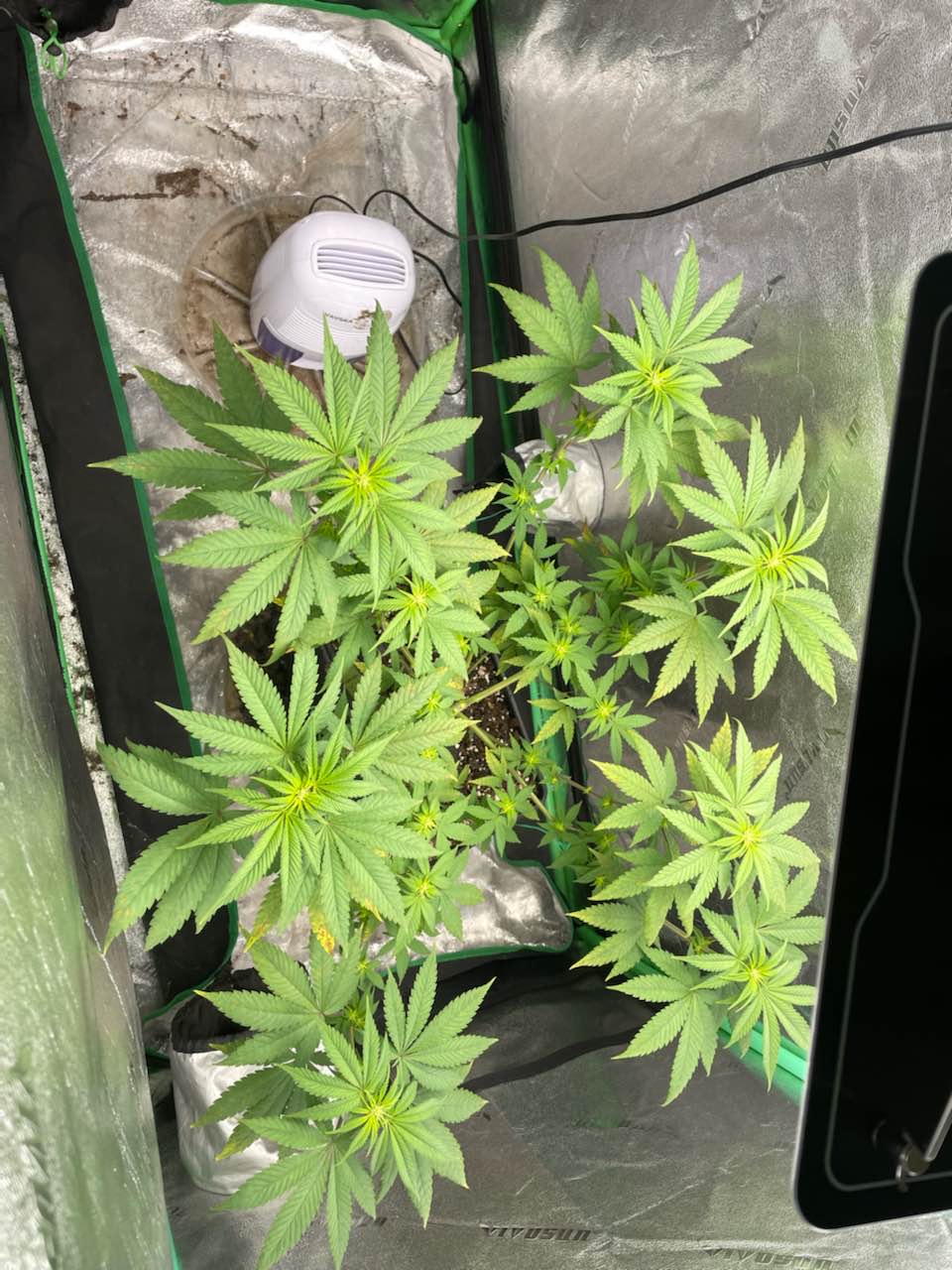 Moved her to 14/10 as temps drop a bit. Might speed things up. Also got 1/2 gallon of Cal Mag and Lil but of nitrogen. Ph adjusted a lil higher to help with browning (6.4)
a year ago
She's slow compared to an Auto and we got some cooler temps coming in. Not good for timing. I got 8 more weeks to have this done and in jars.
a year ago
Gave her nutrients last night. 1/2 gallon with Fish Fertilizer and Big Bloom. Still got the browning of leaves. Pulled some off.
a year ago
She's getting bigger. Yellow/browning of lower leaves still a thing. Needs to be done within 8wks!!
a year ago
Got 3/4 gallon of full nutrients. She spit 1/4 back. Fish fertilizer included. Notice female flower buds!
a year ago
Cut out a lot of old/yellow leaves. Lil lollipopping too. She got half gallon of reg ph water. Looking great over. Need it to flower, I'm on a timeline of thanksgiving.
a year ago
Rebounding nicely. Now I just need it to flower. Hoping the nitrogen worked.
a year ago
She had a big day. Watered with half gallon almost. Cal mag and Big Bloom. Added tbsp Fish fertilizer for nitrogen kick up! LST as best I could, remember this is a trash can. Moved her to under the bigger LED. 16-18" distance and 12/12 (6a-6p)
a year ago
She's happy, mostly. Not sure the leaf issue. Nutrient deficiency maybe nitrogen. Flipped to 12/12 the other day.
a year ago
FrostyZaZa Looks like bleaching from light stress/burn. If it's a real 600 watt from the wall for 1 plant you're probably roasting her.
Fan leaves are almost gone, wilting anyway.
a year ago
She got about. Liter of ph water. Bottom fan leaves wilting.
a year ago
Doing great after topping. Moving to directly under 600w. Other plant got pulled for being a Boy.
a year ago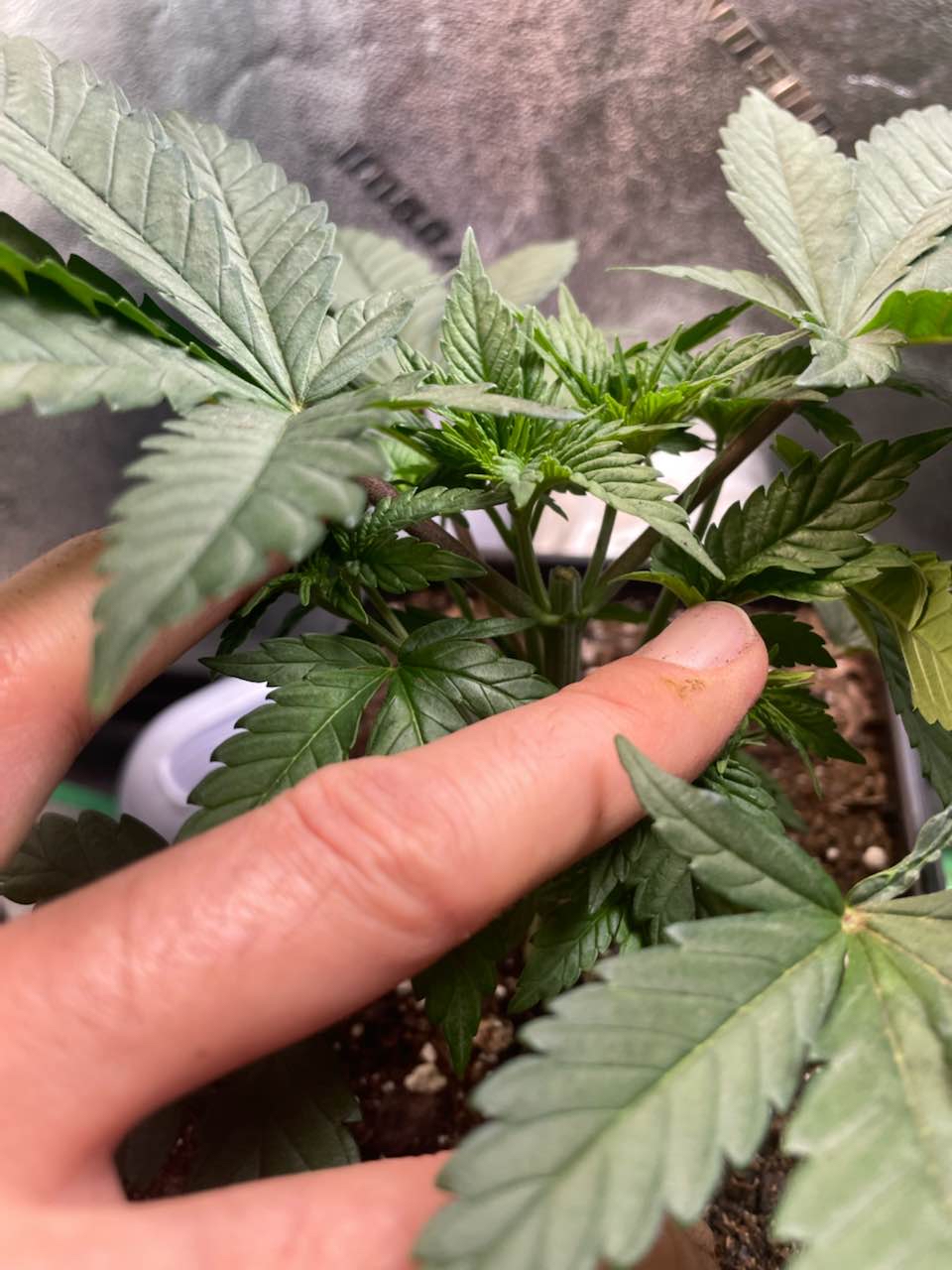 Watered 1 liter of balanced w/ cal mag and big bloom. Recovering from topping nicely. Oh, and saw a rainbow last night .
a year ago
She got topped this evening. It hurt me.
a year ago
stevesrt425 Isn't it suppose to jus be the fresh node opening up I thought not the entire thing like that. Or is there a reason u topped like that??
Doing great. Got lil > a liter of big bloom. Topping coming soon.
a year ago
She's taking off! Maybe cause directly under CO2. Got a lil under a liter of regular water.
a year ago
Got her out of the cup and into the trash can pot. Doing great.
a year ago
Looks like growing nicely in new soil. Moved into pit of Sour60
a year ago
Got a squirt of water this morning
a year ago
Changed soil to Happy Frog. Let's see what happens.
a year ago
Got a squirt of liquid. Hot day today
a year ago