fozzybear99
Kauai Mints
1/3/2020
These seeds were the oddest looking seeds I ever came across. Buldging sides and asymmetrical, yet brown, striped, and very robust looking seeds. 3/3 seeds sprouted! Now lets all hope they're all female.
A lot of fan leaves getting the fade. The time is approaching!
3 years ago
Update after tea. Surprisingly not stinky at all. Flowers give a slight sweet scent. I thought she'd be real gassy. Nope. Shes slow for sure. Maybe a 12 week flower.
3 years ago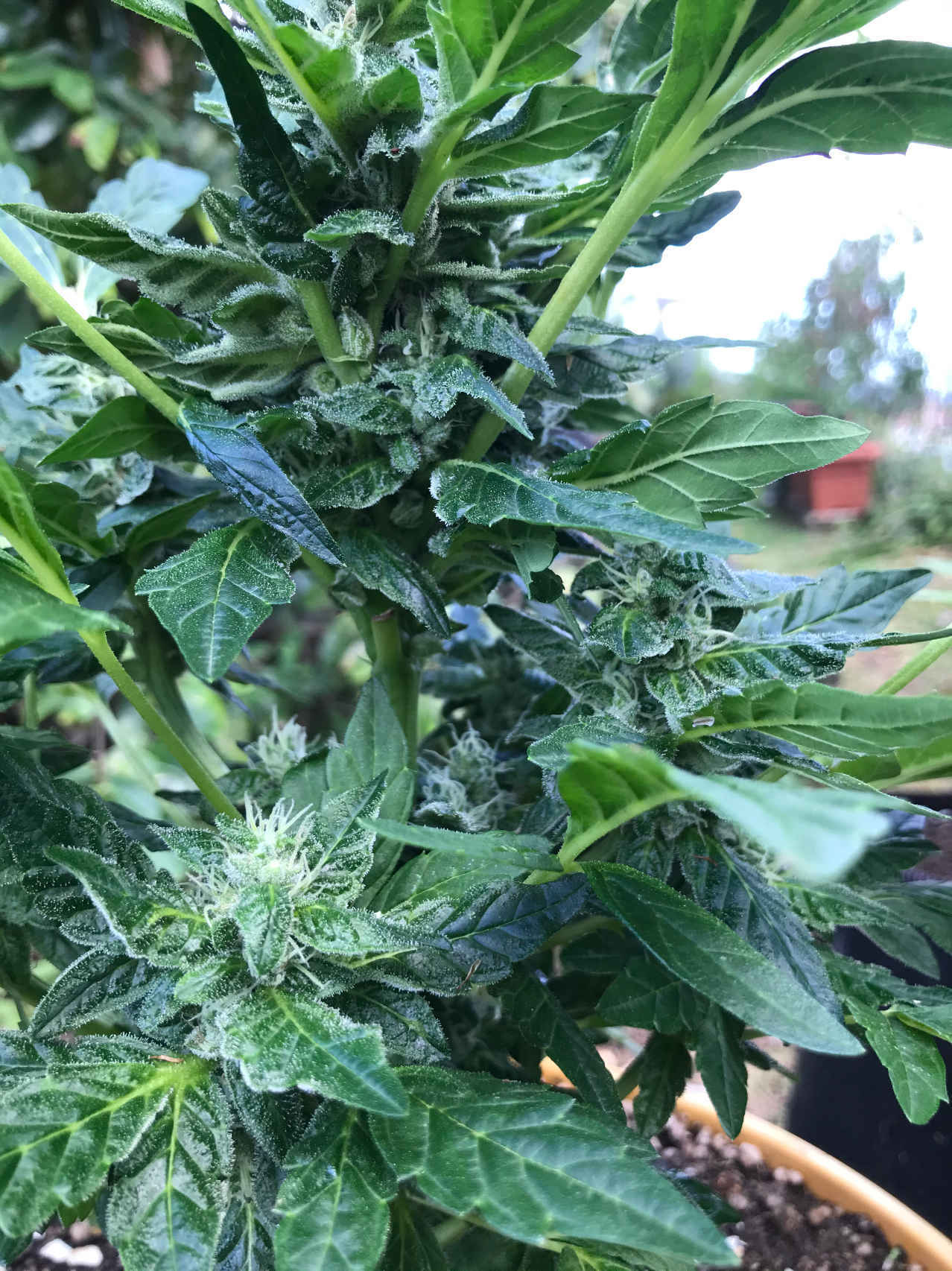 Still slow growing. But it looks like its going to be killers. Lol
3 years ago
pakalolo Dude every time I look at this one I can't get over how weird those leaves look. It's so unusual. Those buds are starting to look unusual too! Can't wait to see the end product on this one.
fozzybear99 Haha me too! The leaves feel like dried leather. Not much smell to her yet. Will keep posting for sure!
fozzybear99 Btw, if anyone interested this is from 808genetics.com and his ig is Supakauai
The branches are really sturdy and does not shake at all in the wind. No smell yet. Just taking its time and slowly building up. Will be giving her last top dress of my all purpose mix at the end of this week.
3 years ago
Just another update. Been a slow growing plant
3 years ago
pakalolo That is one very unusual looking plant, especially those leaves. Can't wait to see what those colas are gonna look like.
fozzybear99 Thanks. This one started off all weird and seems to develop slower than others.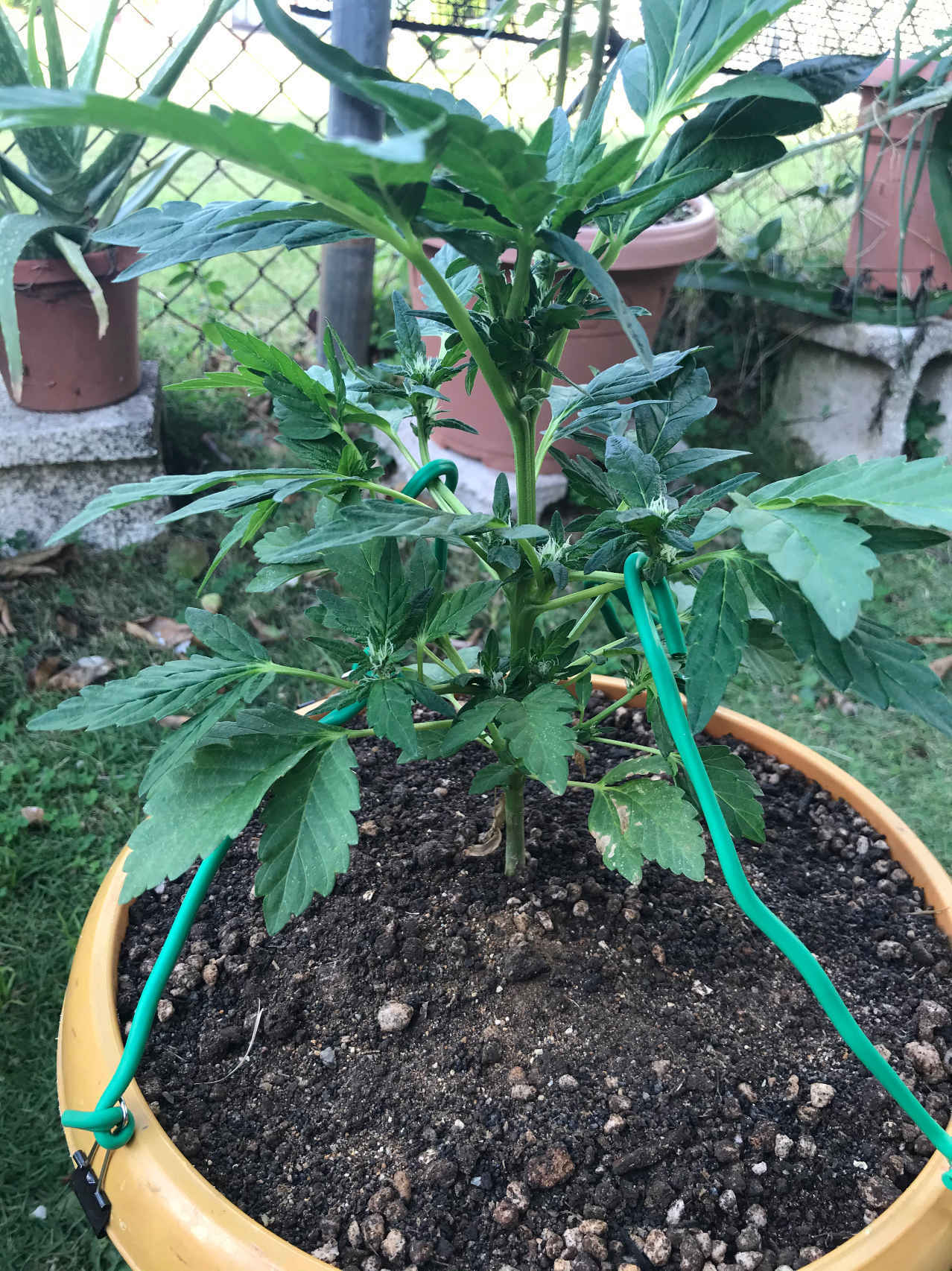 Finally tied her down to train her
3 years ago
Just gave a top dressing of high phosphorus seabird guano. Recovering from the fimming nicely.
3 years ago
I fimmed. Not on purpose. Recovery been slower than past strains, but this mutants been slower in general. Leaves have a unique structure to them. Each finger has a stem. Its definitely in flower. Hoping she settles back in and bushes tf out.
3 years ago
Wondering if I did something wrong when I topped. Maybe it needs a few more days to settle in again. Hoping for some bush! 🤞🤞
3 years ago
Went into flower today. On day 31. Topped it at the 5th node. Mixed soil with ewc, one shot, dte all purpose, and mycos the put her in her final home. Going to try feed this very heavy
3 years ago
Seems happy all around. Gave a nice top dress of Nectar One Shot. Will probably do another top dress of DTE All Purpose some time next week. Going to try feed it heavier than the past strains. Small pot until I see flowers.
3 years ago
Starting to take off now 🤗 🤞🤞 that its a female. Gonna top it at the 5th node.
3 years ago
Slow. Thats all I can say about this mutant. Slow.
3 years ago
Rugus Its not how you start that matters, its the finish ;)
Very slow starter. Hoping it takes off some time soon.
3 years ago
Rugus Looks like a nice winter you are having
The lone survivor
3 years ago
The lone survivor.
3 years ago
Some of the weirdest shaped sprouts Ive seen. I have been told that its due to genetics weakening thru over cloning and inbreeding. 🤷‍♂️ Gonna grow them out regardless.
3 years ago
toog Interesting fact! I didn't know that and I'll keep an eye out.