SLH,SS,CD,BB,GG4,DP
Clones 2022
SUPER LEMON HAZE, SUPER SKUNK, CHEMDAWG, BRUCE BANNER, GORILLA GLUE #4, DURBAN POISON. These are all clones from a buddy who had female plants from feminized seeds. I'm putting a strain of each in my 2x4 tent with my MASTERKUSH AND SOUR DIESEL. I planned on getting a second light to fill in the tent a little better but now I have to in order to supply for all 8 plants.
Fed 3,2,2 of fox farm trio on Monday and yesterday gave them more water. Getting amazing smells from each and every plant in this tent and not one strain smells the same.
a year ago
pipolor Sticke: I'd say not bad for my first grow. Can't wait to do the next run. Gonna be doing less plants and bigger pots. Gonna see how much I can get from two in five gallon pots
stick e fingerz Solid plan I'm gonna do the same 4 in 7 gal or 10 gal pots.
Had to pull the masterkush bc it's Hermed. But made room for the other two super skunk and super lemon haze I have
2 years ago
Roughly two weeks into flower. Trimmed today. Also doing a flush week.
2 years ago
Switched to 12/12 two days ago. Fed today 3bigbloom, 2growbig, 2tigerbloom. I rearranged my setup. I decided to pull two plants bc they're showing signs of stress and I can't figure out what it is. The two I pulled are pictures after the hygrometer photo. If you have any idea what it is please let me know. Btw the super skunk had the problem first and I noticed that the super lemon haze which was sitting right next to the super skunk was only showing signs of stress on the side that the super skunk was touching. Luckily all the others seem healthy and they also get more breathing room in the tent. So now instead of 10 plants in the 2x4 it's now 8. Which is nice bc now I have one plant of every strain. I just hope they all stay strong and healthy.
2 years ago
How many plants do you guys have in a 2x4 grow space? This is my first ever grow. The two in five gallon pots I started from seed and the rest were a gift from a friend. All the gifted ones are clones from mother plants. Let me know what issues you think I may run into with my set up so I can prepare myself.
2 years ago
mystrain420 _@eaegifts High rh during flowering may be an issue. I'd do a sea of green and flip then at the current size. Just opinion, good luck i
@w33dnerd Ideally a 2x4 would have 2 plants in like 15-20 gallon containers if doing soil. You can divide that up to be smaller to cut veg time but basically it's all about the canopy. Average canopy for one plant is a 2x2 area. Can definitely be more or less. I just sent 9 plants in a 4x4 into flower but kept the pot container to 3 gallons so now I have to water every day like it's a damn high frequency coco grow (it's in soil).
View 19 additional comments
Picture 15 and 16 are of my super skunk clone and I'm not sure what's happening to it. The leaves are turning yellow in some spots. The plant in front of it is also super skunk and that one too has been having issues. I took that plants yellows off and also gave her some water. Lmk what you guys think it is. Update: after these pics were taken I watered with nutrients. I used a half gallon mixed with 2tsp of each bottle nutrients. Today was the first feed with tiger bloom. Each plant got a 1/4 gallon.
2 years ago
zdgrows37 Look into VPD help you get rid of random issues once that's on point . 🔥👍🏾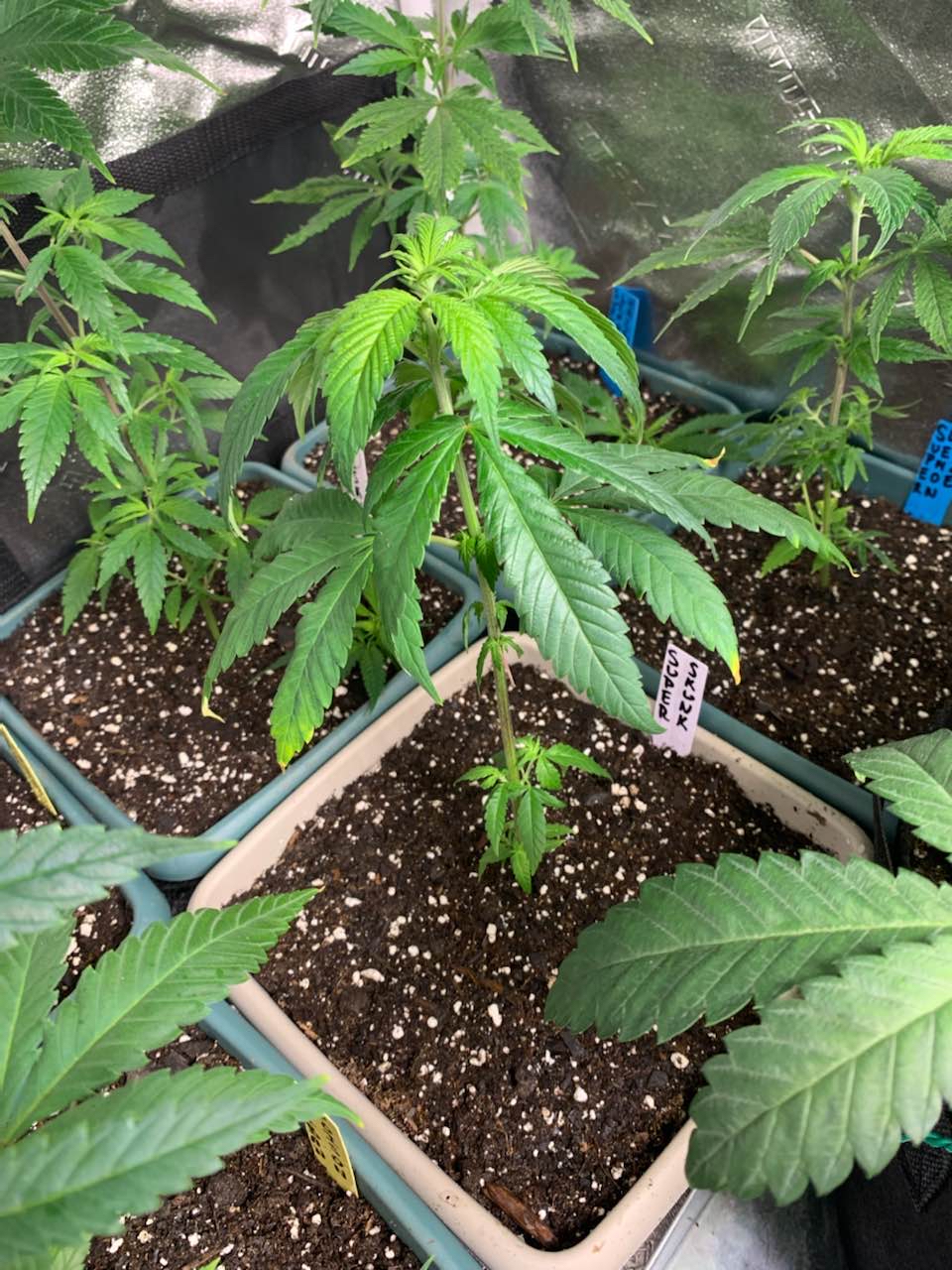 Topped all the girls except for one super skunk and one super lemon haze. Gonna be adding a second light shortly to help even out the coverage.
2 years ago
Obviously these are not on day zero. For the most part they are actually almost ready to be switched to 12/12. The two in 5 gal pots are mine from seed and the rest are from a buddy who had to many clones and not enough space. After a few donations to friends I'm still left with 13/20 clones. Not complaining at all lol. The six that have been transplanted already are going to most likely stay in the 2x4 tent with my two plants. The strains from clone are super skunk, Durban poison, gg4, Bruce banner, chemdawg, and super lemon haze. My two are sour diesel and masterkush. As for the red solo cups this too will be transplanted but they will end up outside at some point bc I don't have the indoor space. Also I will be getting a second light in here very soon. Just the one isn't going to be enough.
2 years ago