joshin_yah
Crack jack auto
New editon
Vegging
Crack jack auto GYO seeds
She is looking awesome gonna start flushing today!!
4 years ago
She acting so temperamental, but them buds are looking serious
4 years ago
Love the Crack jack !! She's looking beautiful
4 years ago
Ducatiboy About damn time get it jhoshin kill that bitch!!! Wooooo!! She looking goood!!!
Plants looking and smelling great! I'm glad I noticed amazon sold me two sensi bloom part a, so my last watering didn't receive any P or K, lol and it was supposed to be there first week of bloom nutes.. all in all I'm happy
4 years ago
I'm so very impressed with the structure of this plant and how fast she started stacking buds, she's gonna be a frosty girl !!
4 years ago
Getting frosty at an early age, is nothing I'm gonna complain about! Love the spacing of how open the middle is letting all that light in! Glad I tied her down too! Look at all those tops!!
4 years ago
She is starting to flower nicely, there's a lot of sativa traits in this auto she's gonna be branchy.. hoping tying her top down to let the middle branch upwards I've already tied down some off to the side.. hoping it's a good choice.. if you tie down your autos how do you do it?
4 years ago
She was watered today with her nute schedule of sensigrow a&b, cali-mag, b-52, and a little bit of sensizym, to keep those roots cleaned up, so people say your not supposed to give it in veg, but with auto, I feel it's a different story, I honestly should have started out with bloom, since they change on there own, anywho I had to retie the LST to try and get more of an even canopy she has bushed out a lot!! Also been practicing leaf tucking which seems to be helping a lot
4 years ago
She has reacted nicely to the LST, the new growth is starting to nice and bushy.. can't wait to get this girl under the Optic 2 in the flower tent
4 years ago
Strong like bull she keeps pulling my ties out!
4 years ago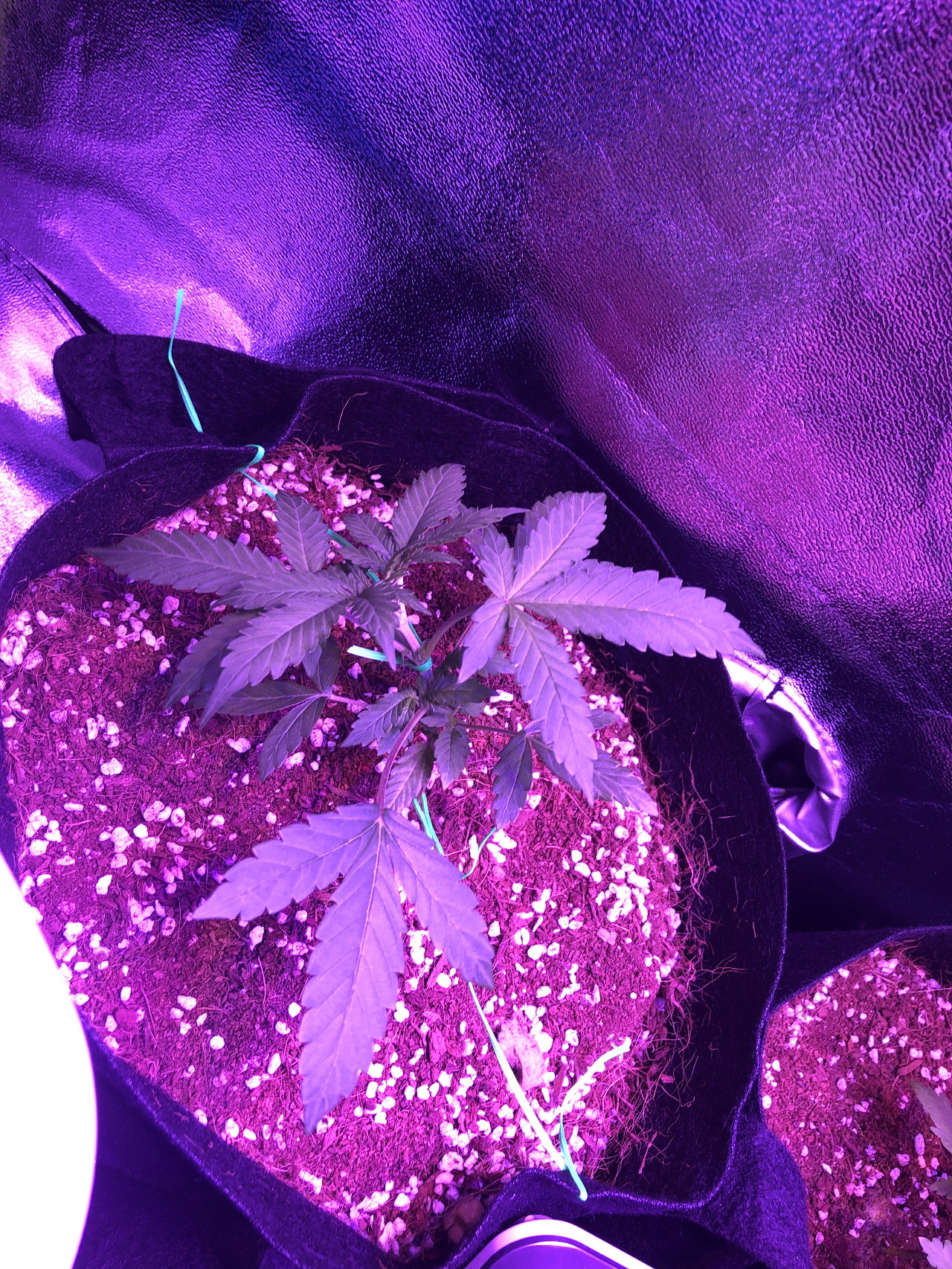 Did some early veg LST, growing faster than the others that started before her, she's definitely gonna be a bigger auto! She also got her dose of nutrients yesterday
4 years ago
This one is growing really fast and I have a feeling it's going to be one of the bigger of auto I'm growing! Crack jack, by gyo seeds,
4 years ago
Just got added to veg tent with the others, also got its 2 week of nutrients Cali mag 1ml Sensi grow coco a&b 1/2ml each B52 1ml Tarantula 1/2ml Voodoo juice 1/2ml
4 years ago
Coming along nicely
4 years ago
Reaction to the first week of nutrients looks good
4 years ago
Got her first dose of nutrients this morning, she was super dry, "giggity" Cali-mag 1ml Sensi-grow a&b 1/2ml of each Voodoo juice 1ml Tarantula 1ml B-52 1/2 ml
4 years ago
18/6 nearing week 2 ready to get nutes
4 years ago