D5000
Banana daddy and do si dos auto
Earthbox
Two earthbox juniors, set up with buildasoil lite, buildaflower, craft blend, worm castings
These two are do si dos. The one on the left was always the weakling. They've both got about another week
9 months ago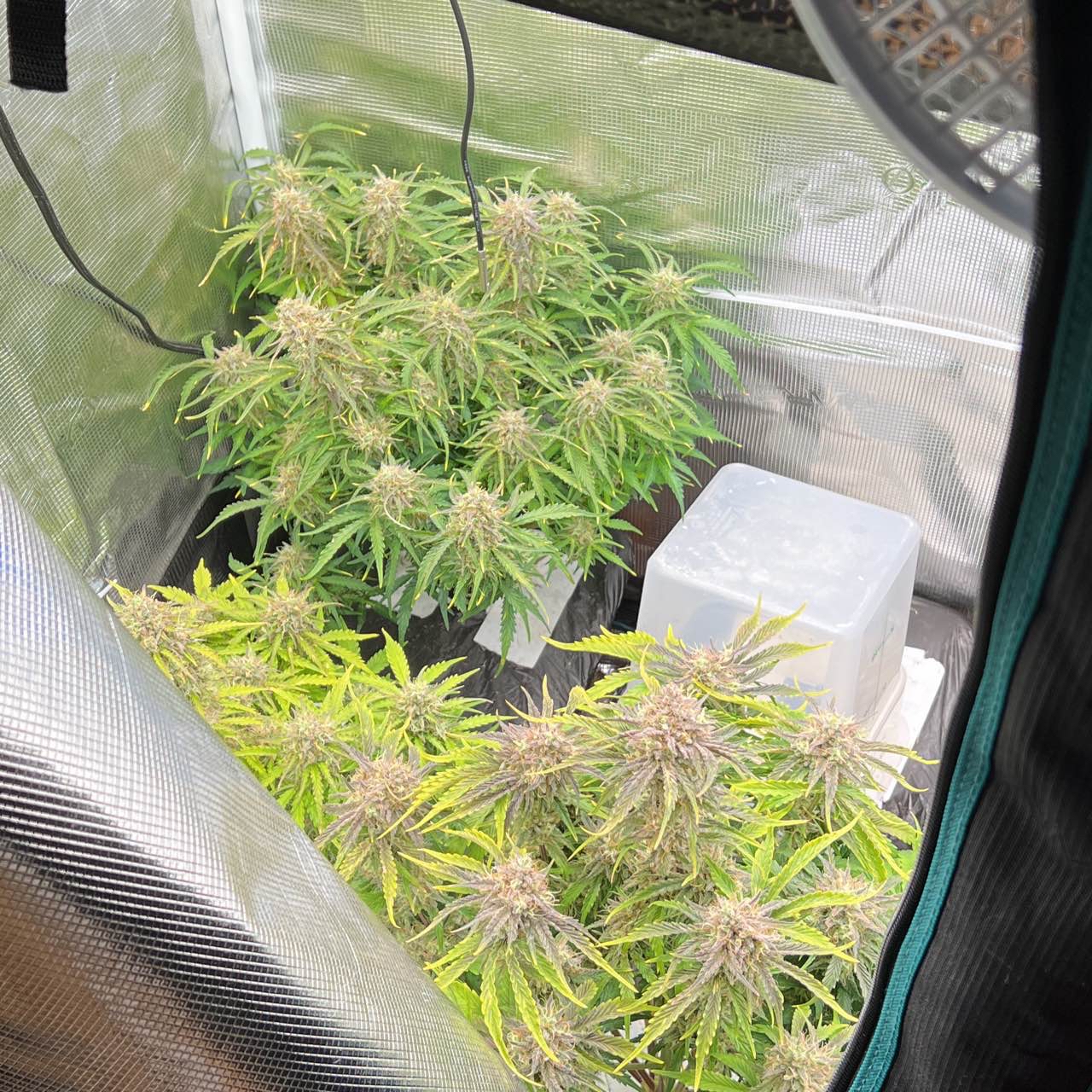 Dropped one of the banana daddies a little early than I'd prefer as I just don't want to go buy flower at the dispensary and I'll be out by the time it's cured up. The remaining do si dos and BD are probably a week out. A lot of lessons learned on this round. Next run will be explosive
9 months ago
berrygoodstf Which are your dos si dos? I'm growing dos si dos outdoors. This is my first grow
D5000 The left side are both do si dos. One has some sort of root issue. The one in the back is a beast and practically eating the other plant
The banana daddy both look like they've got about a week left, the do si dos have at least 2. I'm thankful for the extra time after the feeding mistake, definitely helping me recoup some losses. Valuable lessons learned for the next run, I'm gonna try running one plant per box so they'll have a lot more food. Still looks like I'll hit a gram per watt, but there's no reason I shouldn't be able to smash that going forward
9 months ago
I done fucked up. I should've popped the cover when I noticed the very start of the fade and instead I chalked the issue up to being too wet. As it turns out they were super hungry, the food mound is literally all feeder roots now. Hopefully I didn't slow them too much. At least now I've really got the earthboxes figured out for the next run
10 months ago
D5000 I added a bunch of flower power filled worm castings and they immediately started turning around and bulking up again. Definitely cost myself but I'll still get a decent harvest to last until the next one
The left box was running a little too wet for a few days but seems to have turned around just fine. This stage of the game has been mostly keeping up with defoliation so the humidity stays under control. I think I've learned my lesson on jamming 4 plants at a time in here, but I'll likely forget that come harvest time and be stupid all over again.
10 months ago
1/3 of the way! Everyone is looking great aside from a little sign of over watering due to filling the reservoir a little too much on the do si dos box. Flowering is holding off enough to get a few more squares of screen filled
a year ago
Damn! I left for a few days and holy explosive growth! Just started popping pistils.
a year ago
About a third of the way there! Everyone is looking great, even the one runt is starting to catch up. Feeder roots are just reaching the food pile and really seeking out the food. Can't wait to see what the next couple days brings
a year ago
lation1984 Jm thinking about gettng an earth box so i can fit 2 nicely. I also saw the earth box veg root grow too for single plants
D5000 These are the junior size. The full size ones are even better, just slightly too large for my tiny space
lation1984 Same i would need the junior possibly. How much soil does it hold. Gallon wise or cu
View 4 additional comments
All the ladies are moving along nicely. Added a bunch more worms to each pot and did a final pest spray before they flip to flower. Really loving the earthboxes, aside from a little foliar feed I've added nothing but ph6.5 water.
a year ago
Everyone is moving along nicely. To augment the amendments they're already eating, I've been foliar feeding a mix of EM5, Quillaja, aloe, coconut, N aminos and tiny bits of calmag. True to what's advertised with the earthboxes, they seem to just be able to eat exactly what they want out of the food pile.
a year ago
Girls got their first yoga session today, aside from one of the Do Sí Dos that's lagging behind a little. Everyone is established enough to start working the reservoir a bit more. Filled today with a solution of coconut, aloe, em5, and quillaja. Feeder roots are just starting to hit the food pile in the middle and the mycelium is busting out
a year ago
D5000 I haven't! This is my experiment tent. I do a different style every other grow.
Seems like roots are just starting to hit the reservoir, about to see lift off in the next week or so
a year ago
Ac infinity fan is a game changer!
a year ago