Purple Gorilla Punch. Femized/Photoperiod
Captain Red Beard Seeds
7 PGP seeds/pheno hunt. Planning to get these 7 girls vegged long enough to get a couple clones per plant going before flipping all 6 of them to flower. After finding my favorite plant after harvest/smoke test I'll plan to run that pheno for a few runs (hopefully). I am using fox farm soil and the fox farm trio nutes. Mixing 1 part strawberry fields to 3 parts ocean forest soil mixture with 20 percent coarse perlite and 10 percent worm castings added. Went with AC Infinity's 10 gallon fabric pots. 5x3 closet grow. Running 675 watts at the plug under 6 sayhon 1200 115w lights.
Wrapping up week 8.
a year ago
Starting week 6
a year ago
Frost production is in high gear. Week 4 starts today.
a year ago
Day 20 flower about to start week 4 this Monday.
a year ago
Day 10 flower. Gonna wait for day 14 to schwazz it up. One pheno is super big compared to the rest with lanky arms. That one will need support. The rest are thick stemmed and pretty squat.
a year ago
Flipping to Flower tonight. Noticing this strain is a slow vegger compared to the blue dream grows. Watered and feed last night. Did another defoliation, training and lollipoping tonight. They are starting to drink water much faster.
a year ago
Just vegging still. Got about 4 weeks left before flip. 10/15 gallon
a year ago
They have been schwazzed like a mofo. 🥳
a year ago
Water/Fed in 1/2 strength nutes today. If they respond positively, I plan to up it to 75% and maybe on to 100%. Push em hard!
a year ago
Moving right along…
a year ago
Watered and feed last night. Today I again got reminded to be light handed on my plants. I ended up snapping two central cola branches while doing a light bending. My last genetic runs let me bend bigger branches and never snap. So anyways, I ended up topping the main maristem again down to each plant leaving each plant with four branches. I was wanting to flip in a couple weeks too. Boohoo. Lol. I wonder if they snap more easy after watering or is there something of a calcium issue or something else? Low brix?
a year ago
Strain is not LST tolerant. Note taken as I usually prefer to extreme schwazz it right before flower.
a year ago
stick e fingerz Why not use the holes provided in your grow bags to LST my guy 😎👊
skyimage I put the stakes is before they were transplanted. 😎. I use these that are closer in as long as I can, it makes easy small plant training started and makes water much more enjoyable.
View 7 additional comments
They have been topped and today a 1/3 strength nutes and watered entire pots thoroughly along with defoliation and branch training which I did a little earlier than planned but I had time to love on my plants so I got it done! 🥳
a year ago
stevesrt425 What amount of nodes do u got on them ? Suppose to be 5th one with the autos if not it don't grow right at all trust me when I tell ya lol
skyimage I topped them at the 6th node. I've topped at 12 and 4 with no problems.
View 27 additional comments
Put these tools on the soil in hopes I summon the OG weed gods. 😂🥳
a year ago
Got them topped last night. Planning to continue 1/3 strength nutes (this will be my second round of 1/3 strength) if all is good in a few days I may 1/2. Goal is to push them with nutes until they hate it and make that my baseline. I Flush once every 3 weeks. My poop is more frequently, fortunately.
a year ago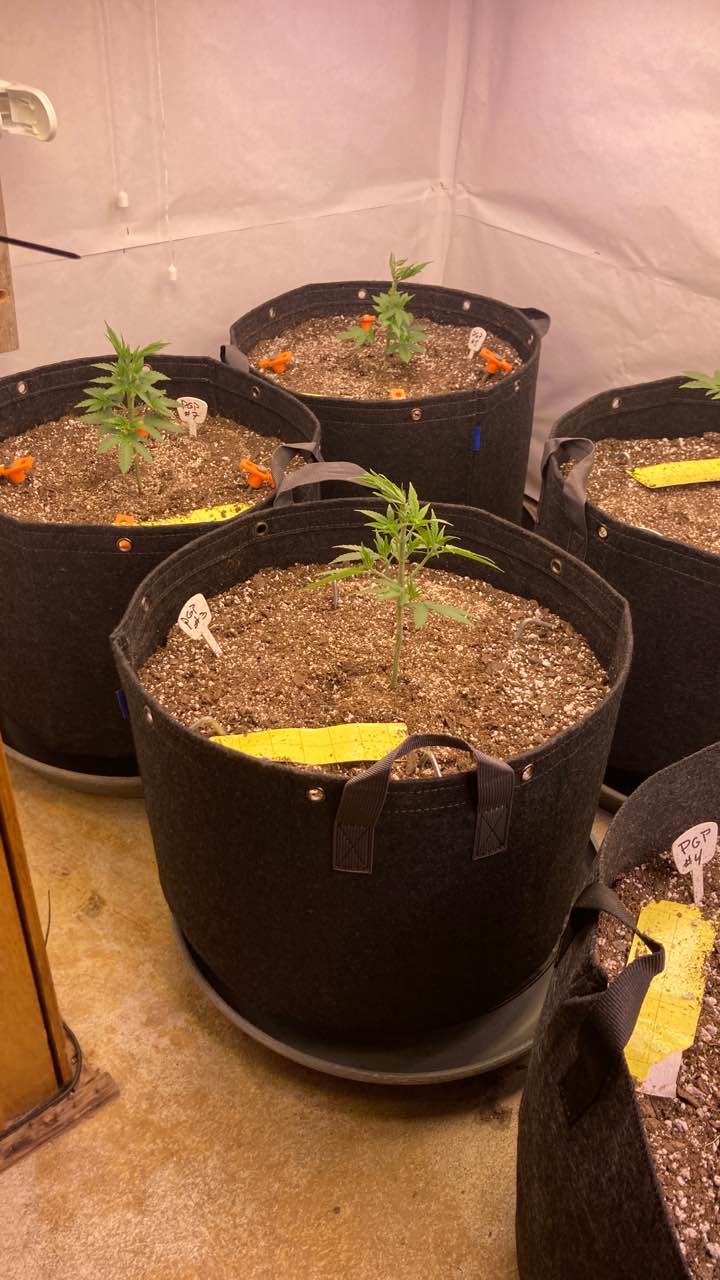 More defoliation and put long tent stakes in position for them to really anchor from the roots and will use them as tie down points. 🥳
a year ago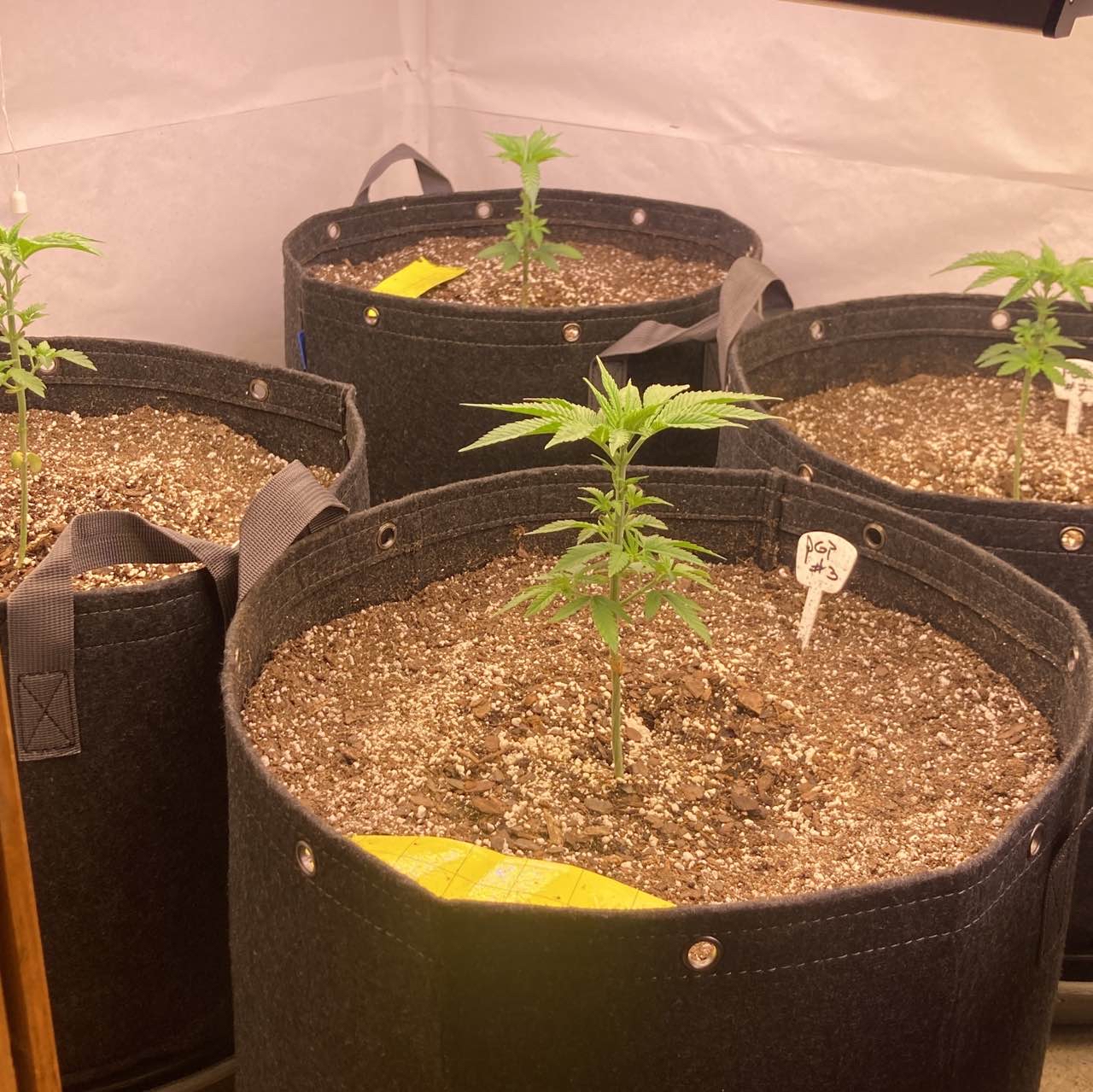 Lollipopped the first set of branches and defoliated some. Waiting for them all to get to the 7th node to top them. Will wait a few days, then the LST begins.
a year ago
Got my plants transferred from the solos. I'm running these in 5 10 gallon pots and one 15 gallon pot. (Wish AC infinity sold them in packs of 6!)
a year ago
Tegridy farms One light per pot? That's taking some good care of your plants 👍
skyimage Indeed. 115watts per plant. I'm vegging for another 8 weeks. Plenty of time to get big. 🥳
Not the best germination rate. 4 of the seven total plants I have going are 20 days (2 didn't germinate of the initial 6 seeds planted) popped 2 more that are 16 days old (both germinated). Popped the last two and only one came up. It's the 10 day old small seedling. Plan to veg all 7 plants for 8 more weeks, take cuttings from 6 plants and keep the 7th plant with the clones while I flower out the remaining 6 plants. Hope to find one killer plant that I can run awhile.
a year ago
zdgrows37 I found floating seeds in a glass cup with just enough water to cover half the seed gets me almost 100% germ
Family Pharm Fluff I soak seeds in aloe water and coconut water for 12 hrs before planting and it produces 100 rate at least so far
skyimage I typically have near 100 percent germ rate as well. All the seeds that didn't germinate came from the same 5 pack of seeds. The other 5 pack germed. Who knows. 🥳
View 4 additional comments
Did the paper towel method and had 3-4 cm tap roots in 24 hours. Got them into their solo cups. 🥳
a year ago