fiercenoble
Cream cheese
Dwc grow
3 seeds set to germinate via jiffy pod heating mat and small greenhouse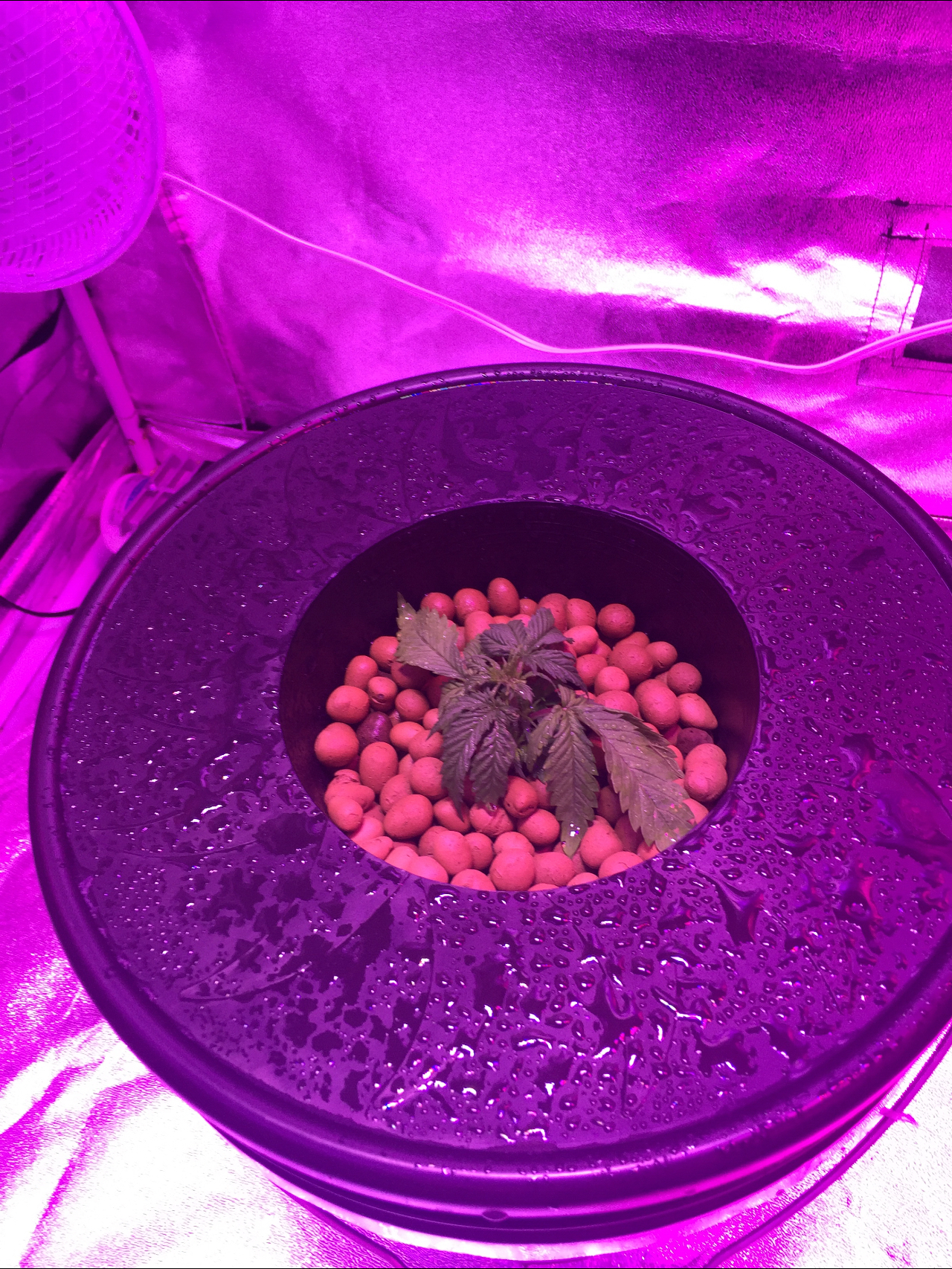 Been battling ph issues, plants are small and stunted for being 30 days in DWC. Also had to deal with over saturation of light, leaves were turning in order to reduce light intake. Lights have been moved to top of grow tent and intensity dialed down a little. Full veg nutes and 18/6 light cycle. Decide to no longer use sterilants and went with an inoculate, hopefully it helps them feed and grow more robustly.
4 years ago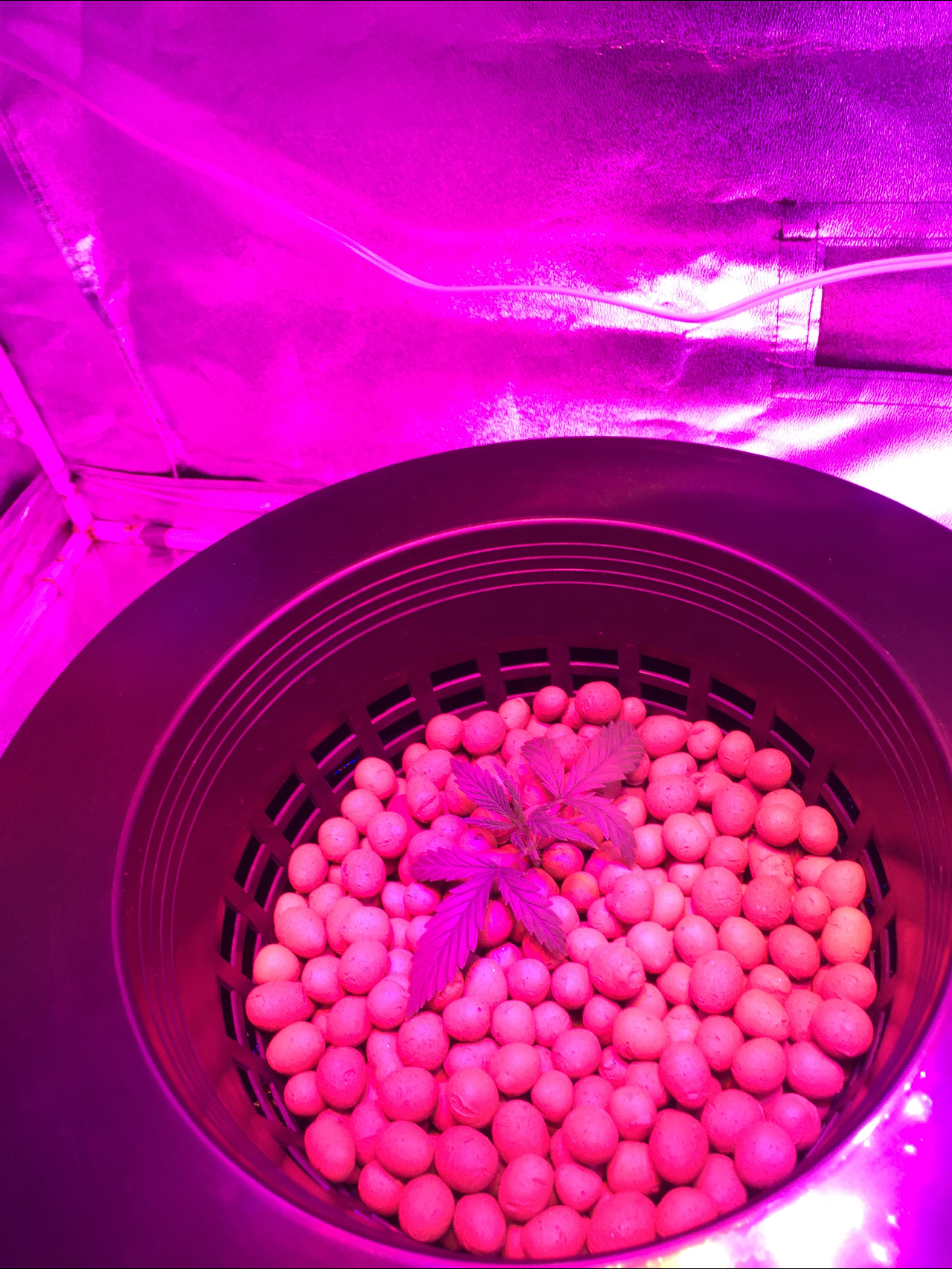 3 of 5 of my girls succumbed by high ph and root rot. They recovered and began rooting nicely, but no other growth was occurring, ie. stalled out, no bueno. But I still have two strong mamas loving the xtra space! Must constantly check ph at least once a day and maintain proper water temp. Will begin full vegetation nute cycle as soon as the twins grow out a bit more.
4 years ago
Two of five are growing very well. 3 lil ones got ph/nutrient block out and developed clawing. Threw the three into smaller containers, fresh bucket of fluids, and constant monitoring of the ph and TLC, and they seem to be bouncing back. Got my new coolant block to maintain water temp within proper range. Will be begin veg schedule on the two nice girls once more branching occurs. So far, so good.
4 years ago
So far so good. Gotta watch ph level twice a day. Very dry here and h2o evaporated faster than usual. Ph became a big issue due to water evaporation. Had some slight yellowing but they seem to be bouncing back very well. Still waiting on refreeze bricks! ALSO, lol sorry ph levels and day trading had me busy all week, retransplanted all sapling from Rockwool cubes to rooter plugs successfully, them seem too root much better!!
4 years ago
Growing steadily. Had some ph issues, so replaced all with fresh fluids and clean buckets. Ph has been adjusted. Check ph after all nutes and additives are mixed into DWC. Some yellowing in the one bucket with two trees, but they look like they will make it. Flushed them well, and placed in fresh bucket. Going to maintain cooler DWC by utilizing hard plastic reusable coolants.
4 years ago
DCThrowaway I'm no expert but shouldn't the hydroton and plant be at the top of the pot?
Fiercenoble In most instances yes, but I am having water temp issues, and keeping some vents open allows for water evaporation. I'm also using frozen bottle method for now.
Fiercenoble I'm aware that light entering the bucket can create issues, but in this case, for now, I feel this works well in tandem with frozen bottles. Keeps my DWC cold enough through out the whole day.
All five still in seedling stage, added sterilant 2 days ago. Utilizing thermostat for h2o temp monitoring. Tent gets warmer than usual with static light. Using freezer blocks to lower temperature of DWC. Changed lighting setting to full veg 18/6 light cycle. Refreshed Rez. Except solo bucket.
4 years ago
Still in seedling stage, but relocated to individual buckets. Tap roots are showing very well. All five seeds survived and growing fast. Seedling stage nutes, still in seedling stage lighting, except extended hours to a veg stage.
4 years ago
Transferred one over to its own bucket doing very well the other four have just sprouted and opening up
4 years ago
Transferred over to Rockwool cubes , five have germinated and one has sprouted. Watered twice a day and receives splash from reservoir bubbles. Lighting is 18/6 with 50/20 veg/bloom spectrum, one fan on to circulate air.
4 years ago