bckapers
Humboldt Legacy OG
Spring 2020
Grown in soul
Our oldest girl lol what can I say, I have waited too long but she is up to flower next
2 years ago
Almost 200 days old lmao. Soon enough she will be in flowering mode!
2 years ago
Got the humboldt in a new pot & new soil and even a new tent, lookin good.
2 years ago
Roots are very much rotting lol. Can't do much about it but I'm confident it'll bounce back anyways.
2 years ago
Humboldt is ready to transplanted and cloned
2 years ago
The humboldt is ready to be transferred, it's growing nicely with no problems and has been her whole life.
2 years ago
This fucker is getting tall, it's one of three, this one looking the best. I've started to add calmag to the water for these.
2 years ago
This plant is rooting nicely and getting taller every day it seems. I added some dirt to the bottom and the top.
2 years ago
The plant is growing at a normal rate. I think sooner than later it will require a little nutrients in the water, can't wait until it's time to flower it.
2 years ago
Transferred the plant to a different cup with more dirt on the bottom and a little on top. The plant was positioned awkwardly in the cup and I wanted the plant to be above the rim, I guess. The leaves seemed a little droopy as well, might be from over watering, not sure but I hope adding fresh soil helps. I also had a difficult time removing the plant from the original cup, the dirt was very loose and it fell apart quickly in my hands, instead of keeping a mostly solid mold like the soil normally does. Hopefully fresh soil will help the leaves return to normal.
2 years ago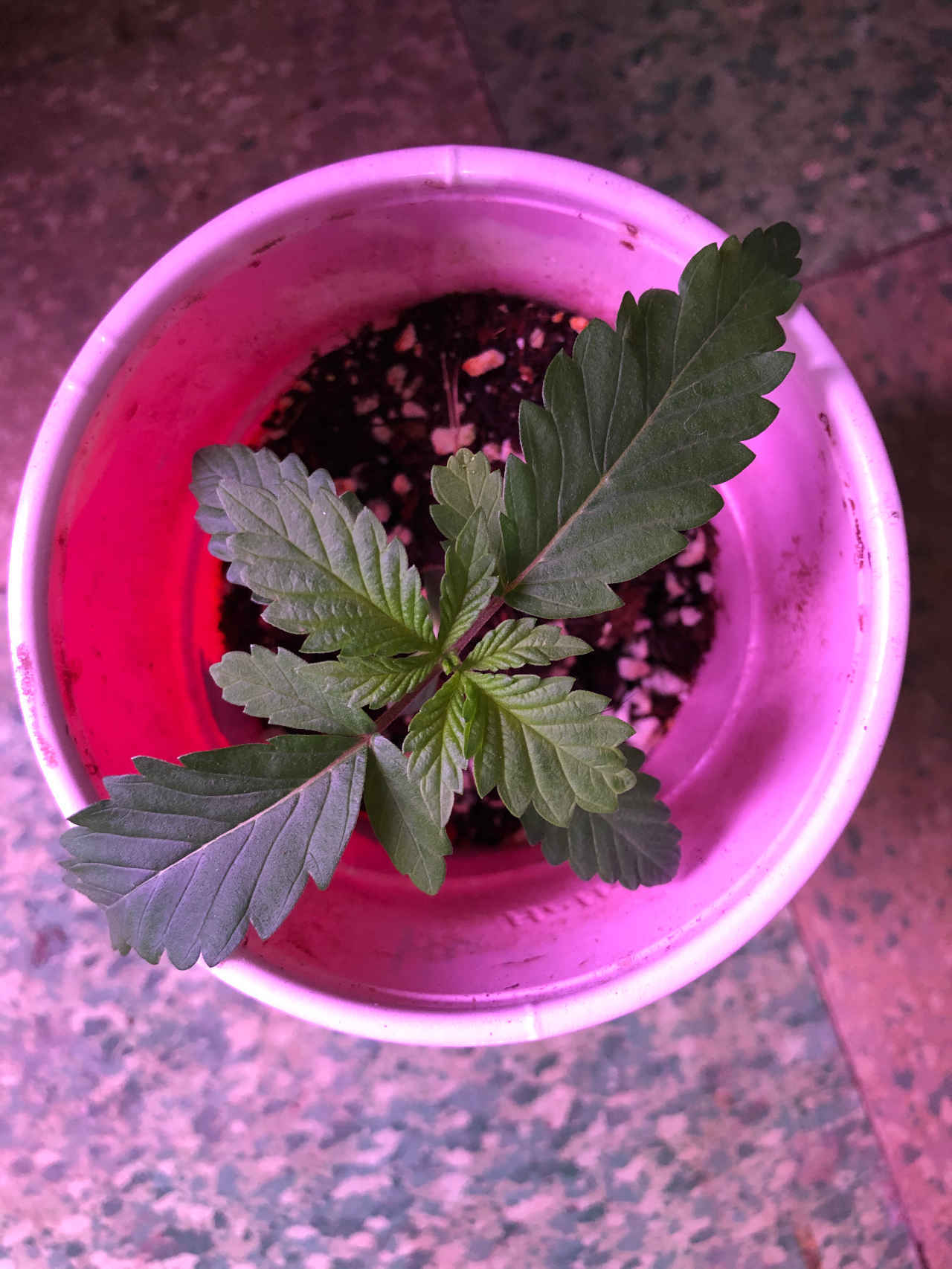 Growing bigger every day & looking great.
2 years ago
All three seedlings are growing nicely, one has smaller leaves due to a seed being stuck on the leaf. One leaflet has yet to escape it. All seedlings are 4-5 inches now with a bit wider leaves. I've also added dirt due to long & flimsy stems, they needed a little support so more soil was added.
2 years ago
Seedlings are almost as tall as the cup now, will transplant with more soil soon.
2 years ago
All three seeds have sprouted & are looking great.
3 years ago
The taproots are fully showing themselves and the time to put them in a little loose dirt has come
3 years ago
After 12 hours of being soaked in a mixture of distilled water, hydrogen peroxide & root solution, followed by another 12 hours of sitting between two sheets of soaked paper towel while on a plate which is on a heating pad & also another plate on top to make it completely dark. I plan on planting in a solo cup with soil in the next 24 hours.
3 years ago
Starting the germination process. Three seeds and one has already cracked
3 years ago