romulon
GD Purple
Photoperiod Trial #1
GrowersChoice
7 weeks in photo shoot
3 years ago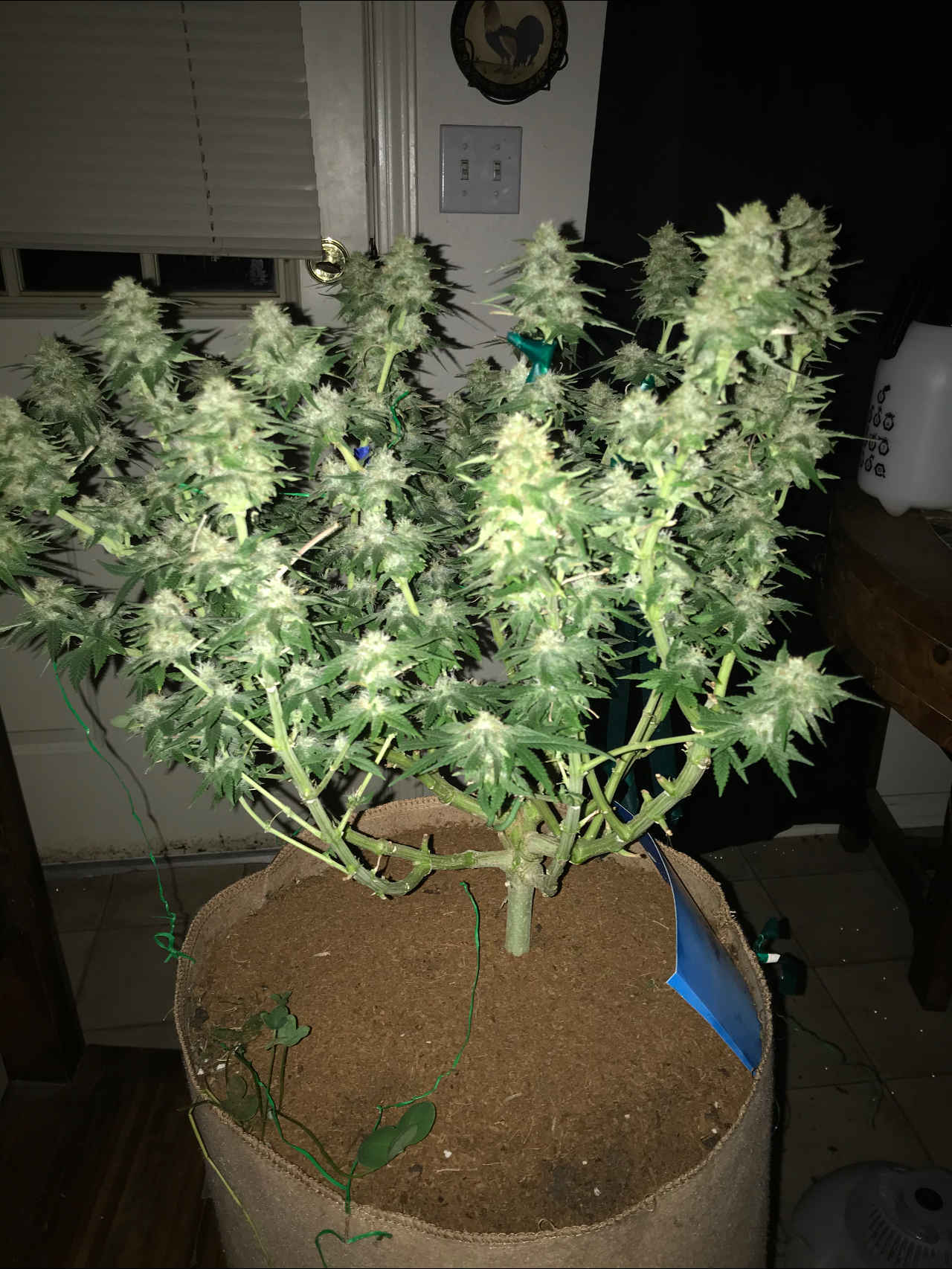 6.5 weeks in flower.
3 years ago
5.2 weeks into 12/12. Buds slowed bulking.
3 years ago
2 weeks down, about a third the way there!!
3 years ago
2 weeks into flower, doing good.
3 years ago
Week 1 of flower in the rear view. Been on 12/12 for like 3 weeks.
3 years ago
Bad news guys, despite it clearly growing rather vigorously, I was just told by grandaddypuff that it's stunted because i trimmed in bloom 🤷‍♂️
3 years ago
Been on 12/12 for 2 weeks still no flowers.. Finally got the yellowing fixed (nighttime humidity too high). Just watered her with straight water, gonna start some good ol big bloom next watering. Took one more weak top off down to the 4th node, the 5th node has a monster branch. Leaves me with 18 solid colas. I'm happy.
3 years ago
GranDaddyPuff You DO realize cutting/clipping/trimming during bloom is a horrible idea. It stunts ( stops ALL growing) the plant all together...
Romulon Cutting your plant in the first 3 weeks of bloom definitely doesn't stunt your plant. You can look at my next update for literal proof if you want. That just doesn't make sense. Lol. Have you heard of monster cropping? Look it up. I'm all about community and helping one another. Don't fucking come in here and misinform me again.
Romulon Do you mean SLOWS plant growth? If so then... no shit? You mean if I cut something off it's not instantly grown back? Or you're trying to tell me that my plant has completely stopped growing? I just can't get over that you believe that with such a Stoney username 😂
View 3 additional comments
Day 10 of flower. Pic is from day 8. Trimmed down to mains,
3 years ago
GranDaddyPuff T you could trim her back a lot more, for airflow and allow all bud to get proper lighting. Check out my White Widow grows. That will explode. I gave them a week 3 bloom extreme defoliation.
Romulon Thanks! I've taken your advice without having seen it till just now. It had something like 35 colas, now it has 19, and might take 1-2 more off. I decided to take the smallest crowded ones with the least growth. I'll update again soon, please keep the advice coming!!! I'll check your grow out.
Romulon Wait... T is what I'm often called... but my names not on this app. Wassss that a coincidence? Do you know me????
View 1 additional comment
Everything's going well, little yellowing on new growth I'm trying to figure out. No flowering signs yet.
3 years ago
Didn't do much to her today, gave her some water and defoliated a little bit more. Turned the light down and after that and the boomerang yesterday she looks healthy af. Day 3 of flower!
3 years ago
Second day of flower, started yellowing again this morning so I gave her some calmag and boomerang tonight, defoliated, and she starts her day at noon tomorrow.
3 years ago
She's in her first long night right now, woo.
3 years ago
Big day for big momma, defoliated today and holy shit. I knew she was bushy but WOW. I probably took 40% of the plant off. I got like 8 clones with 4 of them being pretty choice cuts. Couple were for the hell of it but tonight they're perked up like an excited kid. I broke one of the mains right at the knuckle, broke about 3/4 way through, I wrapped it with aloe and let it chill, looked good hours later so I went ahead and wrapped the broken branch to the stem to firmly secure it in place. If it was fucked, I'd know by now, at this point, I've basically completed my first (accidental) supercropping which I've already heard is a common way to learn lol. Had a hard calmag signal today for a deficit. Idk how it hit so hard so fast, I can't imagine how I neglected calmag... weird. Looked better tonight, fairly sure, if she's all green again tomorrow it's fucking flower time.
3 years ago
Ok so I THINK the yellowing is getting better, looks like it anyway, I decided to go ahead and get an exhale bag, that should be going good in a week or so, it was activated prior to me buying it. I've been defoliating a lot and I've realized it's gonna be a tid bit crowded so I think I'm gonna cut one more clone tomorrow. If I'm certain the yellowing is better tomorrow night, I'm putting it in flower.
3 years ago
The first clone showed roots today!! Day 8!! First try!! Well, 1 out of 5 of my first try lol. Still, so excited, used free aloe Vera and $5 take root and rock wool. Someday I'll use clonex soil and supps, see if I can get rooted in under a week, I'll start a grow for the clone, don't know what's in store for her yet. Meanwhile, mommy was showing more and more yellowing in the top growth closest to the light, now the light is the mars hydron1000 and the par value at 16" is damn near a grand, then I've got my maxisunn1000 putting about 2-400 out, now everything else is fine, not being directly under the hot spot and being several inches shorter.. but it never dawned on me that while she wasn't getting too much light under ideal conditions, being my first grow, chances of conditions being optimal are so low lol, I didn't have any extra co2, used too many nutrients, watered too much, and who knows what else, so the fact she was 16" under that light and just got some yellowing is great as far as I'm concerned, I moved the light up to about 21" from her canopy, raised the blurple up just a bit, but everything else seems great so if the yellowing gets better I'll slowly lower her back down. Still planning on flipping her super soon, just really wanna get the yellowing under control first. She got fed for a week last night, next nutes will be micro bloom dose August 3rd. Til then she's getting nightly gallons of 6.0-6.5 pH water.
3 years ago
Fed her about 2.5 mL of fox grow and did extensive LST and she's 9" tall and 13" across, 7 main colas and a dozen secondary colas, plenty bud sites, use straight water the next two nights as I flip into flower.
3 years ago
Consecutive Transplants seems to have gone well, seriously considering cutting one more clone due to the fact I think I'm only getting one survivor lol. Fuck it, tired of putting off flowering. Transplanted into semi super soil, micro dosing eod for remainder of veg, if all is well on day 40 I'm flipping to 12/12. Watering 2 liters every day.
3 years ago
Good to flower in 5 days.
3 years ago
I repotted her again, I now feel good about flowering in her current pot. Her clones are closing day three and look flawless. I'm gonna order some colloidal silver tonight, feminise the runner up and pollinate the leader, maybe I can save some so I can immediately pollinate my next purchase? Have some research to do. But hopefully, we can flip her Monday
3 years ago
Shiz I use tireisa mist for mine had really good success last year with it turned a whole plant male this year tried to do it on two arms just getting nuts now good luck on the project
Cut one more clone, did a bit of LST to even out the canopy, fimmed a couple tops, gave it 2 liters of water 1.5 of it a heavy feed at 6.5. Responded ridiculously well to being trimmed.
3 years ago
Repotted, roots barely fit in the 5 gallon.. gonna have to repot again in a few days. Ugh. Then, finally, one week after I repot again, she's going into flower. Woop. Cutting clones right now. Gonna do at least two real ones and several little mini Hail Marys. Doing a 1ml trio 1.3 liter e.o.d.
3 years ago
Ugh, I keep flip flopping. So I'm not going to flower yet. I've decided I need to clone first. Need to learn and this is a good plant. I'm going to get a vented propagator tomorrow and get a vial of aloe, maybe some rapid rooters. I'm gonna take 3 I think.. maybe one at a time.. lord knows she can handle it. Another reason I'm deciding this is that auto is coming on up, and I've got 2-3 more autos sprouting, they'll be done not too much longer after this if I started in a week. So I'll have weed, plus it's highly inconvenient to flower right now.. I've got her cruising on light nutrients, I'm going to repot her tomorrow, and probably cut a couple clones 😅
3 years ago
Clone was an epic fail.. I'm gonna switch her to flower soon, maybe tomorrow. 20+ bud sites and they're overcrowded.
3 years ago
I've for sure decided, I'm flipping the bitch in about a week. If not I'll need to re pot her, and I don't wanna do all that. Plus, we need weed. She's ready. I'll clone her tomorrow and that will be the last cut I make on her, I'll slowly bend her back towards the center as she flowers, get a nice table top canopy with 12+ fat colas. Seriously, my first plant couldn't go better.
3 years ago
Got the new light today! Her light absorption should double. Tops still haven't really done much. But I got the training down really well for now, I almost let it get away from me, remember, bend the tallest tops in the direction you will be bending the main stalk in the near future. Weave wire through canopy to even it out. Due to the inactivity from the last two toppings, I now plan on leaving it alone and flipping it on the 26th, I'm sure it'll still produce just fine, she's a beast.
3 years ago
I didn't do any more topping today, very little growth on the two from yesterday and LST is over due. Will probably top no more than once in 24 hours from now on. She got light nutrients today, LST, and some rotation, light spotting on some leaves, not a concern yet, could be from water. Flip date postponed from 26th to 28th. Light flush tomorrow, top tallest point, re wIRE my sloppy LST, she's a bit to tall.
3 years ago
Took two tops and a fan leaf off earlier today, tucked some, pulled a couple colas down a bit, if she still looks happy at lights out I'm gonna take another top. That'll put me at about 13 colas. It's light flush tonight, light nute next night, she's perfect. Edit: did a light flush, I didn't top anymore, I did some LST and after topping twice with that I didn't wanna push it too damn much, I'll get her in the morning and again tomorrow night. Found a couple more colas while LST, puts me at 14, I'm probably gonna flip her two weeks from yesterday, with 16 colas and 3 clones, shooting for 2 zips, with 230 watts I think 60gs from 15+colas is a more than fair expectation.
3 years ago
3 weeks old today! She's short, maybe 8" but like 6" cause LST. Heavy nutrients. Trimmed my first fan leaf today. Tucked some others. Branches are turning out great, they're super close to needing trained.
3 years ago
She's going nuts with development, I think the topping was a failure, I didn't cut far enough down 🤦‍♂️ take two tomorrow. Really wishing these branches would grow out, they're blocking each other like crazy. It's got 7 nodes now I believe. Continuing to increase nutrients, next feeding (tomorrow night) she'll get her first full dose.
3 years ago
She's responded beautifully to training, think I'll rotate an inch counter clockwise daily with her, also going to up her nutrients to about half reg dose and watering about .5 liter right now.
3 years ago
Ok so I rotated her a bit, gave her a light dose of nutrients in a wannabe liter of water with pH of 5. Other than doing a 1.5 liter mini flush with 5.5pH water cause my soil tested at almost 7.. everything is good and now we wait. I added a regular bright led bulb, i like it, I'm gonna get another one and prop one on each side of my blurple, i estimate it's getting about 800ppfd now? Another one would put it around 1k at 16"?!! making a fantastic little 2x2 entry light I'm even close to right, and absolutely perfect for my dual auto shelf where it'll ultimately end up.
3 years ago
I topped her today, or FIMed(cut above stem, 3+ tops) I cut 80% of the foliage developing out of node 6, I'll probably remove anything that doesn't have a bud site on it soon but we'll see, immediately followed by LST. She looks good and instantly responded to training. I'm going to attempt to stunt her growth as much as possible. She's gonna get bent and topped pretty consistently.
3 years ago
Repotted, started nutrients,
3 years ago
Haven't been able to adjust pH yet. Given the high pH and the shitty wet soil, shes doing great, looks like I got a good pheno too, doesn't look like she's gonna be stretchy at all.
3 years ago
She's about 5 in tall, starting nutrients and increasing humidity today.
3 years ago
hashCompany You're insane bro. 5 inches on day 8? The fuck are you smoking 😂😂😂😂😂😂