clj781
Blue Dream Round 2
Spring 21
Two plants in 3 gallon pots with Bio Biz light soil mixed with perlite. Mars Hydro ts1000 light
Blue Dreammatic from Fast Budz
After watering. Hoping to chop this weekend but doesn't look ready to me yet
2 years ago
8L of ph 6.5 SA 880ppm 6.33 ph SB 1270ppm 6.22 ph
2 years ago
Heading into the home stretch. Three weeks left in this autoflower. So many lessons learned. Trouble controlling heat. Nutrient issues. Poor timing with topping. Also, the runoff was much higher than expected this feeding cycle. 8L 6.45ph Edit: and 25ml each of micro, grow, and bloom nutrients + 10ml of overdrive; all from advanced nutrients 2050 ppm 12ml of ph up Runoff SA 2560 ppm 6.45 ph SB 2220 ppm 6.45 ph
2 years ago
macks1907 I have trouble with timing of topping or fimming
dale2216 Do you exhaust the air out of the grow tent AND out of your grow room that the tents are in ?🤔 Im guessing no
macks1907 @dale idk is youre taking to me, but yes I do and I have a clip fan for my plants so they become stronger healthier and have constant co2 being pushed around
View 5 additional comments
8L 20ml each M,G,B and Big Bud 8ml of phUp 6.5 ph 1573 ppm Output / runoff SA 2190 ppm Ph 6.45 SB 1888 ppm 6.45 ph Adjust LST Tomorrow
2 years ago
Ph 6.5 880 ppm 8L 10ml of each of micro grow and bloom 10ml of big buds 5ml of ph Up Output / runoff SA 6 oz of water Ph 6.56 1401 ppm SB 4 oz of water Ph 6.45 1268 ppm Watered a little late because it's been a crazy week for me. Last week I watered SA with nutrients and SB with just Ph'd water (6.5 ph). This week I watered both with nutrients. There wasn't much runoff. Then I defoliated. Will start watering more frequently. Last watering was Sunday
2 years ago
Pics 10 hours after watering. 8L of water with 20ml of each Micro, Grow, and Bloom. Also 10ml big buds, and a lot of ph Up to get to 6.5 (like 6ml). Tested runoff and it was pH 6.35. Dealing with potassium deficiency on those dark brown spots. A little bit of nitrogen deficiency in the yellow leaves. Switched to 18/6 light cycle. Lights are 24" away after LST.
2 years ago
Watered and LST. 8L of water with Advanced Nutrients - 8ml of each of micro, grow, and bloom. Also 4ml of CalMag. And .5ml of ph Up to 6.1pH. LST is 4 binder clips on each with tie strings.
2 years ago
Day after watering. Day 3 after topping for SA. Day 2 after topping for SB. Early nutrient deficiencies - yellow streaks on leaves. Apart from that, SA looks golden. SB lives up to its name
2 years ago
Just watered with ph 6.3. Rotated plants and raised lights to 27". Monitoring SB which has its leaves drooped down, mutations, and some spots on one leaf. There's also some early deficiencies showing across both plants
2 years ago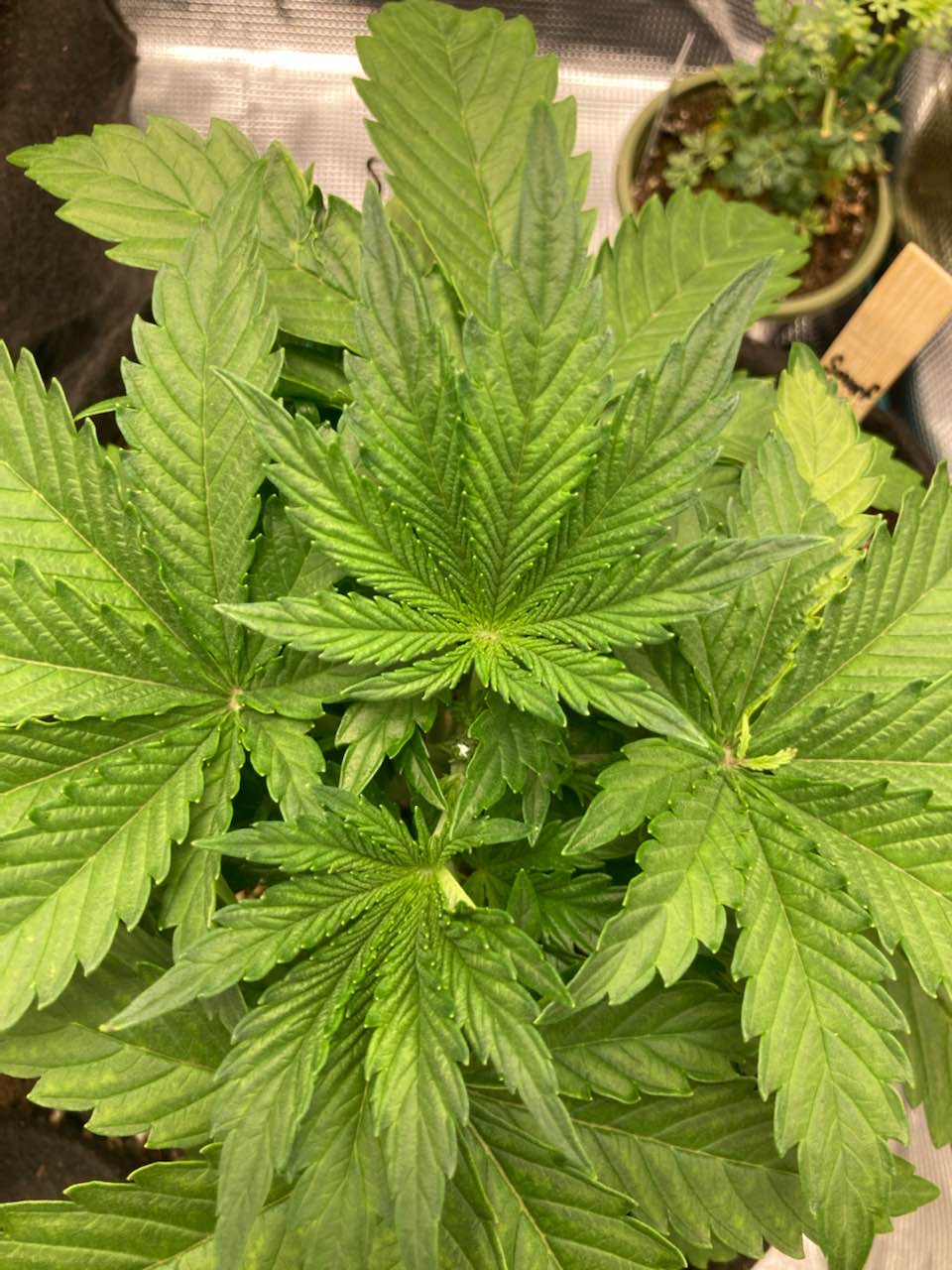 Topped SA yesterday morning and SB this morning
2 years ago
Just watered for second time since sprouting. 7L with 7ml of voodoo juice and 5ml of CalMag, ph at 6.25ish. Humidity has been 50-60% and temperatures have been 70-80F. Raised lights up to 27" from SB. SA is a beast, outrunning SB by a couple of inches/days. Didn't want to LST yet but I did pull on the stems to stretch them out. May also experiment with splitting the top node in a few days
2 years ago
Colors have improved. Only thing that changed was the light height 🤔. Of note, high humidity 75% right now because of humidifier. Noticed that there's moss on the soil surface
2 years ago
SA is showing signs of deficiency. SB is looking good. Yellow spots coming from the veins. Eyeing CalMag for next feeding. Been a funky week of weather so climate has fluctuated between 70-80F/50-60%. Moved lights up -> 24"-27". Started fan
2 years ago
Just watered. 8L of water with ~8ml of voodoo juice ph (6-6.5)
2 years ago
1 week since seeds were planted. Going to hold off on watering since soil is still moist
2 years ago
Soil ph was a guess because of bad instrument. Used .5ml of ph down and .25 of ph up. Added 10ml of voodoo juice to 2 gallons of water. Added another half gallon non ph for extra moisture. Ran lights 24/7. Humidity is 60-70% and temps have been a bit high 70-80. Sprouted on day 3.
2 years ago
trampo What medium are you using?