freddyd
5 gallon hydro, Autoflower Seed to Smoke
First Grow!
Seed to smoke, 5 gallon bucket hydroponic home grow. Four plants, four strains total. Juicy Fruit autoflower, Durban Poison autoflower, Northern Lights autoflower, and Purple Haze autoflower. I'm choosing to only do four plants due to this being my first grow. I don't know what to expect, I want to pay attention to details, and this will be a trial and error experience. I'm using a 4x8 tent and 2x1500 watt and 2x600 watt LED lights that I will rotate in when necessary. I've been doing my research and talking to many people. Looking to learn more about growing so advice is happily accepted. I'm excited to be very meticulous in all aspects of the grow and will be logging all interactions with the plants here. 🤘🏻
Juicy Fruit, Purple Haze, Durban Poison, and Northern Lights
Went down on a daily basis and added water and checked for growth. Nothing! This is becoming discouraging.
3 years ago
My buddy came over and checked out the grow. He has had good experience with skipping the paper towel part. I opted to get all of my seeds into rock wool and into the seedling hood under the light.
3 years ago
The Juicy Fruit has slowed down and I'm worried something may be going wrong. I've added some filtered water that was ph'd to 5.8 and then filled up the dome with that same water. The Northern Lights has sprouted more, it is showing a green stem and the seed is cracked in half. In a couple more days after some more root growth I'll move it to the rock wool. The Purple Haze hasn't germinated. I'm starting another seed right away. I've ph'd filtered water to 5.8 and placed the new Purple Haze autoflower seed into the glass. I have it sitting in the darkness of my unplugged storage fridge. The Durban Poison is showing a sprout but it's small. A few more days then into the rock wool. I've watered all paper towels. 80 F 90% RH in the dome.
3 years ago
I decided to check the Juicy Fruit plant out since it hadn't seemed to change at all in the recent days and there was some yellow discoloration. Well, I was inspecting the plant and I was too rough with it. I killed the plant. RIP. I did however check out the root system and there was no development down there. I've since ph'd a glass of filtered water to 5.8 and placed a Juicy Fruit autoflower seed in. It's now in the tent with the Purple Haze autoflower seed that's racing my slow germinating Purple Haze seed to germination. 73 F 93% RH in the dome.
3 years ago
I checked on the seeds again today. All but the Purple Haze have sprouted a taproot. I've soaked the Purple Haze seed in SuperThrive and added more water, let's see if that will do the trick. The Juicy Fruit plant seems to be a strong gal, she's green today as opposed to the yellow yesterday. The light is doing its job. I'm hoping by tomorrow there's at least a crack or small sprout on the Purple Haze seedling, otherwise I may use another seed in parallel. Durban Poison and Northern Lights have sprouted out of their seeds. I'll be keeping an eye out for when they are ready for rock wool.
3 years ago
I've opened all the paper towels and checked the status of the seeds. All but Juicy Fruit hasn't sprung a sprout yet. The Juicy Fruit's root was a good 2-3 inches. I transferred it into rock wool, dug a hole in the rock wool to allow the roots to penetrate, and added a few drops of SuperThrive. Then I placed it into the heating hood. I then placed the light on a 18-6 timer to get the plant some heavy light to grow towards.
3 years ago
The Northern Lights and Durban Poison seeds had sank to the bottom of their cups. I thought it'd be a good time to get them in paper towel. I've placed them into the germination dome with the Juicy Fruit and Purple Haze. 76 F 90% RH
3 years ago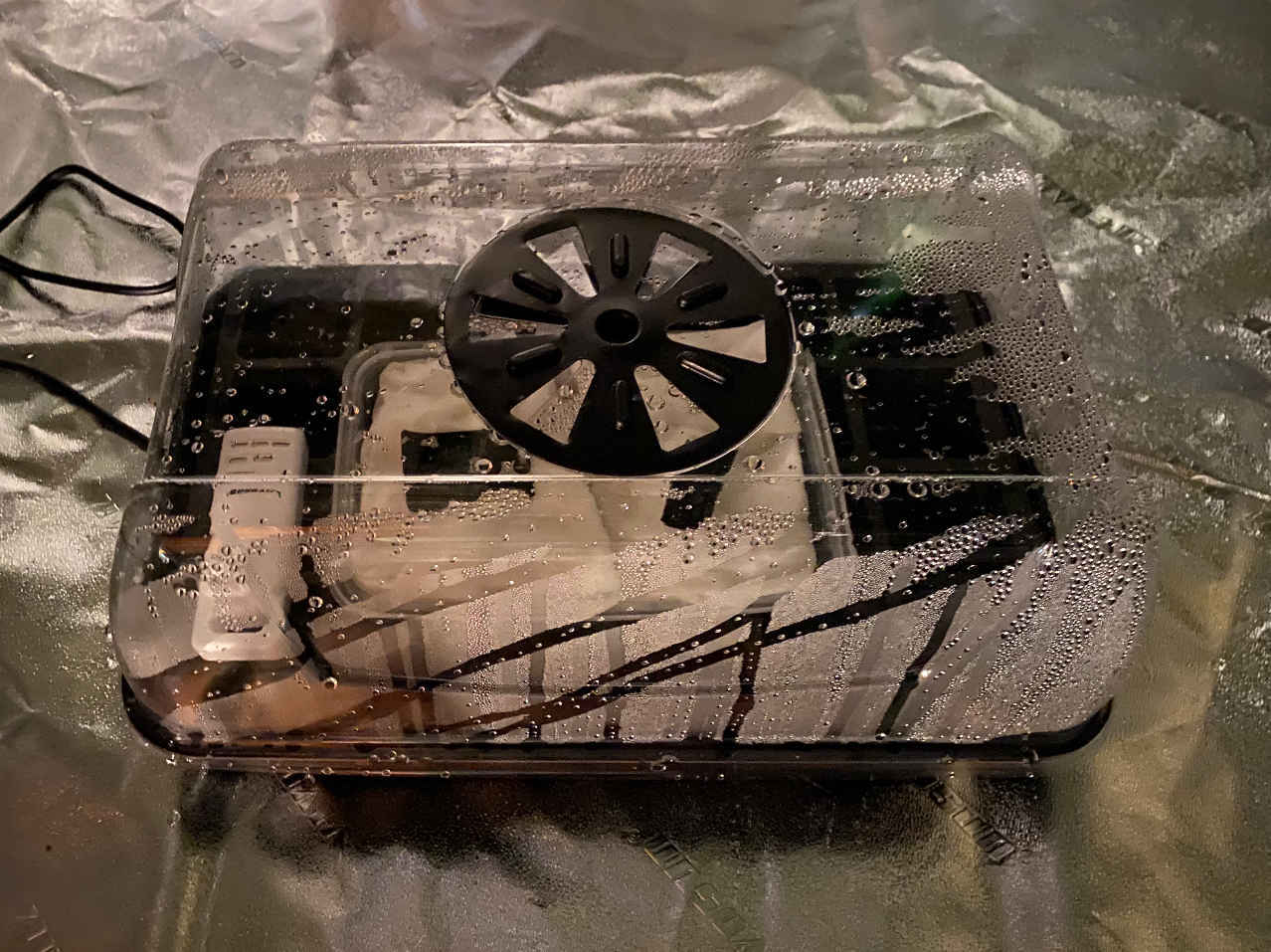 I've taken the seeds out of the 8 PH water. I dumped them onto a container that held paper towel. I drained all excess water and I'm now counting on the moisture on the towels and will be adding water periodically. I've also placed the container holding both seeds and paper towels into my heated seedling hood. This will raise the humidity and get the seeds prepped for their next medium, rock wool. 74 F 85% RH
3 years ago
The Durban Poison and Northern Lights autoflower seeds have arrived! I placed them in a cup of filtered water and marked them. Glad these 4 plants are only a few days apart. Now, off to the races!
3 years ago
I've PH'd two glasses of filtered water to 5.8. Then placed 1 seed of each into separate cups. I have them in the grow tent with the lights off. In three hours I will push the seeds to the bottom of the water. 67 F and 74% RH in the tent.
3 years ago
2 hours later I was getting excitable so I went down and tried to push the seeds down to the bottom of the water on the cup but they didn't drop. I'll try again right before I go to bed, maybe they haven't absorbed enough water yet.
3 years ago
I went and checked at the 6 hour mark and I was still unable to get the seeds to drop.
3 years ago
I checked 16 hours later and the seeds are both sunk to the bottom. 66 F 56% RH.
3 years ago