First Grow
Summer 2021
Sprouted 6/10/21. Using FFOF and General Hydroponics Maxi Series. Indoor equipment: 3x3 AC Infinity tent, TSW-2000 MarsHydro light and AC Infinity T4 fan. Description of Seed From Breeder INDICA XL YIELDS THC 21-24% FLOWERS IN 70-85 DAYS The Auto Northern Light Strain is a very high yielding and potent beauty. Easy to grow and equipped with the typical Northern Light traits that make her a legend: Lots of sticky trichromes, compact flowers and good resin content. The Auto Northern Light cannabis plant grows to a medium size, i.e. in a sunny spot and even when grown indoors it reaches a maximum height of 1 to 1.2 meters. Auto Northern Light is an absolute classic of cannabis strains and one of the first and still really good autoflowering strains.
Northern Lights Auto Fem (Sirius Gardens)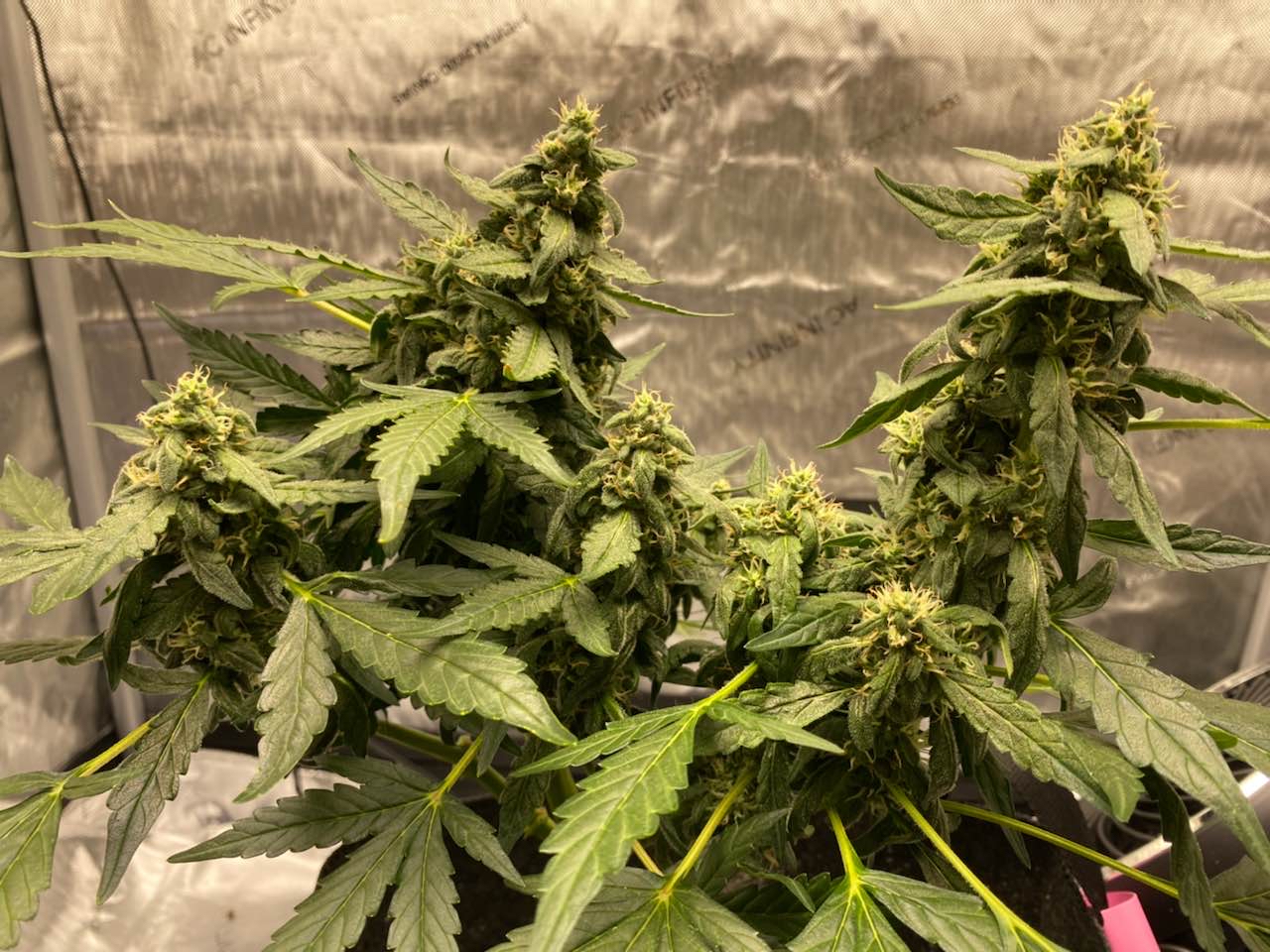 Watered and fed 1 tsp per gallon of Kelp Me Kelp You. I'll do one more water only before feeding nutes. Supposed to be hot the next week.
2 years ago
Looking like she has a little bit of nute burn. Either she didn't like the CaliMagic or the bottom feeding. Flushed with regular tap water from the top.
2 years ago
rendawg90 Thanks Jake for the reassurance. I was reading on Reddit that some growers like having a little nutrient burn. Shows they are getting a little over the max level of nutrients. Then they back off a bit. Either way I'll be backing off a bit.
combatmedic81 Watching the tips of the leaves is how I decide nute regiment
View 2 additional comments
Bottom watered and fed 1 tsp of MaxiBloom and 1/2 tsp of CaliMagic. I'll continue to give 1/2 tsp with each watering until 2 weeks prior to harvest. I
2 years ago
rendawg90 It's diatomaceous earth. I started seeing some fungus gnats in my soil. Sprinkled a layer on my soil to help get rid of them. It becomes ineffective when it gets wet. That's why I've been bottom feeding.
Bottom watered and fed 2 tsp per gallon of Kelp Me Kelp You. Covered soil with DE after seeing some gnats.
2 years ago
Watered and fed 1 tsp per gal of MaxiBloom. Raised the light about an inch due to increasing temps. I'll need to keep an eye on temps since it's supposed to be hot this weekend.
2 years ago
Sprayed with Dr Zymes for IPM. Watered and fed 2 tsp of Kelp Me Kelp You.
2 years ago
Coming along nicely. Covered up one of the intake vents to create a little more negative pressure.
2 years ago
Starting to get a little frosty.
2 years ago
At lights off sprayed Dr Zymes for IPM. Fed 1/2 tsp per gal of MaxiBloom.
2 years ago
Moved indoors due to pests and smell. Initially had a photo bag seed. Opted to keep the auto fem. Down to just one plant now.
2 years ago
NL started flowering.
2 years ago
rendawg90 I love the smoke on NL. I read it's an easy strain to grow so I figured I'd start there. Can't wait to see how she turns out!!