gabbygrows
24K & Purple Punch
First Grow 4-20-20
Two clones in 5 Gallon Cloth pots, in a 3X3x5 tent, LED light, soil for a medium with GH floragrow series.
Final ties have been added to these girls!
4 years ago
Fed them about three days ago. Purple punch is filling out nicely. 24K is starting to grow up. That's what we want.
4 years ago
Just tied down Purple Punch, all the top new growth was brought down level with the rest of the canopy. As it continues to stretch out I'll add more ties. 24K is adjusting well to the LST and bushing out. A few more weeks till we go into flowering!!
4 years ago
Yesterday I overslept and the temp had reached 88.5 causing some yellowing and spots of some leafs. Since I have moved the light up. Plants are being fed by a diluted flora grow series solution. Also have added a second fan for a few hours to help with circulation. 24K: Topped a few days ago, pruned, then commenced low stress training. Purple Punch: Topped a few days ago, pruned also, but won't start low stress training for about another week.
4 years ago
First feeding two days ago, plants have really sprouted since. Today I'll prune and top the plants and post pictures of them afterwards
4 years ago
Just replaced the light, last one has a panel out. Now that that's fixed the plants are loving the new light.
4 years ago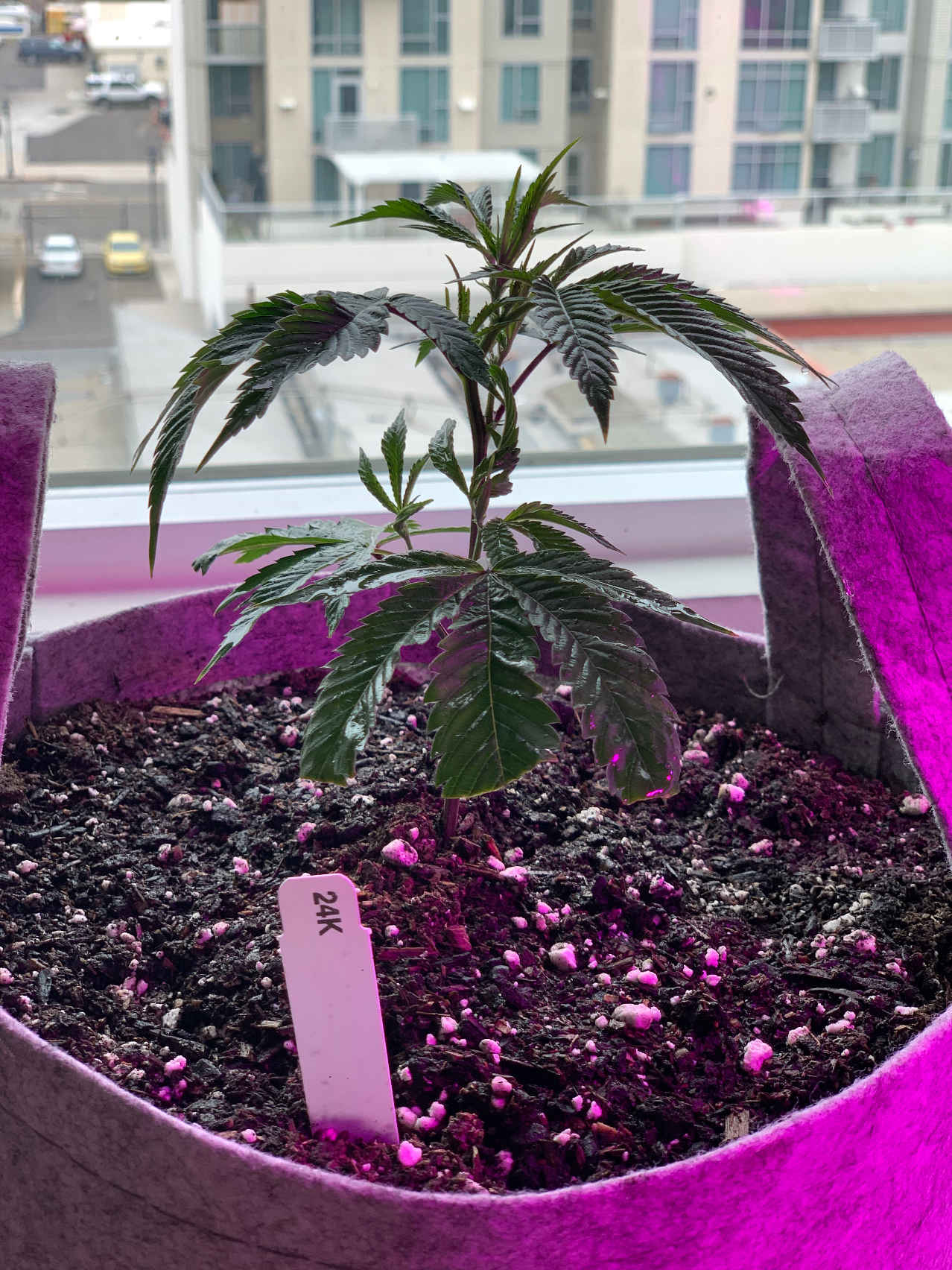 Filled the pots up with soil two days ago now watering every 12 hours and will start them on nutrients soon. Since we filled with more soil that already has nuties in it well just stick to water for a few more days. By the end of the week I'll introduce low stress training.
4 years ago
Purple punch is now 6 inches tall, 24K is about 8 1/2 inches. Plants have grown about three inches since I put them in their medium. Watering with a spray bottle about every 5 hours with a PH of a consistent 7. My LEDs hang about 28 inches from the canopy of the the 24K and are on 18/6 light schedule. We had started to develop yellowing, and pointed tips, telling us the light was too strong. Easy fix. Then we started to develop water spots and clawing of he leafs, which are indications of the fan being too direct on the plants and poor air circulation. Another easy fix. After two days of the new adjustments plants are looking healthy and growing fast.
4 years ago
Clones are starting to adapt to their new home in the soil, leaves looking less limp. New foliage sprouting from the the main stem. A few more days before we begin feeding
4 years ago
GabbyGrows After closer observation, clones are showing signed of pour circulation causing wing burn on some leaves causing them to claw under, as well as causing white spots could be mildew could be water spots, and light burn on the 24K. My lights are 600 Watt LED lights which means the light needed to be further away. I've adjusted these variables and we shall see.
Today we woke up to our babies looking a little down. I've had them under a 24 hour light schedule for the past two days. I'm cutting the lights off so they can root. They will be under a 18 light 6 dark schedule from this point through their vegetive cycle.
4 years ago
24K and Purple Punch first night in new home, had a high PH in the water I had been watering with, but corrected it this morning. Average temp 80 F. With a 24 hour light for the next day or two.
4 years ago