D5000
Piña, cookies, gorilla zkittles
Living soil micro tent
20 gallon bed of buildasoil 3.0, barley straw mulch, clover cover crop, worms, kashi, fed with aloe, root wise bio catalyst, quillaja. Currently I've got a timber, duo of daisies over everything, 210watts.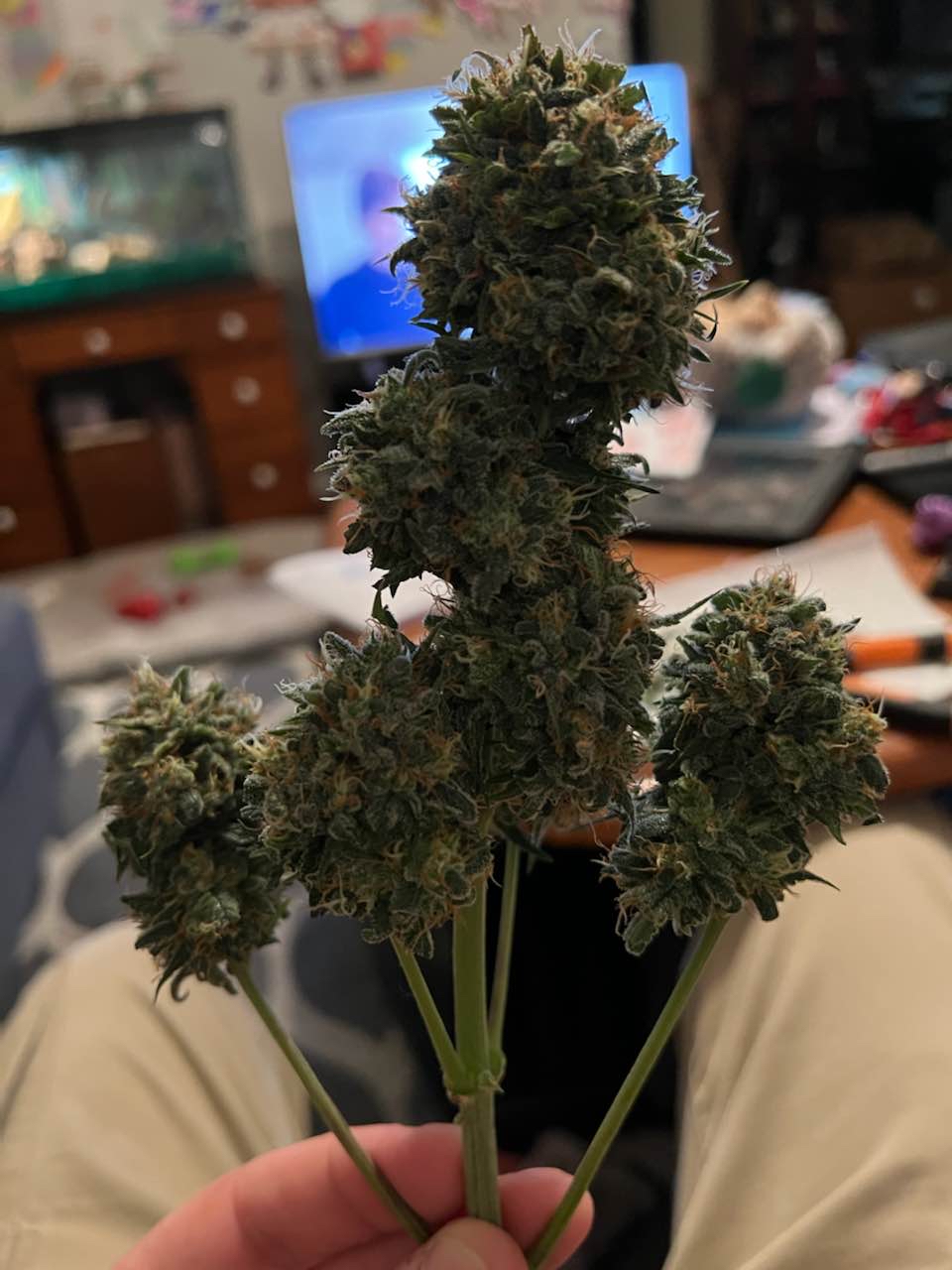 Aaaaaand she's done freakishly early. 10% amber trichomes, the remainder are all cloudy. Onto the next!
a year ago
This girl is racing to the finish line! She's at about 2% amber already. I'll be evaluating her every couple days from here on out. Extremely impressed by the aloe, quillaja, and coconut trio. The stacking over the past week has been absurd and the trichomes are gigantic. Willing to bet most of the material gets stuck in the work bag when I wash it. We were baffled the first time but after doing some digging, that's a common characteristic of plants fed with quillaja.
a year ago
Piña is cruising along. Quillaja is really stacking on the resin
a year ago
Final stack is happening now. Just fed with build a bloom, rootwise bio catalyst, coconut, and, quillaja
a year ago
Happy I kept this one. She's stacking up nicely all things considered. Definitely got hit with a bit of pollen though
a year ago
Been a roller coaster with this girl. The other 3 either hermed or weren't worth finishing after all the bug wars. Sad as before the thrips everyone was coming along great. Popped two more eggs to fill the remaining space now that the thrips are dead
a year ago
She's finally coming out of being over watered as a result of getting all the different bug treatments through the soil.
a year ago
Thrip battle has taken its first victim, the gorilla zkittles hermed from the stress and had to be culled. I might be able to finish the piña but both the cookies are stunted. Waiting to confirm the infestation is dead before making the final decision but it's likely I'll kill everything once the thrips are dead, and replant.
a year ago
Thrips are ruining my life. My buds are getting sucked dry. Working on eradicating the infestation because the plants are still gorgeous despite the attacks on them. Likely gonna end up chopping and restarting once I know for sure the bugs are dead. Auto flowers have too limited time to truly recover from a severe infestation
a year ago
Filling in nicely. Added a beneficial insect pack. Noticed a little spotting on the leaves that I'm attributing to a little calcium deficiency, added a half dose of calmag in addition to the quillaja, and coconut water
a year ago
Started a little lst, added buildaflower top dressing, chopped my cover crop, and added a fresh mulch layer.
a year ago
Beenhicents84 So what are the levels of soil you using? From bottom to top
D5000 One 30ish gallon bed. Base is buildasoil 3.0, now with a few layers on compost, chopped cover crop, and barley straw inoculated with mycelium
View 2 additional comments
Piña and gorrilla zkittles are flying along. Cookies are staying squat and taking their time. Just hit the tent with a feed of rootwise, amino acid, aloe, and quillaja. Few more days before I add the flowering top dress
a year ago
Day to day growth has is absolutely explosive! Still haven't even fed anything aside from aloe, quillaja, and kashi compost.
a year ago
Decided to add my support system today. Leaving for 3 days and expect them to be at the screen by the time I get back
a year ago
brotch Nice setup ! I'm curious what kind of light is that ?
D5000 It's a duo of daisies from Timber grow lights. 200watts
Everyone is moving along now. Chopped and dropped some of the cover crop to jumpstart the biological processes happening below with the worms. Still just on the daily foliar feed with aloe and quillaja.
a year ago
brotch Living soil rocks ! Witch size is your fabric pot ?
TheSocialGrower love to see the living soil!! tonight i'm gonna transplant my girl into the clover i've had going for a month or so now
D5000 The pot is 30 gallon but I've got 20 gallons of soil in there with the sides folded down. I'm stoked on the results, but I kind of miss having stuff to do in there 😂 now I just watch worms go by
View 2 additional comments
Girls are on 18 hours of light. They're all just getting past the seedling stage. Just chopped and dropped all the taller cover crop, allowing the worms to break it down. Every morning I use a chapin sprayer to feed a half gallon of quillaja, aloe, water, and before I go to bed I spray the bed down again with plain water.
a year ago
D5000 Really loving these lights. I can barely keep them at half power so far, cranked up the plants just grow sideways