Fernanda
Survivor
After being savagely mauled by a certain Lab mix who shall remain anonymous (yeah I'm looking at you Nelly) Li'l Fernanda aka Skunkberry OG was too tough to die.
Fernando's Hideaway/ Skunkberry
Just shy of seven ounces total. She smells amazing!!! Hints of vanilla, warm spice. Needs a bit more time curing but it's seriously tempting to try a bit sooner than later
2 years ago
hem-p 7 wet or dry? 1 plant?
kolchak707 Dry, after 11 days of curing not including the drying time
kolchak707 One plant, the other 3 I'll wrap up and post updates in the coming weeks as time permits
View 4 additional comments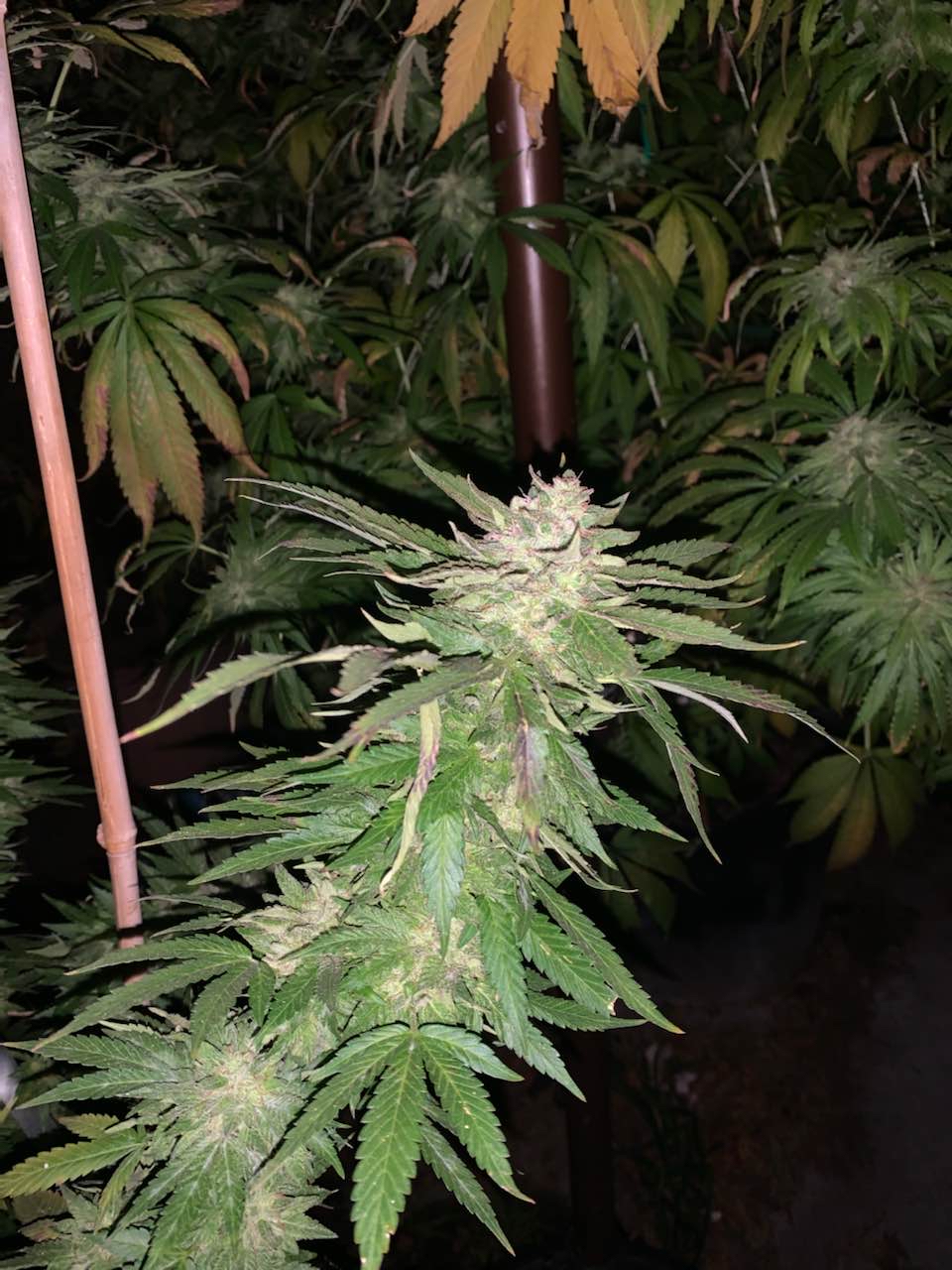 Such an awesome smell
2 years ago
kolchak707 Thanks Stick E wonder if they'll ever invent something useful like smell-o-vision
View 2 additional comments
She's coming down in the morning. Say goodnight Gracie
2 years ago
Cutting back on the nutrients and alternating days with just ph adjusted water. Plan is to begin harvesting in stages within the next week. Update, I've harvested a single flower, roughly 6g wet weight after trim. Drying now on a rack at a constant 70-73* F range . Figured it'll be interesting to sample her on n stages to test the "no-flush theory
2 years ago
Started to flush her. Saw an interesting article @ High T about research into the question, to flush or not to flush…. Essentially both imperial data and subjective "taste tests " indicated that there was no discernible difference in the flower that was flushed compared to flower harvested at absolute peak without the cessation of nutrients. Recommend looking it up, very informative
2 years ago
heizenberg Pretty plant! I read the same article or similar article a bit ago online. Discussing the color of the ash and blind taste tests. Flower from plants that weren't flushed scores higher or the same in all categories. I stopped a "flush" on a couple of plants and noticed no change at all. My last two harvests weren't flushed. It makes sense that it wouldn't have an impact. I still back way off nutrients but I've stopped using any products like sledge hammer. I suspect the beneficial bacteria helps reduce the need for a flush and my experience in hydro suggests the plant is only going to uptake what it needs in light nutrients anyway. In soil I cannot see a linear equation to a flush and I've stopped completely. Controversial in my circles so I've not admitted it yet outside of this post 😂 Curious to hear your results if you're thinking of skipping or modifying your flush.
kolchak707 Thanks for your insight. To be honest I'm somewhat on the fence and given the evidence I've read (& sure sounds like we've read the same article) my position makes absolutely no sense. I suppose it's a case of …but it's always been done this way. & after so many months I've become emotionally invested in my girls & don't want to risk screwing it up at the very end. So the plan is to taper off on the nutrients except for a lighter than usual addition of kelp and a dash of blackstrap right up to harvest. Still not sure what I'll end up doing with the other plants at this point but they've got at least a few more weeks to go before harvest
Getting closer
2 years ago
We are coming close to done with this labor of love. I think a few more days & Robert's your father's brother.
2 years ago
Getting closer
2 years ago
kolchak707 Thanks. I could swear shes getting bigger every few hours. Oh I love all my "girls" but tbh this one's my absolute favorite
Yeah, it's gratuitous pot porn so what of it? Huh? Huh?
2 years ago
Adding some mass, lovely lady
2 years ago
bigsammy That's some really cool looking weed
kolchak707 Thanks. Almost freaked out this morning, it rained over night and this lovely got soaked even though it had cover . And… then I spotted all the tiny caterpillars squirming about right on the beautiful colas. Just spent two hours checking every bit of her by hand, removed six of the little beasties
Mmmm fruity flavors
2 years ago
mattekar Holy fuck she's pretty congrats!
Peng Can't get enough of those pink pistils! Absolute stunner 😎
View 3 additional comments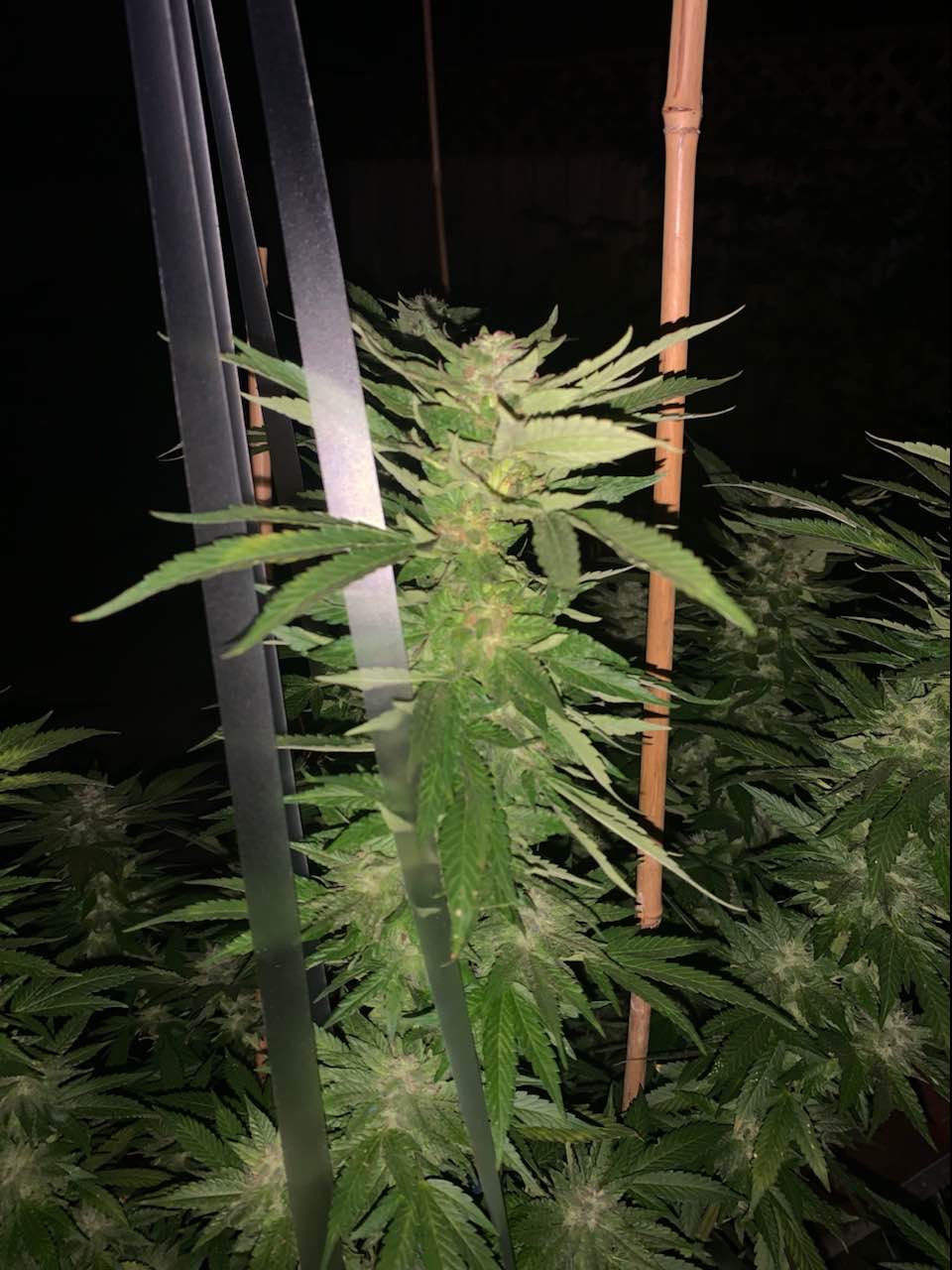 So, here's the rig I've set up to support the heavy flowers as they thicken up. Heavy duty yo-yo supporting a network of multiple straps. Works well, so far. We'll see how she performs when the buds get nice and chunky
2 years ago
A few weeks to go and the flowers are getting rock hard. 😋
2 years ago
Loving the colors
2 years ago
Found a second caterpillar 🐛 today
2 years ago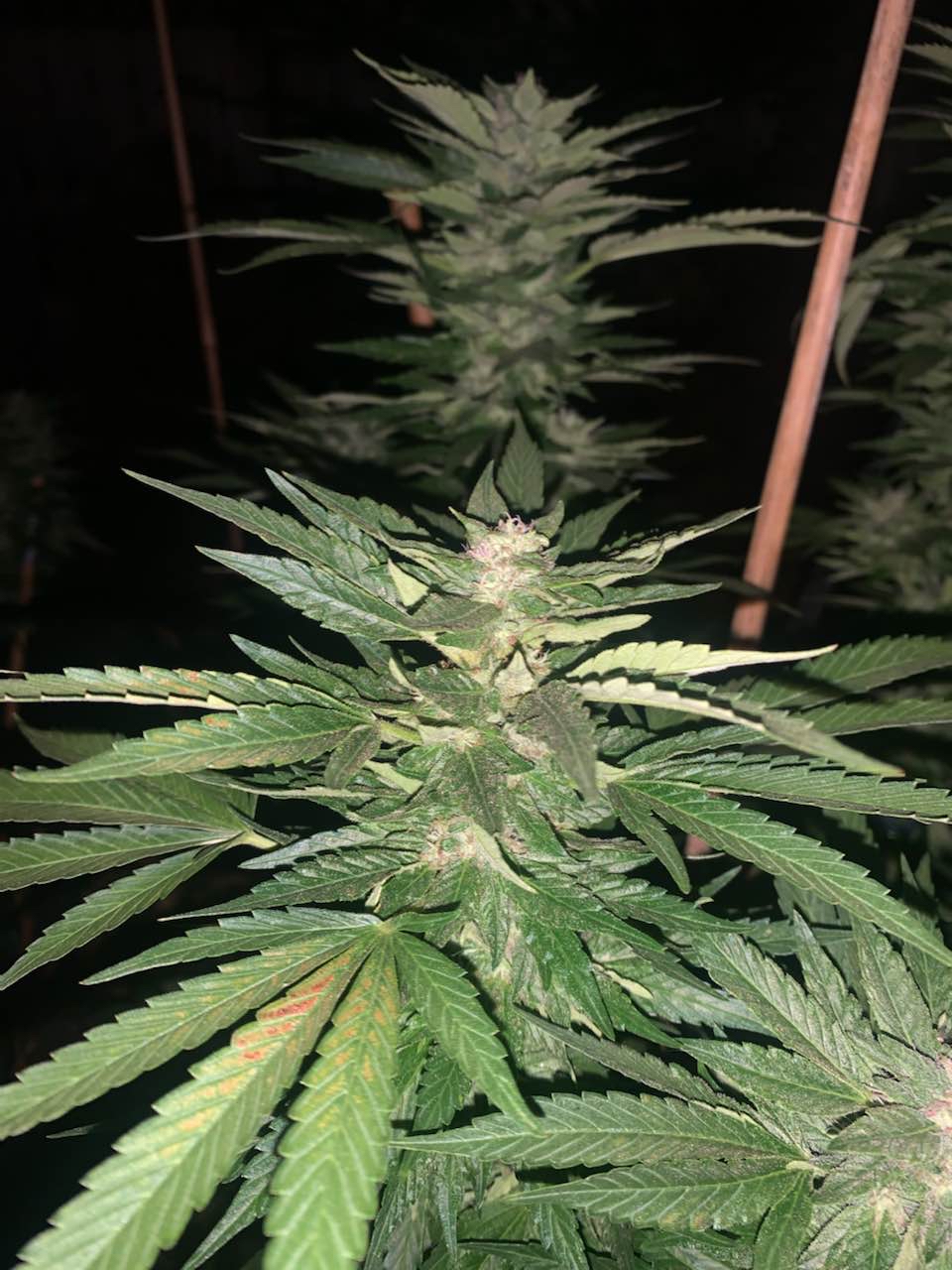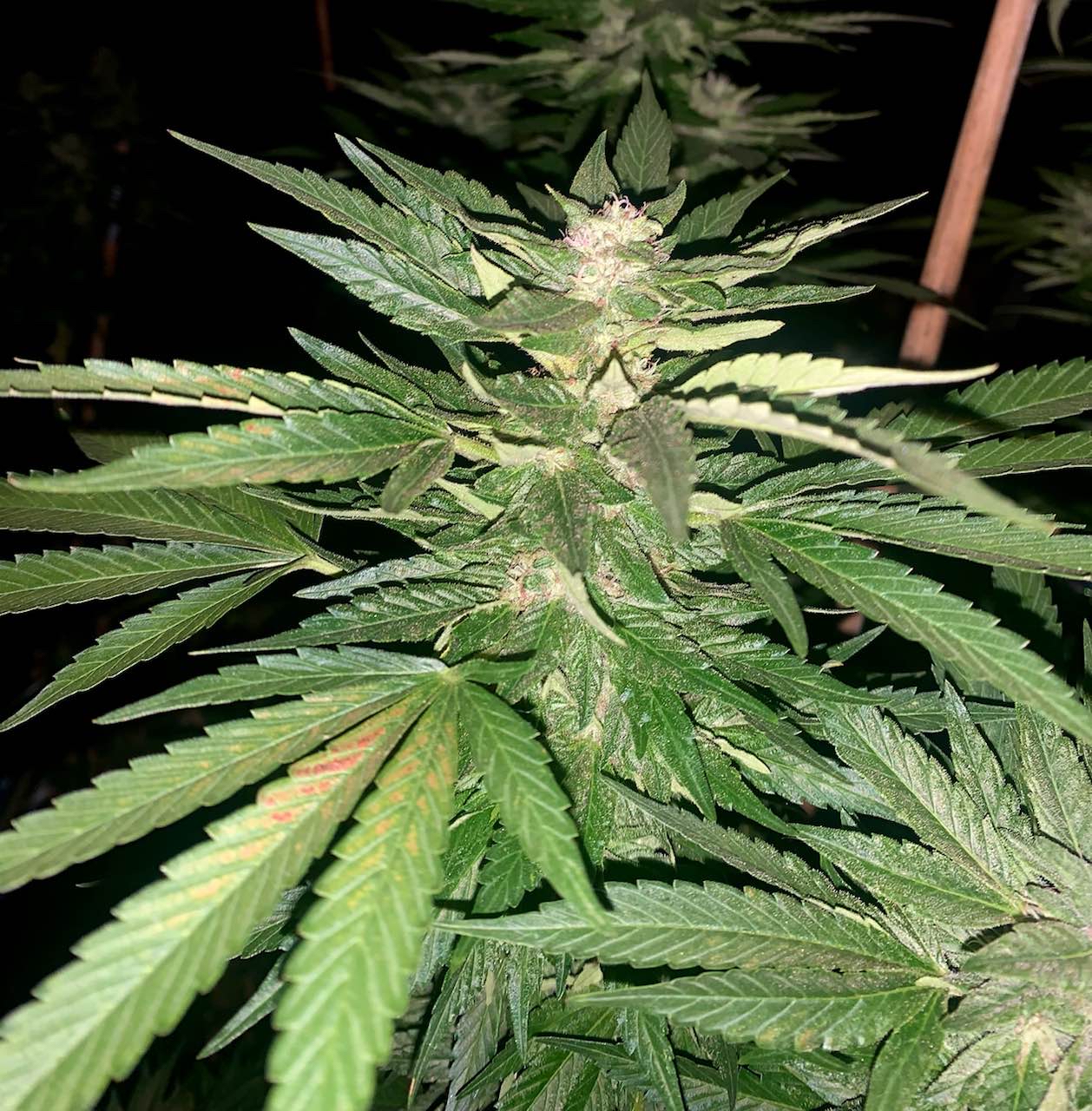 Getting nice and chunky. Still dealing with dang caterpillars 🐛 Unfortunately the only way I know of to get rid of the lil bastards is to look for damage then dig into the spot looking for the culprits. Tiny suckers and hard to see. Anyone out there have suggestions?
2 years ago
Bulking up nicely
2 years ago
Really enjoying the colors of fall
2 years ago
Peng Really like the pink pistils 👌🏻
kolchak707 Thank you, really quite spectacular The appearance is only surpassed by the tasty smell
Love the gorgeous colors
2 years ago
Getting better after having some nasty nutrient burns
2 years ago
The colors are just starting to show up
2 years ago
Showing first bit of color today
2 years ago
She's recovering well
2 years ago
Getting better all the time
2 years ago
Bouncing back, again. Overdid nitrogen, made it worse by putting the plant next to a fan. Result: crispy brown leaves
2 years ago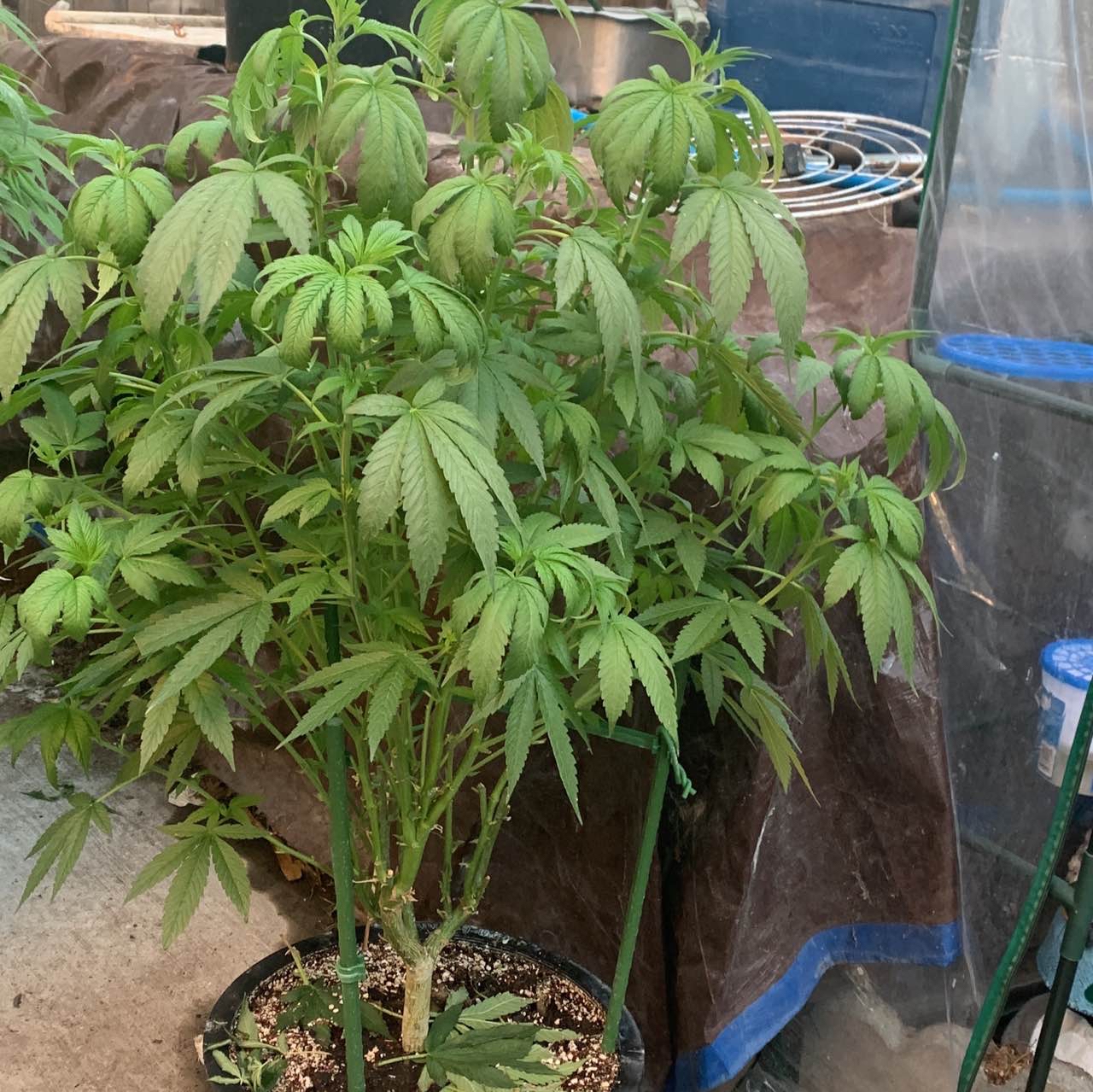 Grow baby grow
2 years ago
Coming back after a reveg
2 years ago
So, wasn't mold or mildew but a nice sprinkle of sugar. Yum
2 years ago
A bit of grooming is in store for her later today.
2 years ago
Looks good, we'll take a closer look later today
2 years ago
Going in a cage today
2 years ago
Keeps bouncing back from all my mistakes
2 years ago
Bounced back well
2 years ago
LST doing nicely
2 years ago
She's really taken off nicely after the blood meal
2 years ago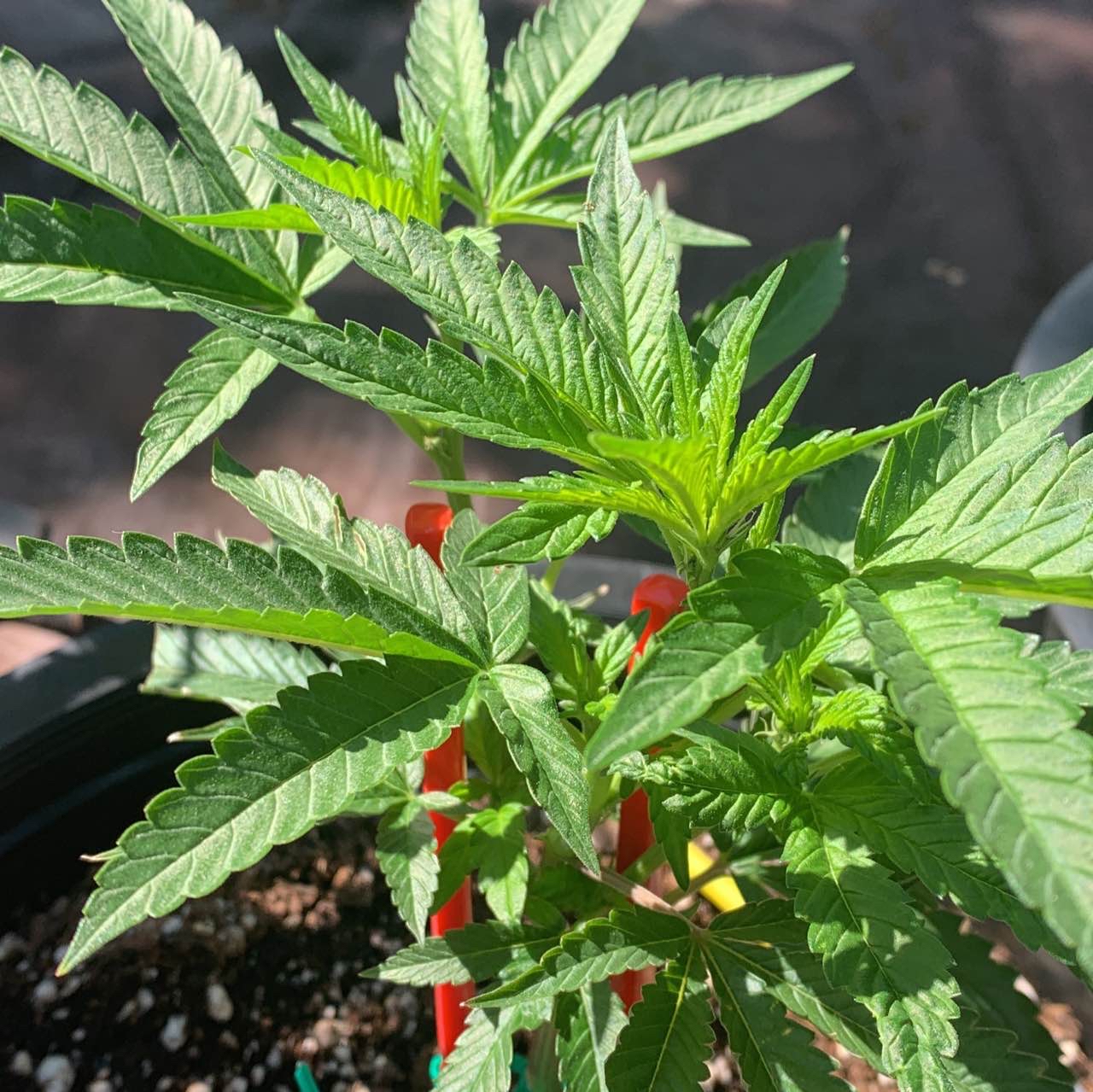 Removed the duct tape today & happy to see the old girl has healed nicely. I've added two solid supports and some loosely wrapped garden wire leaving room to grow up and out/ thicker. Started blood meal yesterday
2 years ago
Doing nicely, seems to be bouncing back . Measures roughly 8.5" tall
2 years ago
Started the girls on a 24hr light regimen (about 10.5 of those under a full warm California sun followed by a 12 hr overnight stay indoors under two 1600 Lumen full spectrum FL bulbs. I figure it's the equivalent of taking my girls clubbing under lights all night then hanging in the sun all day. Wholly unscientific yet the whole 24 hr non stop light fest somehow appeals to the stoner in me.
2 years ago