mauiremedies
Lifter Hemp
Maui Outdoor 2019
Grown outdoors in Kihei, Hawaii using soil. Will be feeding with organic nutrients from Earth Juice. Got these seeds from hemp flower from Treasure Valley Farms.
I'm not sure if it's something I am doing or just the stage the plant is in but lots of foliage growth lately on a few of the plants. Is this normal? Still frosty as ever. But look at all the leafy growth
5 years ago
Our Lifter is looking very good. Lifter1 is the frostiest plant of them all and a very resinous producer. Just packing on a thick layer of trichomes. It also smells interesting and good. Like a sour candy. Lifter2 is also looking very good with its pink pistils. It definitely got a boost this past week and lots of new growth. Smaller plants but we will get some good seeds from both of these Lifter plants. These were pollinated with a male Hawaiian Haze. I am not sure which direction I would want to go with the next grow. I could go with the plant that produces more resin to see how that plant comes out. Or I could go with growing the seeds from the phenotype with pink pistils. I also like the plant structure of the Lifter2 better.
5 years ago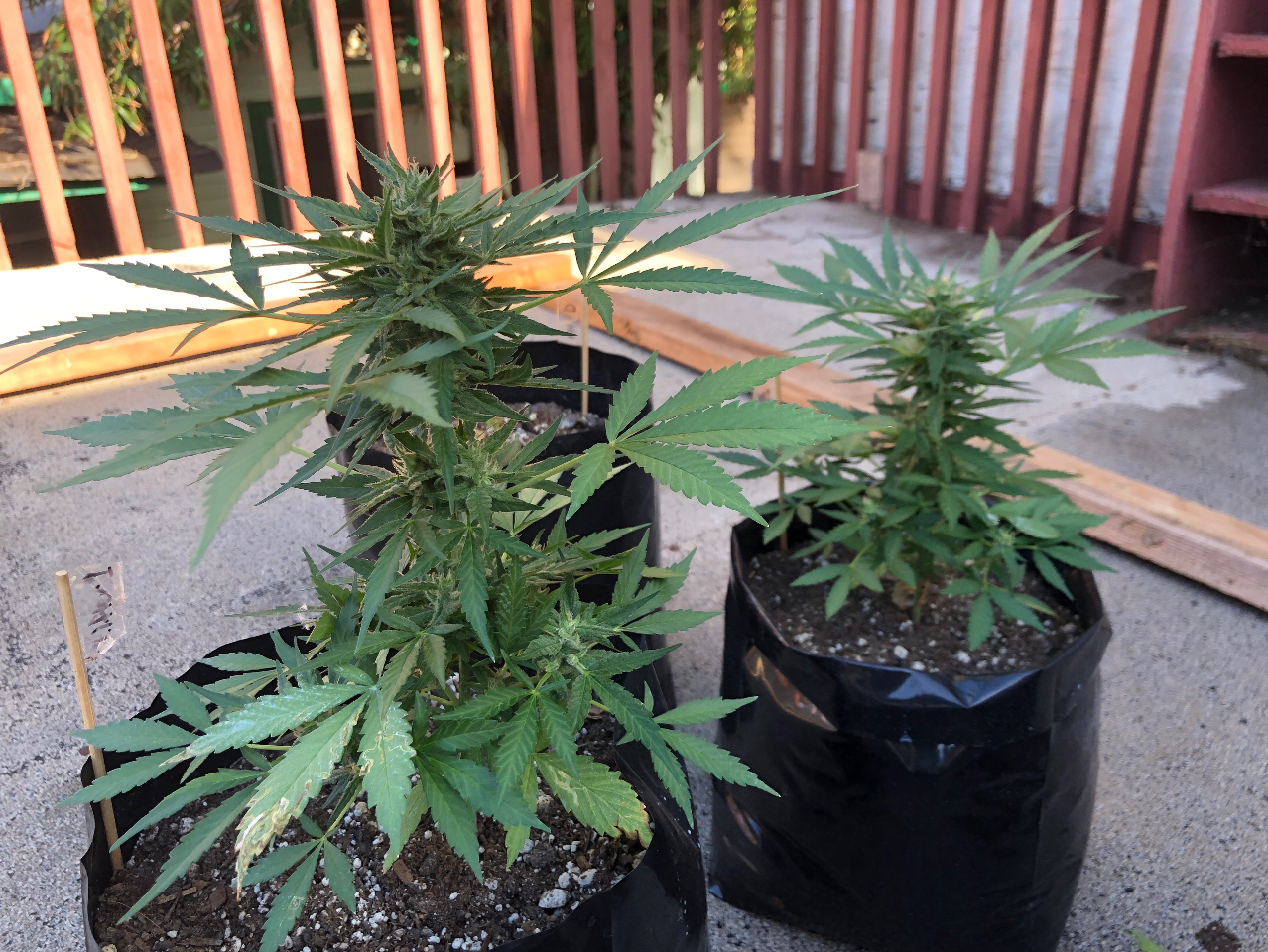 Plants are getting eaten by some bug in the leaves. Been drying out since last Thursday. Watering tomorrow with plain water. Super frosty and smells good. Lifter1 smells like steak. Weird how the smell changed but like a seasoned grilled steak. Very interesting. Lifter2 has a similar smell but with purple pistils.
5 years ago
Lifters are stunted but amazing genetics. Sweet sour smell. Amazing. Lifter one produces the most frost. Had crystals on the fan leaves before any other strain and the most resinous looking. Amazing!
5 years ago
Lifter is looking good. They definitely produce the most resin so far out of the rest. Lifter1 is bigger than lifter2. It has more bottom branching. Looks like going to get s nice cola on the top. Growing in nicely. Rubbing the stems smells like rotten fruit. Most sour smelling one with sweet fruity hints. Lifter2. Just recovering lots of new growth. Not as much resin production as the other. Small bottom branching also. Not as developed as the other.
5 years ago
Watered plants yesterday with plain water and they are loving it. Trying to figure out the perfect balance on watering. Not too much and not too little. All in all looking healthy and good. Upon rubbing the stalk of Lifter1 it has a nice sour smell.
5 years ago
So I have been wondering what's going on with the plants. Their growth seems stunted. After researching I think I should not have been feeding my plants. They don't look burned but possibly nutrient lockout? Using ocean forest soil it has lots of nutrients and you shouldn't have to feed it for about a month. Then after that maybe supplemental feedings. So next watering will be plain water for a nice flush and should get them growing nicely again.
5 years ago
Lifters looking really good today! They loved the feeding/watering yesterday with the foliar spray. Lots of new growth now that they set in after the transplant on Saturday. Starting to slow down on the vertical growth so as soon as long as they growing vertically we will feed with full strength grow nutes with flowering nutes.
5 years ago
Transplanted on Saturday into 3 gallon grow bags. Lightly watered when transplanted. Soil seems dry on the surface. May water then today.
5 years ago
Lifter plants looking good. Nice and perky since raining yesterday. Going to keep the leave looking like this and feed as soon as they start to drop. Weather just cleared up today and we are getting sun and no rain. Plants are looking VERY happy today after the rain. I believe I let these cups dry out a little too much so having the rain to resaturate the soil really helped. Will be checking on these tonight for water to see how they are holding up in the small cups. I believe these plants are going into flowering already. They were outside but in an area that got supplemental lighting at night. Where they are now, they don't get supplemental lighting so with Hawai'i being almost perfect 12/12 I believe they are starting to head to flower already.
5 years ago
Today is actually day 23. These are definitely in the first week of flowering. The plant on the left labeled L is definitely a female. The other isn't showing signs of sex just yet. Overall plants are looking healthy today. No rain but also very little sun. Fed them yesterday as the pots were a little light and leave droopy and they look great today.
5 years ago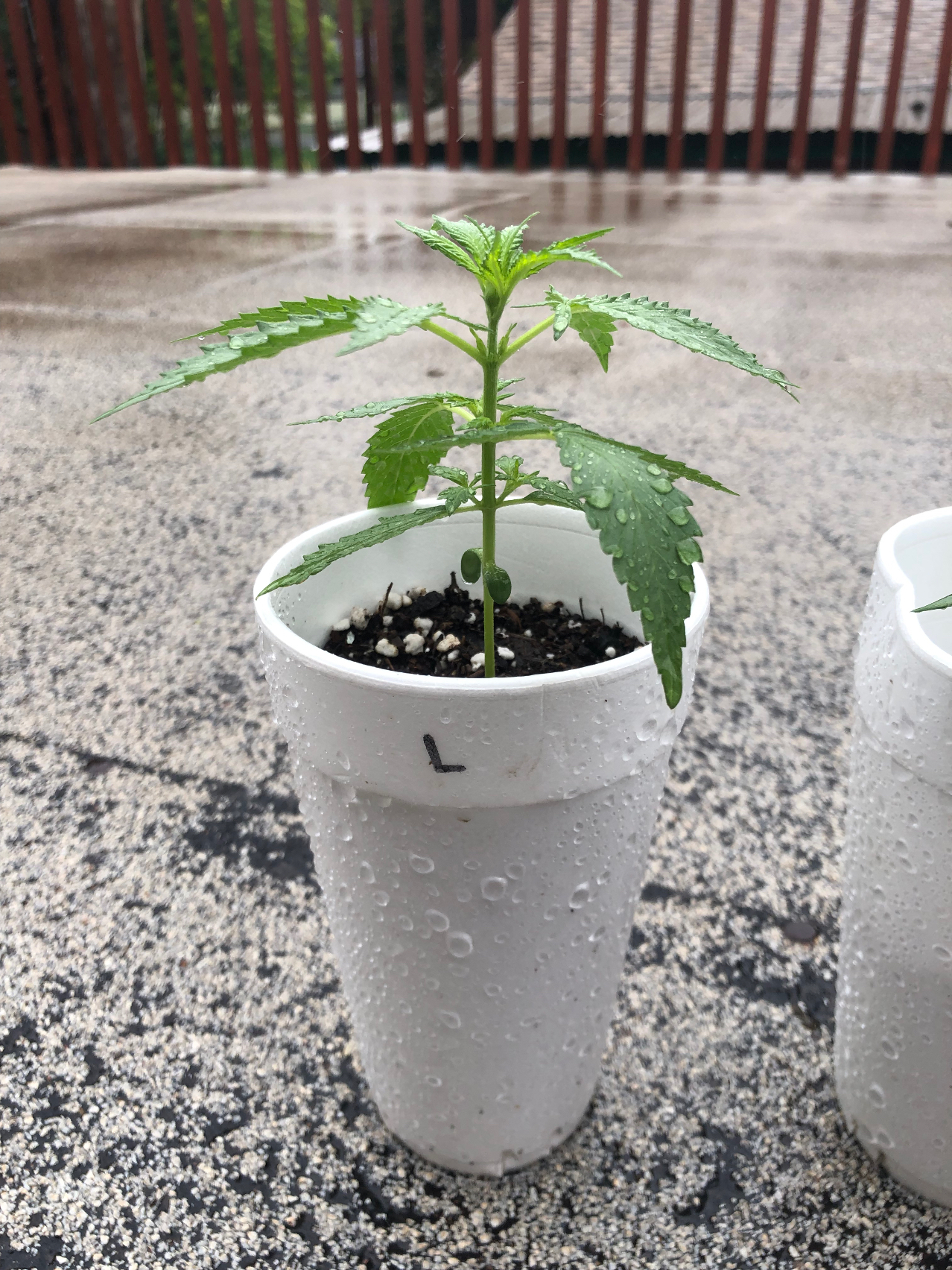 Lifter is growing great in Hawaii. Out of 5 seeds 2 germinated and one is growing funky and the other is growing amazing. Nice short plant with tight internodes. Quickest growth on the secondary branches out of all my plants. These will be transplanted soon. They may be going into flowering already which I didn't want as I wanted to see more of the vegetative growth. But we will see. So far so good.
5 years ago
Still in cups.
5 years ago