Pepperment Kush 2
Secong grow with pepperment kush
3 peppermint Kush for a second run 1 will be a mother plant the other 2 are going outside 1 in 30 gallon pot the other in ground
Total yield was 27 ounces Buds are airy but smell delicious. Strong peppermint smell
3 years ago
Graveyard9 Thank you. Few weeks and I can give it a try. Right now it's kinda harsh but still a good taste. Very pepperminty
Day 6 of drying. Looking good.
3 years ago
I've been negotiating updating this. Today was harvest day. These girls were large. This 5x5 tent is full. 3 rows deep. Dehumidifier set at 60° 2 fans low not hitting buds just keeping airflow. And my 6" exhaust keeping air fresh.
3 years ago
Ladies are thickening up beautifully. Glad I didn't harvest by timeframe instead of waiting for them to tell me when they're ready
3 years ago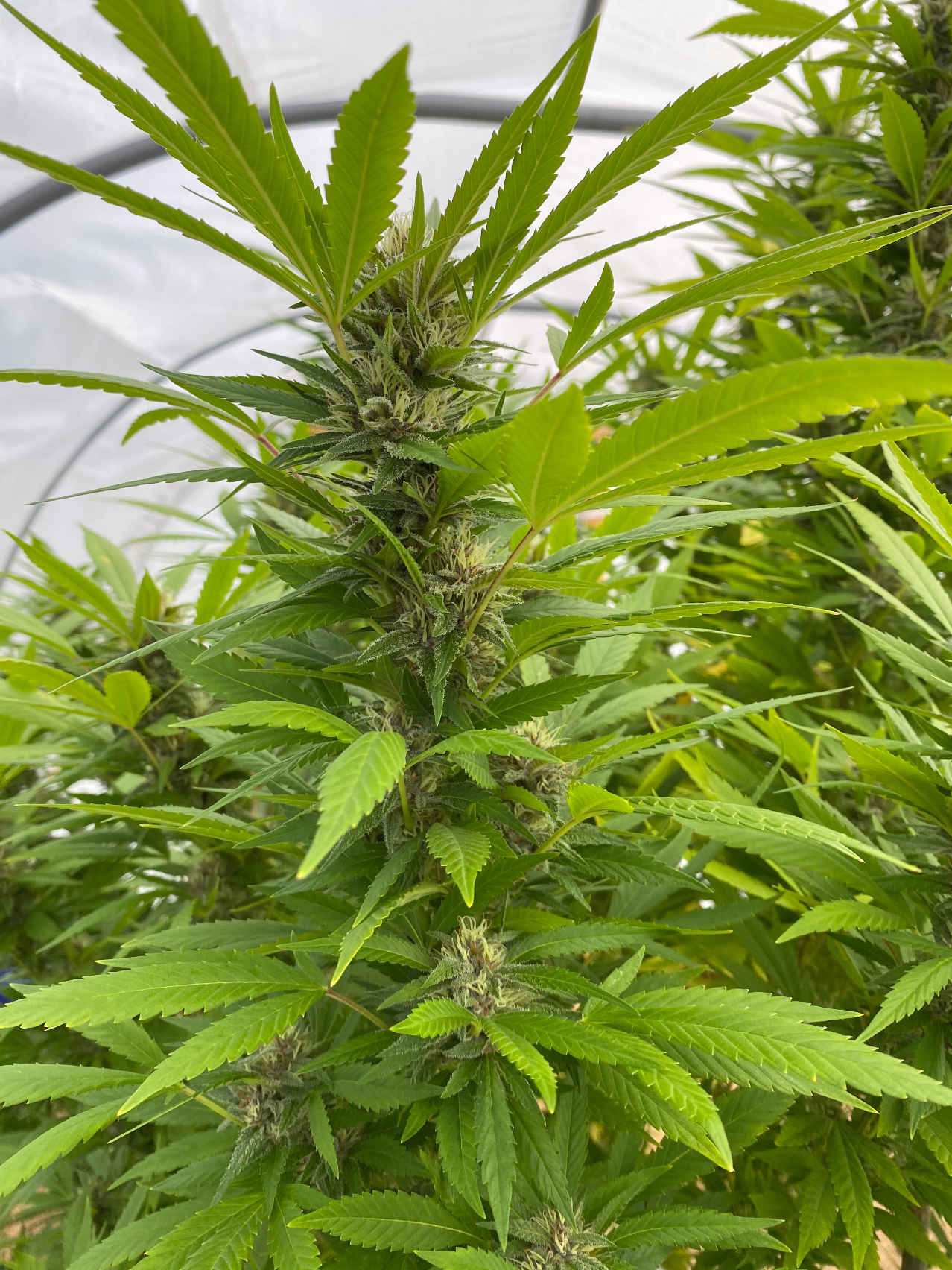 Looking good. Buds are getting thicker. Have to tie up branches in morning they are getting a little heavy.
3 years ago
Graveyard9 I'm 6'3" to give a reference to plant size
Not much thicker yet but they still have a few weeks to go.
3 years ago
A few morning shots. Buds are filling out.
3 years ago
The lady's are getting huge. Looking good
3 years ago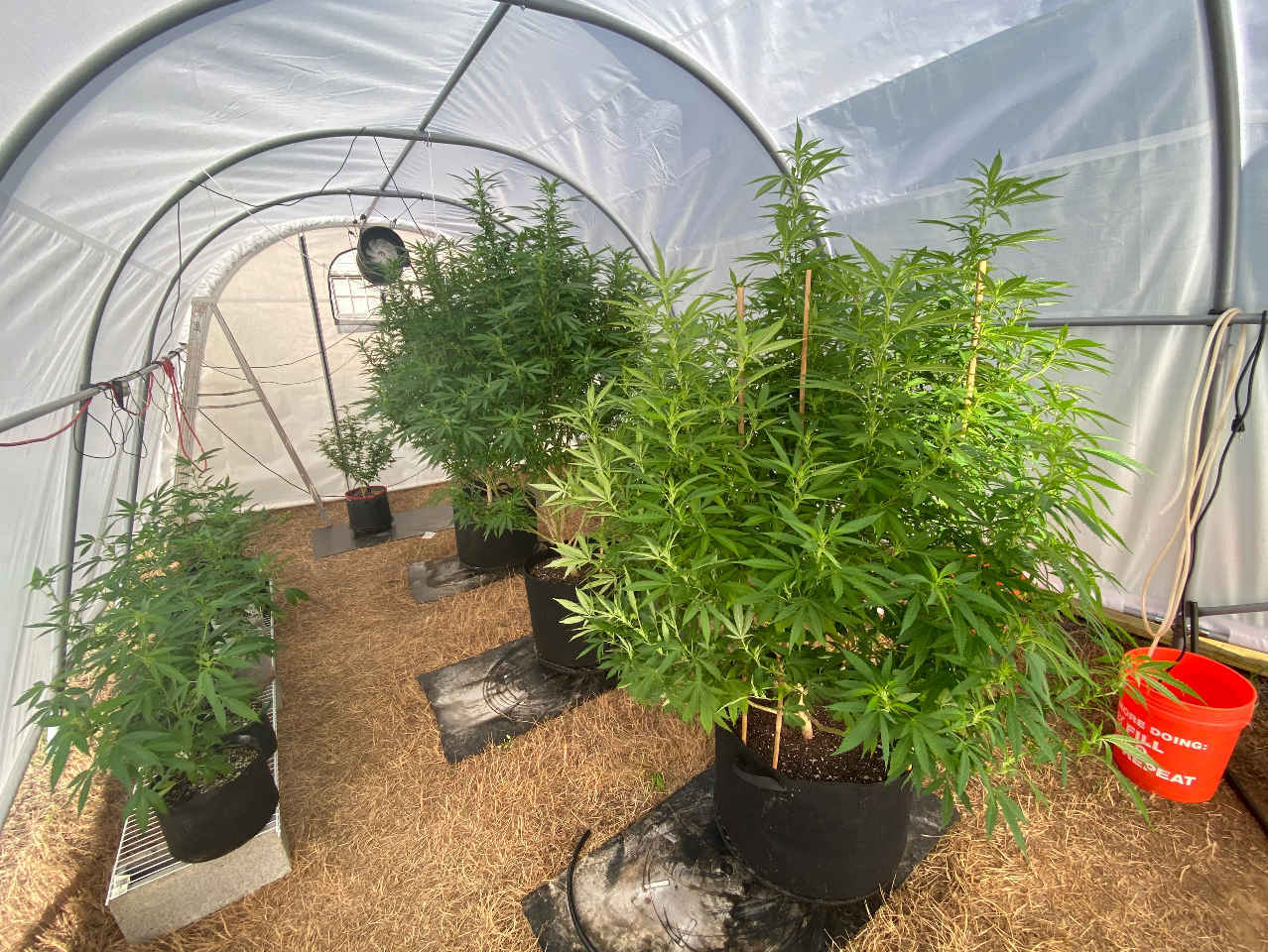 Beginning of week 3 in flower. Looking great. 7'+tall. No more bugs (that I can tell)
3 years ago
Forming nicely. These girls like their nitrogen. They are in m3 soil which should never need added nutes but I have to add nitrogen almost every water. Had a small thrip problem but I believe they are gone now. Wish my ladybugs didn't leave lol.
3 years ago
Looking healthy. Found a leaf covered in what I say are eggs but can't really tell. Sprayed plants with DR Zymes. Hopefully I don't need to do any more. Too close to flower.
3 years ago
Been 13 data sense last update. Buds are beginning to form. Heat is still high but they are not showing any signs of stress. Been misting them 2 or 3 times a day to help with the Temp. Waiting for mister to come in (by then the heat won't be that bad lol). Nitrogen deficiency almost back to normal.
3 years ago
Leolo Very slick indeed. Word of caution with humidifiers: Some of them can promote mold.. e.g. If water particles are to big and land on the wrong surface, or even inside the machine if its à ghetto style DIY swamp cooler.. h202 and maybe a drop of detergent can be your friend in some scenarios..
Leolo More plants would of course be helpful as well, but those would definitely take to long if the heat is passing soon..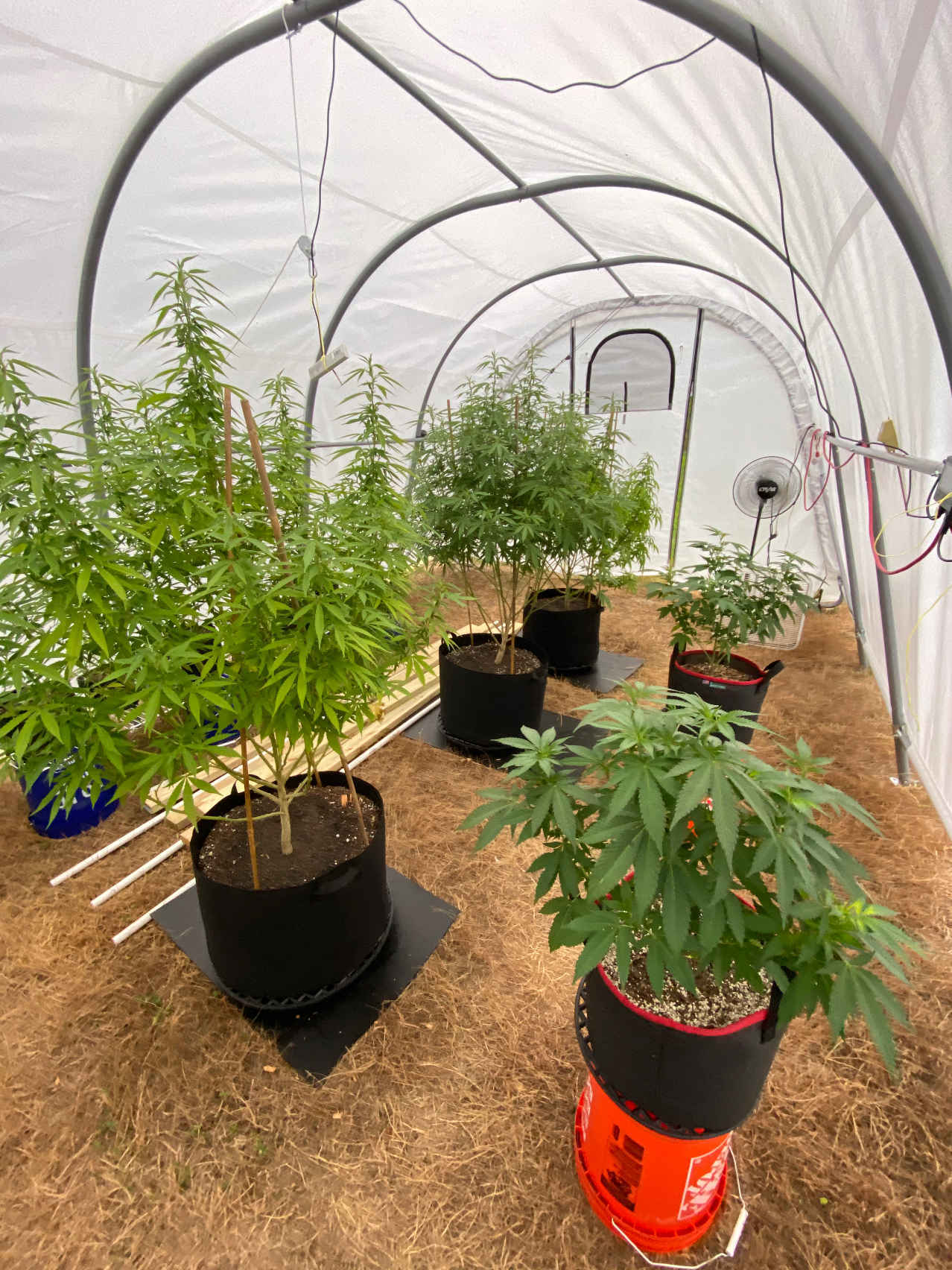 Still working on the heat. This heat wave don't help. Now have 2 oscillating fans totaling just under 6000 CFM, 1 box fan (till my small 2 Circulating fans come in). And 1 vent fan (AC Infinite Cloudline T12, 1600CFM) the air is moving but can't keep temps down Materials on ground for (hopefully this weekend) adding electrical, water supply, and fencing.
3 years ago
Leolo If the RH isn't way hi already, which it shouldn't be if temps are higher than outside, you could work on elevating the humidity. It makes wonders for lowering temp, and the plants would probably love it to. Just make sure to stay under 70% late in bloom.. check RH around sunset.. sudden drops in temp can cause dramatic spikes in RH.. sorry if mansplaining or making obvious points.. just wanna help..
So today was a bad day for them. I'm still very new to greenhouses. I didn't have the sides rolled up, and only 1 fan in it. Got home at 7am and it was 117° in the greenhouse. Well!!! Now I have 3 fans going (1 exhaust 1 intake and 1 for plants) still need more. Temp is now 79°
3 years ago
Graveyard9 The box fan is only till my real exhaust fan gets in. Then I won't need the intake fan.
Leolo Looks great! Those massive plants should give you an abundant harvest!
They are starting to get used to the greenhouse. Ladybugs are doing their jobs.
3 years ago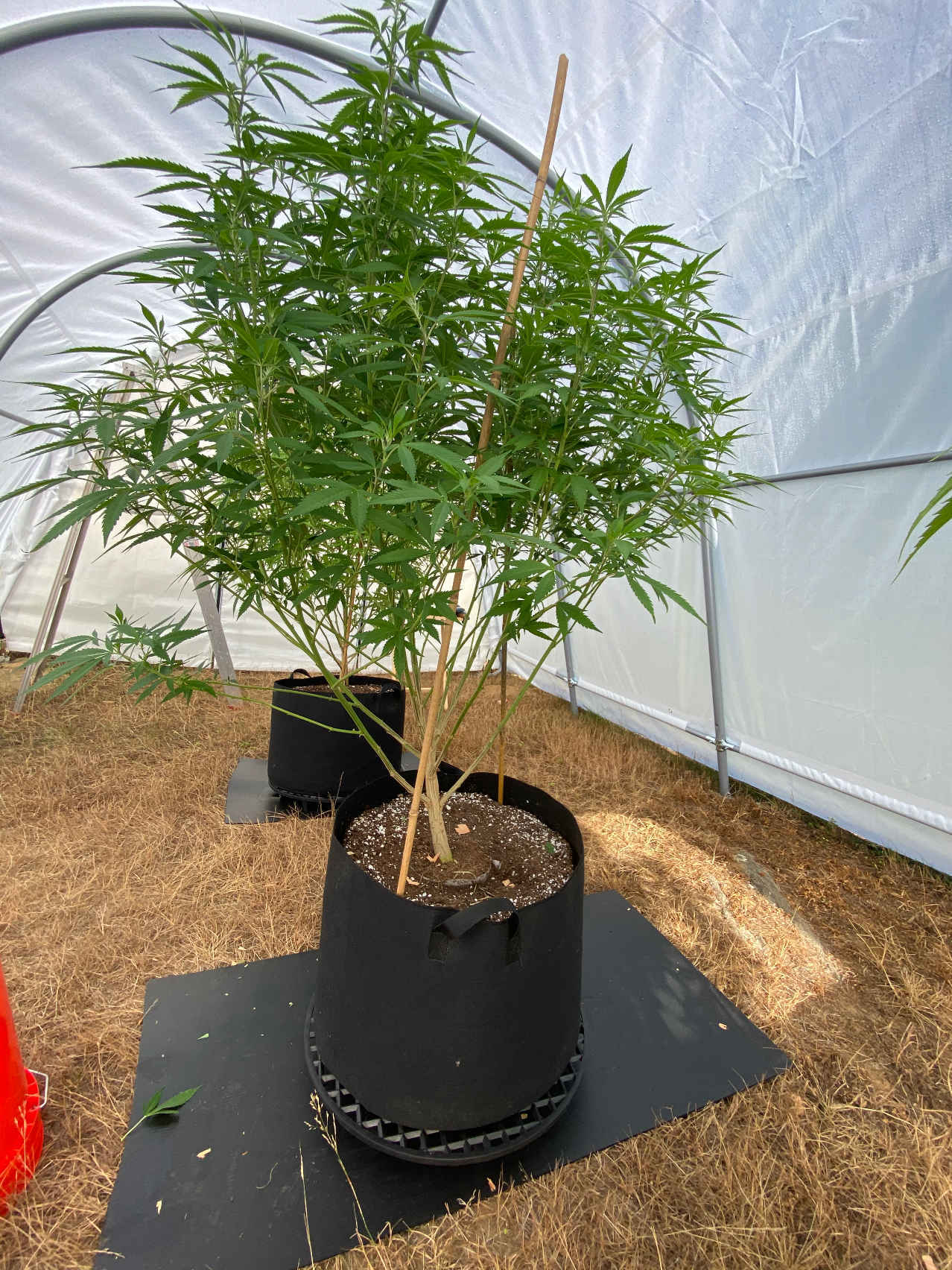 1 week in the greenhouse. 2 are 6' tall the other one decided to bush out and is 5'
3 years ago
Getting larger. Nothing new.
3 years ago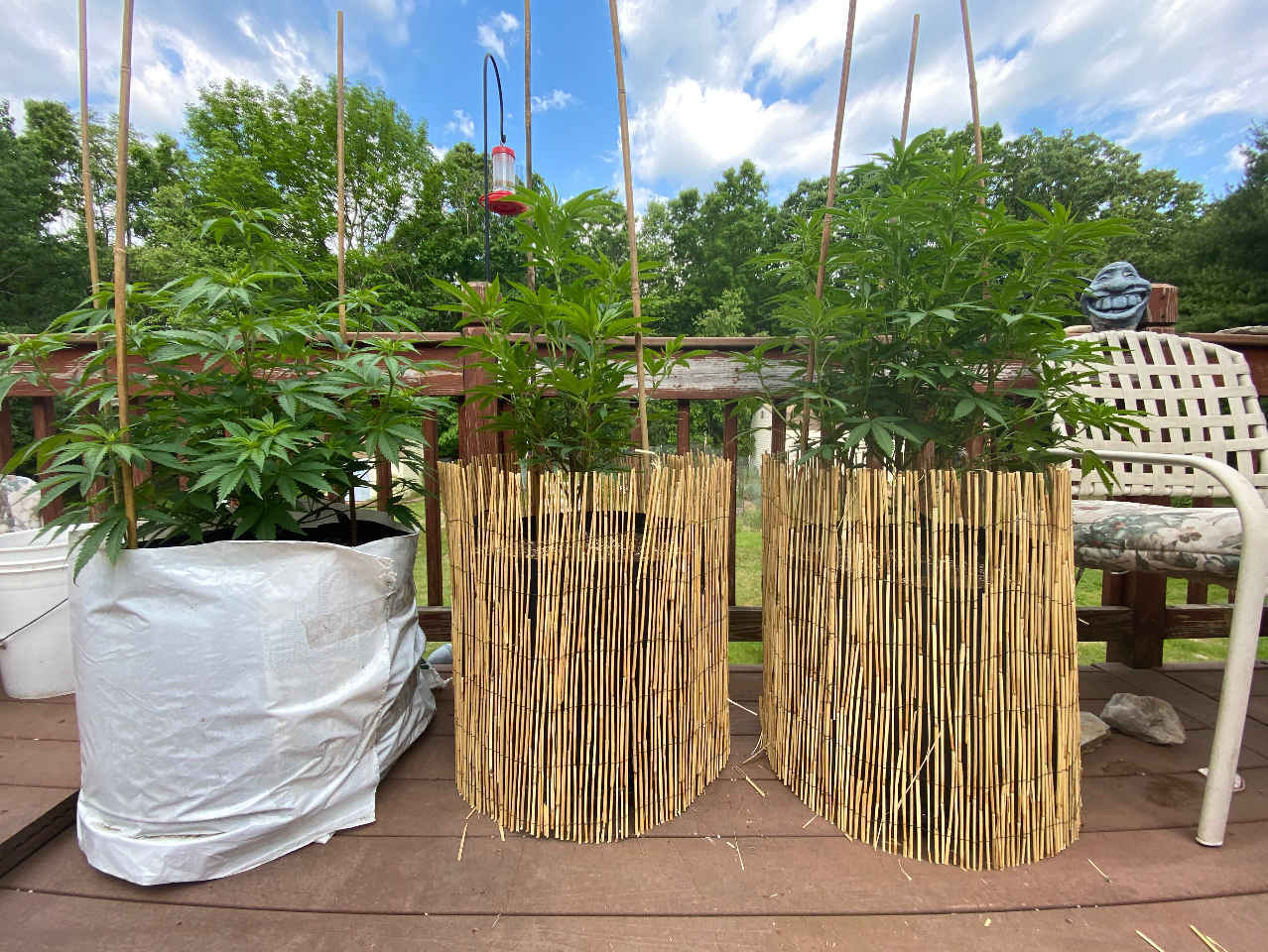 Changed the 2 of the pots wrap to bamboo (ran out need to get more) so it's finally breathable
3 years ago
Looking good. Middle plant looks like it might have a nutrition problem but they are still new to the soil. I'll give it time Can't wait till I get the greenhouse setup
3 years ago
Nothing new. Looking good.
3 years ago
3 days outside. Still in shock from the transplant and sunlight. Can't wait to see the girls grow. It's different to see the plants reactions. First thing in the morning, the 2 outside plants leaves dropping straight down the middle plant leave pointing to the sky. By noon the outside plants look good. Next day same thing
3 years ago
Transplanted today to their new home 20 gallon grow bag. I let them dry out a little too much before transplant :( They will recover
3 years ago
They are ready and waiting for weather to be good enough for them. 20 gallon pots await
3 years ago
Today decided to give them some sunlight and fresh air.
3 years ago
Haven't updated in a while. These girls got very sick when I found pink mold in my humidifier and research told me to use 1 cup vinegar in it every fill. So stupid me didn't think about the affect that can do to the plants. Vinegar is used to kill weeds. They looked dead. Well finally they look almost healthy again
3 years ago
They are finally in their own tent. And looking good. I have to remember to use glasses when taking pics in this tent. Different light pics don't look as good
3 years ago
They are starting to look good. Few says and I'll trim off the beginning clone leaves.
3 years ago
They are starting to accept the transplant (the 3 in the middle, will be moving to 3x3 tent when last grow is don't drying)
3 years ago