amandyovo
Gooses Moose #1
Summer 2019
So a buddy of ours gave us a mix of seeds he's collected the last few months, he has no idea what they could honestly all be. So this will be our very first grow, and it's a complete mystery if they'll even survive, if any are female and if any will give us some tasty buds! We estimate harvest around mid November. starting in a closet until we get our tent in a few days, wish us luck!
25 days in Flower 🌸 A lot has happened over the last few weeks! We've managed to weed out 5 male plants, leaving us with 7 Females who have started flowering beautiful buds! We've had some issues with a few plants experiencing Nitrogen Toxicity Hopefully we've got that under control with flushing them. Now that we have seven plans to focus on we've been able to LST better, however space is still super limited in our 3x3 so we weren't able to transplant them into bigger pots, so the 1 gal will have to do for this grow.
4 years ago
Day 36 of Life 🗓 3 Days in Flower 🌸 and they're exploding with new growth! Not to mention they're getting pretty damn stinky! 😉 Still waiting on the rest to show signs of gender, some that we may have that were males (and also got some great feed back from you guys 😉 but it's now so obvious with Maxie, her pistils are coming in beautifully and her bud sights are coming together great. They had they're second feeding yesterday, (1/4 of recommendation) since they took to it so well the first go. Also had a much needed defoliation and some light LST. We're super excited to keep watching these little ladies grow! Especially since flipping them, they're so much happier. . . . Strain: Unknown . . @the420growingcouple 💚🌿 . . Updates of our plants daily! From Seed to Harvest! ✌🏻🌿 . . (っ◔◡◔)っ ♥ Welcome to Our #GrowDiaries♥ . . #stonercouples#growingweed#grow#stoner#cannabis#cannabisculture#420#420life#firstgrow#closetgrow#growroom#grownfromseed#growgirls#girlswhogrow#growyourown#highthc#instahigh#weedlovers#harvest#seed#garden#420ladies#cannabisgrowing#maryjane
4 years ago
Girls had they're first feeding a few days back and they seem to be doing really well! We Used a third of the recommended dose of FoxFarms Big Bloom, Grow Big & Buds and Bloom! Everything we've researched said it's better to start out small and increase as we go. We may have some Pistols on Maxie! But I totally can't tell, help is appreciated! ✌🏻
4 years ago
💚 LST started this week and the girls adjusted so well!
4 years ago
Happy Friday Y'all!✌🏻 Girls are doing good, Some have some burns which we assume is from PH, so we're keeping an eye on that for now. We topped all of the plants last night for the first time! LST to start sometime next week 😊
4 years ago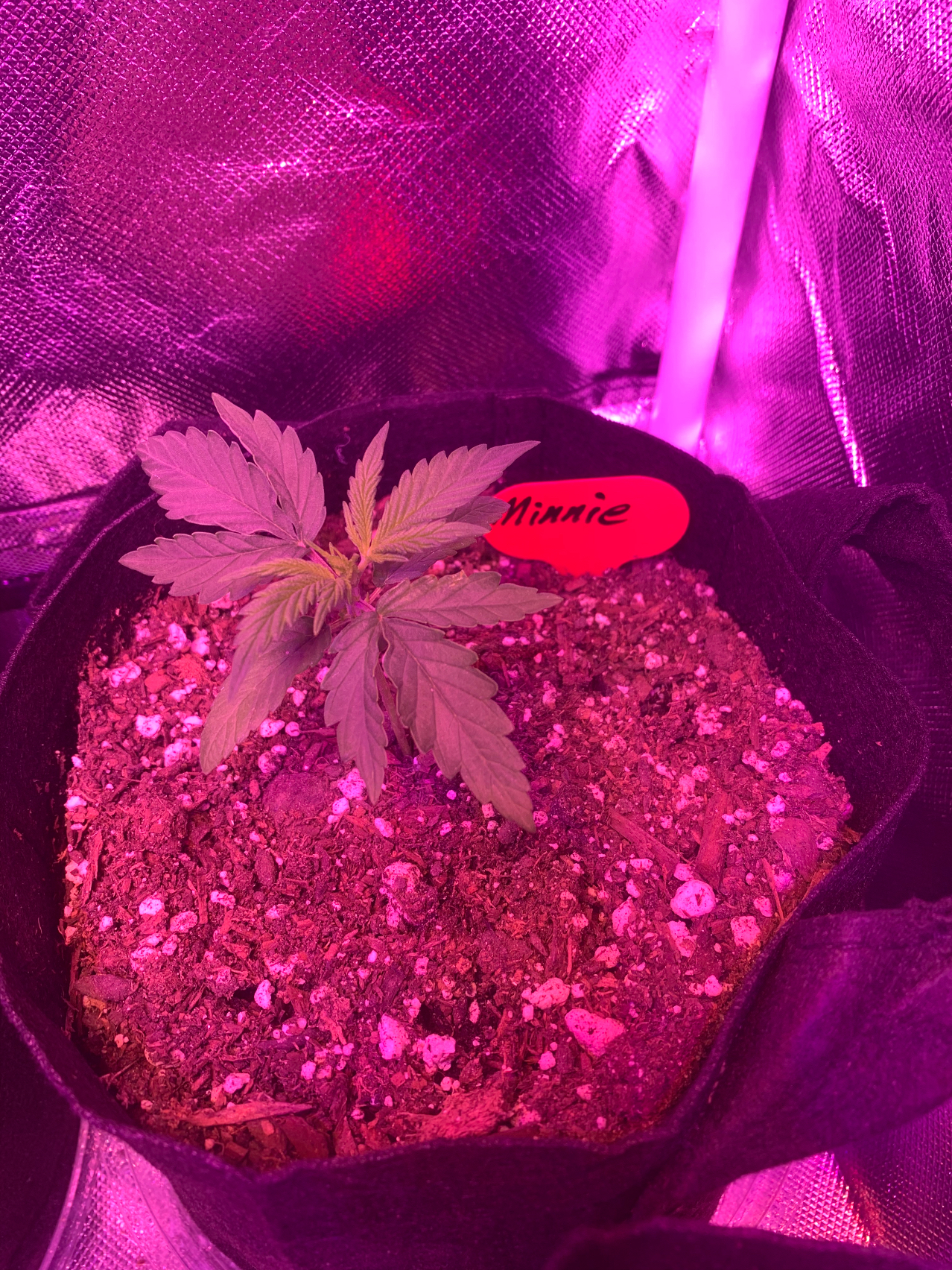 Repotted 12 of our plants into 1 gallon pots, they weren't too happy in the cups anymore. This week we got ALOT of growth after repotting, they're so much happier that they can stretch they're roots! 🌱 Some girls are working on they're 4th/5th nodes already! Crazy huh? We also finally figured out how to regulate our temps in our tent and we are now happy to say "we think we got it" Our brand new filter busted (boo) and after removing it, they girls are much happier in they're home. We suppose we're going to start nutes and training soon, any tips?
4 years ago
Are these called fingers? Cuz we have fingers growing! This is Big Mama! She was one of the fastest/longest seed that germinated. She's had some problems early on, she accidentally snapped at the base of her stem. We buried it within her soil and she's been thriving! Our little warrior 💚
4 years ago
This is Lucky #13 💚 ant she cute!? Growing so quickly! Today we had an issue creating better controlled temps in the grow room, getting slightly above 80° the ladies aren't liking the heat too much, they seem to be wilting slightly 😭 we just unconnected everything and reconnected the fan and filter to see if that'll help. We'll see tomorrow! . . Strain: Unknown . . @the420growingcouple 💚🌿 . . Updates of our plants daily! From #Seed to #Harvest! ✌🏻🌿 . . (っ◔◡◔)っ ♥ Show us some love FOLLOW US! ♥ . . #stonercouples#growingweed#grow#stoner#stoners#cannabis#cannabisculture#love#truelove#420#420life#firstgrow#growdiaries#closetgrow#growroom#grownfromseed#growgirls#girlswhogrow#growyourown#highthc#instahigh#pothead#weedlovers#harvest#seed#garden#plant#fall#420ladies
4 years ago
Into the tent they go! Can't wait to see how they like they're new home! 🏠
4 years ago
Plants are doing great! They seem to be getting too big for just one light though, the plants on the outer edge tend to grow in towards the light. Hopefully we'll be able to fix that with our tent and another 300w LED coming in tonight (2 day prime shipping my ass) Kim K is our slowest grow right now, she seems to have only developed 2 round leafs where as her sisters are working on they're next set of leafs! Will update once in tent.
4 years ago
Girls are doing good! They're stretching tall y'all Yes, her name is Kim K. (We don't know why) Tent should be coming in tonight! Can't wait to get these ladies in they're permanent home 🏠
4 years ago
All have sprouted except for one little lady :( pretty sure my husband drowned her... RIP little dudette. Close ups of Norvina & Frannie 💟
4 years ago
This is Frannie! (First pic) She was the first out of our 11 original plants to show us some green! Super stoked. Update: SHES STRETCHING SOO MUCH WITHIN JUST A FEW HOURS! That's my girl ♥️
4 years ago
Potted! They sprouted out of the seed so quickly, it was just that time to get them in the soil! Using miracle grow organic for the time being, once repotted will use FoxFarms Ocean soil. 14 seeds germinated out of 20ish seeds we had. 11 were planted 24 hours before another 3 finally sprouted a decent size root to be planted. We honestly thought they were gonna be duds but alas! There was life!
4 years ago
After 24 hours of soaking in water our seeds have already started peeking open! On to the next faze for this haze! Seed to Harvest Series updates to be made often! Strain: unknown
4 years ago
Germination begins!
4 years ago